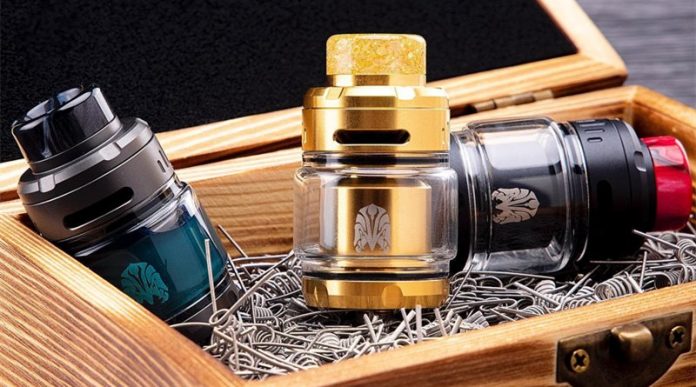 Greetings once again and welcome back for today's review of the Arbiter 2 RTA from Oxva that was sent to me from Healthcabin for the purpose of my review, the Arbiter 2 RTA can be purchased from them using this link OXVA Arbiter 2 RTA 5ml. Oxva made the Arbiter 2 a bit smaller than the original Arbiter and also made some changes with the way airflow is delivered to the coils, yes this is a dual coil RTA but you can use a single coil if you wish but I discourage you from doing so, I'll explain later in my review. Lets get started and see what changes have been made from the original and find out how well these improvements actually are. So let's get started the OXVA Arbiter 2 RTA Review together!
1pc Arbiter 2 RTA
1pc Straight Glass ( 3.5ml )
2pcs Accessory Bag
1pc User Manual
510 Drip Tip Adaptor
2 Fused Clapton Coils ( 0.4Ω )
2 Pieces Of Shoelace Cotton
Improved mini version of the original Arbiter
Top-to-bottom fanned airflow, 100% leakproof
Perfect match on most box mods without overhang
Postless deck to build both single and dual coils
UN.DETACHABLE airflow chamber
FIRST IMPESSIONS
The packaging for the Arbiter 2 was done in the way as most vape products do with a inner box that's housed inside a sleeve that has a picture of the RTA and it's information printed on the backside.
At first glance I immediately liked it because it's size will match almost any mod and the Arbiter image to me looks like the Predators face from the Predator movies which I'm a huge fan of.
Looks aside I unscrewed the base to get a look at the build deck and the fanned airflow design that directs the airflow to not only the sides but also the bottom of the coils through a series of different sized holes and slots.
I know I'm getting a little ahead of myself so let me slow down and show you what it looks like and what's included with this RTA. Inside is a 2nd glass tube that is a straight glass holding 3.5ml instead of the 5ml that the pre-installed bubble glass holds.
The two 3.0mm coils are Fused Clapton's made from Ni80 and each Ohm out at 0.4Ω. Also included are 2 pieces of shoelace cotton, extra grub screws, O-rings, Allen tool, 510 drip tip adapter, user manual and your warranty card.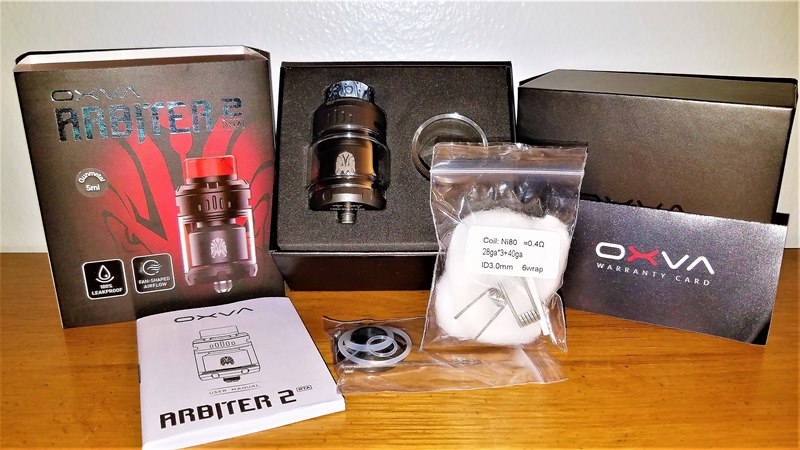 It was time to breakdown the Atomizer for a bath in warm soapy water which I do with any new atomizer and you should as well. The Arbiter was clean of any debris and felt dry to the touch but faint traces of machine oil can still be present so don't take any chances and wash any new Atomizer you get. The Arbiter 2 breaks down very easily into 5 pieces for cleaning, the drip tip is a standard 810 so you can use you own personal ones if you choose. I happen to like the supplied one and used it during testing. The top cap and base have knurling making it easier to unscrew them.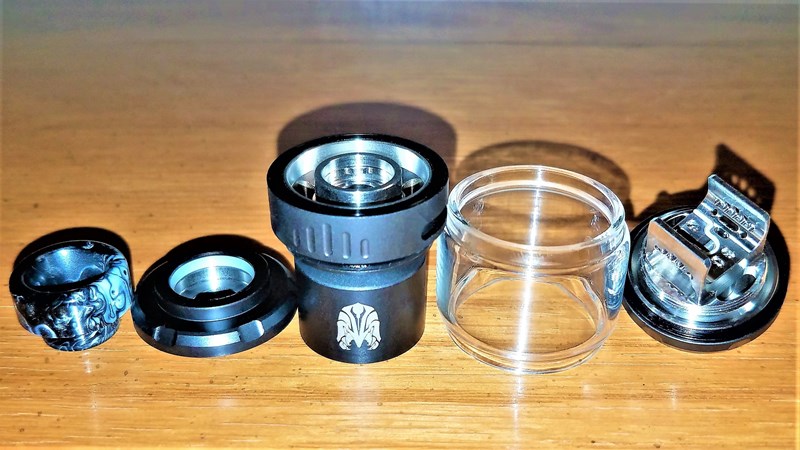 As I mentioned earlier there are some changes done to the Arbiter 2 and one of them is on the build deck that now has a fanned airflow system providing side and bottom airflow to the coils. The floating deck style remains on the Arbiter 2 as the original used but the Arbiter 2 is now a Postless deck so you will need a coil cutting jig such as the Coily Tool to properly cut your coil legs to the correct length.
When cutting your coils on a Coil Jig Oxva recommends using the 5.0mm size and I agree. On whoever's Coil Jig you use, all use the same principal that measures the leg length of your coils, when you look underneath the Coil Jig tool you will notice different heights for each size on the Jig, it's best and easier to insert your coil from underneath so your legs can be cut flush on the top portion but either way will work fine.

Once the coil legs are cut to the 5.0 size length the legs should fit inside the hole openings for a perfect fit for the new fanned style airflow system. You will want to pull the coils as close together as you can without them touching each other for the correct placement.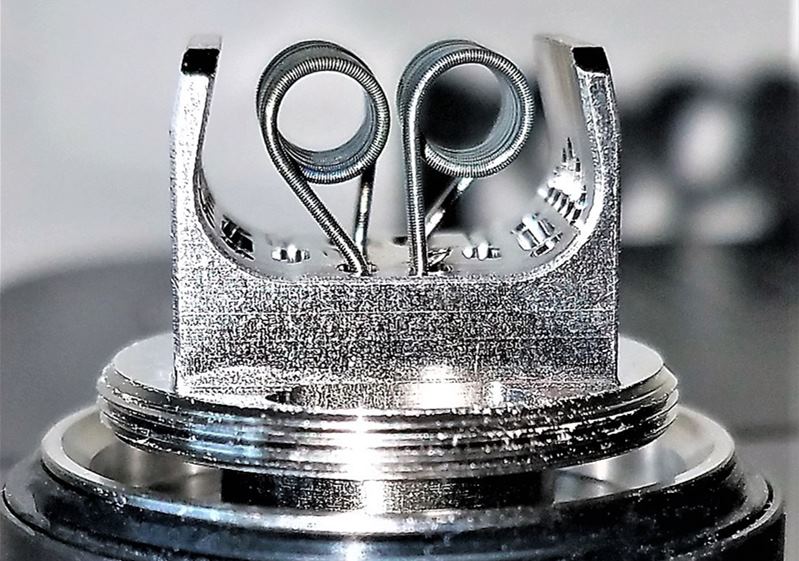 The original Arbiter had a removable inner chimney that could be a pain when connecting the base to the RTA because it would move around, the Arbiter solved that problem by making the inner chamber fixed in place so it's much easier to connect the base. The base must be lined up though to fit in the cutouts of the the inner chambers airflow channels where air travels from top to bottom on the outside of the inner chamber.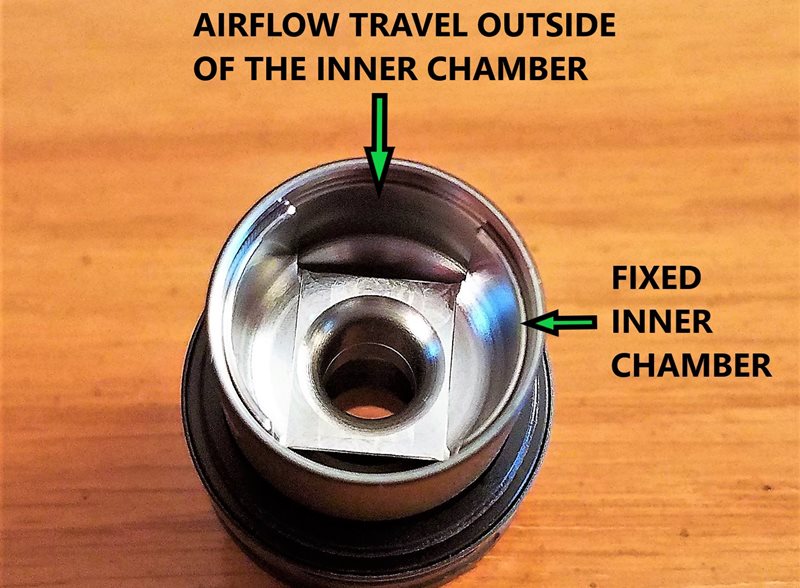 When wicking the coils be sure to comb out and thin your wick tails then trim so the bottom of the tails are just above the floor of the deck, there is not a lot of room in the wick slots so don't force them in, leave a tiny bit of wiggle room for the cotton. I used the supplied coils and shoelace cotton while testing the Arbiter 2. My build came out to 0.18Ω.
You can build this using a single coil but It would need to be very large to take advantage of the correct airflow to the coil and you will have very large wick tails to try and fit in the wick slots, this was really made to be a dual coil RTA and I suggest using it as so.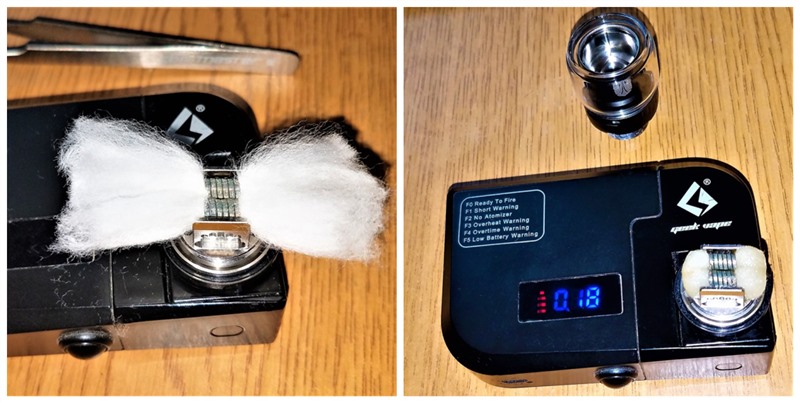 The Arbiter 2 is a pretty easy RTA to build and wick and really puts out some fantastic flavor but she is a thirsty tank though but with flavor like this who cares. As I said in my first impressions of this RTA it will fit almost any Mod and look good doing so.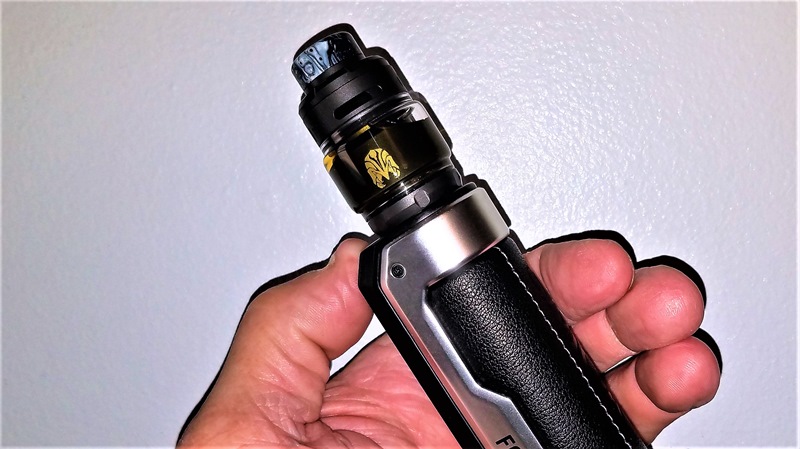 PROS
Short
Attractive
Top To Bottom Airflow
Fantastic Flavor
Smooth Airflow
Easy To Build And Wick
Postless Deck
Quarter Turn Top Cap Opening
CONS
Wick Slots Should Be Larger
FINAL IMPRESSIONS
I have to say that this is such a well made RTA, it's been a while since I came across a RTA that puts out fantastic flavor and vapor as well as the Arbiter 2 does. It must be the new airflow of the fanned system that's used. I will cut to the chase and tell you to pick one up if your fairly experienced with building on a RTA, it's looks are what excited me but it's performance is what important and it's a solid performer that's a winner in my book.
I would once again like to thank Sue and Healthcabin for providing the Arbiter 2 by Oxva for the purpose of my review, I also hope that I answered any and or all of your questions regarding the Arbiter 2 RTA.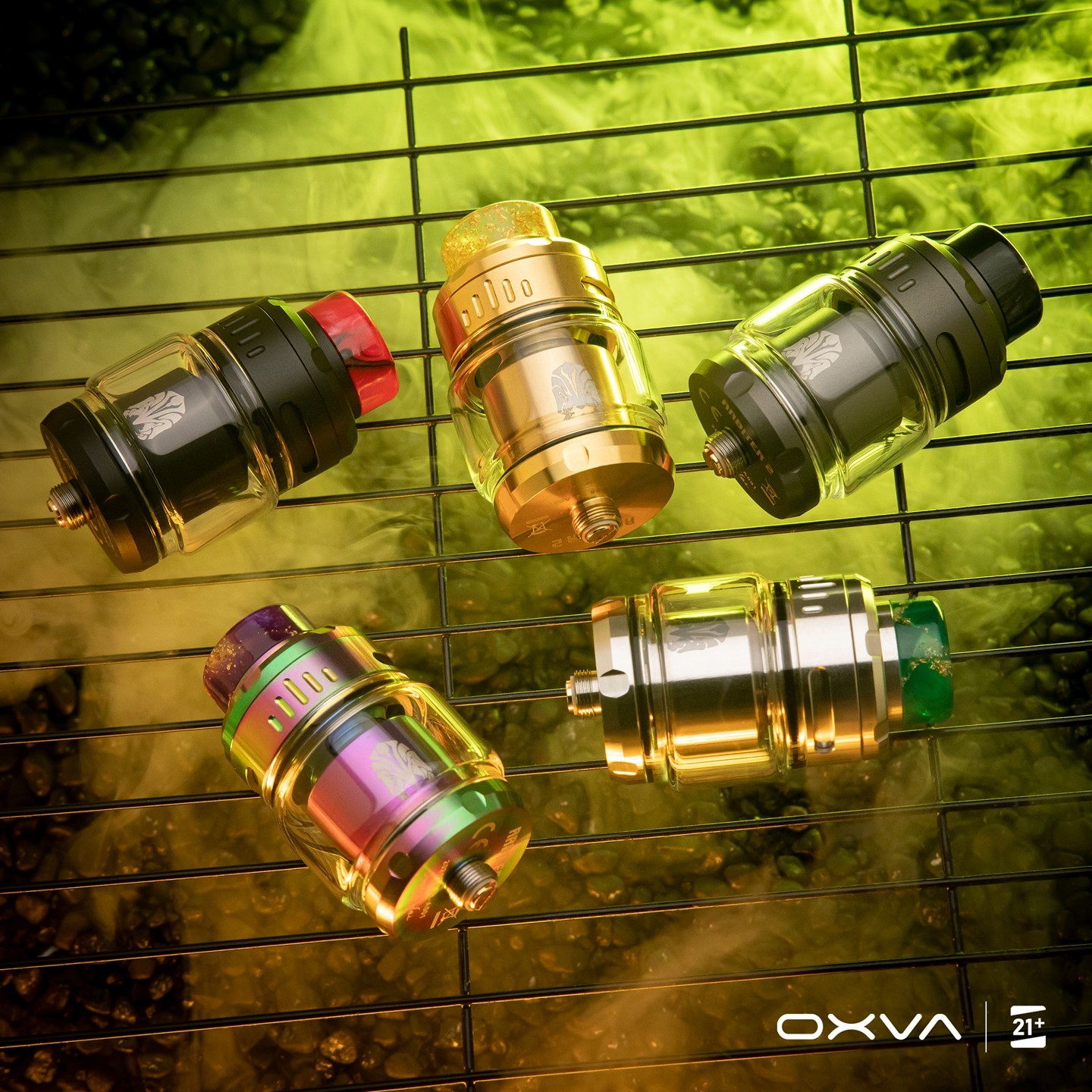 This review was written by bigbob2322 – Bob from ECF, click to view original review there with more photos and more details.