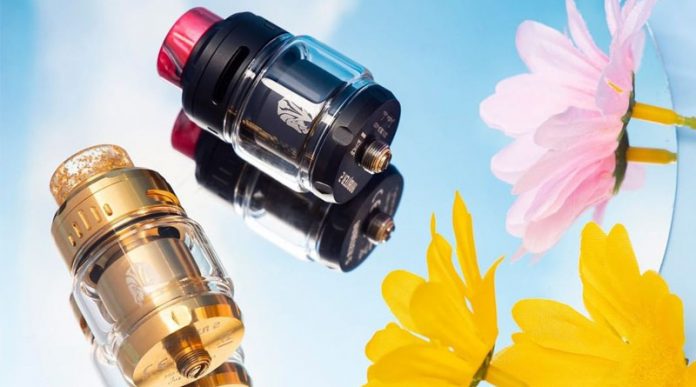 Disclaimer: This is an independent review of a vape device kindly provided to me by Healthcabin and is not associated with Planet Of The Vapes or any other organisation. The opinions here are purely my own and I am not receiving any payment or inducement for them.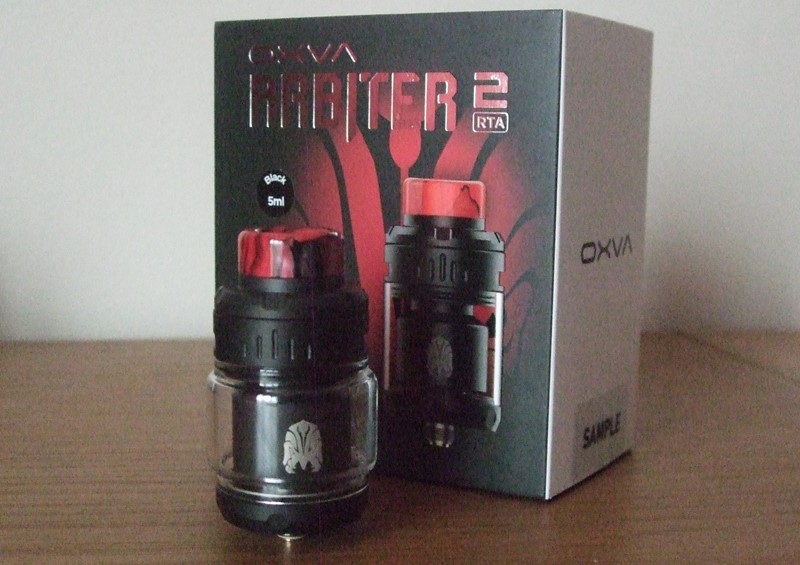 "Fanned airflow". Apparently that's what this new Arbiter 2 from OXVA's got.
It gives me images of Geisha girls gently wafting aromatic vapour over me while I'm sat reclined in my chair soaking up the atmosphere.
Of course, that's not what it really means but we can all indulge in a little bit of fantasy can't we?
What it really means is that this new 26mm 5ml Arbiter 2 has five descendingly arced airflow inlets on it's gullied build-deck sides shaped to resemble a fan.
How this differs from normal honeycomb I'm not sure, but then, I'm no aerodynamicist so I can't tell you, but in conjunction with its top-to-bottom airflow, it does seem to work.
It's novel for sure, and it's not the first instance of OXVA thinking outside the box either.
After reviewing the wonderful Arbiter Solo a few months back I was struck by what could be done with a bit of simple innovation, and with this, it's new bigger brother, the simplicity of thought is no exception.

Like the aforementioned Solo, there's an inner section to the bell-housing here too, although here it's a static, non-rotational piece, and it locates the build-deck rather than controls the airflow..
On top of this, the Arbiter 2 also seems to have tapering air inlet ports behind the airflow control ring, presumably to calm the current.
In combination with sculpted chamber these all seem to work extremely well, and together provide a smooth vape with no decrease in airflow volume. There's as much as you could wish for and you can practically have it straight through if you want.
You'd think that reducing the size of the ports and thickening the size of the bell housing would have the opposite effect, but no, not a bit of it. The airflow is relentless and the flavour you get is bountiful.
Not that I wanted too much draft.
I like to have at least some restriction on my vape and I'm pleased to say you can cut the airflow down quite suitably if you wish.
You're not going to get an MTL out of it but it will tighten.
There is a little audibility to the draw, but no more than other comparable tanks and the added bonus of the top airflow is that it's relatively leak-proof too.
In use the Arbiter 2 is a delight to use and it's going to handle anything you throw at it with aplomb. I have to say my limitations were reached far before its were so testing it to the max is something I'm going to have to leave to you.
That said, I did give it a very thorough going over and I enjoyed every minute of it.
I used it both as a dual-coiler and as a single-coiler and faced no problems with either.
This is really supposed to be a dual-coiler but unexpectedly I found a single wrap seemed to be just as good. But it doesn't matter either way. Building and wicking is so easy so you can play around with it until your heart's content, and you'll not be disappointed with either.
The postless deck will take most coils, although if you want something overly large and complex there's really only room for one. Those fanned walls of the coil gully will limit your scope somewhat. But as long as you're a dual-coil traditionalist or a single-coiler you're on pretty safe ground here.
Access is no problem either and the hex-headed grub screws tighten the legs down firmly from the sides and hold them securely.
Wicking is also just as easy.
The cotton tails poke down through the wicking holes without difficulty – albeit a little tightly – and there's plenty of room on the deck – particularly in single coil mode.

All the juice soaks up well as long as you don't overpack your cotton, and you won't get too many dry hits unless you really jam it in too tightly.
The juice does seem to go down pretty quickly though, not that refilling is much of a chore.
It holds 5ml of liquid with the bubble glass on, or 3.5ml with the straight, and the two large kidney ports under the 810 adorned top cap are reasonably accessible, but you may have a little trouble with bigger bottles as they are set a little deeply. Sometimes it'll run in from the sides and channel the juice in from the peripheral canal rather than directly.
Looks wise, I have to say I like it too.
Some have criticised the branding on the bell-housing for being too obtrusive and the motif for looking too much like a Zeus logo but I think it's just about right and has a nice level of detailing without being too overbearing.
At 26mm, and tapering into 24.5mm at the base, it'll fit most mods and won't look out of place wherever you put it.
I've used this tank on both single and dual battery mods and it looked well proportioned on both.
It comes in a choice of five colours – stainless steel, gunmetal, black, gold and rainbow, and has options for both 810 and 510 drip-tips by way of an adapter. The standard 810 is, however, a little on the garish side and might be a little too much for some people, but replacing a drip-tip isn't a deal-breaker.

In the box you get all your usual sundries like your spare glass, coils and cotton and your O-rings, spare screws and hex-key plus your 510 adapter. You also get your literature, but unfortunately you don't get a coil cutting tool which I feel would have been nice given that this is a postless deck after all.

And there it stands then, those are my only real criticisms – the drip-tip and the lack of coil measuring tool.
As I can't fault the performance of the tank I'm going to have to fault the provisions and drip-tip's garishness instead. Well, I've got to find something, haven't I?
On the whole then, this is an excellent RTA and a welcome addition to my line up.
This is an excellent RTA for both single and dual coil fans and one I'm going to keep using for a long time to come.
I've already enjoyed using it immensely and will have no problems recommending it to my friends.
The volume and scope of the draw sets it apart from most RTA's on the market and the flavour is really 'on point'. This has to be one of the most flavourful RTA's around right now and it's quality of build, performance and innovation are certainly going to go a long way in giving its rivals food for thought.
OXVA are really on top of their game right now and with this and the Arbiter Solo they've already got in their stable, they really are making some of the class leading vaping gear that you can do far worse than to equip yourselves with.
So, if you're in the market for an airy new RTA then this is certainly one to look for. At this price point there isn't much to beat it, and, in fact, there isn't much to beat it at any price point.
The only real negatives I had were the lack of the coil tool and the garish drip-tip but nothing about the performance.
As long as you can deal with those, you're onto a winner with this and really can't go wrong. I can't imagine too many will be disappointed with it. I know I wasn't.
HealthCabin is also one of the biggest vape wholesale distributors in China. If you're a vape business owner, just contact them to get competitive wholesale prices.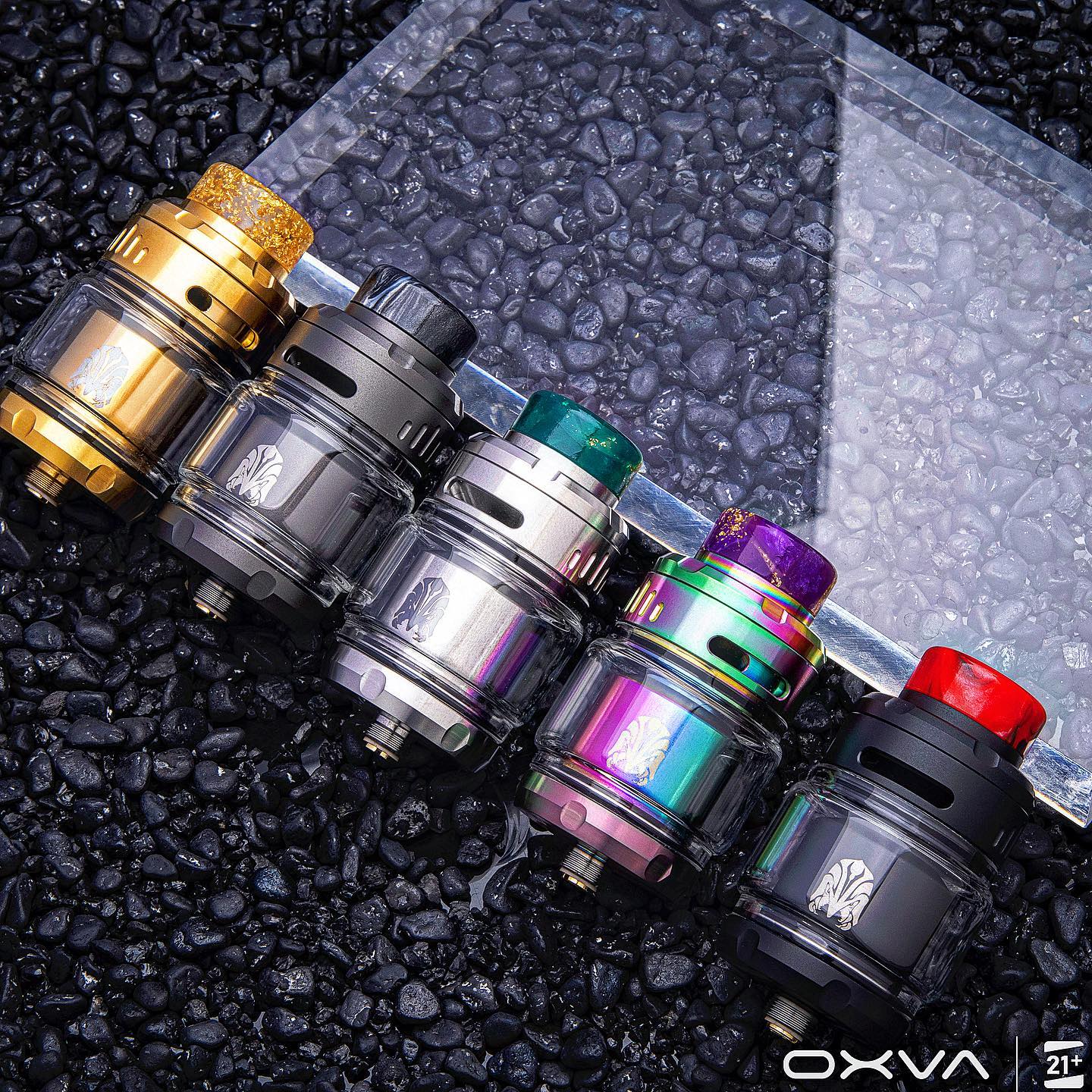 This review was written by Astral – Ryan from POTV(Planet Of The Vapes), click to view original review.