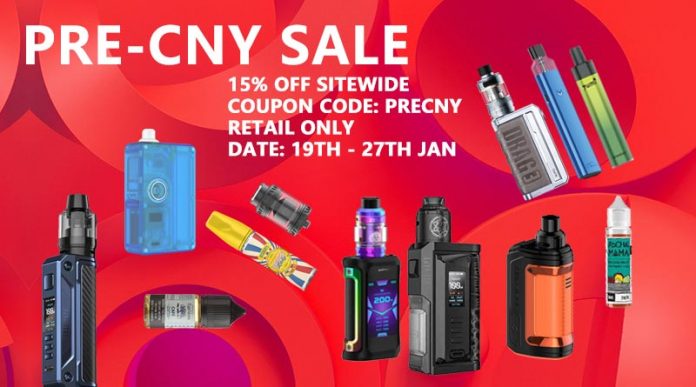 Dear valued customers,
The traditional Chinese Spring Festival is just around the corner. To celebrate the upcoming CNY, Healthcabin Pre-CNY Sale 2022 with 4 vape deals is ready. Come join us and save more on your favorite devices~
A. Sign in to get 30% OFF
Old customers – Please sign in directly to get your member VIP price, which is about 30% cheaper than regular price (the price before login).
New customers – Please create a new account to get the same member VIP price.
Note: For all E-liquid products & DOVPO products, the member VIP price is the same with regular price, but we are offering better discounts, let's chck it out.
B. 15% OFF Sitewide
We also created an extra 15% OFF discount coupon code, which is available for your whole order. Let's check it out!
Coupon infos:
Coupon code:

PRECNY

Date:

19th – 27th Jan, 2022

(-0600 GMT)
$1 Flash Sale products excluded
Retail Only
C. Giveaway – Free New Vapes
Healthcabin is now partnering with Voopoo to giveaway both Vinci Q Pod Kit & Vinci Pod Royal Edition Kit with 10 winners in total. Ends on 17th Jan. If you don't want to buy right now, why not try your luck and win free vapes? Click here to join and win!
Prizes:
D. Vape Deal Links
Here are some other useful links where you can find our best deals:
Weekly Sale – Best price for new hot vapes with 17% OFF Coupon: WSHC
$1 Flash Sale – Ultimate cheap vapes, can't use extra 15% OFF discount coupon code
Clearance – Extremely cheap vapes!
E. Holiday Notice
Healthcabin team will be on an 8-day holiday from 30th Jan to 6th Feb, 2022 and get back to work on 7th Feb. For more holiday notes and shipping arrangement, please click here.