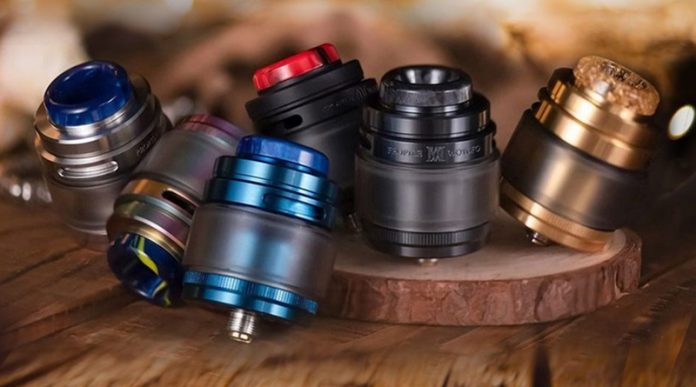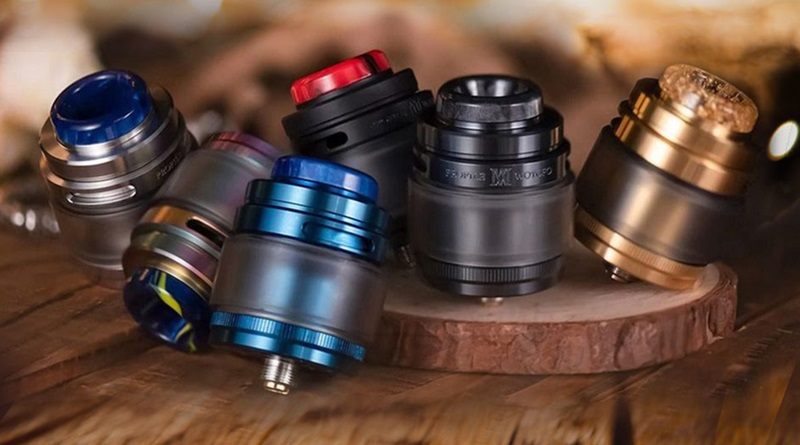 Wotofo Profile M RTA
This RTA was sent to me by Health Cabin for the purpose of this review. It's Wotofo's second mesh RTA. Their first one was the Profile Unity which had direct side Airflow. This one is a lot smaller than the Unity, and has top airflow. I'll go over everything the best I can. Let's check my Profile M RTA Review now.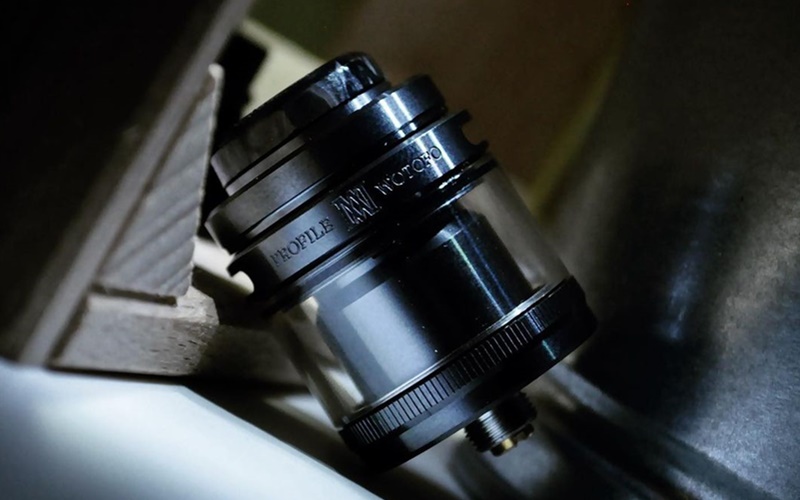 1pc Profile M RTA
1pc Extra 810 Drip Tip
1pc PCTG Bubble Tube 4ml
1pc Clapton Mesh A1+Ni80 0.15Ω
1pc Classic Wotofo Mesh A1 0.18Ω
1pc nexMESH A1 0.13Ω
1pc User Manual
1pc Bending Tool
1pc Accessory Bag
1pc Cross Head Screwdriver
3pcs 6mm Thick Cotton String
Height: 27.8mm (without drip tip & 510 pin)
E-liquid Capacity: 3.1ml (4.0ml bubble tube included)
Filling Method: Top filling
Airflow Type: Top airflow
Deck Diameter: 24.5mm
Insulator Material: German PEEK
Threading: 510 thread
Drip Tip: 810 resin drip tip
Coil Type: Mesh coil
The tank and my first impressions
This is a stubby little tank. It's approximately the same size as the Augvape Druga RTA. It features a slide open top fill and the usual Profile type build deck. It comes with a clear plastic strait (3.1ml) "glass" or tube, and a really low profile drip tip. In my box was a dark frosted plastic bubble section and matching drip tip. I used both of those instead. The bubble section holds 4ml of liquid and I usually go for extra capacity every time with these shorter tanks. I also think it looks better with the spares.
It's a pretty standard top airflow tank, only it's compressed. All the top airflow tanks I have are taller.
The top slider disassembles which is always nice. All's you do is unscrew it and the top comes off revealing the sliding plate and top gasket. The tank has no markings where to slide it open. I've come to know that mine slides up from around where the airflow ring is marked with some Profile branding. Knowing how threading works, each tank will most likely be different. Under the slider there's a little escape hole, and a fill hole. The fill hole gasket has one of those little flap designs. It's made to help prevent leakage. The problem with those is air can't escape. If the little hole gets blocked, juice just sort of bubbles around the fill hole and makes a mess. Not only that, the gasket gets pulled out of position every single time. It's not hard to push it back down but it's still a bit annoying.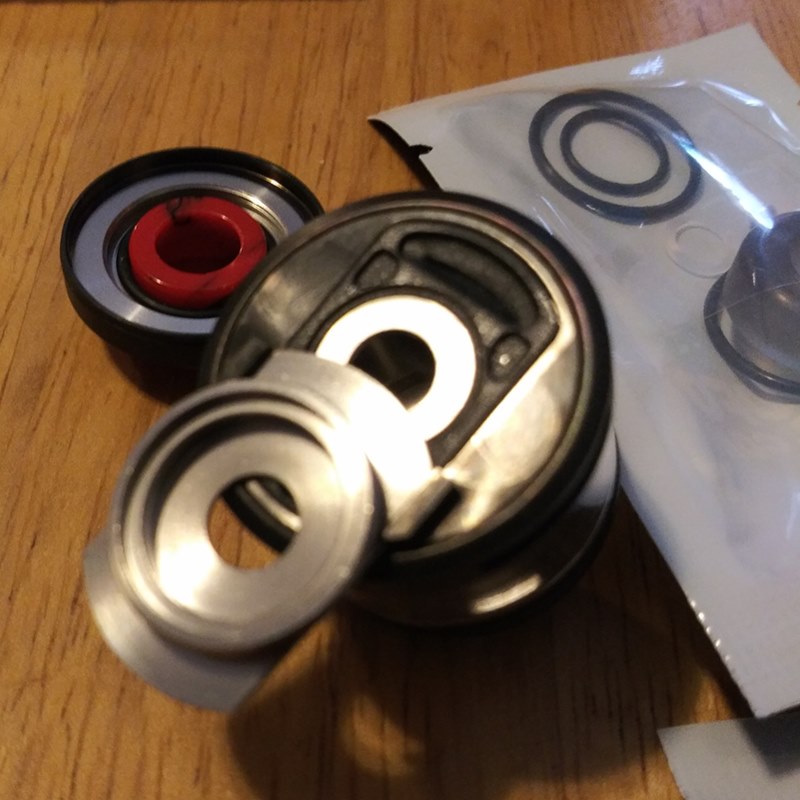 The Deck and wicking
This is a pretty standard Profile styled deck. Your mesh or wire coil is secured by a clamp system. The clamps have always had Phillips screws and there's a spring loaded ceramic block under your coil. When cotton is slid under the mesh, that ceramic block is supposed to push the cotton upwards. In reality, I think the spring is a little weak for that purpose. From what I've seen that ceramic block gets maxed out downwards anyways especially with the 6mm Wotofo cotton.
It's been my opinion for a long time that most laces designed to be used with mesh rebuildables is always way too much cotton. I've tried using it and the flavor suffers when it's packed in there too tight. You want to use just enough so that the entirety of the mesh coil is in contact with cotton at all times. Everybody has their own method for wicking these things though. Cotton goes under the mesh, and gets tucked into the wicking slots. It's not hard once you've done it a few times and come up with a routine that works for you.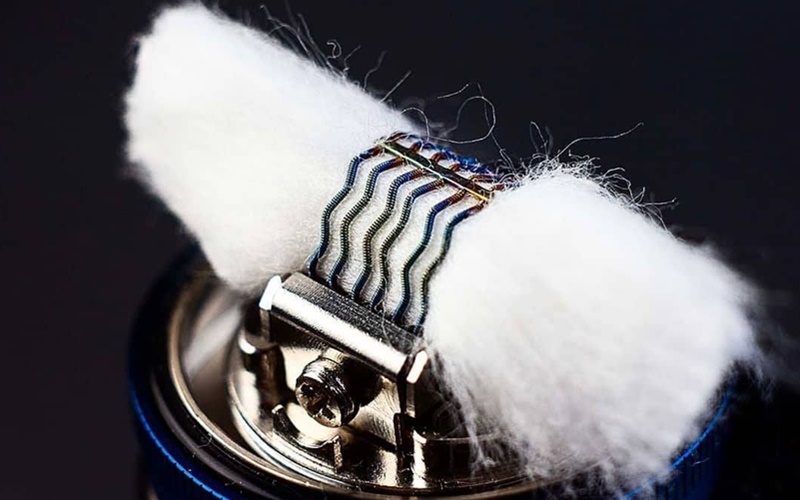 The Airflow
The airflow ring is towards the top of the tank located directly under the slider top. Mine moves pretty freely. Not only does it slide back and forth easily, it's got a little play going up and down. I haven't noticed it getting adjusted while being bumped in my pocket though. It's stayed where it should which is surprising. The actual airflow slot is of the wide open variety. There's a small rectangular hole about the same size as a Baby Beast airflow inlet.
There's a piece in the chimney that's removable. It's used to capture the airflow that's collected and directs it at the mesh coil. There's a honeycomb type pattern drilled into the sides of it. It's gets right in close to mesh which is pretty effective.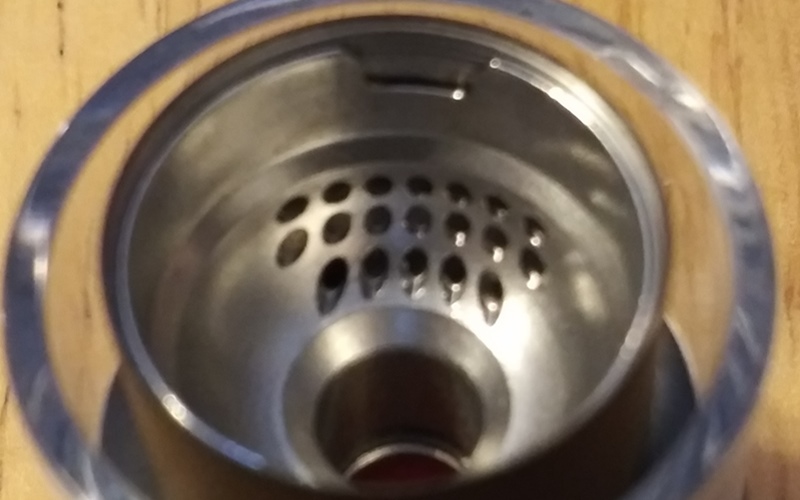 The included mesh coils
Wotofo gives you three different mesh coils to use with this tank. They're all the original Profile mesh size, not the bigger ones that fit in the Profile 1.5, or Profile RDTA. Ones the classic Wotofo mesh, another is the KA1 nexMESH, and lastly a new (smaller) Clapton Mesh. The first two are pretty standard Profile RDA user coils. The Clapton mesh isn't really mesh at all. It's small strands of clapton wire that's framed in the fashion of a mesh strip.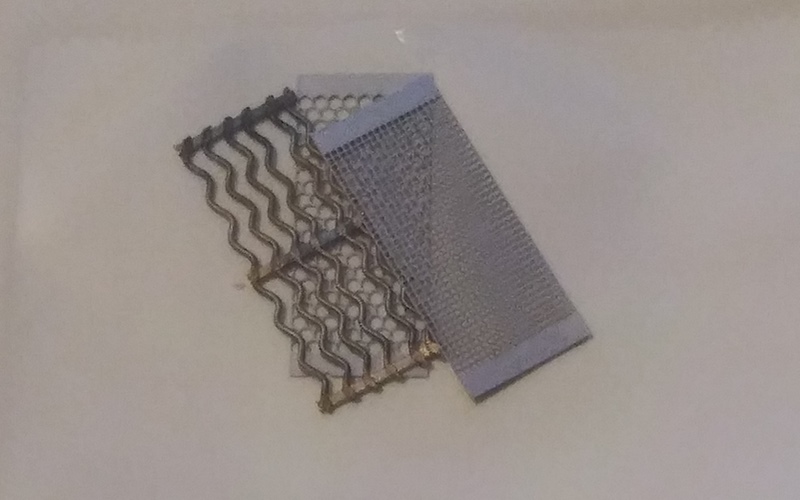 Performance
I started off using the standard Wotofo mesh coil. The flavor was really good and I had no problems. I used it at 50W with the airflow about half open.
Next I moved on to the nexMESH strip. This one had a small kink in it right out of the box. I didn't think it'd be a problem but sure enough this one acted up. I tried adjusted my cotton a few times by poking around under the mesh coil. No luck so I moved on. Therese are usually great coils that can handle a bit more wattage than the standard Wotofo mesh coils.
I've used Clapton Mesh before. Wotofo makes a clapton mesh coil for their. nexMESH Pro subohm tank. They also make bigger clapton mesh strips for their atomizers with the bigger decks. These coils work great. Wotofo found a way to make wire coils fire as quickly as mesh and the flavor is better. It's not as dry, and has some warmth to it. I loved using this coil. I'm not 100% positive but I don't think perfect wicking is as critical with these coils either. I used this coil until it was time to re wick.
Instead of re wicking the clapton mesh, I decided to try a single wire coil in the tank. I've been getting into and making staggered fused claptons so I tried one of those. It's two N80 26/38ga spaced clapton wires, fused together with another strand of 38ga. I wrapped my coil around a 3mm jig 5 times (technically 5.5 wraps) and cut the legs at 5mm with a coily tool. I was a bit worried that a coil of this size wouldn't have enough cotton for the slots. I fluffed it all up, and tucked it in as I regularly would. I've had zero trouble with the deck flooding or anything like that. I don't know if you've ever used a SFC before, but these coils are amazing. I thought the clapton mesh was really good but this coil is better. The tank is just exploding with flavor now. I only have the airflow about 1/3 open. I just wanted you guys to know, just because it's a mesh rebuildable, you can use regular wire coils too.
Overall, this tank is a great performer. Most of the shorty tanks I've tried vape really well. This is the first top airflow one I've used with such a short stature. Top airflow tanks won't leak as easily as bottom airflow tanks. The deck can flood if you don't set it up properly though. It'll gurgle instead of leaking out of the airflow inlets.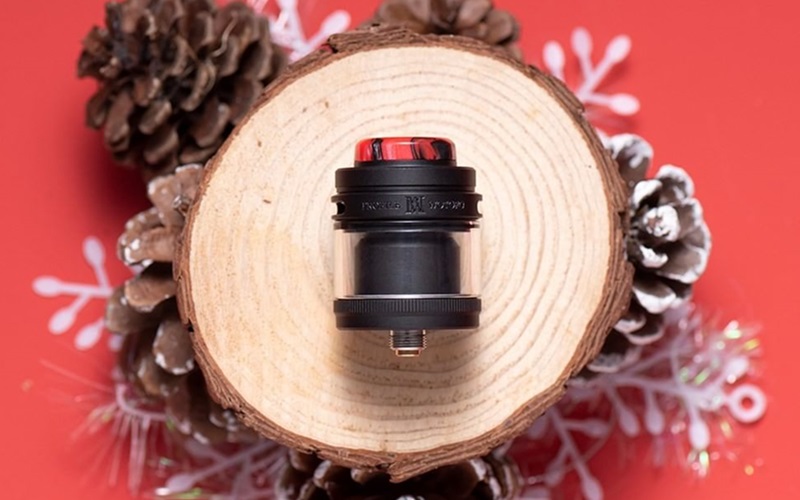 Profile M RTA Review Conclusion
This little tank is a great performer but it's not perfect. I've historically hated slider tops. The reason they make them is for convenience. Sometimes that convenience backfires. They slide open in your pocket and leak or flood. That hasn't happened to me with this one. It's gotten bumped out of place a little but that membrane thing must've done its job.
Filling it is still a pain in the butt sometimes. It was really messy early on, but I've figured out what and what not to do. Firstly, I don't tilt the tank at all while filling. If you do, you risk potentially blocking the air escape hole. After that, filling sucks. I've had juice go all over. I still don't like slider tops and those membrane flap things. I'd rather have a screw off top cap, and two large fill holes every time.
Those new clapton mesh strips are pretty darn good. Bravo Wotofo. I like that you can use any of those pre made mesh options, but you can also use woven mesh, or just a regular wire coil. The deck is pretty versatile in that way.
I'm glad to see companies make any rebuildables these days. Mesh and single coil options are right up my alley. The Augvape Druga has been one of my favorite newer RTAs in terms of performance. This one is about the same size but a totally different style. The flavor I get using the Profile M is just as good as the Druga RTA, if not a bit better. The big difference besides the tank style is the airflow. This one isn't as restrictive. You might not like that or you might like it a lot. It's got smoother airflow too but it's a bit louder. Take that as you will.
If I had to rate this RTA from zerp to ten, I'd probably give it 7.5. It's built well but most importantly it vapes really good.
Big thanks to Health Cabin for sending this RTA my way. When you log in the prices are better. Also during checkout, there's usually discount codes. They've been great and their store is awesome. There's always some great deals there. If you have any questions, I'll do my best to answer. Hope you're all staying warm and healthy.
This review was written by Andrew from Vaping Underground, click to view original review.