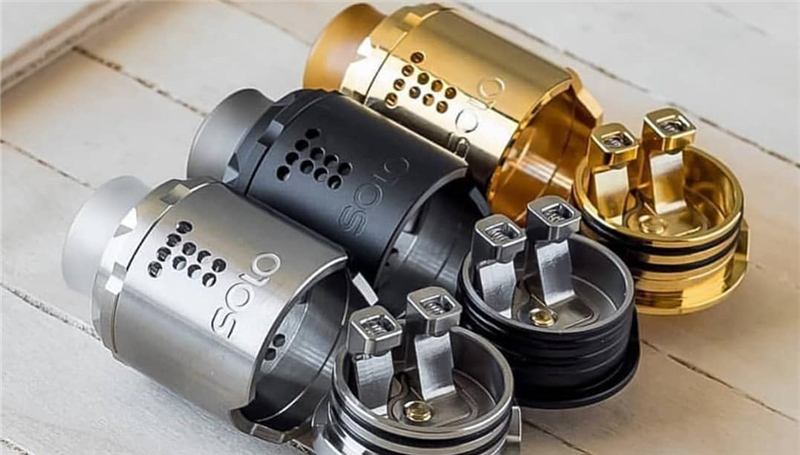 INTRODUCTION
Hello everyone and welcome to Pizza Dave's Vape Reviews. Today I will be reviewing the Drop Solo by Digiflavor. This has been a highly anticipated rda from Digiflavor all thanks to the popularity of the original Drop rda which released around the turn of the year last winter. The Drop solo features are all within the name. Essentially it is a narrowed down Drop, with one set of posts removed to make it a single coil atomizer. I will dive in to what you get, both top caps, the deck, and how well it works. As always, my final thoughts are down at the bottom.
**DISCLAIMER – This device was sent to me by Health Cabin for review. I want to give them a shout out for being a great company to work with on reviews. They are not pushy and give reviewers adequate time with products as they want all reviews to be honest and real.
CLOSUP
WHAT YOU GET
· 1Digiflavor Drop SOLO RDA
· 1 Bottom feed positive BF pin
· 1 PMMA 24mm Accessories
· 1 Drip Tip
· 1 Allen key
· 1 PMMA Mid Cap
· 1 PMMA Top Cap
· 1 510 Drip tip adapter
· 1 Spare Parts Pack
· 1 User manual
o Available in Black, Gold, and Stainless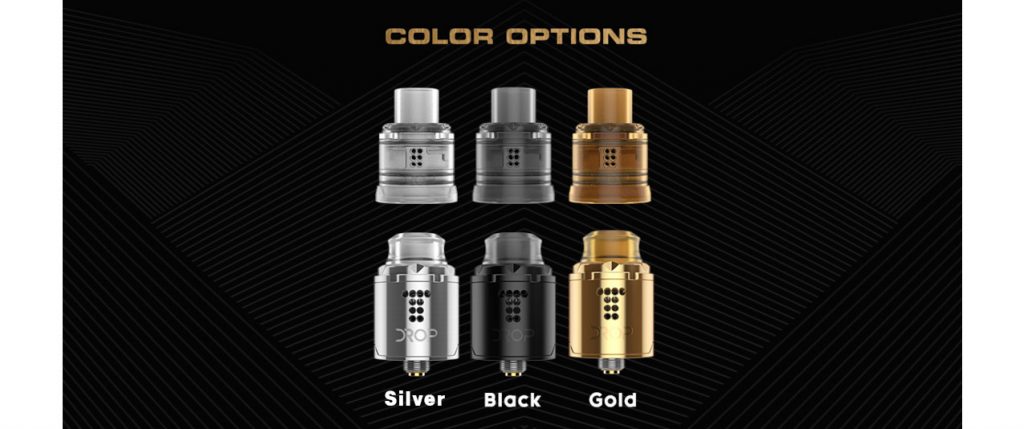 BUILD DECK AND WICKING
Like I said above, the Drop Solo takes the build deck of the drop and removes one post. It isn't tough to build on but might take a few tries to get the leads just right. The reason I say this, is because the deck is off to the side and the coil needs to be bent over to the middle to get the best air flow across the coil which is ideal for performance. The drop deck became popular because it was made to just drop the coils in, tighten down, and snip. This works the same way here, but one thing I noticed was the leads should be left long and the screws be snugged in just enough to hold the coil in the place. Then take your coil tool or rod, and bend to the middle and ensure the length is just right. Once the length is verified, tighten down, and snip the leads. My coils were set with the top of the coil being aligned with the top of the "t" of the air flow inlets. Once the coil is set, wicking is done the same as the drop or even the dead rabbit. These are high set coils, so you will want to wick to come down and rest right at, or just above the bottom of the deck. I never had a problem with the wicks keeping up using standard cotton, Firebolt cotton, native wicks, or cotton bacon.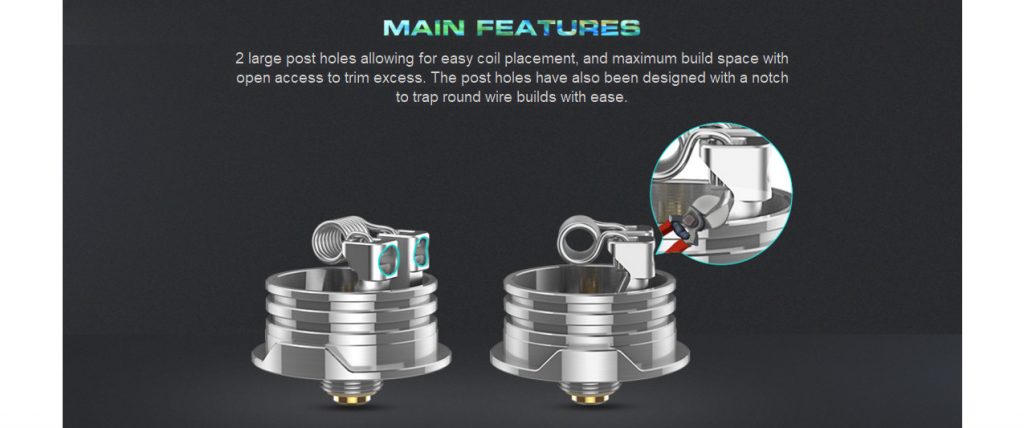 AIR FLOW
The air flow of the Drop Solo is pretty much the same as the drop, but it also has a separate PMMA cap which changes it up a bit. The standard metal caps are side air flow in a T shape with 10 air holes. To close off the air flow, turn the top of the cap, where it will close air off starting at the top and step down to the bottom. The PMMA cap is very similar, except it gets rid of the T shape and has just 6 holes. This too adjusts in the same fashion. Both caps offer a slightly different vape experience. I like the flavor from the metal cap with air flow wide open, but found that the flavor has a slight pop with the PMMA cap. I don't know if it is some sort of placebo effect, but it brings it out a bit. Even when running both with the same number of holes, it seems to just be a bit tastier. I discovered one small resolvable issue with the PMMA cap. It had a taste of plastic when vaping that took several runs through my ultrasonic cleaner to get it out. Once that came out, I was finally able to use it. For the most part, I am not a fan of clear or Ultem top caps, as they always look "dirty" with liquid, however I thoroughly liked the smoked PMMA. It allowed me to see what was going on inside the rda and was a great aid when squonking. The smoked color mildly covered up that dirty look that I hate, and the added beauty ring is a nice bonus.

HOW IT VAPES
I will be honest, when I first started using this rda, I was not impressed. I started my testing phase on a mechanical squonker, so this required some tinkering as usual to get it just right. I tried to use different types of Clapton wire with a resistance of .3-.4 ohms. The mechanical mod was only able to put 45-55 watts to those Clapton builds and it just wasn't enough to produce the vapor/flavor out of the Drop solo. I threw this same build on a regulated squonker and bumped the wattage up to 65 watts which was just what it needed to bring this rda alive. The extra wattage was a night and day difference and it revealed what this rda is capable of. I believe part of this is that is an airy atomizer, so it needs the extra wattage to heat up the vapor in the chamber. Love the flavor from this, and the air flow works great.


FINAL THOUGHTS
I was pleasantly surprised by what the Solo can do once all of the pieces come together. At first, I looked at this as many might have, as a cash grab. However, the more I think about this rda, the more it made sense. With squonking taking off in the last year, many have made the move to running single coil atomizers, and this is a simple adaptation into that market. The build deck is simple, the air flow is smooth, and the flavor is excellent. The contents in the package presents a log of bang for your buck and it is just as good, and in some ways better than several of the leading single coil atomizers on the market. Digiflavor and The Vapor Chronicles hyped this up a lot, yet it seems to be deserving. I struggled to find major cons with this rda and will continue to use this long after this review.
PROS
· Flavor is excellent
· Simple to build on
· Both metal, and PMMA top caps (Ultem on gold model) included
· Plenty of air flow adjustment
CONS
· I don't like either of the included drip tips
· The PMMA cap tasted of plastic at first
· Squonk pin is protruding so it holds liquid in the rda rather than sucking it down
· Posts seem to be rather thin and cheap looking, but never experienced issues with mine
Thank you everyone for reading my review and thank you Health Cabin for sending it my way for review. I am seeing this all over the internet for about $30-40. Health Cabin has gold and black in stock now for $34.90
​
DROP SOLO
​
Pizza Dave – delivering real reviews with no extra toppings
​
REVIEW CRITERIA: I use each item extensively for about two weeks to ensure I have collected enough data to adequately write a review. I use the same e liquid in tanks or rdas throughout all my reviews to ensure that I am comparing apples to apples between all modern equipment. I do not post reviews until I feel confident that I have used all products enough to give an educated review. The reason I started doing reviews was due to poor purchasing decisions in my vaping infancy about two years ago. Back then, I purchased several different pieces of hardware without really enjoying them and I hope my reviews can guide people into spending their hard-earned money more wisely than I did! ****Keep in mind that some items I receive may be pre-release and not in retail packaging. Quality may be less than the finished product and what is in the package may differ from the retail package as well.