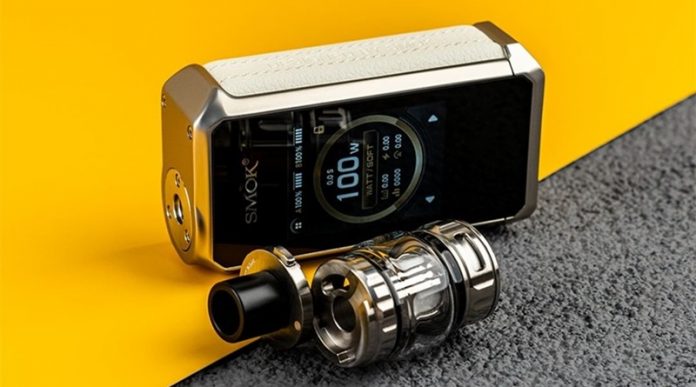 Hello again and welcome back for today's review on a full sized kit for a very nice change of pace from the flooded Pod market. The Smok G-Priv Kit comes with the TFV18 Mini Sub-ohm Tank that I've reviewed a few times being paired with other Smok devices. I will tell you right away that the TFV 18 Mini is a high wattage tank so if you don't like wattage starting points of 80watts this tank is not for you so you would be better off just getting the mod alone and pair it with a tank of your own. The G-Priv 4 is a full featured dual 18650 device with a maximum power output of 230 watts and has Temperature Control modes of NI – TI – SS along with TCR for those of you that use them. The 1 big feature of this device is it's a touch screen and probably the best touch screen vaping device to date, there's a lot to cover so let's get started the Smok G-Priv 4 Kit Review together!
1pc Smok G-Priv 4 Mod
1pc Smok TFV18 Mini Tank (6.5ml)
1pc Smok V18 Mini Mesh 0.33ohm Coil
1pc Smok V18 Mini Dual Meshed 0.15ohm Coil
1pc Extra Glass Tube
1pc Type-C Cable
1pc Manual
G-PRIV 4 DEVICE FEATURES
IQ-M Chipset
Size: 90 x 50.8 x 29mm
Dual 18650 Batteries (not included)
Wattage Range - VW: 5-230W
Wattage Range - TC: 10-230W
Voltage Range: 0.5-8.2V
Zinc-Alloy Chassis Construction
Intuitive Firing Button
2" Touch Screen
Threaded 510 Connection
Type-C USB Port
TFV18 MINI SUB-OHM TANK FEATURES
28mm Diameter
6.5ml Tank Capacity
Pyrex Glass Reinforcement
Stainless Steel Tank Construction
Rotating Top Fill System
Push Button Lock
Screw In Coil Installation
Dual Slotted Airflow Control Ring
Threaded 510 Connection
FIRST IMPRESSIONS
I like how Smok packaged the G-Priv 4 having the TFV18 Sub-Ohm Tank, spare bubble glass, 2nd 0.15Ω Mesh Coil and charge cord laying on the bottom in a foam insert with the G-Priv 4 laying in it own plastic tray on top with the user manual, warranty card and battery safety card on top. Preinstalled in the TFV18 Mini is the 0.33Ω coil.
Smoke even thought to put a protective screen cover on to keep it scratch free during shipping, I always keep a screen protector on for as long as I can before they eventually fall off. The TFV18 Mini is nothing new to me because I have reviewed it in the past and it's a powerful beast, the flavor that come off the coils is above average and plenty of vapor as well but very thirsty so being a 6.5ml tank is a plus.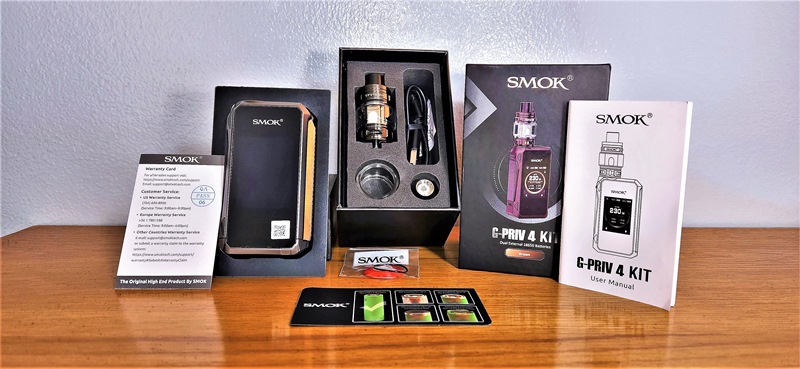 I will start with the TFV18 Mini Sub-Ohm Tank, I'm not going to go into great detail on it because I have reviewed it before with other devices it was paired with but I will say that it and the coils it take are very flavorful and required high wattage to bring them to life, if your not a high wattage vaper this is a tank to avoid. 80 watts is the starting point on the 0.33Ω mesh coil that's preinstalled with a rating of 80-140w and a best rating of 100-110w, My liking is 85w which gives very good flavor and will cloud up a room with ease.
Of the 2 coils that are supplied the 0.33Ω mesh coil is the most airy, so much so that you can actually breath through it. Noise is another factor with this coil more so than the 2nd supplied coil which is a dual 0.15Ω mesh coil with a rating of 80-110w and a best at 90w, being a dual it's a bit more restrictive but not that much and the loud noise factor is still present if slightly toned down a bit. I really like the tanks top fill that has a push button opening and then locks back in place after filling. In the 10 days or so of using the tank it has never opened up by accident.
Turning out attention to the real star of the show the G-Priv 4 device that uses a bottom loading type for the 2 18650 batteries by way of a spring loaded bottom door that latches very secure. The door lock/unlock switch has 3 horizontal bars running across it helping you in opening.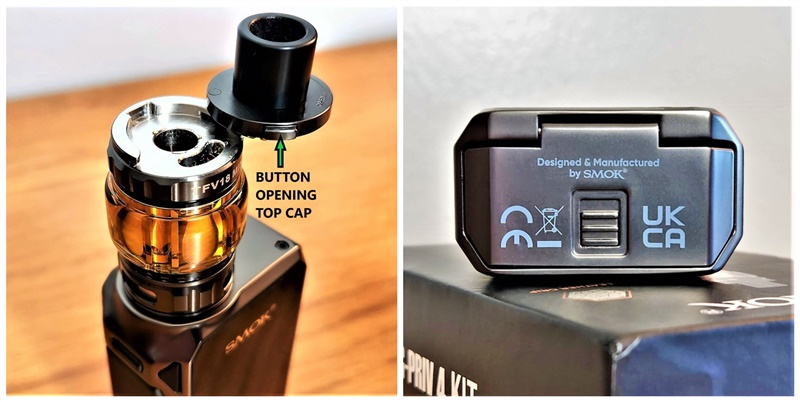 Smok really did a nice job on marking battery orientation on both the battery tubes with a positive Red + positive and a negative Blue – minus symbol, there is battery orientation marked in white on the battery door with each battery tube marked A and B. At fist glance I thought the door latch was broken with a corner missing on one side but it's not, it was designed that way.

Up top we have a rather stiff spring loaded 510 pin, if you want to use another atomizer on the G-Priv 4 you can use up to a 26mm before any overhang happens. I like that the body as well as the top plate are all the same gunmetal finish keep it uniformed in color.
The back and one side have a suede leather finish that is smooth to the touch, on the backside the G-PRIV 4 name is embossed while the one side has double stitching with DESIGNED BY SMOK in the center of the stitching, the fabric has held up well during testing and I really like it.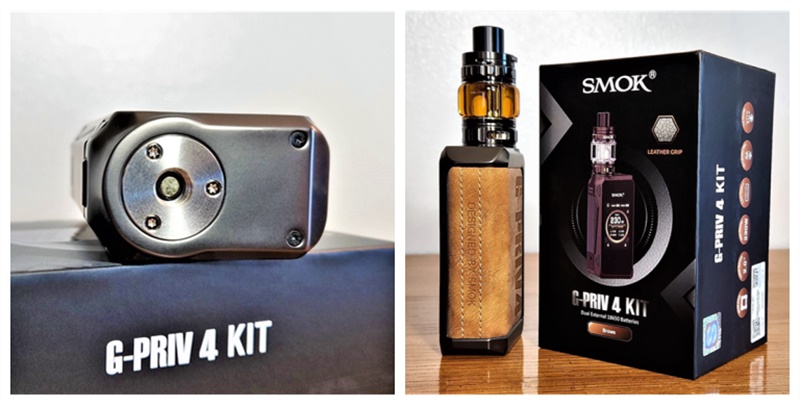 On the other side there is a long lateral fire bar that works great, a fire bar is my favorite mode of firing up the coil because you simply squeeze and it fires. In all 4 corners of the fire bars side are what look like little triangular buttons but they are only decretive, however between the 2 at the top is a small horizontal button that is a lock/unlock button as well as a button to activate a stealth mode.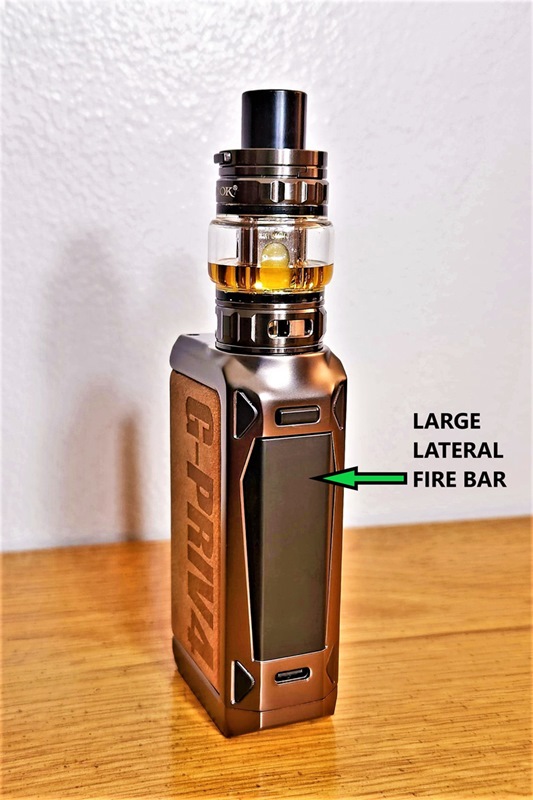 After every vape the device adjustments become locked and need to be unlocked using this little button. A long press of it will lock or unlock the adjustment settings but a short press will put it in or take it out of stealth mode, you will save on battery life in stealth mode. Below the firebar is the charge port which should only be used if in a pinch, vape while charging is supported. The fire bar and multi use lock button are the only physical buttons on the device because of the touch screen.
We finally come to what I think is the best feature of the G-Priv 4 and that is the touch screen that in my opinion is the best touch screen on a vaping device. The screen is very responsive and although the device scrolls very slowly in 1 watt increments there is no need to mash down on the screen, just a light touch is all that's needed to activate the screen.
The screen layout is done very well giving you all the information you need on a bright vivid 2 inch display screen that is also color with 6 color themes to choose from, my device shipped with the Tan or light Brown already designated. More on the color themes later on but first the screen layout starting from top to bottom and left to right.
MENU BUTTON
BATTERY A & B PERCENTAGE AND BATTERY BAR
LOCK/UNLOCK SYMBOL
SECONDS OF LAST VAPE
WATTAGE/TEMPERATURE
POWER MODE AND PREHEAT SETTING
OHMS
VOLTAGE
PUFF COUNTER
AMPERAGE
Once the device is unlocked simply press the menu selection symbol in the upper left corner to go to the various screens and functions within them, this menu system is easy to navigate. These are the screens inside the menu in order.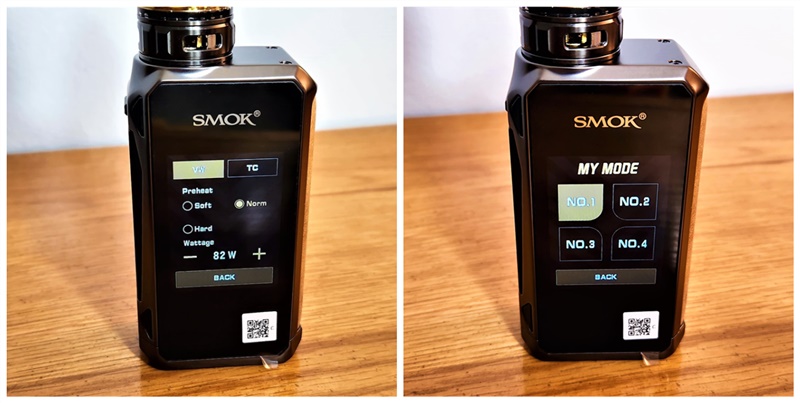 Another 2 functions I forgot to mention earlier are on the fire bar which is used to turn the device on/off with 5 quick presses and you can lock/unlock the entire device with 3 quick presses. If you want to shut the device down when inside the menu there is also a setting there as well.
There are 6 color themes to choose from to customize the display screen to your choosing.
RED
BLUE
TAN/BROWN
GREENPURPLE
WHITE – BLUEISH WHITE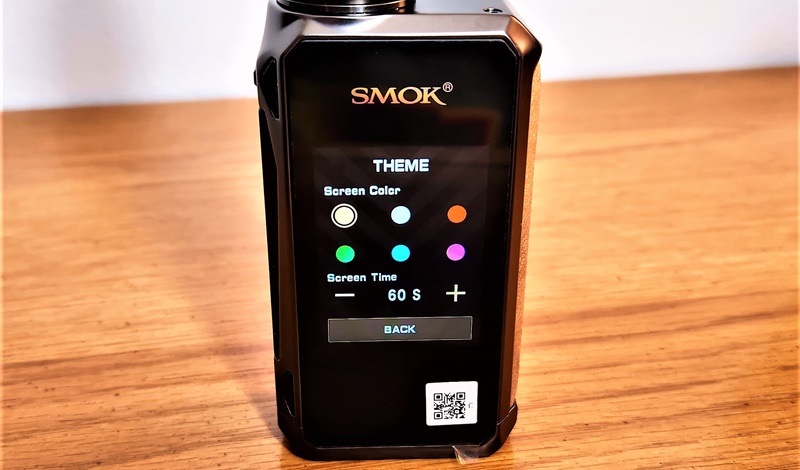 PROS – G-PRIV 4 DEVICE
TOUCHSCREEN
DUAL 18650 DEVICE
6 THEMES COLORS
BRIGHT & VIVID
2 INCH DISPLAY SCREEN
4 MY MODE MEMORY PRESETS
3 PRE HEAT SETTINGS
EASY MENU SYSTEM
FIRE BAR
LOCK/UNLOCK BUTTON
STEALTH MODE
VAPE WHILE CHARGING
ATTRACTIVE
CONS – GPRIV 4
BATTERY DISCHARGE RATE SHOWS UNEVEN DRAINAGE ON DISPLAY ( 2 % DIFFERENCE OF BATTERY STRENGTH ON EXTERNAL CHARGER )
PROS – TFV18 MINI SUB-OHM TANK
ABOVE AVERAGE FLAVOR
POWERFUL
6.5ML CAPACITY
PUSH BUTTON OPENING TOP CAP
3 AIRFLOW SLOTS
CONS – TFV18 MINI SUB-OHM TANK
SLEEVE STYLED DRIP TIP
VERY THIRSTY
VERY LOUD
FINAL IMPRESSIONS
I have to say that Smok has come a very long way from their rocky beginnings a long time ago to a company that produces some very good vape gear and in my opinion not only is the G-Priv 4 the best touch screen vape device but the best mod from Smoke.
This device would be perfect for someone with manual dexterity issues because using the touch screen is so effortless to do. Having 4 custom memory modes is really nice and you can use them for wattage or TC of which I can't give you any info on because I'm a wattage only vaper.
Having a fire bar is another thing that I love on a mod because a simple squeeze is all that's needed to vape without looking for a button. The lock/unlock/stealth button is very small and out of the way and blends in nicely with overall appearance.
Flavor is why I like the TFV18 Mini even though I seldom vape above 60-80 watts but the sleeve styled drip tip has to be changed to a regular 510 but better yet a 810 conventional drip tip.
I will recommend the G-Priv 4 Kit only if you like to vape at higher wattages because if you try to vape below the starting wattage recommendation you will get leaking because all the juice can't be vaporized. But I would get this mod alone regardless, I give it WINNER STATUS. I would like to thank Sue and Healthcabin for providing the G-Priv 4 Kit in exchange for my review.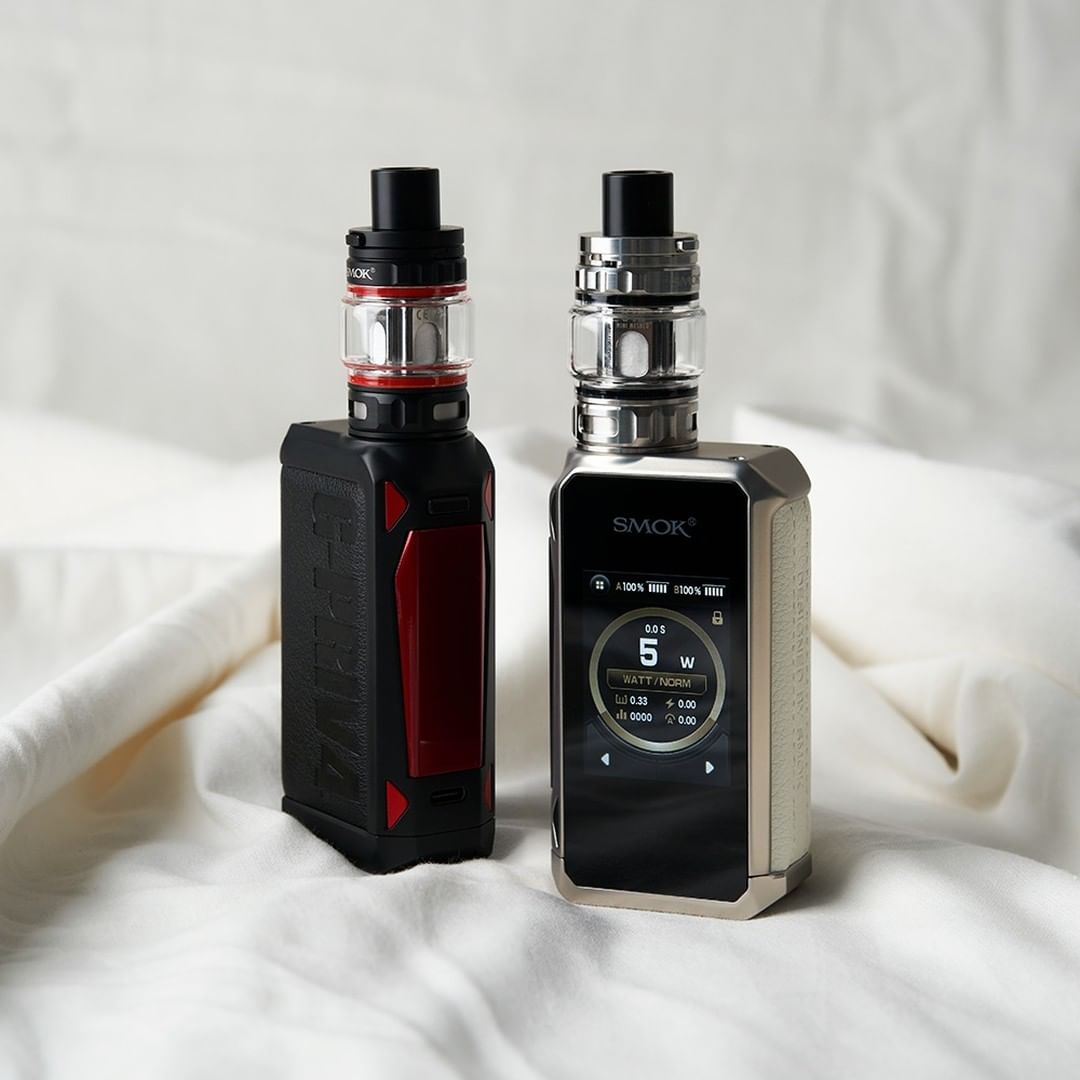 This review was written by bigbob2322 – Bob from ECF, click to view original review there with more photos and more details.