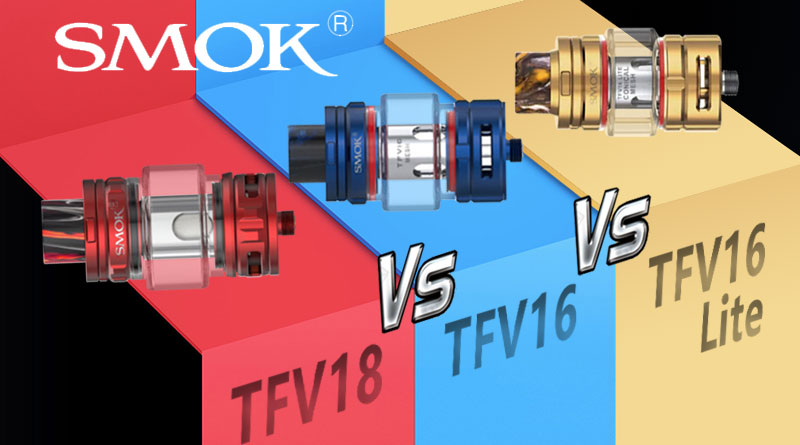 In the "long" history of sub ohm tanks, which series is the best one? You may have different answers like Horizon Falcon, FreeMax Fireluke, but I do believe many people will pick the SMOK TF series, which begins from TFV4, TFV8, TFV8 Baby, TFV8 Big Bagy, TFV12, TFV12 Prince, TFV16, TFV16 Lite, TFV9, TFV9 Mini, now it comes to TFV18. There are lots of stories we can talk about for each tank mentioned, SMOK became a well-known brand out of its innovative TFV4, hot selling TFV8 with lots of coil options… In this post we will have a brief comparison between the latest 3 versions: TFV16 VS TFV16 Lite VS TFV18.
Here we go:
Coils
*TFV18 & TFV16 Coils are interchangeable

Meshed Coil 0.33ohm, Best 100-110W

Dual Meshed Coil 0.15ohm, Best 100-110W

Mesh Coil 0.17ohm, Best 120W

Dual Mesh Coil 0.12ohm, Best 120W

Triple Mesh Coil 0.15ohm, Best 90W

Conical Mesh 0.2ohm, 60-85W

Dual Mesh 0.15ohm, 60-90W
Summary
Overall, the new TFV18 is a bit smaller than TFV16 in size & tank capacity, TFV18 also followed the top filling design from TFV16 with a top cap locker system. Another noticeable change is the TFV18 arranged 5 braces on the base to effciently transfer the power to the coil for circular and fast heating.
Good news is the coils for TFV18 and TVF16 are interchangeable, including the RBA. While the coils for TFV16 Lite do not match other tanks.
We may expect the new coils to deliver an unique vaping experience with the TFV18 tank.
Which one is your favorite tank in SMOK TF series? Share us your thoughts in comments below.