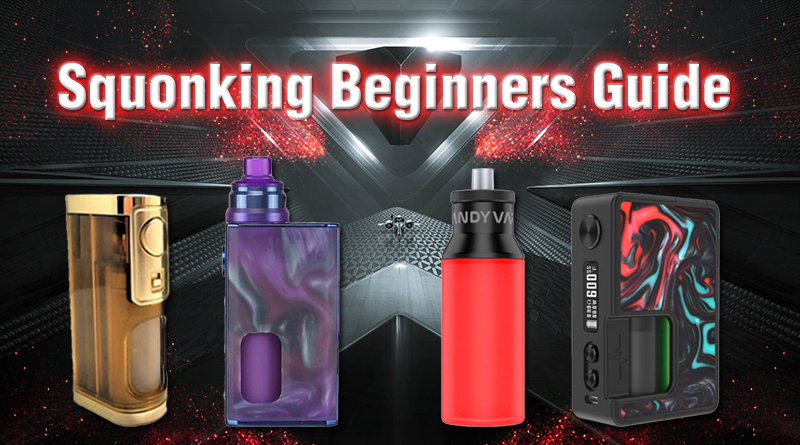 Squonking became incredibly popular towards the end of 2017. But what is squonking? Should you get one? See our full guide below to learn more about squonking and how they work — or read on to find out the best squonkers you can get right now.
1. What is Squonking?
A squonker is a special type of vape mod with a built-in bottle containing e-liquid. It allows you to pump e-juice into your wicks and coils on demand. They are also known as bottom-feed devices because the liquid is fed upwards through the bottom of the atomizer.
Squonk mods can store more e-juice than even some of the larger-capacity tanks, while providing the same flavor intensity as a dripper.
Lets make it simple:
A. There is an e-liquid storage bottle located in your mod.
B. A pipe leads from this bottle to your bottom feed atomizer.
C. When you squeeze the bottle, e-liquid will be sent to your atomizer.
3. The Benefits of Squonking
The biggest benefit of squonking is obvious – save time. If you are using a RDA, just squeeze the bottle to refill your wicks, no more drippings; if you are using RTA, just squeeze the bottle to refill the tanks, no need to open your tanks to refill them. It is very easy and time saving. No need to bring a bottle of eliquid in your pockets with squonking. Why not.
4. Regulated or Unregulated Squonks
Unregulated squonkers, just like the Unregulated Mechanical Mods, are providing the atomizer with the raw power of the battery depending on the resistance of the build. Users have to build according to their batteries' safety limits using Ohm's law and battery safety knowledge. Some of the massively produced unregulated squonk mods come with built-in protections that will prevent shorts and potentially dangerous user errors.
Regulated squonk mods come with fully-featured VW/VV chipsets that let the user pick the wattage or voltage they wish to go with. The majority of them come with a wide array of safety features and eliminate most of the concerns regarding battery safety. They are generally considered the safest option when it comes to squonking — and the only viable option if you are a temperature-control vaper.
5. What do You Need to Get Started?
Except a squonk mod, you need a squonk atomizer, or bottom feed (BF) atomizer, it can be a RDA or RTA. Compared to the regular atomizer, the only difference is that a BF atomizer comes with a squonk pin or BF pin to lead eliquid to the building deck. Almost all BF atomizers come with regular 510 pin and BF pin.
6. Should I Get One?
If you're a fans of RDA/RTA, and dont wanner to drip/refill your atomizers frequently, or bring a eliquid bottle in your pockets, then yes, squonking is your final choice. Meanwhile many squonk mods cost the same as traditional vape mods, and more and more RDAs are coming with BF pins, squonking is actually a bonus feature. Want to go out and about without having to carry bottles with you? Fill your squonk bottle and you are ready to go!
7. Best Squonkers You Can Get Right Now
Please read our best squonk box mods 2018 for more info.