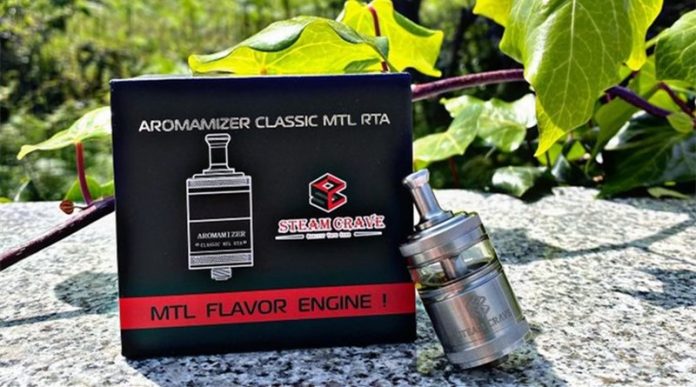 In this review I take a look at the Aromamizer Classic MTL RTA from Steam Crave. The Steam Crave Aromamizer Classic MTL RTA was supplied for the purpose of this review by Sue from the Healthcabin.
Introduction
Steam Crave have quite a cult following and are mainly known for their large RDTA's but in more recent times have been much more diverse even showing they are very capable of delivering quality MTL Atomizers! Here I take a look at their latest MTL offering the Aromamizer Classic MTL RTA which has exactly the same drop in deck design which gets fed from a tank above as their RDTA's so why they are calling this an RTA is a bit confusing but then what most refer to as an RDTA these days are actually Top Coilers so nothing is at it seems anymore!
As well as having the usual drop in deck design Steam Crave are known for which does give the possibility of having future deck designs the Classic utilises side airflow pins for different MTL and even a RDL draw! The 23mm tank size allows for a respectable 3.5mm juice capacity while maintaining a deck size more akin to a 22mm atomizer which in my opinion is the ideal size for MTL! With the usual outstanding build quality we have come to expect from Steam Crave and coming in 2 colour options, let's check out the Aromamizer Classic MTL RTA!
1pc AROMAMIZER CLASSIC MTL RTA (single coil deck and airflow pin 1.0 mm*2 fitted)
2pc 0.8 mm airflow pin
2pc 1.5 mm airflow pin
2pc 2.0 mm airflow pin
1pc blind air pin
1pc 3.5 ml glass
1pc spare 510 Delrin drip tip
1pc spare bag of o-rings and screws
1pc coil, clapton Ni80, 32 Ga*2+38 Ga, ID 2.5mm, 5 wraps
1pc coil, K-A1, 28 Ga, ID 2.5mm, 7 wraps
1pc Allen key
1pc SteamCrave sticker
1pc Manual
Diameter: 23mm
Height: 34.4mm (tank) 48.8 (including drip tip)
E-juice Capacity: 3.5ml
Filling Type: Top filling
Airflow: Adjustable side airflow
Coil Building: Single coil deck
Air Pins: 0.8mm, 1.0mm, 1.5mm, 2.0mm and a blind air pin
Deck slots into chamber (potential for alternative decks)
Colours: Stainless Steel, Black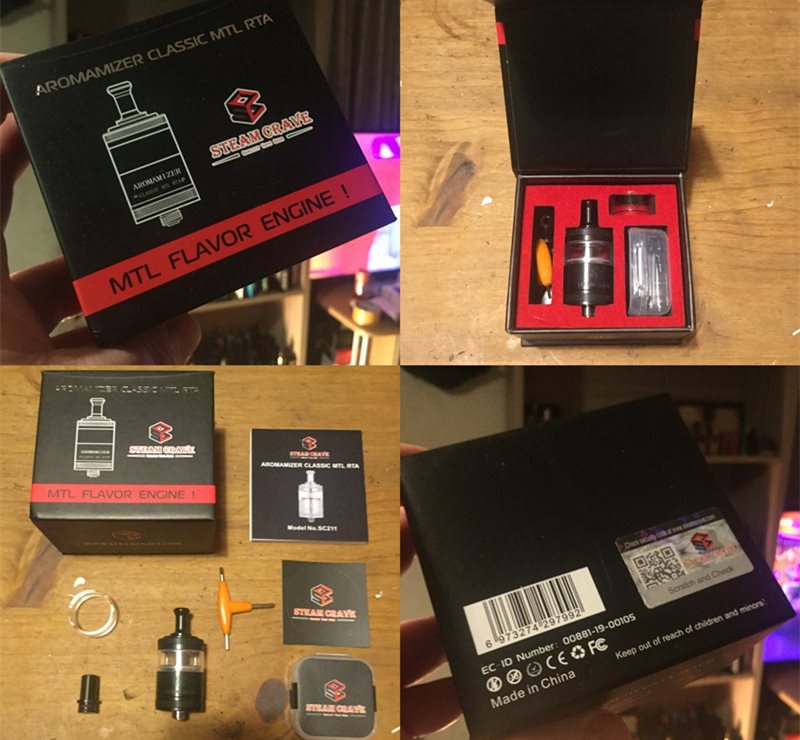 Aesthetics
The Classic is immaculately presented in the usual Steam Crave flip open presentation box, I received the Black, the options are Black or Stainless Steel. The front has the Steam Crave logo carved into the lower metal while we have more carved branding to the rear, to both sides we get more aesthetic features in the form of airflow pins that screw into position.
Above the metal we have a glass section which is followed by a stepped top cap and metal nipple style MTL drip tip (a straight Delrin drip tip is included). The bottom of the RTA has the decks retainer base section which has knurling which matches the knurling to the top cap, both helping with grip! On the base we have the usual branding, safety stamps and a Gold plated 510 pin. With it's 23mm diameter but small drop in deck into a reduced chamber it retains classic MTL attributes while it's slightly bigger diameter allows it to look much better on most devices!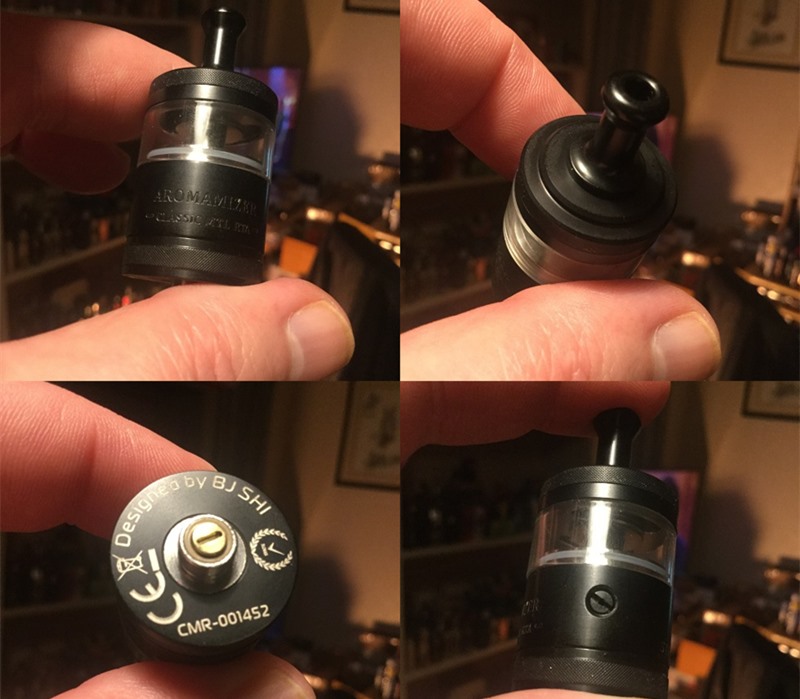 What You Receive?
In the box you receive the Classic RTA with installed metal MTL nipple style drip tip, 3.5ml glass and the two 1.0mm side airflow pins installed. You also receive a straight Delrin drip tip with the same size narrow bore if you prefer, below is a photo with the Delrin drip tip installed!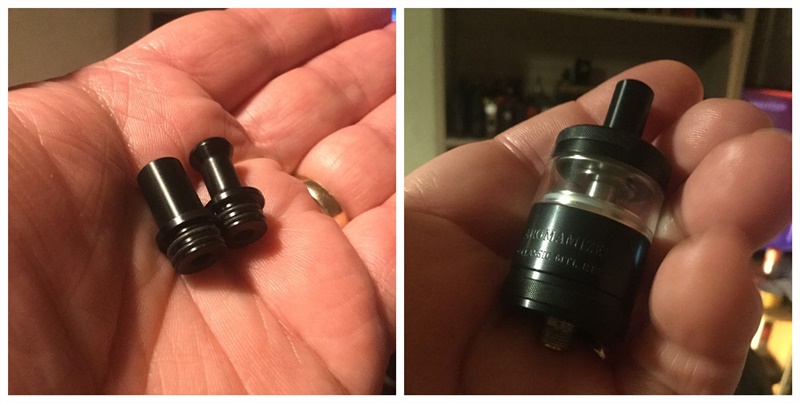 You also receive the customary Steam Crave sticker, extensive manual, T-piece tool, spare 3.5ml glass and a handy little tub housing the other accessories!

Inside the Accessories tub we get a bag of spare O-rings and screws, a simple round wire coil K-A1, 28 Ga, ID 2.5mm, 7 wraps, 0.4ohm, a fused clapton Ni80, 32 Ga*2+38 Ga, ID 2.5mm, 5 wraps, 1.0ohm, and the other different sized airflow pins.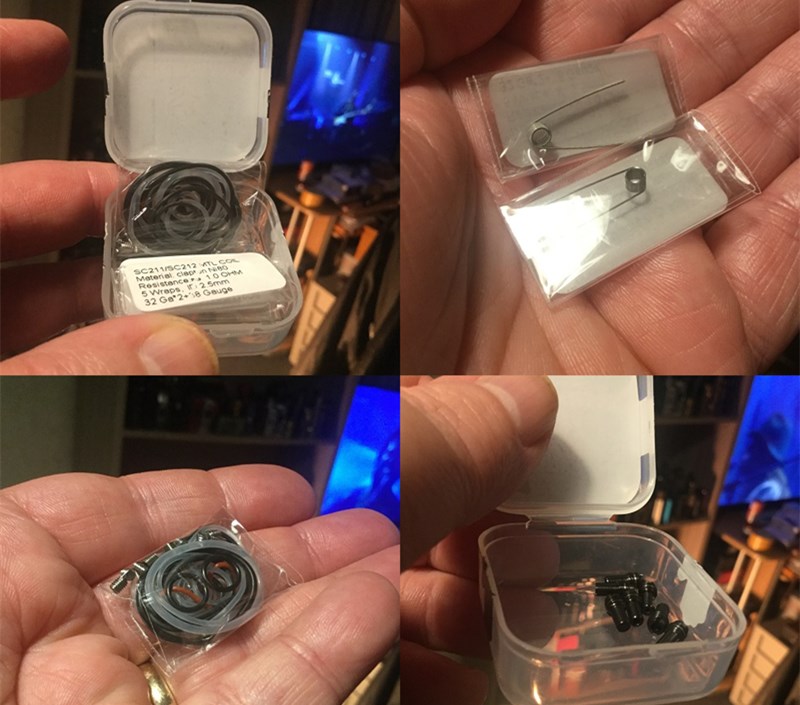 It's Various Parts!
Up top we have a narrow bore metal drip tip which as mentioned can be swapped for a Delrin version, the top cap fastens to the tank via threading to the chimney section with a top O-ring for a good seal. I much prefer a bayonet fitment but this has silky smooth threading and can be removed and re-installed very quickly!
The chimney section screws away from the lower metal section of the tank leaving the top section of the fill plate with chimney, lower retainer ring which sits between the glass and lower metal section and the glass between, all these parts disassemble very easily!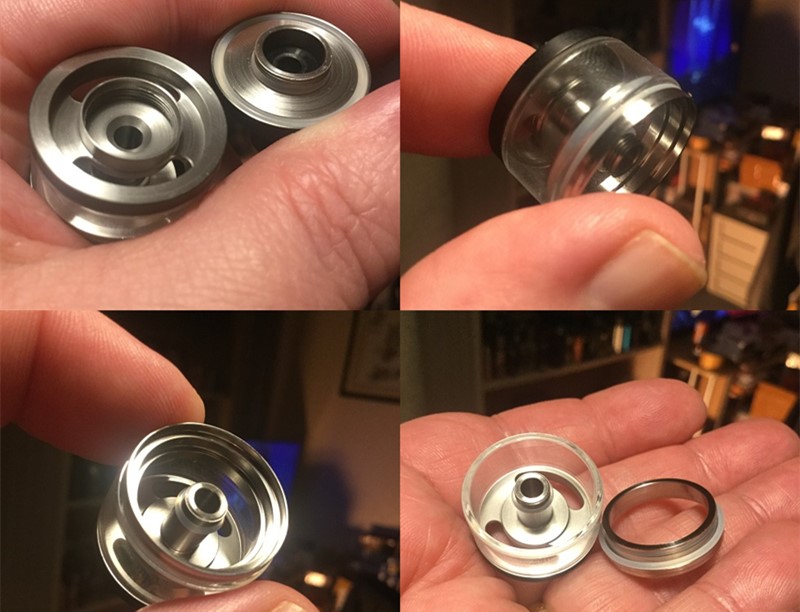 To the top of the bottom metal section we have 2 slots that allow the juice to travel down cavities in the double walled lower section and feed the deck from below. The base screws off revealing the Classic utilises a drop in deck that pulls out. Looking inside the chamber we can see the reduced upper section where the build area will sit and an airflow pin to either side which will hit the sides of the coil with jets of air!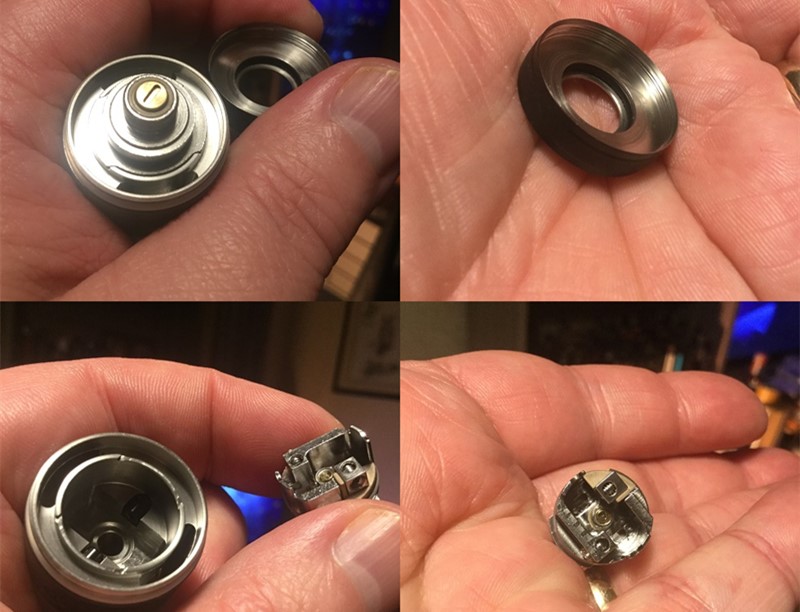 Below is the tank completely taken apart: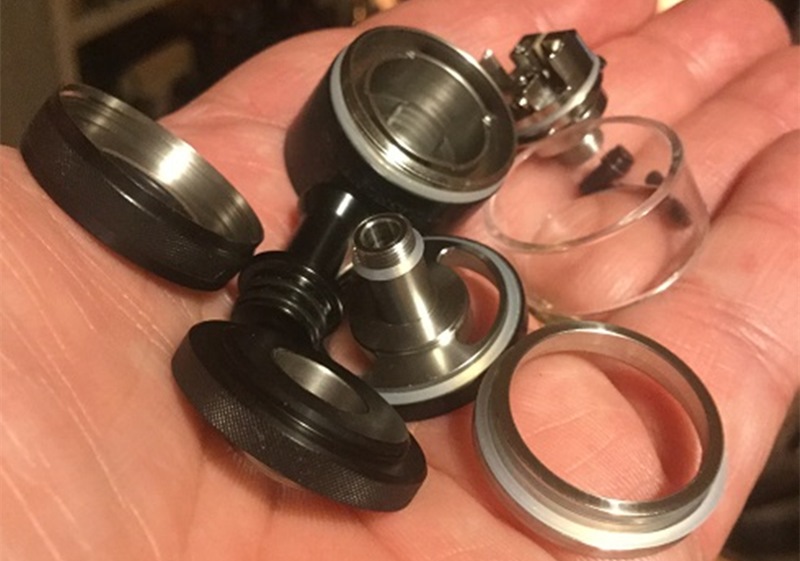 The Airflow Pins
The airflow on the Classic is adjusted by fitting different sized pins into the sides, as usual you get the obligatory blind pin but as this is direct airflow to the sides of your coil and not airflow feeding a bottom airflow outlet it's beyond any logic I can think of to have airflow only hitting one side of the coil so needless to say the blind pin is something I will just never use!
The pins screw into the tank so you will need to use a screwdriver until they are out far enough to get a grip with your fingers, likewise to fasten them in position a screwdriver is needed to tighten. Obviously they are small pins so you need to keep them safe as they can easily get lost but that just goes with the territory of MTL tanks that use some form of airflow inserts or pins! My main concern is with the Black tank especially if someone likes to constantly swap out the pins will the heads of the pins and finish surrounding the area to where they get installed get scuffed up, only time will tell!

On the Black pins included with the Black Classic the size of the bore on each pin is clearly labelled in White although obviously the writing is very small but it's hard to see how they could be labelled any better with being so small in diameter!
Obviously when writing this review I have already tried the various pins so this is how I found them:
0.8mm – not super tight but still a tight MTL draw (too tight for my preference)
1.0mm – A cigarette type draw which I really enjoyed for MTL with this particular RTA (pre-installed pins)
1.5mm – Still a MTL but on the loose side
2.0mm – Very versatile still possible to do a MTL but very loose but these pins installed gives a very decent RDL draw
The Deck and Build
The deck has posts at the diagonal which have top terminals with grub screws fastening from the sides, so very similar to how you would install the coil on a postless deck. Apart from little MTL coils are a bit fiddly (to be honest now lockdown is over I need to get my eyes tested, struggling a bit) this is a very easy way of installing a coil, we also have a little wall each side with a cutout to rest a coiling rod to get the perfect height! You do however need to cut the legs of the coil to the correct length, the posts are about 2mm in height with good sized grub screws so it does allow for a little in length error and will still get trapped nicely into position, it does say 4.5mm if you wish to use a coil cutting guide tool!
The pictured build was using the Ni80 Clapton which came out at 0.92ohm, since I have also done a second build using one of Hybrid SS/N80 MTL Aliens (Bearded Viking Customs) which is also purring nicely!
After fastening your leads into position just give your coil a few low wattage pulses and strum out any hotspots until the coil glows from the middle outwards!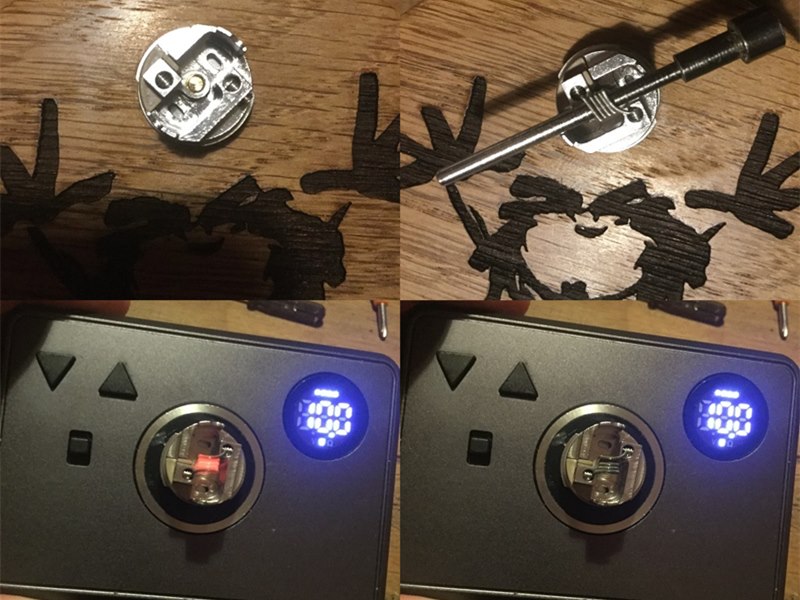 Then feed your cotton through the coil and leave each end long enough to feed down to the bottom where it will get fed with juice from below, then fluff up and tuck down! I then primed the cotton and gave it a few pulses to admire my work, fitted the deck into the chamber, screwed on the base section and filled!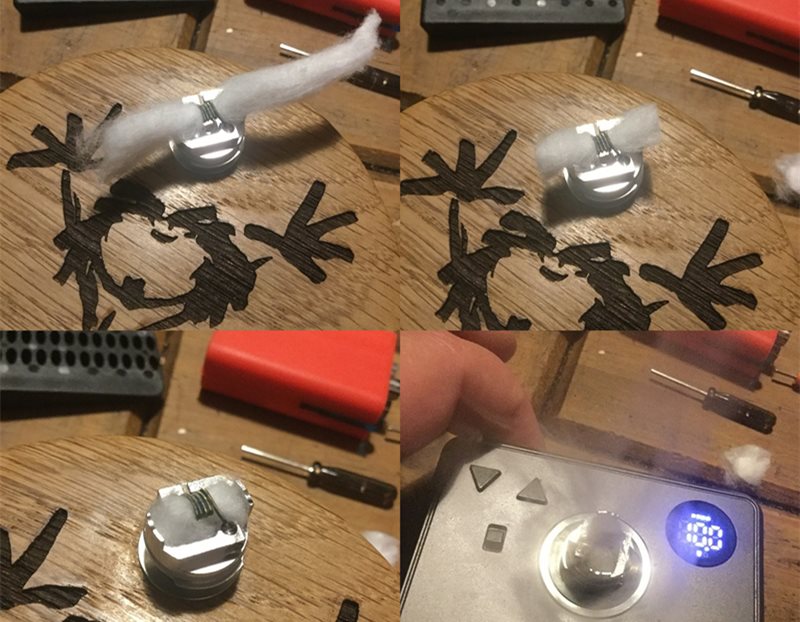 My Thoughts!
Let's put it this way I have been using the Classic for a couple of weeks and already purchased a Stainless Steel version based on it's performance but I have had one issue with it!
After a build and fill it's a dream but when refilling at first I got quite bad flooding, I have since increased the cotton which did make a difference but after 2 builds and about 6 re-wicks trying different amounts of cotton I still get an over-saturated vape just after a fill although it soon clears after a few vapes and then begins to puurrrrrr!
The Classic is super smooth with the only sound being the crackle of the coil, I particularly like the 1.0mm air pins which is a bit tighter than I normally do MTL but with the classic it's such a smooth vape with flavour for days, I also enjoyed a very decent RDL with the 2.0mm pins despite not using a coil which would be more suited to vaping this way and although the Classic doesn't give a Super tight draw the 0.8mm pins should be tight enough for most! Of course you do have that blind pin for more draw options but having the air from just one side isn't for me!
Other pros are the looks, build quality (including silky smooth threading) and 3.5ml capacity! I do worry about the Black finish with needing to use a screwdriver to loosen and tighten the pins but can't really put it has a con because that's something only time will tell. I also would of preferred a bayonet fit top cap but at least the threading allows Steam Crave to show off how silky smooth the threading is!
You get loads included and as always it's very well presented but I always say any rebuildable should come with everything needed to do at least one build yet there is no cotton included. Yes a very small thing and many will say but everyone has cotton but they would be factually wrong because someone always has a very first rebuildable and if that happens to be this then they eagerly take it out it's box to find they need to order some cotton before they can even use it, just throw a bit of cotton in Steam Crave! I have tried both deserts and fruits and the flavour is quite outstanding!!!! My final pros is the fact the airflow pins can be swapped out on the fly which many will like!
Because I have been experiencing over-saturation (on the cusp of flooding) after filling then for me this would benefit from juice flow control but apart from that performance wise this is right up there with the best MTL RTA's I have used!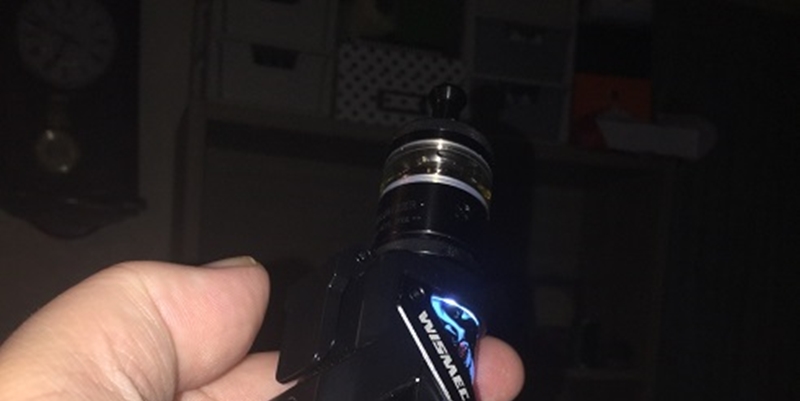 Likes
Excellent build quality
Silky smooth threading
Very well presented
3.5ml Capacity
Included Airflow pins for adjustability
Airflow pins can be swapped on the fly
Very easy coil installation
Drop in deck
Possibility of future decks being released
Quite tight MTL right up to a RDL draw!
Airflow super smooth
Tried both desserts and fruits, flavour excellent
2 different drip tips included
2 different coils included
Spare glass included
Can be easily stripped down for cleaning purposes
Cons
Get oversaturation after filling (soon clears)
For above reason would benefit from JFC
Airflow pins could get lost easily
Would prefer bayonet fit to top cap
No cotton included (petty I know but have to be consistent)
*Just a word of note, the single round wire coil that I didn't use which is labelled as 0.4ohm is clearly labelled wrong as it should be even higher ohms than the clapton so my guess would be 1.4ohm! Because it's labelled wrong might not even be Kanthal!
I would once again like to thank Sue from the Healthcabin for supplying the Steam Crave Aromamizer Classic MTL RTA, thanks for reading and stay safe!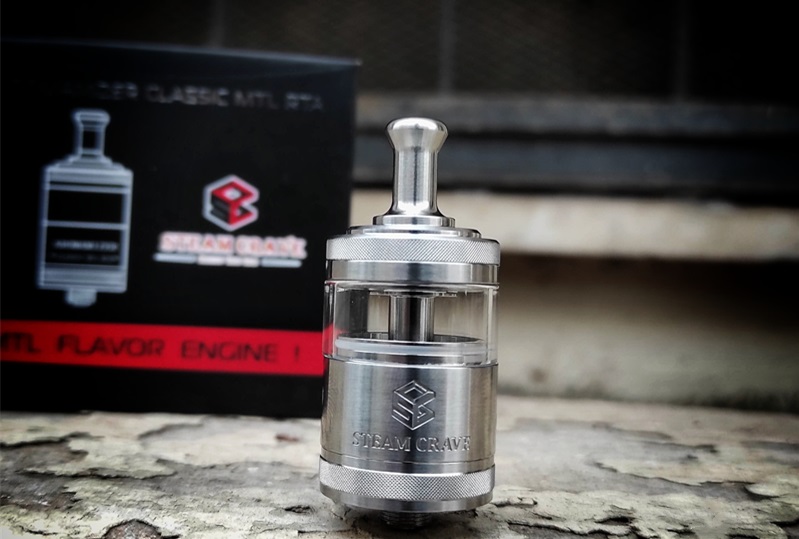 This review was written by Tim from Vaping Underground, click to view original review.