TESLA FALCONS POD ONE KIT REVIEW
A rather unique design with a pod on a mod. Out of all the pod systems I have tried, this one stands out the most for the most unique reasons.
This was sent to me by Health Cabin for the purpose of a written review, for full disclosure.
So the Tesla Falcons Pod one. That is the name of this kit, very strange and the design of it is strange as well. Instead of a small pod style device, pretty much like every other company out there, they have opted to bring out a pod on a pod, which is exactly how it sounds. It is a small internal battery mod with a pod tank on top, one of those you have to see to really believe. A Strange experience with this one but pleasantly surprised, let's go into the breakdown of what exactly this is.
About the Tesla Falcon Pod One
The Telsa Falcons Pod one is a mod and pod combo, designed to give the convenience of a pod style device with the luxury of a pod mod. The device is a 2000 mah internal battery device with a front fire button and long light of sorts when firing. It is charged via USB port on the bottom of the mod and charging time is around 90 minutes. It is a plastic/rubber light and ergonomic design with a range of different colour options.
The pod is a 2mil capacity pod tank, almost like a disposable tank. It comes with a 1,2 mesh coil inside and is filled via 2 rubber pull out bungs on the bottom. The way the pod works is that it pushes into a bottom of sorts, serving to be the 510 connection for the mod, simply pull out when you want to change the pod or to refill. So it kinda works like a tank, but has all the features of a pod at the same time.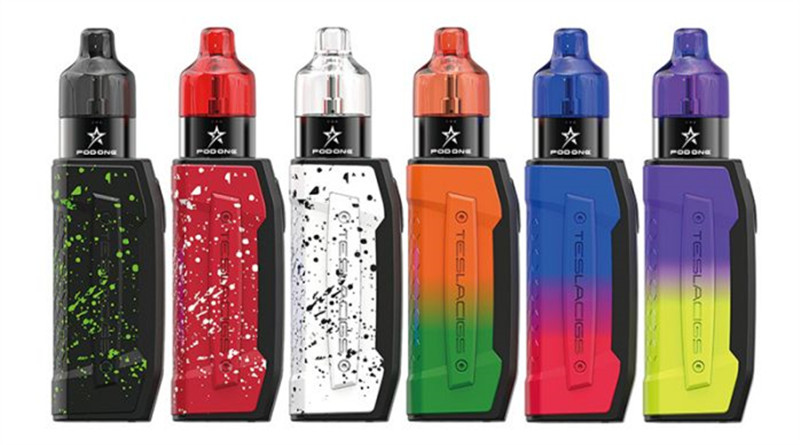 Tesla Falcon Pod One Pros
The first thing you can say about this is how small and light it actually is. I have had some light devices in my time reviewing but this is probably the smallest/lightest kit going. It feels almost weightless with probably the majority of the weight being from the juice on top and the metal tank connection for the pods themselves. It has to be said, the device is low powered but the mesh coils inside the pods give fantastic flavour, arguably the best flavour from a 'pod' to date. I invert pod because the cross between pod and tank is rather blurred. Either way, the flavour is fantastic from it and possibly be able to bring more complex flavours through, despite the lower power. The fact you get 2 pods in the box is always a pro for me, means you can replace it once before you have to buy more, great stuff. The charging time is rather fast for a battery this size so another big pro for me there, the quicker the better as they say. Refilling is easy and the pods do pull out quite easily after the first time of doing so, so easy to refill and keep on vaping. Coil break in time is surprisingly fast here as well, around 10 or so pulls only and only around 5-10 minutes to soak in so you can switch and be back vaping in no time.
Tesla Falcon Pod One Cons
The first one is entirely my opinion on this, but the fact it is a mod underneath is quite psychologically bizarre. You expect a big puff of clouds and only get a small amount. So straight off it does feel underpowered a slight touch. If you are using high strength nic salts then this won't be an issue with the added throat hit but anything weak and you feel like you want a little bit more out of it. The pod can warm up a little with chain vaping, which you wouldn't normally do with any pod so you may not encounter that. The lightness is another con for me because it feels like its barely anything, even despite the good performance. Great for compactness and travel friendly but it isn't a big solid mod like you find on the other end of the market.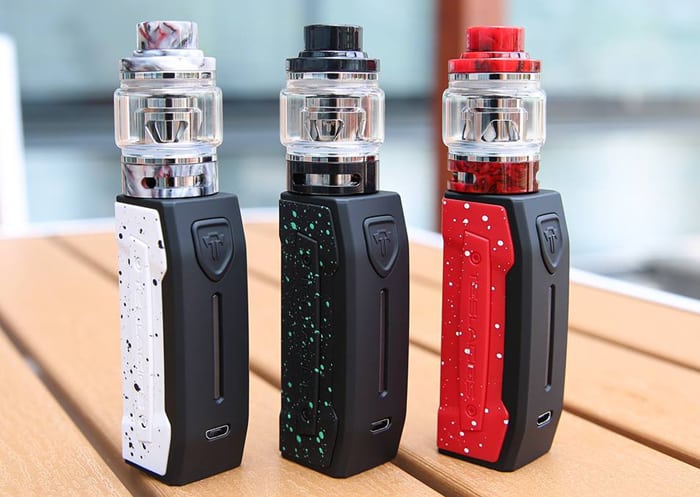 Overall
This kit pleasantly surprised me to be honest, I didn't expect much from it and got a nice little 'pod' system. Yes I am still inverting the pod because it is kind of like a hybrid. For a device that can look and feel like a proper mod and vape like a airy pod system, this is actually rather good and this could have a fair few fans at the right price range. A cheap portable little MTL pod tank system with big internal battery and long lasting vaping, what's not to like? Would I recommend this? If you like the sound of it and don't pay too much then absolutely, for the right person they will love this. It won't appeal to everyone and the airiness of the pod tank means it isn't for people who like a restrictive vape. But for what it is, an airy low powered MTL pod tank mod kit, yeah its not bad, worth checking out if that's your thing.
If you want to pick this up, you can do so from here