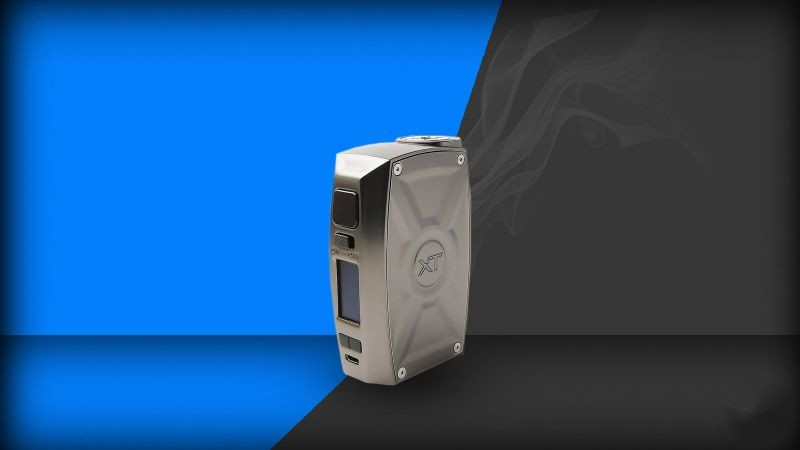 I was asked by Cortana over at healthcabin what I would like to to take a look at. With the vast amount of gear coming to the market, things don't have that long of shelf life, that comes with some good points, one being that older kit can be had for a pretty decent price. So I went and had a look for some 21700 cell devices and there isn't many at the moment, hoping that's going to change soon

I found the Tesla XT 220 in the clearance section, so thought I'd take a look, a bargain and 21700
The Tesla XT 220 is a 220-watt capable device, taking dual 21/20700 and 18650s (with adaptors) constructed of a zinc alloy measuring 92mm x 63mm x 30mm
As you can see from the pic the 510 isn't centrally located and sits a little above the top of the mod

The frame has a curved design on the back,
along with one of the sides offering leds and some tribalesque patterning, the opposite side is plain

On the face of the mod, there's the fairly large power button, under that a master on/off physical switch, below that the display (roughly 23mm tall) then there's the power/adjustment rocker-style button, finally just above the base will be your micro usb port

Powering on the device can be done either by 5 clicks of the power button or the on/off slide switch.
Navigating the menu is pretty simple, 3 clicks of the power button will highlight one of your sections on the screen, moving that with your adjustment buttons and selecting what you want to change. You have tc on this one, for ss, ni200, and ti with the tcr setting there to. Normal, soft and Hard wattage settings along with the "user" setting allow you to customize your vape by adjusting the watts at intervals, called ccw or some other mods. It also has a memory function, the ability to lock your watts (power button and down) and either change or turns off the LEDs(power and up)

At the base is where the cells go in on this, slide and flip-style battery cover
First thing I thought damn this mod is large and heavy, nearly doubles in weight with cells in it. Once I got used to it, it didn't really bother me, the curved back sits nicely in your palm, saying that if you find certain 18650 mods too large, this isn't going to be for you at all. I think the aesthetics make it seem larger than it is especially as it takes 21700s, I would think the plexi panel that covers the leds has a lot to do with a little added size to it.
As for the leds I can take them or leave them tbh, they don't add much unless you're vaping in the dark and they seem to take up a bit of space in the internals to implement them making the overall size of the mod larger than it could be, saying all that my first impression of it, I thought it looked like a jerry can
The most disappointing thing with this is the size and location of the 510 25mm without overhang is what you're limited to, that's shocking for a dual 21 cell mod, especially considering if it was centered and flush you could sit a thirty on it. Other than that it's not a bad 510 connection, anything I used worked fine
The board works well (teslas own) quick ramp up and seems accurate in line with other mods I've used, also easy to navigate, with enough adjustments if you like that
Battery door has a little play when open, like most of this style, closes firm and doesn't move or protrude when shut also no battery rattle. Talking of batteries, using this as intended with 21700s moliceel p42as 4200 mah 30a cells battery is awesome, I've been getting nearly twice as long as I would usually get with 18650s
All in all a decent mod, 21s a major plus personally, sturdy (if a little heavy) seems well built and it can take a drop, with a good performing board with about as much adjustability as most need.
Oh yeah, I said it was a bargain didn't I, forgot to tell you the price $ 26, that's a lot of mod for the price the only caveat being there's only silver and gunmetal left,