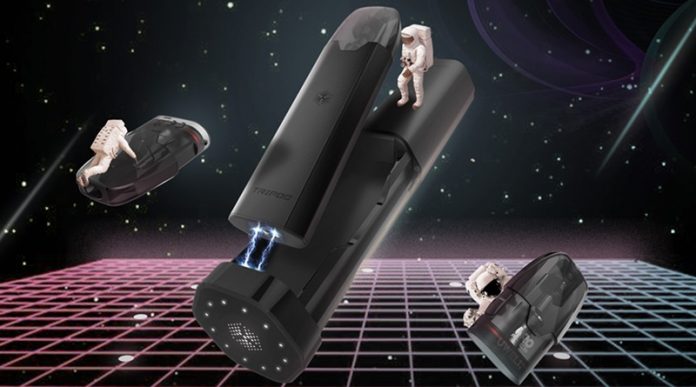 I had a little bit of a break but am back in the saddle again writing reviews. This time I will be talking about the Uwell Tripod PCC Pod System Kit 370mah+1000mah/ 2ml. It was sent to me by Health Cabin for the purpose of providing a fair and honest review. I know you're probably thinking the same thing I did before I tried it that it's just another small pod but it's a little bit more than that. I'm getting ahead of myself. Let's look at Uwell Tripod PCC Pod Review below then I'll fill you in more on this neat little device.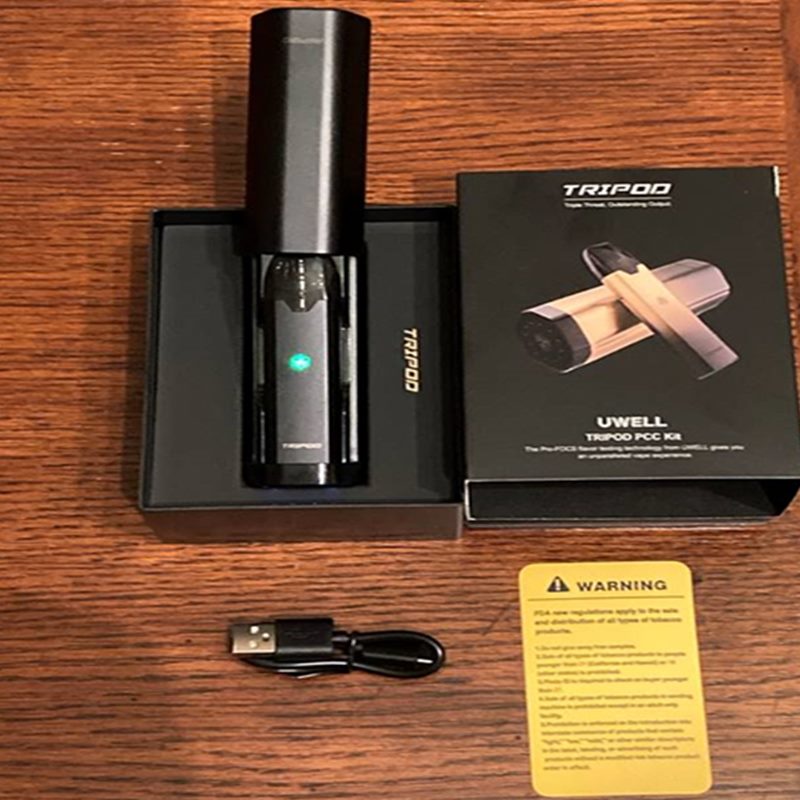 First Impressions
The Tripod comes in fairly nice packaging for such an inexpensive device. The outer sleeve slides off to expose a nice plastic box with a lift off lid. Inside is found the Tripod PCC with the pod device inside along with storage space for two extra pods. Also included is a USB-C charging cable for the PCC case and a user manual.
The pod device itself is very small and at first I didn't really expect much from it as far as performance. There is not a charging port on the device itself, only on the case. There are three contacts on the bottom of the device that match up with three connection points inside the charging case. There isn't a button, display, or anything on the device besides an indicator light on one side that lights up when you take a draw to indicate the battery level. The indicator shows green when the device is more than 60% charged, blue when it is between 20% and 60%, and red when it is below 20%.
The pods included are 2ml in capacity and the unit will deliver 11 watts at full charge. I did notice that the vapor production does seem to lighten a little bit between the green and blue indicators. I noticed more of a difference between the green and red when the battery was almost gone. The first few times I ran the 370mah battery all the way down until it would no longer operate and then charged. I was able to get through about two pods worth of liquid before being forced to charge. After that I would charge as soon as the light turned red since I liked the unit better with a higher charge.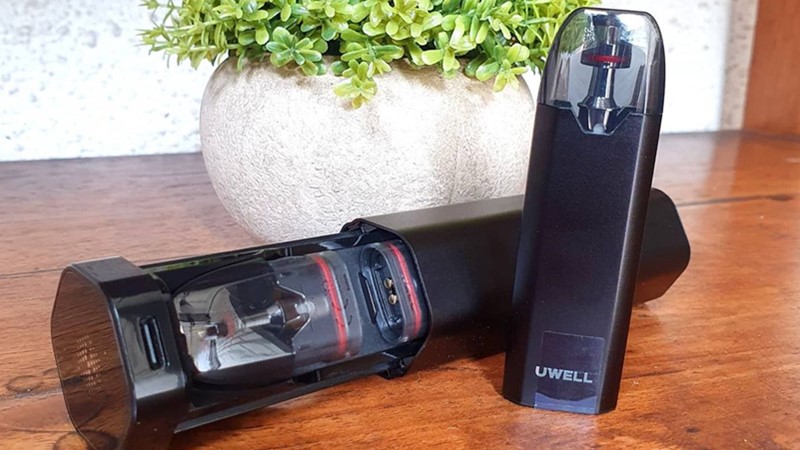 The PCC case is rated for 1000mah and I think it is pretty close to that. I was able to charge the pod device twice and then partially a third time. The case must have some sort of magnet inside because when you get it about 90% closed then it will pull itself closed and feels like it's magnets doing the work. Like I mentioned earlier the case has a USB-C charging port and charges at 1.5A. It honestly seemed like it took the case quite some time to charge completely from being completely dead. On one end of the case there is a ring of lights that indicate the charge level of the case and also a light will flash while the device is inside to let you know that it is charging and the light will turn off once it's completely charged. You can also open the case while it's charging and look at the indicator light on the pod to see what the charge level is whether it's green, blue, or red. If you want to check the charge level of the case then just tap the end of the case twice and the lights will come on. Depending on how many come on it tells you approximately how much charge is left on the case.
You're probably wondering by now how the pod device vapes. I have to admit that I was pleasantly surprised. The amount of vapor produced by this little auto draw device is actually quite impressive for what it is. I have developed a habit when using a pod like this where I take a two part draw before inhaling and exhaling the vapor. The flavor I thought was pretty good for such a tiny device. The profile of the liquid I was using came through and I could definitely pick out what it was. It's not a thick and dense vapor like you're going to get from a mod with a tank or rda but with a higher nicotine level it is satisfying.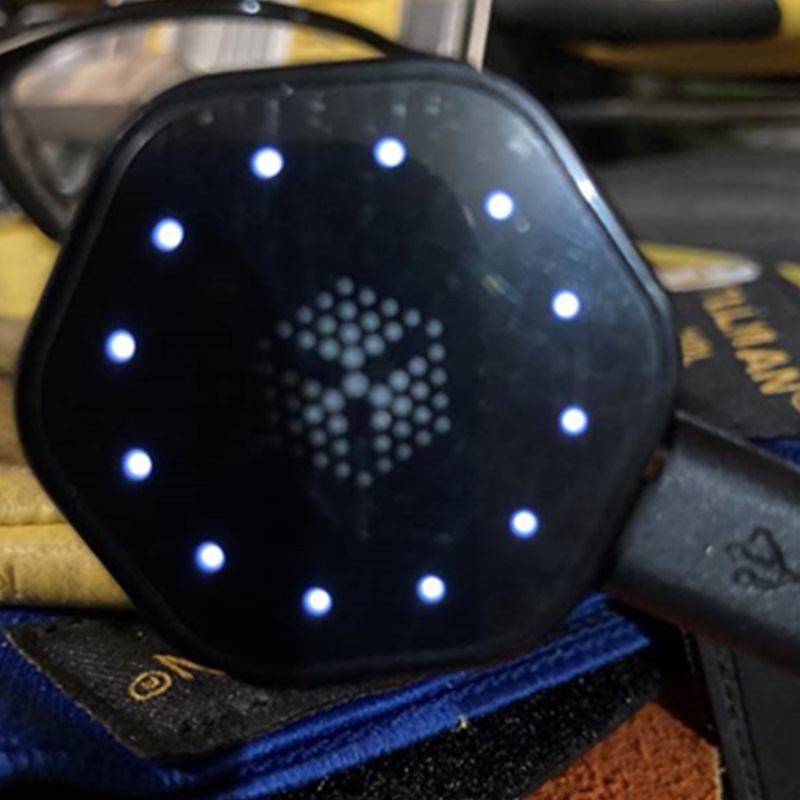 Uwell Tripod PCC Pod Review Final Thoughts
Over all I felt like the Uwell Tripod PCC Pod System was actually a pretty decent device. I wasn't expecting much but was surprised how well it worked and performed. The PCC case is a little big to carry in a pants pocket but could easily fit in a ladies purse or in a back pack or something like that.
I felt like the flavor and vapor production were very good for such a small device and I was able to use a 70vg/30pg liquid with no issues or dry hits. I could chain vape on it and the flavor was decent every time.
I almost forgot to mention that the pod is fairly easy to fill and is a side fill with a rubber plug. The pods are tinted some but not too hard to see the liquid level. The 2ml capacity definitely won't last most people all day but there are two extra pods stored in the PCC so that takes you up to 6ml without carrying a bottle of liquid. However, you aren't going to be able to use three pods without recharging the pod device. I was only able to get through 3-4ml before having to recharge.
I think if I was going to use this as a carry around unit then I would probably put the pod device back in the PCC between uses so that each time I pull it out then it would be about fully charged which is when it gives the best performance in my opinion.
As I was using the tripod, I tried to think about how a person just switching to vaping might want the unit to be designed and I think rather than having storage for two extra pods that it would have been better to have a second pod device inside the PCC so that a person could always have one charged and ready to go. The battery capacity reminds me of my early days of vaping eleven years ago when I constantly had a battery plugged in charging due to the small battery capacity of units back then.
Thanks to Health Cabin and Sue for sending the Tripod PCC Pod System for review and a big thanks to you the readers. Here is a link to the Health Cabin website and remember that you need to log in or register an account in order to get the best pricing.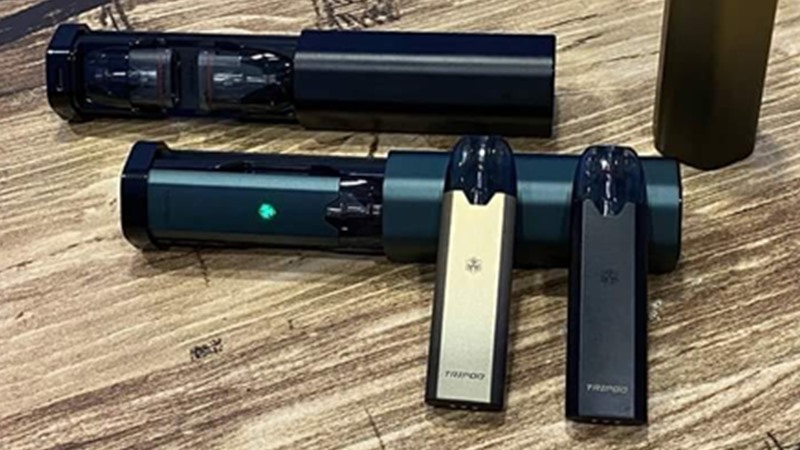 This review was written by Scott from ECF, click to view original review.