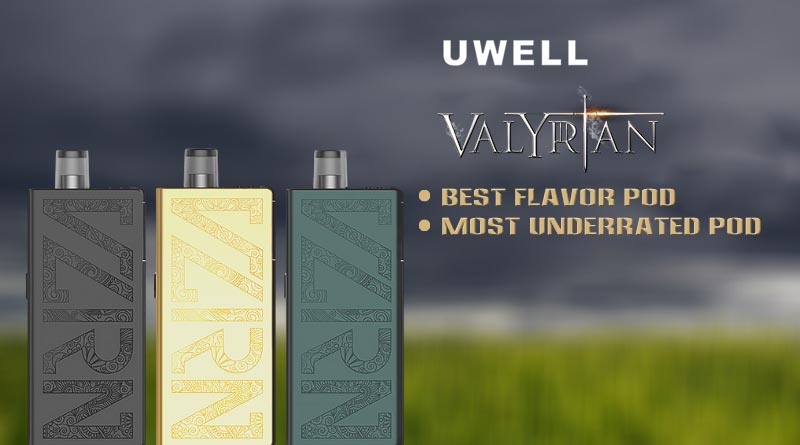 The Valyrian Pod by Uwell is my favorite pod vapes since the first day I got it 3 months ago. It delivers the best flavor compared to my other pods, like Caliburn, SMOK Nord 2, VOOPOO Drag X and more. While searching around the market, I found that it did not get too much feedbacks or promotions, so decided to write this post to share my experience with it.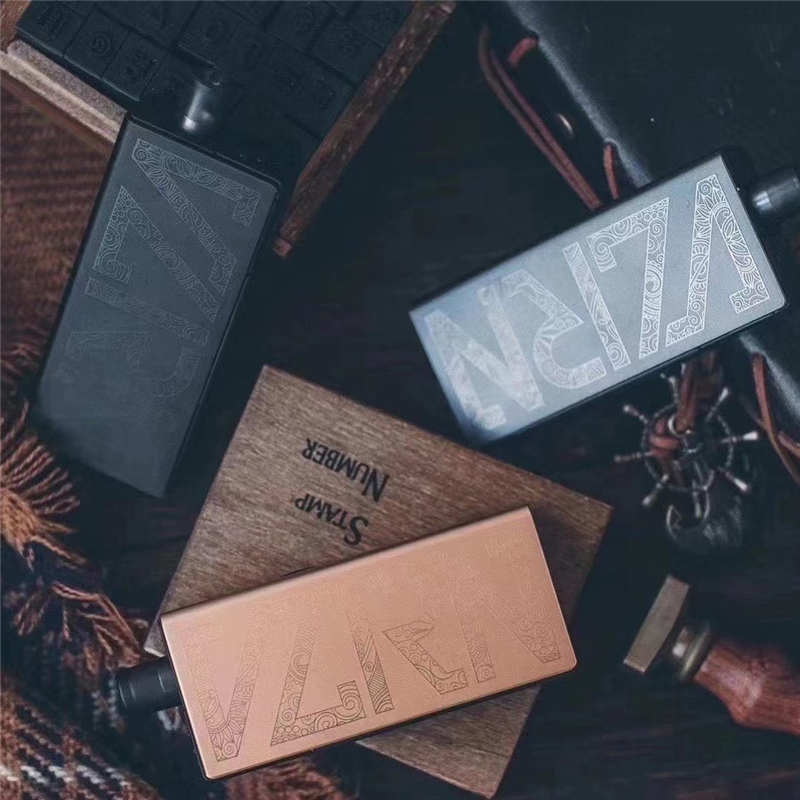 Product Intro & Specs
The Valyrian is a refillable pod device from Uwell. It's named after the novel A Song of Ice and Fire, which presents incomparable power. The Valyrian accumulated a good reputation from Valyrian owners. Due to its performance and ease of use, here in this review, we are going to share some incredible features and reviews of the Valyrian.
The Valyrian has a 1250 mAh internal battery and holds 3 mL of liquid and utilize 0.6ohm MTL and 1.0ohm DTL coils. It's more tend to be an AIO. With its adjustable Airflow toggle from tightly closed to big opened, MTL and RDTL are all practicable, its replaceable coil and leakage-proof cartridge all come down to performance and ease of use.
Its vaporization is absolutely fantastic. Users would rather call it a humidifier rather than a vaping pod. Why? Keep reading to find out.
3ml pod cartridge with easy top refilling design
1250mAh built-in battery with 25W max output power
PCTG and aluminum alloy
Size: 92mm x 37.3mm x 17.2mm
Coil resistance - 1.0Ohm coil and 0.6Ohm coil
DTL vaping and MTL vaping
Leakproof cartridge
Pocket-friendly
Replaceable coils
Adjustable airflow
Valyrian Pod
Valyrian 3ml Cartridge
1pc 1.0ohm MTL coil (Pre-installed)
1pc 0.6ohm DTL coil
Micro USB charging cable
User manual
Build Quality & Design
The Valirian is weighs in at around 74 grams, with a full pod installed. For a size comparison, it's slightly larger than the Caliburn KOKO1 in all dimensions. It's a box shaped frame not too big but bot too compact. It doesn't feel cumbersome in pocket.
For its color, there are totally three colors available, Black, Gold, and Metallic Green. The entire device is built with Aluminum Alloy, and PCTG. Pretty impression word pattern "VLRN" on the surface. It has a polished appearance. Glossy mode logo and matt surface look pretty tactile.It's certainly comfortable to hold and provides a nice grip in the hand.
The firing button, air slot and Led are all designed at the side of the device which closer to the mouth piece. The LED is designed as a "shield" shape. This minimal design is related to it's intensive of theme.
The firing button is located on the middle top. Exactly where your thumb is. It is circle shaped. You can really feel its click back pretty much. The size is not big but not so small.
The micro usb charging port is on the button. Close to the edge of the bottom. The Valyrian logo is also on the bottom.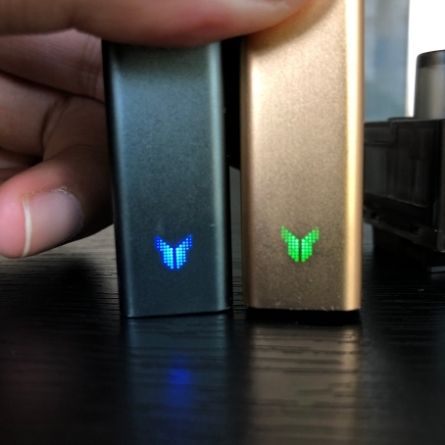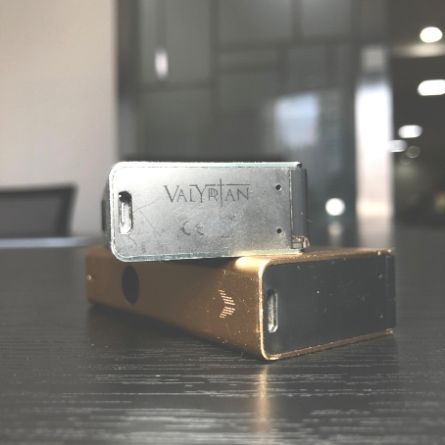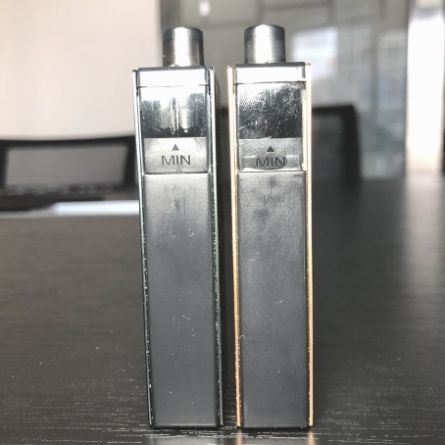 Pod Cartridge
The pod has a 3ml capacity, it's really sufficient for a pod device.
The pod is translucent so you can easily see how much e-liquid remains in the cartridge. It's designed with magnetic in the bottom. Thus once you pop in the cartridge. It has a pretty steady connection with the device.
The fill port is located on the top of the pod. There is a sliding cover, once you are about to fill the e-liquid, sliding the cover opposite the mouth piece, and then pop in the juice bottle. The fill port itself is a nice size and I haven't had any issues filling the pod even with bigger nozzles. Very easy to fill and the rubber cap and plastic cover prevent leakage pretty well.
The Coils are plug and play style. It's easy to pry up the coils and push in a new one.
On the side of the cartridge, the airflow is adjustable through sliding up or down the contraption. Sliding up to increase the airflow, sliding down to decrease the airflow. You can almost block out the airflow while it's slid up.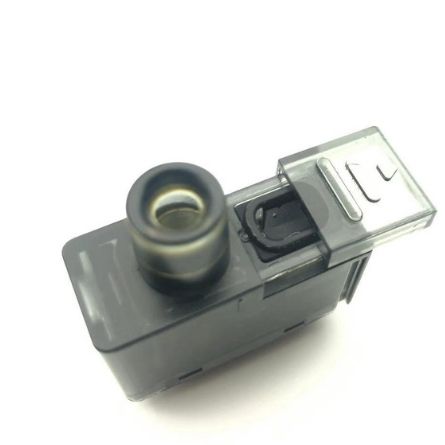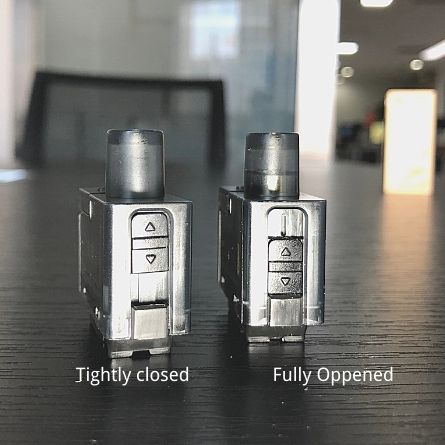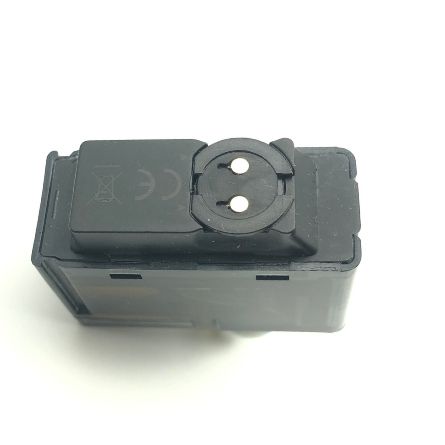 Coil
The two coils included in the Valyrian kit are:
0.6ohm MTL coil
1.0ohm DTL coils
The Pro-focs technology has been used on these two coils. They have a nice connection with the cartridge to prevent leakage. The 1ohm MTL coil is more suitable for high-strength nicotine consumption. The 0.6ohm DTL coil is better on freebase or lower nicotine strength nicotine consumption.
Performance
Easy operation
It's very simple to use, five clicks on the Firing Button to switch on and off. To start vaping, just press the firing button.
Flavor – this is the best flavor pod vape I have tried ever.
The Pro-focs technology on valyrian coil is extremely reliable. The kit worked like a humidifier, which delivered excellent flavor and decent vapor production.
Both coils' performance are impressive, dominant flavor, especially the 1.0 ohm coil, this is the best flavor performance I have ever tried. Yes, it is better than any Caliburns, any SMOK pods, any VOOPOO pods.
Coil life – Up to 10 refills
Some of my friends who also use the Valyrian pod told me the coils are able to last up to 10 refills before there is a noticeable flavor drop. Wow, that is an amazing performance. But it really depends on the e-juice you are using. Normally sweater or higher VG juice will shorten the coil life. Based on my personal experience with 50% VG e-liquid, I need to change a coil after 5 refills, which is also an excellent performance compared to other similar devices.
Airflow – Adjustable
The Valyrian is more tend to be a MTL pod device. The difference is very noticeable while wide open half way open and nearly closed. If you like dense flavor, the tight air inlet can meet your requirement pretty much. You can get a decent MTL draw with the airflow nearly closed.
Never Leak
You will never get any leaking or condensation problem with this kit out of its dedicated airflow intake system and drip tip design.
The airflow doesn't go through the coil on the bottom but through the upside with a small intake hole, so the condensation doesn't occur in the area between the connection of cartridge and device. When you take off the pod and check its bottom, never see any e-liquid there, very clean. While on the top of the device, the silicone and sliding cover provide a dual leakage-proof contraption.
Inside of its drip tip, there is a small but mentionable design – a revolted column to prevent moisture and condensation while in-haling. You will not get any e-liquid into your mouth, especially every first overnight puff in the morning.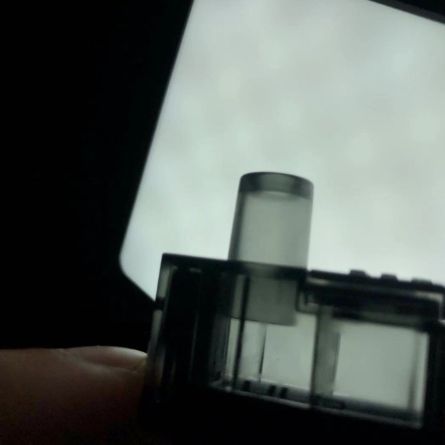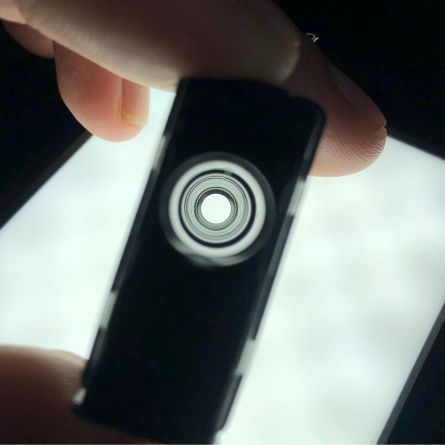 Long Battery life
The power of the device is 1250mAh, it's sufficient for your wholeday vaping. It normally lasts me for a weekend, 2 days with 1.0 ohm coil. But it really depends on your vape frequency.
Verdict
Overall, the Uwell Valyrian Pod is a very favorable device delivers dominant flavor, highly recommended! It is one of the most underrated pod vapes 2020. Why not get one to level up your vaping experience?
Pros:
Dominant flavor performance
No leaking
Good coil life – up to 10 refills
Easy to use – one button design
Adjustable airflow
Easy top filling
Replaceable coils
Good battery life
Battery indicator
Cons:
Why not USB Type-C?
Replaceable drip tip would be better
Dark pod – cant see the juice level clearly
Video Review