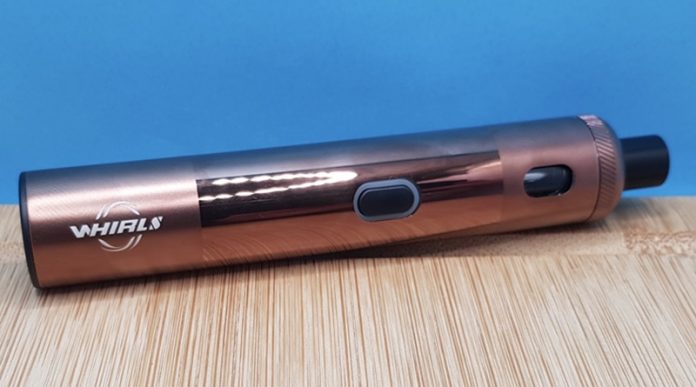 Healthcabin asked me to take a look at the latest starter kit from Uwell, the Whirl S. Let's check out the Uwell Whirl S Review together.
20 x 122 mm (including drip tip) / 80 grams
18 watt (max) output / 1450 mah internal battery / type C charging
2ml stainless steel and quartz glass tank / top fill
Adjustable airflow for MTL or RDL
Auto draw or button activation
FeCrAI UN2 Meshed-H 0.8ohm Coil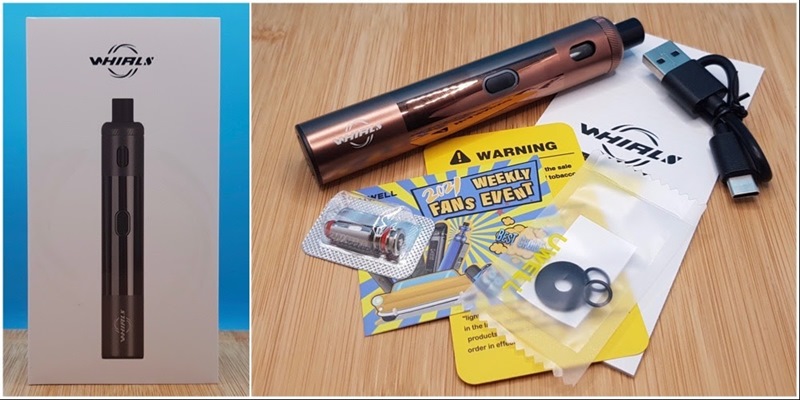 The Uwell Whirl S comes in a small box and besides the device itself you receive a second coil (one is preinstalled in the tank), some spare o-rings, a USB-C charge cable and the usual assortment of paperwork. This is available in four colours (Blue, Dark Grey, Coffee, and Iridescent) and I was sent the "coffee" version for review.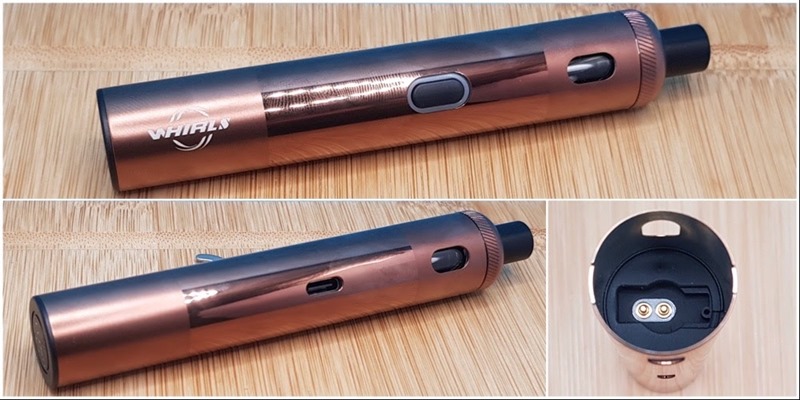 The coffee version has a "brass" colour and the central highly polished section is bordered on the top and bottom with a more media blasted satin finish, the central polished section is an absolute fingerprint magnet and I really wish Uwell had simply carried the satin finish over the whole body of the device. All the colour variants have a similar finish so you're going to encounter this whichever one you choose.
It has a deceptively simple design harking back to classic stick mods of yore with a fire button/led indicator on one side which is mirrored on the opposite side with a usb-c charge port, above this are two large viewing windows for the tank which are actually functional for once! Looking under the tank you'll find two battery contacts and a concealed draw activation tube. The bottom section is plastic with a simple Uwell logo and three small emergency vent holes.
The power button is surrounded by a bright LED ring which changes colour to indicate the approximate level of charge (green above 60%, blue below 60%, red below 30%) plus there's the usual five clicks on or off.
The Uwell Whirl S has a claimed battery capacity of 1450 mAh, in my test it achieved around 1412 mAh and with a maximum 18 watt output this gave me several days use whilst using it as my secondary device. This charged at a steady 1 amp for most of the charge cycle only dipping below this after about 1 hour and 30 minutes, it's one of those annoying ones that never appears to completely stop charging though so I'd perhaps suggest not leaving this charging unattended for hours on end as a precaution.

The tank section lifts out of the top of the device and is held in by magnets, don't flick this to clear a flooded coil though as it will fly across the room if you do! In general use this isn't an issue though and I've not had any problems with it coming loose in pockets and the like. The tank section feels reassuringly solid being mainly metal with a glass tank so you should be relatively safe with tank crackers, replacement tank sections are also available should you manage to break anything.
Up top there's a screw top with proper top fill, at first I thought this might be an issue with the tank spinning around in the body but the tank is held in position with two small lugs which snap it into place in the main device, take note these lugs are different sizes so it will only fit one way. With the tank in position it's easy to take the top off and fill using the two decent sized fill ports.
This uses a standard 510 drip tip and although the supplied one is fairly comfortable it feels a teeny bit too short in this application and the o-rings are a little bit on the loose side as well so I ended up using one of my own instead.
Coils are press fit from the bottom of the tank, there's a small plastic latch you need to pull to remove the coil though (a child safety feature) and I would be worried about this breaking in the long term but once again you can buy a replacement tank section if it does.
The adjustable airflow is located on the base of the tank and you can go from a pretty tight MTL all the way up to a fairly restricted DL, my personal preference was with the airflow about half open.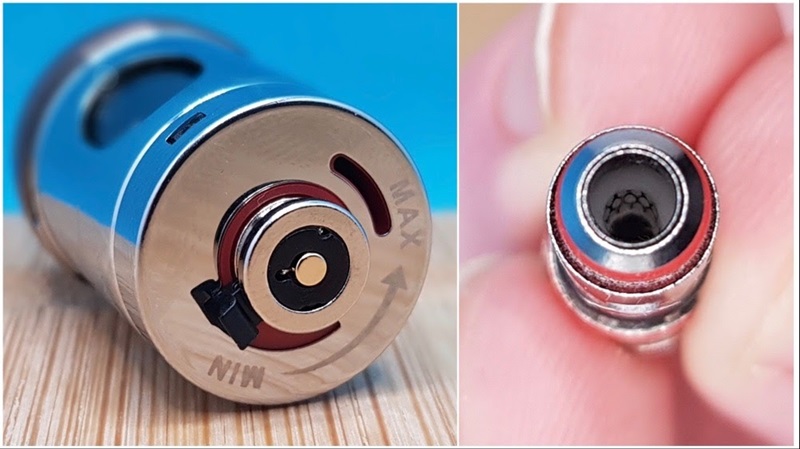 Only one coil type is available for the Uwell Whirl S, a 0.8 ohm kanthal mesh, these are surprisingly flavourful and I've had a great time using them (two identical coils are supplied in the kit). These use the Uwell Pro-Focs system which means I've had a leak and condensation free experience as well.
Pros
Kanthal coils, good flavour
Easy top fill
Leak free coils
Long battery life
Cons
Fingerprint magnet finish
Loose drip tip
Relatively slow charging
Conclusion
I've enjoyed using the Uwell Whirl S more than I thought I would, it's been a great out and about MTL kit and once I'd changed out the supplied drip tip for something a little taller I was even happier. As someone who's nickel sensitive I appreciate the kanthal coils as well and these have proved to be quite flavourful in use. The auto draw feature has worked faultlessly here and I've found myself using that rather than pressing the power button. One tip I would give here though is make sure you don't cover the viewing windows with your fingers as this is where the air is drawn in from.
Many thanks to Healthcabin for sending the Uwell Whirl S out for review. They also asked me to point out that Healthcabin is one of the biggest vape wholesale distributors in China and if you're a vape business owner just contact them to get competitive wholesale prices.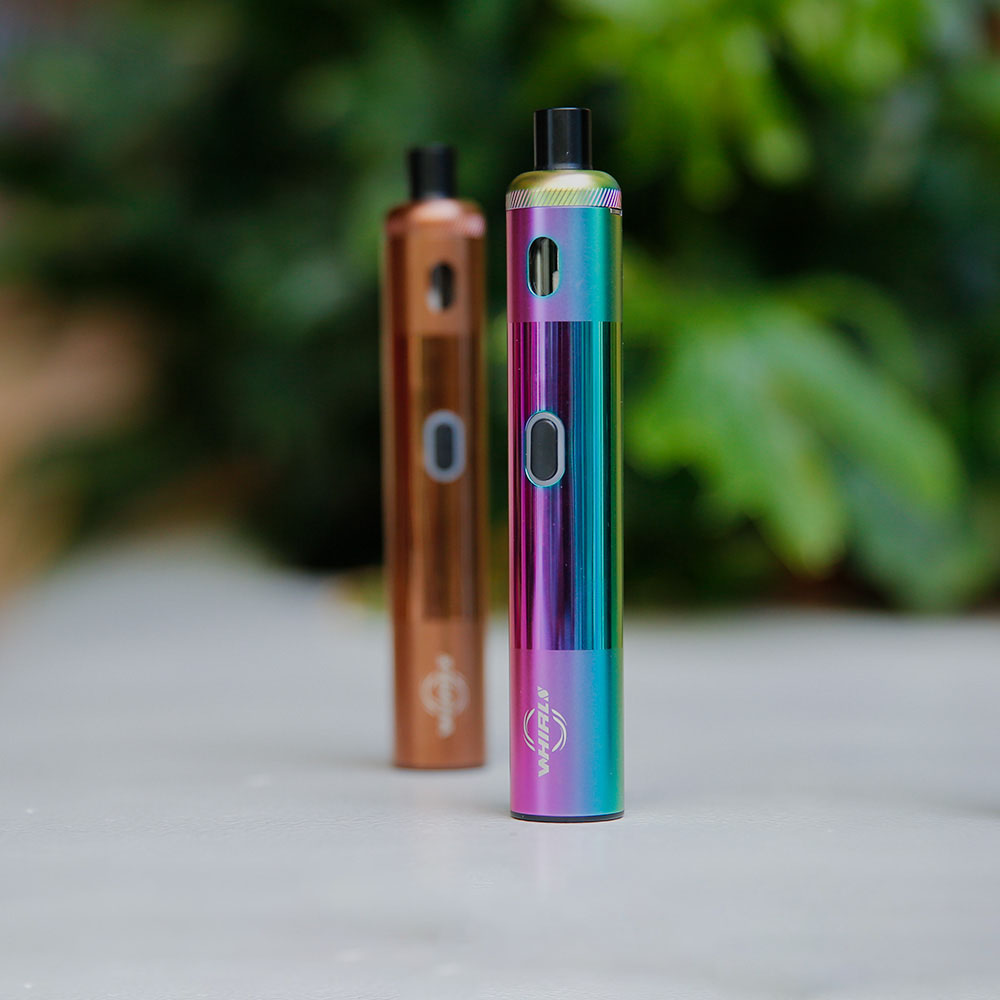 This review was written by Antony from POTV(Planet Of The Vapes), click to view original review.