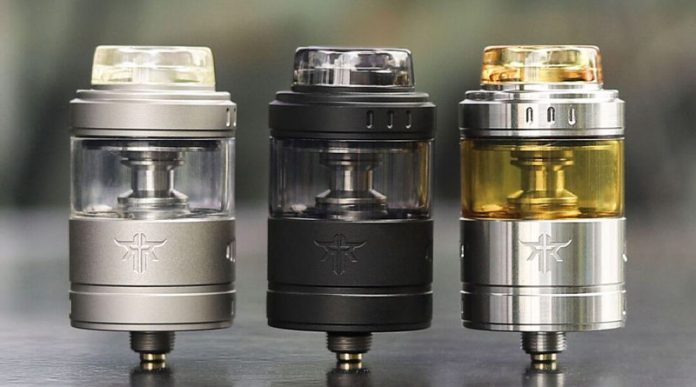 Two years ago, Vandy Vape and El mono vapeador released the Requiem RDA, this was slightly unusual as rather than giving it a traditional adjustable airflow system, they catered for the full range of vaping, right from mouth to lung to a full direct lung vape, by using three separate top caps. As I'm not a big RDA user, I filed this under "interesting concept but not for me", but when I spotted that they've teamed up once again and brought that same concept to an RTA, I had to get my hands on one courtesy of our good friends over at Healthcabin. So let's get started the Vandy Vape Requiem RTA Review together!

24mm diameter
4.5ml PSU tanks
3 tanks with different airflow and chimney sizes
2 top caps + drip tips (810 and 510)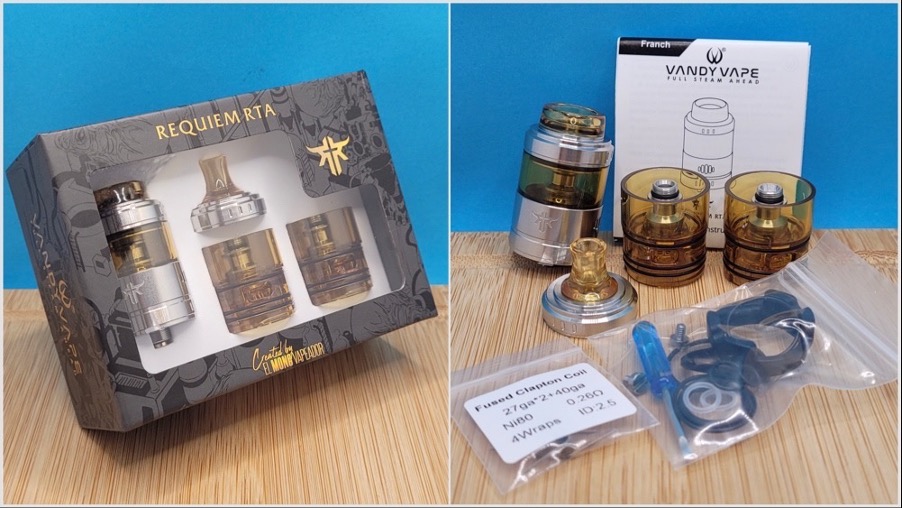 The Requiem RTA is available in four colours and comes in a nice windowed presentation box so you can see what you're buying. I was sent the stainless steel version which comes with yellow tinted tank sections. If you're not into the ultem wee coloured plastic look then you'll need to go for frosted grey or black versions which come with clear tank sections or the matte black which has red tank sections. All the tank sections are made from a PSU (polysulfone) plastic which is supposed to have similar properties to ultem (including the pee colour in its standard form) and is often used in medical and food preparation settings which should make it ideal for use in this application.
There's quite a lot included in this little package as you get three separate tank sections, each with a different airflow and chimney size, plus two top caps and drip tips in standard 510 and 810 sizes. I have to give it to Vandy Vape, the pack ins are always pretty good, and this follows that pattern.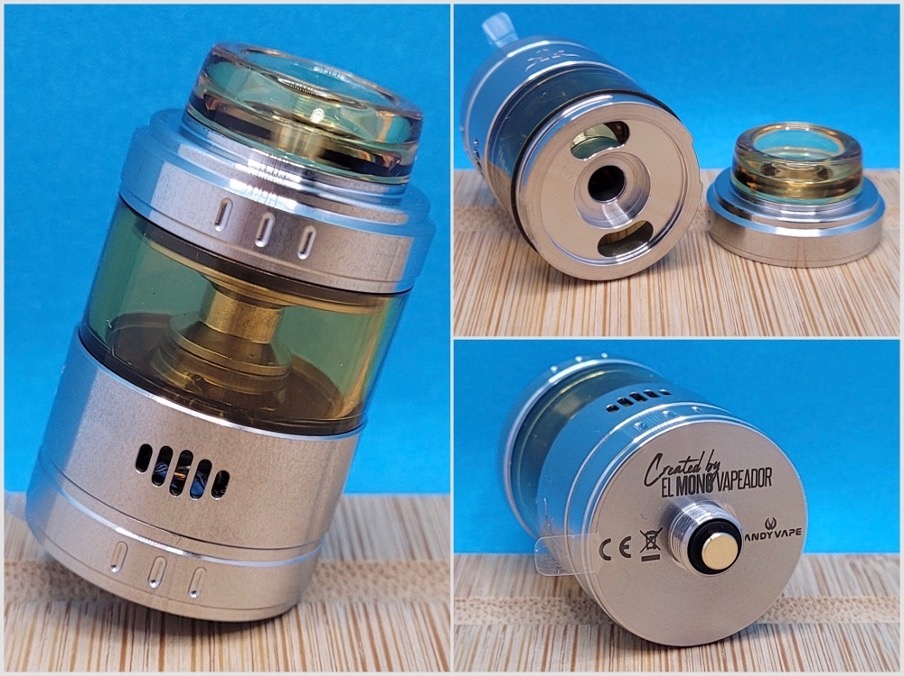 The Requiem RTA is a relatively short tank being just 35mm tall (excluding the drip tip and 510) and despite its slightly plain looks with minimal branding and just a few subtle details on the metal sections, I quite like it. You have easy top fill as well with a quarter turn bayonet fitting and an adjustable airflow section at the waist with your liquid easily viewable through the tank section.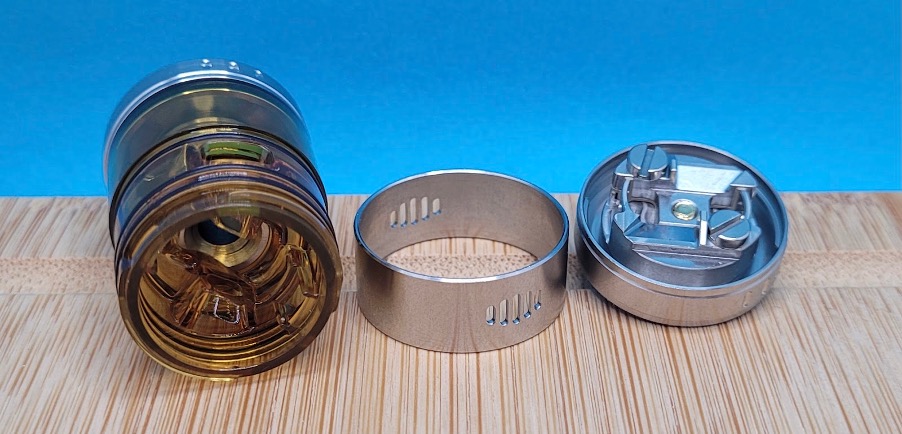 The tank sections are also connected to the build deck with a quarter turn bayonet fitting which has been surprisingly robust in use, I haven't once unscrewed the tank whilst removing the top cap for example. Vandy Vape mentions a juice flow system on the Requiem RTA but the only way I could see this working is by not fitting the tank section all the way which would misalign your airflow relative to the coil, so this isn't something I've used. The airflow ring is also fitted to the tank sections to give you a little fine control, it doesn't have any hard stops at the fully open or closed positions but is held in place quite well with O-rings, so I haven't found this getting accidentally adjusted in pockets and the like.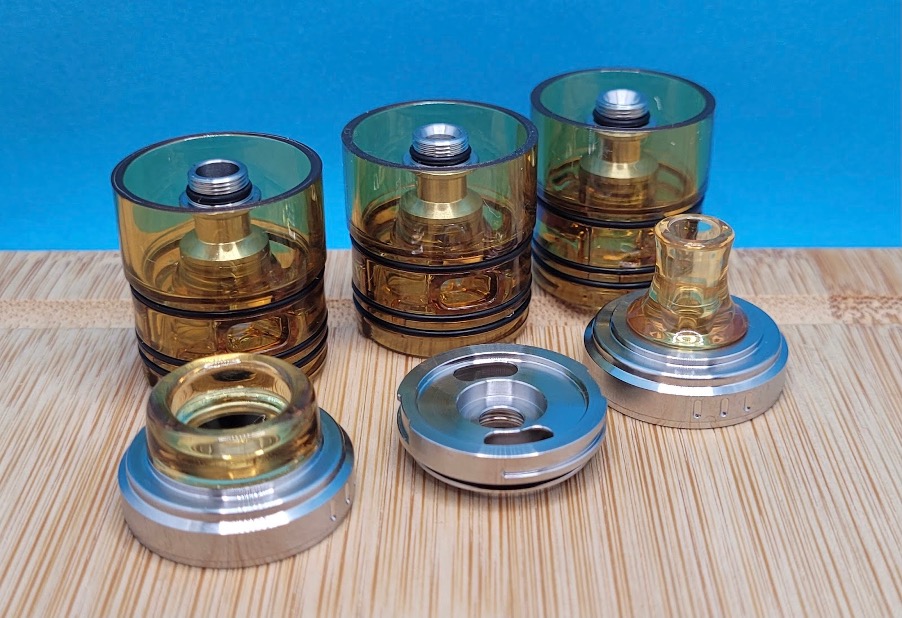 The three separate tanks included all have the same 4.5ml capacity and I was pleased to see that the chimney sections are in fact metal as these screw into the metal fill port section. Each tank has a different airflow and chimney size to cater for a wide variety of vaping styles and you get two top caps as well for use with standard 510 and 810 drip tips.
The three options range from a wide open direct lung airflow slot with a 5mm chimney, a restricted direct lung option with two smaller openings and a 4mm chimney, and finally all the way down to a single pinhole airflow with a 3mm chimney for mouth to lung vaping. With all these options, the adjustable airflow, and two separate top caps, whatever your vaping preference is you should be able to find an airflow combo that works for you here.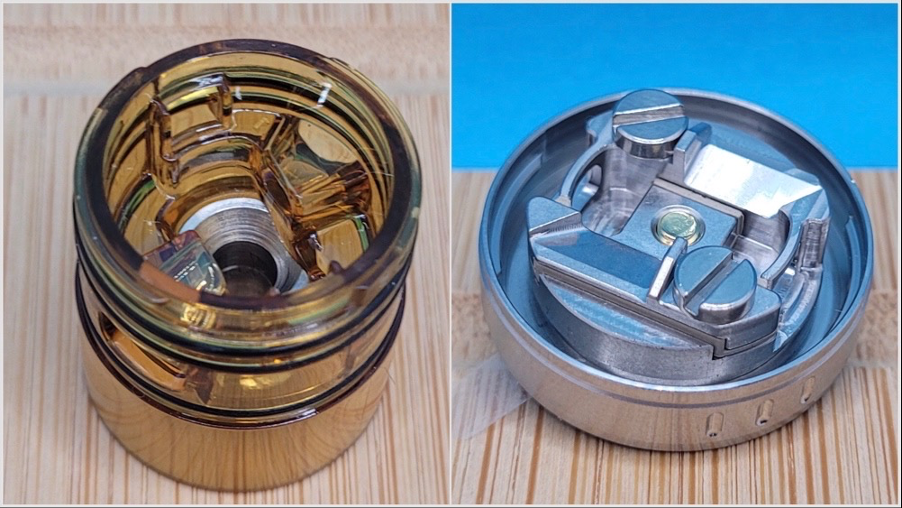 Internally the airflow is brought right in against the build deck to be channelled down the ramps towards your coil which leads to a fairly small chamber and, despite its looks, a quite compact build deck.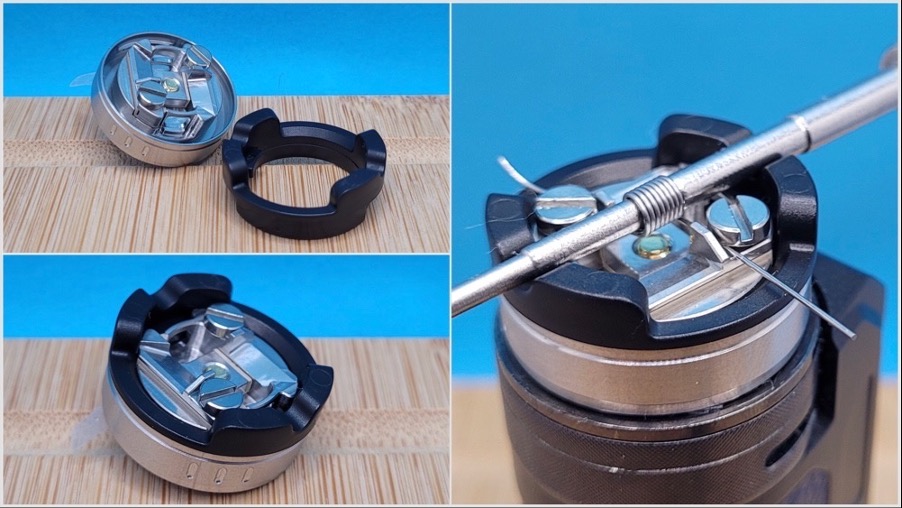 You will need to grab one extra piece out of the spare parts baggie before you start putting your first build in here. You'll find a curious black plastic section which fits into the build deck and serves as a coil positioning guide, you could of course just eyeball this if you wanted but this takes a lot of guesswork out of coil height/positioning, so I've been using it for my builds.
There are two large vertical stops next to the screws to help keep your coil legs tightly positioned in the deck, but these act as both a blessing and a curse. Whilst this does hold the coil very well once you've got everything positioned and tightened down it actually makes the available space for your coil a lot smaller than you might expect from what initially looks like quite a large build deck, you may also find with larger complex coils that you even have to remove the screws to initially get the coil legs in place. Gripes aside, this is still easy to use, and I started with a simple round wire build to use with the tightest mouth to lung option.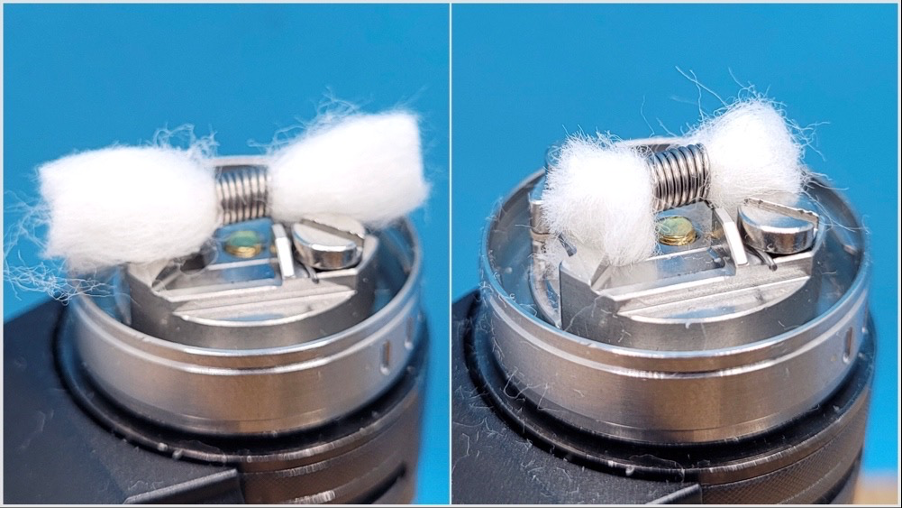 For wicking, you want to cut the cotton just to the inside of the deck, thin lightly and then tuck the cotton into the wicking channels either side. As always, you want there to be a little play when you poke a pair of tweezers in here, if you can't do that then you have too much cotton.
With all that done it was time to begin testing in earnest and thanks to the straight tank design, I found the perfect setup with my Hippovape B'Adapt 21700 SBS mod.
This gave me a really good mouth to lung (MTL) vape, it's perhaps a little on the looser side if you prefer a really tight old school MTL draw, and I found the adjustable airflow didn't really make any difference here, but it was perfect for my tastes. I also found the included 510 drip tip to be rather comfortable as well so that stayed. The 4.5ml capacity really shone through here although I did find it to be a bit gurgly for the first few draws after filling.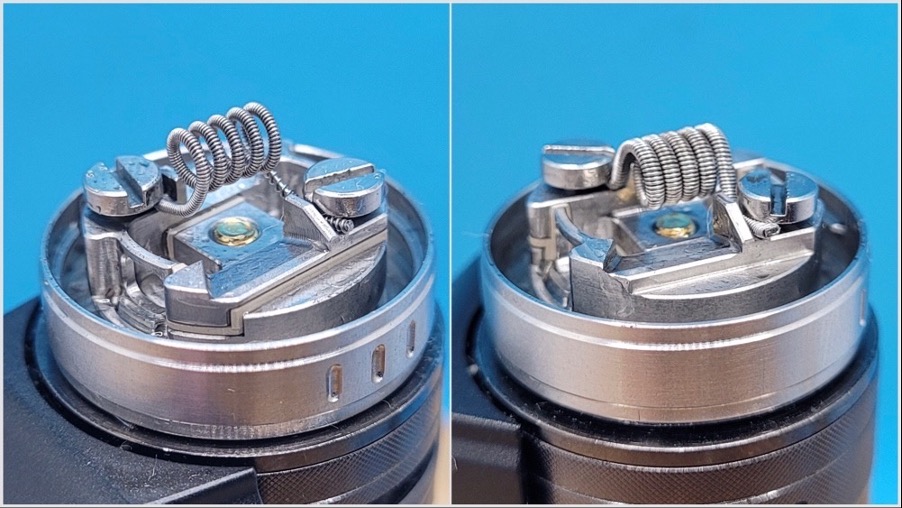 Next up were slightly more complex builds to test the restricted direct lung (RDL) and direct lung (DL) tank options. As mentioned earlier, these were a little more challenging to install but still fairly easy to achieve and the coil positioning tool helps you get the perfect height every time.
The direct lung build was equally as impressive as the mouth to lung option and the airflow did give me some better adjustment this time around than but I still found myself running this wide open as I'd still call this a semi restricted vape. I was less enamoured with the restricted direct lung option but this isn't generally my vaping style anyway so that shouldn't come as too much of a surprise and I'm sure if I experimented with a few different builds, I could get that working just as well. I wasn't that keen on the included 810 drip tip, I found it a little too short for my liking, but as this is a standard 810, I was able to use my own drip tips with ease.
Once again, I did find that the cotton got a bit oversaturated when filling leading to the first few vapes getting a bit gurgly and I had a few times when this would leak like a MF if I laid it on its side for too long so I may have to experiment a little more with the amount of cotton needed. Overall, though this delivers on all fronts so I was pretty happy with the Requiem RTA.
Pros
Fairly easy to build
Lots of options
Covers MTL all the way through to direct lung
Cons
Surprisingly small build area
Uncomfortable 810 drip tip
Conclusion
Most rebuildables that promise to cater for both mouth to lung and direct lung vaping in one package end up being a disappointment often falling into the "jack of all trades, master of none" category. The Vandy Vape Requiem RTA manages to side step this by offering three different tanks sections to cater to your preferred vaping style and this works surprisingly well, in fact if you're looking for your first foray into rebuildable tanks then this might make a very attractive package as you get to experiment and find your own preference.
Many thanks to our friends at Healthcabin for sending the Vandy Vape Requiem RTA over for review.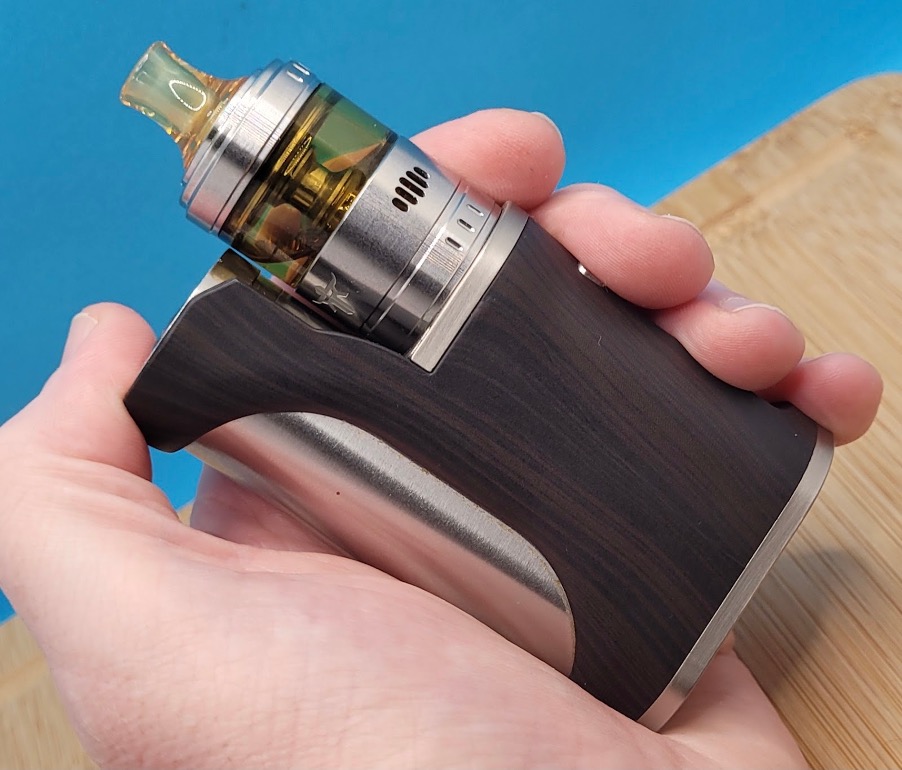 This review was written by Antony Lord from POTV(Planet Of The Vapes), click to view original review.