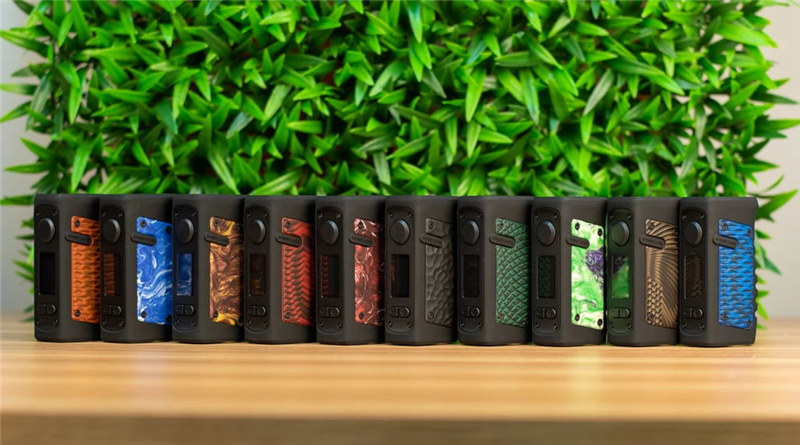 The Jackaroo 100W box mod by Vandyvape was sent from HealthCabin for the purpose of review. The Jackaroo mod is another choice if you are looking for a waterproof, shockproof & dustproof box mod, except Geekvape Aegis line. The Jackaroo is able to fire up to 100W, powered by single 18650/20700/21700 battery. Lets check how it vapes.
Specifications
Size: 91 x 29 x 48mm
Power: 5 – 100 watts
Output voltage: 0.5 – 8volts
Output amperage: 40amps
Working voltage: 3.2 – 4.2volts
Coil resistance range: 0.05 – 3.0ohm
IP67 waterproof / shockproof / dustproof
Work with single 18650/20700/21700 battery
Powered by the Vandy chip
Durable G10 and resin panels
Working modes: Power/Voltage/TC/ByPass
In the Box
1 x Vandyvape Jackaroo Box Mod
1 x 18650 battery adapter
1 x Micro USB cable for firmware update, not for charging
1 x User manual
Design & Building
The Vandy Vape Jackaroo is a solid built and designed mod with nice ergonomics. It's very comfortable in the hands and soft due to the rubber coating on the mod, which also makes it more durable. For the size, I believe it is a bit bigger than other single battery mods, but its totally OK for me.
There are 10 color options, which are mostly black and rubber coated. The color differences come from the panels, with 6 options made of G10 and 4 from the resin. The panels are removable and replaceable via four screws. I saw HealthCabin also listed the replacement panels on the site but out of stock.
Vandyvape built a big screen to display all parameters you want – Voltage/resistance/wattage/temp/puff/working time/battery level… The displayed font color is changeable, I believe there are 8 different colors.
The battery door is a screw cap, while the threading is smooth, and batteries fit perfectly and it won't damage any wraps.
There is a USB port for firmware upgrading only, not for charging, which is fine, as I recommend to take out batteries and charge them in battery chargers. The USB port isn't visible from the outside and is under the front panel which you remove via four screws.
Test the Waterproof & Shockproof
The Jackaroo mod was stated IP67 waterproof & dustproof (IP67 means: totally dustproof, resist all dust, and it can protect the device for 30 minutes if it is in the water, which is no more than 1 meter in depth). So I dropped it in the water about 1 meter in depth for 30 minutes. I am pretty happy with the result as it still works after the test.
While for the shockproof, I did a simple test – drop it from 1 meter high table, I believe people always drop their vaping products at this height when they are working at office or having meals. I did this for 5 times (of course the floor is solid), there was no clear damage from the appearance and it worked as usual.
So both passed here, good job.
Performance
Here I am going to list out some key operations, for more please read their user manual.
5 clicks the power button – turn it on/off
3 clicks the power button – change the working mode, use up and down buttons to switch, click the power button to confirm
Press up and power button together – to lock the mod, only lock the up and down buttons, you can still fire the mod
More – please read user manual
Overall, the menu navigation is pretty complicated, not easy to use if you're not familiar with Vandyvape chips, just like me.
The mod offers so many working modes – Wattage/Voltage/TC/ByPass, while personally I prefer wattage mode only, but I also tried the TC-SS mode with my Dovpo Blotto RTA. Lets check how it works.
Wattage mode – the mod did a great job of not getting hot and provides accurate data. No big complains here.
TC-SS mode – while when I change the Blotto wire to SS316 and enter the TC-SS mode, I just dont like its performance, there is a very clear difference when you just switched from wattage mode. I have to say its TC mode is poor.
Pros & Cons
Pros:
Solid building quality
IP67 waterproof, dustproof & shockproof
Excellent wattage mode performance
Able to match 25mm atomizers
Bright and large color screen
Compatible with 18650/20700/21700 cells
Cons:
Complicated navigation and button combinations
Poor TC mode performance
Where to Buy?
So, if you're interested and wanna buy this waterproof, dustproof & shockproof 100W Jackaroo box mod by Vandyvape, please have a look at HealthCabin.
Summary
Overall, VandyVape did a good job on the Jackaroo 100W box mod, especially on its wattage mode. If you are looking for a box mod with waterproof, shockproof, dustproof, also can be powered by single 20700/21700 battery, I will recommend this Jackaroo box mod for you.