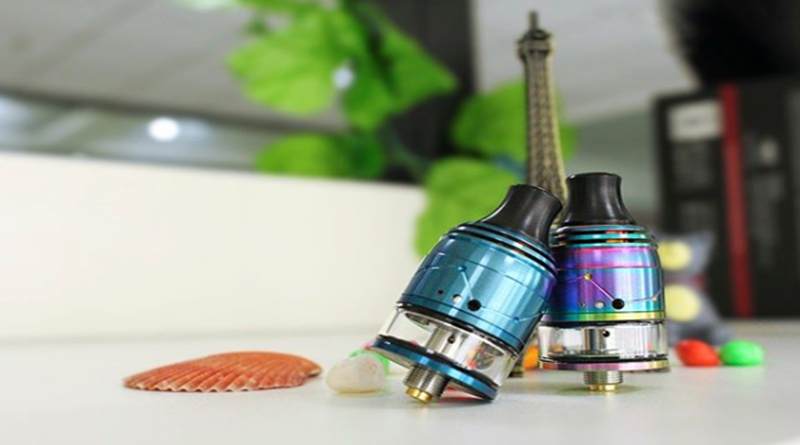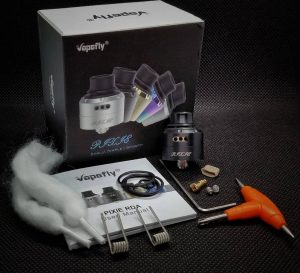 This is the last item supplied for review by the legendary maggie (not her real name, lol) from healthcabin before she moved on.
These are my views and although they may reflect crewella's thoughts in a poorly written way, they do not in any way represent those of the larger borg of POTV.
We have here the vapefly galaxies mtl rdta. It's also supplied with a squonk pin so this can be used as a standalone tank or as a squonk rda with a large juice reservoir (2ml).
The box contains everything you need to get going minus the juice. Ie: coils (about 0.9 ohms once in) and ready rolled wick plus all the spare o rings, spare glass and screws you'd expect.
I'm very late of the bat on this one but I rather burned myself out testing every mtl rda I could get my paws on for eighteen months. Crewella has been pretty glowing about it for a while so I thought I wanted in.
First off my goodness it's well built. Pretty proportionally designed too. The top even has a few heat dispersal fins built in bellow the drip tip for those warmer builds.
The airflow is a go go. You can vape from tighter than tight under coil airflow up to a restrictive lung hit. Surprisingly although the outer pack mentions the airflow options the instruction manual doesn't.
What we have is six airflow options from a single under coil airflow to surround coil airflow channels. Each of these can be cleverly adjusted by completely locking down the air channels with supplied grub screws and under deck airflow screws.
You can then use the top cap to choose to draw airflow in from either side of the coil in multiple airflow hole choices or from just one side.
Confusing as hell to explain so I'd watch a YouTube video if I where you.
The main point is it caters for everyone and they've nailed it. I've payed around with the included coils and a few of my own and this little bad boy is like the Swiss army knife of mtl tanks. Flavour is comparable with your favourite tank plus you have the the flexibility of using this on a squonk mod which when paired with my inbox gives me ten mls of liquid on hand. Pretty handy when out for a night or two.
Filling the tank is a breeze too as there's a fill port on the deck that's pretty accommodating of all the bottles I've used and is spring loaded to make a seal after filling.
Also for saying fans, the bf fill opening is towards the top of the tank so no drawback issues.
Also the little tank means dry hits are very unlikely as you will remember to 're squonk before the tank empties.
All I can say is if you like your vape on the restrictive side of sub ohm through to super tight. Buy one now. You can thank crewella later.
These are a bargain and available here in many jolly colours.
https://www.healthcabin.net/vapefly-galaxies-mtl-rdta-p/18776.html