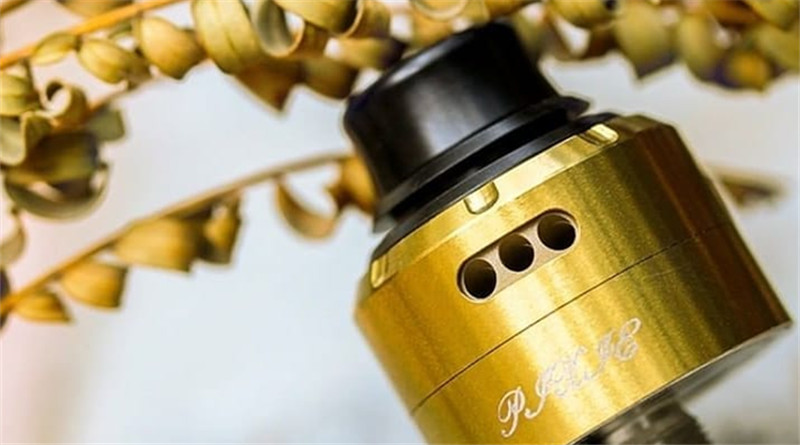 When healthcabin asked me if I wanted to review the Vapefly Pixie I said sure, why not.
Between saying yes and receiving the package something happened.
I don't know if it is because winter is coming
Or if this thing is zapping all my energy
It could be the stomach bug I ended up with
Or it could be a combination of all of the above but I felt like shit.
I just couldn't get a move on. It took me three days just to unwrap and open the box.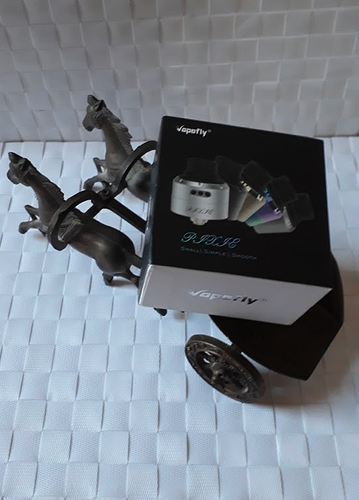 So let me not dally any longer than I already did and present you with the Vapefly Pixie.
My review will be my opinion only and will not be coloured by the fact that it was sent to me for review and as per usual I will start with the box.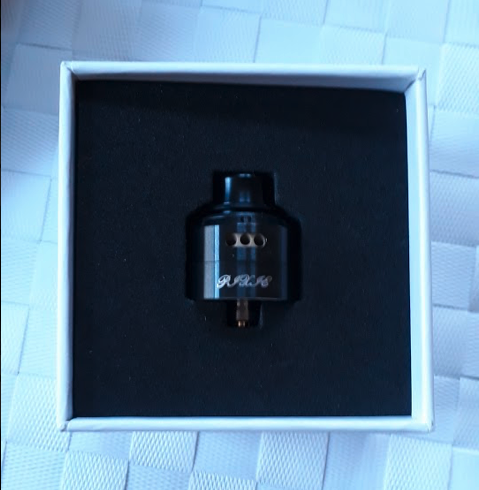 Under the sleeve you will find a white box with Vapefly in golden letters that I didn't take a picture of because I couldn't be arsed.
The most important thing about the box as far as I'm concerned is that it has cutouts, yeah.
The inside of the box is what always interests me the most and here it is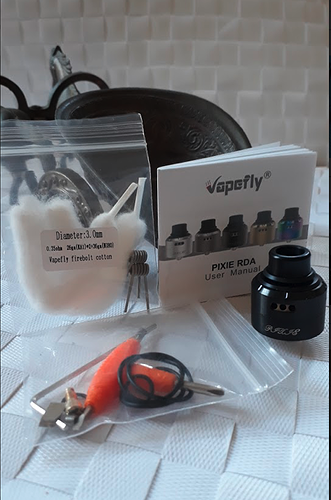 It is a tiny little thing and of course it comes with a goody bag, two goodies bags in fact.Some spare o-rings, grub screws, squonk pin, an extra insert for the airflow hole, two pieces of agleted firebolt cotton, two coils and of course the inevitable multi tool.
The Pixie comes in 5 different colours
Let me bore you with the specs
Brand: Vapefly
Unit: 1 Set
Diameter: 22mm
Height: 24mm
Coil Type: Single Coil
Drip Material: Delrin
Body Material: Delrin+Stainless
Package: Gift Box
Each set contains:
1pc Pixie RDA
1pc BF Squonk Pin
1pc Hex Screws
1pc Vapefly Firebolt Cotton
2pc 0.35ohm 26ga*2(KA1)+36GA(NI80)coils/orings
1pc Manual
There, there, it wasn't that bad
Oh, and by the way, the specs that I copied and pasted say that you get 1 pc of cotton when you can clearly see there are two.
When you disassemble the RDA you have this
For some reason I thought the bottom of the middle cap stayed on the base.
I don't know where I got this ridiculous idea from, but I did.
I tried pulling and unscrewing but the thing wouldn't move. I ended up sending an SOS to a fellow vaper who told me to screw it in a mod and pull.
Talking about dumbass, when you look at this picture…

you can see that you can use the slits to perfectly place the coil.
Naturally this dumbass overlooked that when building a coil.
Make sure to put in the 510 pin you want to use before building the coil since one of the posts is connected to the pin and will come loose when you change it and screw up your coil.
The notches in the middle cap will lock into the slits on the base to prevent it from moving out of position.
This will insure the airflow hits the coil head on. Unfortunately this is only true when you have the airflow wide open.
Wide open it is certainly not as airy as a lot of dual coil RDA's but still too airy for me and when you close it off to get a more restricted vape, the airflow doesn't really hit the coil head on but at a side angle.
Taking that into consideration, it would have been nice to be able to move the middle cap to get the airflow a bit more centered.
There are two inserts for the airflow, one with three holes and one with just one opening.
They are at an angle and make the airflow go down a bit. There is a little hole on the other side of the middle cap that you can position in front of the middle hole of the insert if you only want one hole open. That positions the airflow perfectly on the coil.
Personally I find that a little too restrictive so I settled for the one hole insert, hence the problem I have with the airflow not getting right on the coil when I close it down.
Problem is a big word though because even under those circumstances this little thing does deliver on flavour.
I do have a little problem with the inserts because they are fiddly and easy to drop. I haven't lost one (yet) but that's only because so far I have been quicker than the dog.
I'm sure the little bastard will beat me to it one day and I'm not going to poke through her stool to retrieve it.
Since she's a retriever I will make her do it herself.
I have also used it without the inserts and that works too, so even when you lose both, you will still be able to use it.
I just made a simple coil instead of using the coils that came with it. I couldn't get a decent picture of that though but I could get a reasonable one with the cotton inserted.
Building on the Pixie is a breeze, especially when you use the slits to place your coil.
The 510 is protruding so you could use it on a hybrid
The juice well is deepish but it is tiny so I don't know about dripping. I have only used it to squonk and have not run into any problems. No leaking or anything and true to what they state there has been no spit back.
I think this review has been all over the place and I do apologise for my muddled head
So the big question is, can I recommend this and second, do you take recommendations from a scatterbrain seriously?
I can tell you that if you are in the market for a single coil RDA that has an airflow that is a bit restricted and could probably be restricted enough for a decent MTL and also delivers on flavour and is easy to build on, then yes, I certainly can.
Don't pin me down on the MTL because I know nothing about that
Not%20perfect
That leaves me with a big thank you to James from healthcabin
Yes, James has replaced our dear Maggie and I only hope that she got a fat promotion and didn't end up like this guy.
You can find the Vapefly Pixie here
Code JOSE15 will get you a 15% discount.
That's all folks, thanks for reading and….