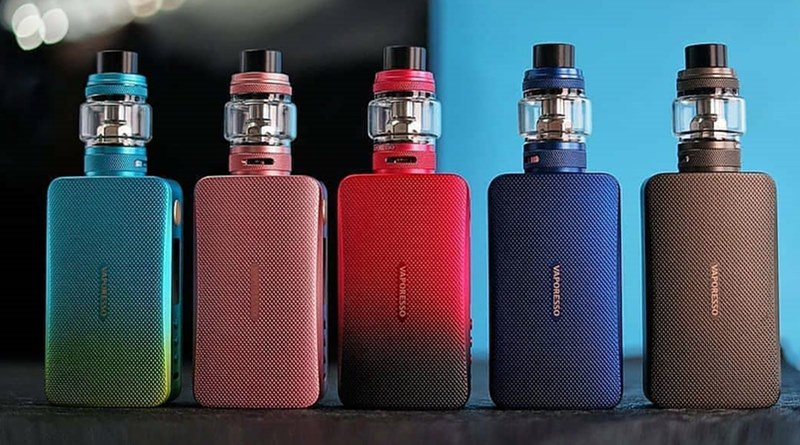 Welcome back you lot, these days I do a lot of POD reviews, but not so many full Mod and tank kits, let's change that up a bit shall we?!
You all know Vaporesso, champions of starter kits, Pod Mods, Pods, and sub-ohm setups. They're known for their attention to detail and fantastic build quality. Whatever style of vaper you are, you're bound to have owned something from Vaporesso at some point in your vaping journey, and I'll wager that whatever it is, has been pretty sturdy and reliable.
The original Vaporesso Gen kit was released a while back, and received fantastic reviews, for both it's ease of use, and it's many options and simple and quality, powerful vape. Well, it's been revived (I'm not quite sure why, it was likely still doing quite well with sales) but this time Vaporesso have snuck a new tank on top of it!
Today, I'm going to be looking at their latest dual battery kit, the Gen S Kit with the NRG-S tank! A big thank-you goes out to Healthcabin for sending this through for me to review!
Photos
Gen S Mod
90mm(height) x 53mm(width) x 30mm(thickness)
Takes Two 18650 Batteries
220W Maximum Output
AXON Chipset
Multiple Modes
0.91" OLED Screen
Centered 510
NRG-S Tank
25.5mm Base Diameter
8ml Max. Eliquid Capacity
Dual-Slot Adjustable Airflow
Threaded Coil Installation
Compatible with GT Coils
Push To Fill
1 x GEN S mod
1 × NRG-S tank (8ml)
1 x 0.18ohm Single Mesh Coil (50-85W)
1 x 0.15ohm Dual Mesh Coil (50-75W)
1 × Extra glass tube (5ml)
4 x O-rings
1 × Micro USB cable
1 × User manual
1 x Warranty card
First Impressions – Rundown
I don't have the original 'Gen', so I really can't comment on how similar this kit is to the original, but from looking up photos and specifications, it seems to be pretty much the same, same shape, same features, similar tank, slightly different software update, additional colour options.
So, because I've never actually used a 'Gen', this review will cover the product itself, rather than comparing it to the previous iteration.
My expectation before receiving this was quite high, I was really looking forward to it, after seeing initial reviews and opinions of it, but as inflated as those expectations were, I was actually still over the top impressed when I opened the packaging!
This device is luxurious to hold, the combination of build quality, the light weight of it and that subtle rubber coating create quite an upmarket feel, and the impression of sturdiness and reliability.
The mod and tank are balanced quite well, and all buttons, screen and charging ports are placed in expected and familiar positions.
This setup is huge, and I don't mean in size. It holds x2 18650 batteries, and a bubble glass tank carrying 8ml of e-liquid , and will run up to 220 Watts, so, huge battery life, huge power and huge e-liquid capacity. Perfect for taking with you for those afternoon errands, without needing to be too concerned about needing extra batteries or e-liquid!
The MOD
As you can see by the photos above, this is a pretty sleek looking device. It's rectangular, but with some nicely curved edges, and a very rounded corners. It all seems to be made from an alloy frame with various plastic inserts for the battery bay. It has a rubberised coating, not a full on rubber, but it's a light dimpled coating that not only gives you more grip but also makes it feel fantastic to hold.
This mod is 93 x 52 x 26mm so it's a reasonable size. Big for small hands, but comfortable without any sharp edges.
From the top down, you've got a spring loaded 510 connection smack bang in the middle of the top of the mod. It seems pretty solid and there is no movement at all when your tank is screwed all the way down. You've got room for up to a 25mm tank on here which is pretty awesome!
Along the one side you have a big round fire button, in copper, matching the 510 and vaporesso branding. It's nice and firm, with a prominent click without requiring too much travel of the button to activate it.
Below that is a nice little screen, it's quite a simple, black and white display that is bright enough to see during the day without being too bright in dark rooms. It's a little small, and perhaps a little more simplistic than it needed to be, but you can access all of the functions really easily using the 3rd settings button, and displays everything you need to see, which is of course dependant of which mode you're in.
You'll also find 3 buttons on the side of the Gen S, your Up/Setting/Down buttons. Whats interesting here is that Vaporesso have put the middle Setting button in where many other manufacturers don't. It makes flicking through the screen menus a little easier, and you dont have to remember all of the button configurations you do on most other devices.
These buttons are a little stiffer than the fire button but work really well.
Below this is a micro USB port for charging and for software upgrades. You can vape whilst charging which is great, not that you would be charging often from the USB port, since you use an external charger anyway, don't you? 😉
Underneath, there are 2 rows of venting holes.
The battery door opens from the side, and is rock solid, very little movement here at all, and it fits almost seamlessly. There is a small indent on the base that you can lift the door away from. The door is held by magnets, they're pretty strong, but also allow you to remove the door pretty easily. Inside the battery bay is a plastic insert, nice and neat and tidy, as well as a battery ribbon and spring loaded battery connections, all making inserting batteries an absolute dream.
The NRG-S Tank
The NRG-S tank is a new tank based on the NRG line of sub ohm tanks often found on other Vaporesso products. It's pretty similar to what we've all seen before, with a cyclops airflow, bubble glass, and flip top to fill with eliquid, but it's designed to match the Gen S in both colour and design.
The NRG-S measures in at 50 x 25mm diameter, and 29mm at the widest part of the bubble glass.
There is featured knurling around the airflow control, and sliding fill cap that carry on the similar texture of the mod, and no matter which kit you get, it will be colour matched to the mod itself.
From the top down the NRG-S sports a nice large drip tip. What's interesting about this is while it looks like a big 810 sized tip, it actually has a 510 base, so you'll be able to put any 510 drip tip on this baby!
Below that, is your sliding fill section, find the printed arrow on the side and simply push the cap backward with your thumb, and the whole top section swivels back to reveal quite a large kidney shaped fill hole.
This sliding cap works quite well, although I'm not really a big fan of this type, because they can so easily slide open while in your jacket pocket. This has done that exact thing to me a few times, so a little bit of a tighter tolerance might be needed here.
You'll get 2 types of glass in the pack, the bubble glass will already be installed, but there is also another 'straight' glass section should you choose to use it. The straight glass section will allow 5ml of e-liquid capacity, while the bubble glass will give you a whopping 8ml of capacity, now that is huge!
I'll speak about the airflow a little further on. On the bottom you'll see your usual 510 connection to screw the atomizer onto the mod. There's nothing really special about it. The pin is not gold plated, it's not spring loaded, it's just a pretty generic 510 connection and pin. The pin does protrude a little, but not a lot, so be careful if you're planning on putting this onto a hybrid mod, as the pin may push up enough to cause issues.
Does it Leak?
Hell no. Over the last few weeks, I haven't experienced a single leak yet. I have noticed a little seepage around the slide fill cap, that's likely from me dropping eliquid all over the fill port however.
I could also mention that leaving this sit with eliquid in it will likely end up with juice seeping from the bottom of the coil into the air chamber and perhaps out of the airholes if left for a long time. Which is standard and expected behaviour from a bottom airflow tank. But we all know that we are going to leave our devices for a few days and park our tanks upside down off of the mod anyway right?
In all seriousness, even leaving this out for a day without using it, zero leaks even from below the coil.
Airflow & Coils
The airflow is great on the NRG-S, you'll notice 2 cyclops style airholes toward the bottom one on each side of the tank and adjustable using the knurled airflow ring. There are stoppers in place to stop the airflow ring spinning all of the way around, and you can adjust this for a wide open airflow, right down to a tight mouth to lung pull.
The tighter you adjust this airflow however the more of a whistle you'll get, this seems to happen below about halfway so consider yourself warned. If you're into a restricted airflow, you will get a droney whistle from this. Above halfway open however, is a nice smooth flow of air, it can be quite loud but hey, these are some pretty big coils!
The Gen S kit ships with 2 coils, and takes your general Vaporesso GT Coils just like the NRG, and SKRR S tanks, which is awesome for future availability of coils. The two included coils are one 0.18 ohm Single Mesh Coil (50-85W) and a 0.15ohm Dual Mesh Coil good for (50-75W).
Both coils perform superbly, with fantastic flavour and wicking that keeps up with even the thickest of juices.
Personally I lean toward the Dual Mesh coils for not only flavour, but they seem to make a lot less noise when vaping them. The Single mesh coil isn't too bad, and it produces fantastic flavour and vapour, but the Dual mesh just seems to give me a better and more dense vape.
Filling
Filling is really simple, as I mentioned earlier, just slide the top cap back to expose the large fill port, and fill away! The silicone seal is replaceable, and there is an extra in the spares bag 😉
I've found this cap a little loose for my liking, and it's slid open more than once while I've had the Gen S in my jacket pocket. Luckily I caught it before it flooded everywhere!
Usage & Operation
There is a little bit to learn and understand about the many functions available in Vaporesso's Axon chipset. There are a heap of options, but many of the more basic ones are buried a little.

From the initial Mode screen, after pressing the center button 3 times, you'll be presented with the following options:
Pulse Mode – This is pretty much your standard variable wattage mode, however instead of constant power, it uses pulsed modulation, short pulses in quick succession, boasting a better vape, and better battery life.
Power ECO Mode – This mode is supposed to help with battery life. When your battery drops to below 40%, you'll be prompted to enable this mode.
Smart TC – This is your temperature control mode. When in Smart TC mode and using a temperature resistant coil, it detects the wire type and sets to temperature mode automatically. I didn't spend a lot of time with this because I needed to review this kit with the included tank but it does work, I popped an RDA on with stainless single coil, and it picked it up without issues.
DIY Mode – This is where all of your other modes live. These are most of the modes you're used to seeing with other devices.

VW – Variable wattage mode (Soft, Normal, Hard)
VT -Regular temperature control (SS, Ni200, Ti, TCR)
VV – Variable Voltage mode
CCW – Wattage Curve mode
SP -Super Player mode
BP – Bypass Mode – make the device act just like a mech mod.
The following options are also available from "System Set" in the mode menu.
Puff Counter – here you can see your total puffs and you can reset the counter if you like.
Brightness – this allows you to set the brightness of the screen.
Smart VW – this is for Smart Variable Wattage. You can turn this on or off. When it is on, it automatically detects your coil and will change the wattage to where it thinks the best setting should be.
Flip Screen – pretty obvious that this flips the display.
Auto Eco On/Off – This turns the auto Eco mode. Disable it from prompting you when you get to 40% battery.
Default – allows you to set everything back to default settings
Version – all the version info for your firmware
Battery and charging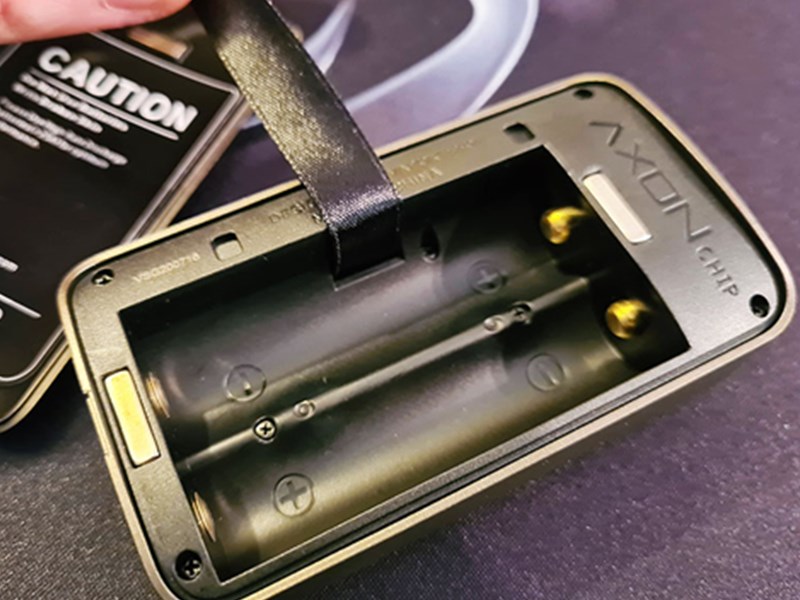 As mentioned earlier, this is a dual battery mod, Vaporesso have given us a nice little neat and tidy battery bay with spring loaded connectors (nice!) and even a ribbon to make sure our batteries don't get stuck.
To charge, obviously, you would use your external charger, but… if you're stuck, you can also charge via the micro usb connector, to get you out of trouble. It also has pass through charging too, so you can take a vape while the batteries are on charge. Neato!
Pros
Great Size
Wonderful build quality and styling
Rugged and reliable
Large battery and e-liquid capacity
Excellent flavour
Various optional vaping modes
Cons
Top fill swing can come loose accidently
USB Type C only (no USB Type-C)

Where to Buy:
You can purchase the Vaporesso Gen S kit from Health Cabin directly from their online vape store. At the moment it's for sale at $46 which is great value for a dual battery 220W mod and tank combo of this calibre.
Friendly reminder: You will get a much better price after login your account at healthcabin.
Conclusion
This is a phenomenal offering from Vaporesso! A really, really well though out and executed product, that simply works. Everything that you can expect from a device is covered, from large e-liquid capacity, to massive power, and plenty of options and modes available to keep even the nerdiest vapers busy.

In all seriousness, this kit simply does what it is supposed to do, with no real deal killers, it's very much a benchmark of what all vape kits need to be. This setup produces fantastic flavour, is solid and sturdy, yet simple to use, a perfect kit for someone looking for the best in vaping devices!

Excellent work Vaporesso!
This review was written by Shane from Vapersgarage, click to view original review there with more pictures.