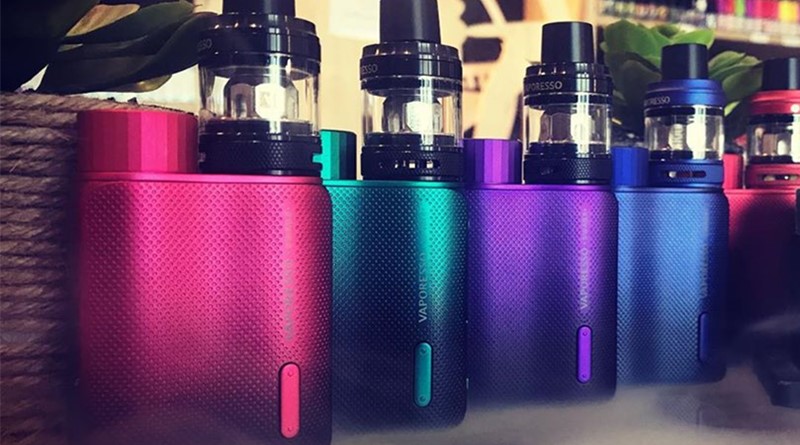 I received this kit for review purposes From Healthcabin.
Vaporesso SWAG II 80W Mod Kit With NRG PE Tank 3.5ml
It retails for $31.09 after logging in and applying the coupon code: first10 when check out.
The Swag II
I have to say I love this mod… it is small and has a rubberized texture so it fits comfortably in your hand…. The curve fits my fingers perfectly…. It is comparable to the Pico.. The single battery slides in the ridged top cap, making it very convenient… It can use up to a 25mm tank…
The Up & Down button is on one side, opposite from the Micro Charging hole….
The fire button is Easy to find on the top of the screen…
There is an Axon chip inside that I believe helps with the pulse mode…
Easy to access & use menu, just 3 clicks on the menu button takes you into:
Pulse Mode works really well and makes for a strong vape…
Eco mode is less powerful but allows for the battery to last longer…
Smart TC Mode is just that…
DIY Mode has options for VW, VT, VV, CCW, BP, SP & Exit
System Set has Puff Counter with Puffs & Time, Brightness, Flip screen, Smart VW Off & On, Auto Eco Off & On, Default off & On, Version & Exit
The NRG PE Tank
This is a great little 22 mm tank. It holds 3.5 mls of juice and for me that will last an afternoon. I can do 1 full tank & 1 refill on a single battery… The top screws off the opposite way as the filling top opens… it makes it difficult to close it tight as it opens when you get to the "just closed" point… I am not even sure exactly why this part comes off… the Drip tip is on that removable piece…. The bottom airflow moves easily for slight adjustments…That is the part you remove to change the coil… It comes with 2 coils, the GT4 Meshed Coil & the GT CCELL Coil
Pros
The size, weight & shape of the mod, the ease of the menu,
The ease of filling the tank & changing coils
Cons
The small screen size is hard to read, the top moving too easily causing leaking
The Mod has no battery gauge on screen, the only way to tell when it's getting low is when it stops producing…..
The tank is not pocket friendly, the first time I did that I ended up with a pocket full of juice when the top slid open…..
Specifications and Features
Dimensions: 50*25*75mm
Resistance: 0.03-5.0ohm
Output Power: 5-80W
Charging Current: DC 5V/2A, Micro USB
Display: 0.91 inch OLED Screen
Chipset: AXON Chip
Battery: 1*18650 (not included)
Battery Compatibility: 510
Tank Compatibility: Max 25mm
Dimensions: 25*50mm
Capacity: 3.5ml
Coil: 0.15ohm GT4 Meshed Coil (50-75W), 0.5ohm GT CCELL Coil (25-35W)
Kit Contents
1pc SWAG II Mod
1pc NRG PE Tank (3.5ml)
1pc GT4 Meshed Coil
1pc GT CCELL Coil
4pc O-ring
1pc USB Cable
1pc User Manual
1pc Warranty Card
This review was written by Cynthia from ECF, click to view original review there with more pictures.