Introduction
The Swag II is Vaporesso's update to the original Swag, which was released in 2018. The Swag II is a small single 18650 battery mod and the kit pairs the mod with the NRG PE tank.
Let's take a look at the Swag II kit.
Disclaimer: The Swag II kit was sent to me by HealthCabin for review.
Swag 2 Mod
NRG PE Tank (NRG SE Mini Tank TPD version)
GT4 Meshed Coil (Preinstalled)
GT CCell Coil
Spare O-rings
USB Cable
User Manual
Warranty Card
Swag II Mod
Size: 108mm x 25mm x 50mm
Weight: 179g with battery and tank installed
Power Output: 5-80W
Battery: Single 18650
Axon chipset
NRG PE Tank
Capacity: 3.5ml (2ml NRG SE Mini Tank TPD version)
510 Drip Tip
25mm diameter base
Design & Build Quality: Swag II Mod
I never got to use the original Swag, so my first impression when opening the box was how on earth does an 18650 battery fit in this mod?! This is one hand and pocket friendly mod.
The Swag II has the same finish as the Gen series of mods; a rubberised, soft, dimpled finish that is lovely to hold in the hand.
I was sent the Rose colour, which looks pink on the box, but actually looks red to me in the flesh. It blends into black at the base of the Swag II. You can also get it in Silver, Black, Red, Blue, Green, Purple and a number of funky pattern designs, so there's sure to be something that takes your fancy.
The battery is top loaded into the mod and is done by unscrewing the top cap, which is actually hollow, so a small part of your battery is extending out of the mod and then the cap screws back on to cover the end of your battery. That answered my question as to how an 18650 fits in the mod. The threads of the battery cap are smooth when screwing and unscrewing.
On top, next to the battery cap, is a spring loaded 510 connection plate. You can fit tanks / atomisers up to 25mm in diameter without any overhang.
The front panel has a circular fire button, the screen and the menu button at the bottom. On the left side of the mod is an up and down adjustment button. All the buttons have the rubberised finish on them and feel nice to press and are responsive in use.
There is a micro USB port on the right side of the mod.
On the bottom there are some battery venting holes, regulation marks and an Axon chip branding.
Overall, the build quality seems good on the Swag II mod. It's very reminiscent of the Gen series of mods. I like how it feels in the hand and it's a very compact and pocket or bag friendly device.
Features & Functions
The Swag II is powered by the Axon chip, which is the same chip used in the Gen series of mods. If you have used a Gen you'll know what to expect in terms of how the menu is laid out etc as it is exactly the same.
The Swag II can provide a maximum output of 80W, but being a single 18650 battery device, if you use the upper range of the available wattage you will certainly notice your battery draining every time you vape.
The Swag II mod has three wattage modes: soft, normal and hard. It also has a variable voltage mode, a custom wattage curve mode and a bypass mode. It has temperature control also: TCSS, TCTi, TCNi and a manual mode where you enter your own TCR value.
The variable wattage, variable voltage, temperature control and bypass modes are all found under the 'DIY Mode' menu.
It can fire up to 80W in wattage modes and in temperature control you can set your desired temperature between 200-600F
It also features a pulse mode, which is actually the default mode on the Swag II. In pulse mode you set your wattage as normal but the Swag II pulses the wattage every 0.02 seconds. The pulsing isn't something you can notice as it happens so fast, but Vaporesso say it gives '27% extra flavour and cloud satisfaction.' I don't know about the exact percentage and how you would measure that, but I definitely get better flavour using pulse mode, so that's what I have mainly been using.
Another mode is Power Eco which helps to conserve battery life. When your battery drops to 40% the Swag II will ask you if you want to switch to Power Eco mode. You can also set the Swag II to automatically switch to Power Eco mode by enabling 'Auto Eco' in the settings menu.
Smart TC mode will try to automatically detect what material your coil is and set the appropriate TC mode. I didn't use this mode as I didn't have any TC compatible coils.
Finally you have Super Player mode which allows you to use coils that have a really low resistance and would not normally fire
Swag II Button Combinations
– Turn On / Off: Press the fire button five times
– Lock Adjustment and Menu Buttons: Press the fire button three times
– Enter Menu: Press menu button three times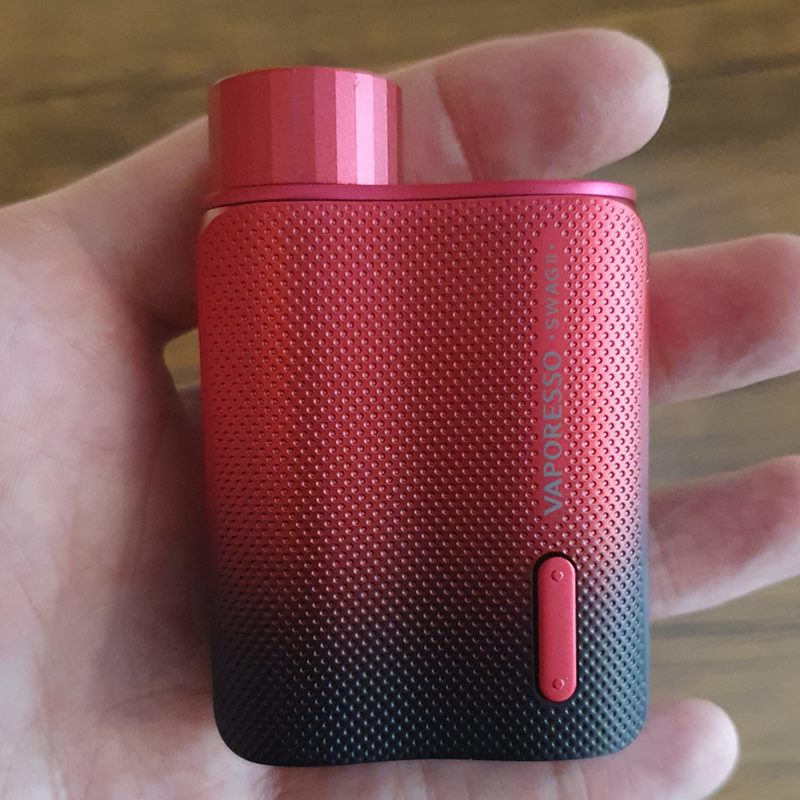 NRG PE Tank
The NRG PE tank has a delrin 510 drip tip on top, which is removable. I found it to be a nice drip tip to use.
The top cap slides with a slight pivot to reveal the single fill port, which is a nice and large kidney shaped port. You can remove the top cap for cleaning or replacing the gasket for the fill port. It is reverse threaded, so will unscrew in a clockwise direction.
The glass on the tank is a straight glass which holds 3.5ml of liquid. You do not get a spare replacement or a bubble glass option in the box.
The bottom airflow control ring has large dual slots, one on either side, and knurling all the way around for grip. There are hard stops on the airflow control ring and the resistance when turning the ring is a good tolerance.
On the base of the tank is a fixed 510 connection pin.
Performance
There are two coils included in the kit:
– GT4 Mesh 0.15ohm which is a dual mesh coil and has a recommended usage range of 60-70W
– CCell 0.5ohm which is a SS316 coil with a ceramic core wick
I tried the GT4 Mesh coil first and upon installing the coil it read as 0.2ohm. The airflow is very airy when wide open and still a lot of airflow when cut down to half open. If you close it down to a quarter open it starts to feel a bit more restrictive. It's quite a noisy airflow on this coil. At 60W the flavour is ok and upping to 70W provides a bit more flavour, but overall the flavour was quite average on this coil.
Next I tried the CCell coil, which has a more restrictive draw than the GT4 Mesh coil. It is a 0.5ohm ceramic coil and has a recommended wattage range of 25-35W. I found the flavour to be quite lacking on this coil anywhere in the recommended range.
Verdict
The Swag II is a very nice little mod. It feels and works just like a mini Gen mod, having the lovely rubberised finish. It's a pleasure to hold and fits well in a pocket or bag.
The menu system can take a little getting used to, but once you have a play around it's not difficult to get to grips with.
I found the Eco Mode to absolutely kill the performance of the mod though. It's better to turn off Auto Eco Mode in the options and just carry a spare battery as it severely impacts the quality of vape you get from the device.
Being a single 18650 mod it's best paired with a tank that will use lower wattages; a MTL tank is ideal. If you are using a sub ohm tank at higher wattages just be prepared with a spare battery.
The NRG PE tank is pretty average and there are plenty of better choices available.
Overall, if you want a very portable and nice little mod for out and about, the Swag II ticks all the boxes nicely. Just swap out the tank for something better and you have a very portable out and about set up.
Pros
– Swag II is really nice to hold
– Small form factor, very portable
– Swag II looks good
– I like the Pulse mode from the Gen series
– Fits tanks / atomisers up to 25mm
Cons
– NRG PE tank offers average performance
– Eco Mode severely impacts performance, I just turn it off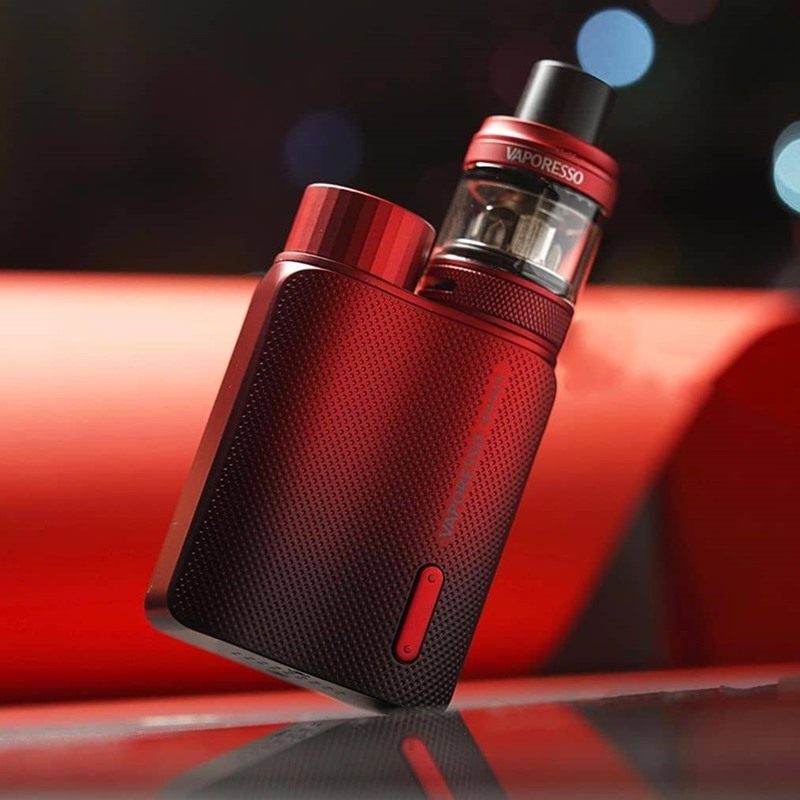 Thank you for reading and thank you to HealthCabin for sending me the Swag II kit for review.

They have them listed for $39.99 on their website, but if you create an account or log in they are listed for $35.87.
This review was written by Dan from ECF, click to view original review there with more pictures in a photo album.