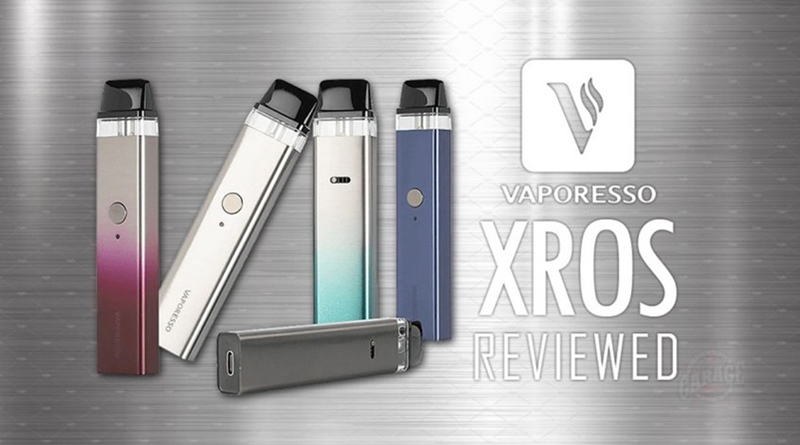 Vaporesso. A name known by the quality of their products. I don't know about you but most of the Vaporesso gear that I've owned has been build pretty solidly, and lasted it's duration of use quite well. On top of that Vaporesso are also known for their excellent sub-ohm coils, compatible with many other brands of atomizers, and have become a benchmark or at least 'THE' choice of coils many vapers use.
They've offered up various POD devices over the last few years, more than you're likely to remember. I took a look at their 'OSmall' and "Xtra" PODs as well as their "Target PM-80 SE" not long ago, just to name a few.
Well, this time they've gone after the Caliburn. This next device, not only has the same looks as the Caliburn, but operates in much the same way, even the PODs are similar.
Let's take a look at Vaporesso's new stick POD device, the "XROS"!
Big thanks goes to HealthCabin for sending this through for me to review!
Size: 112.0 x 23.0 x 13.0mm
Battery: 800mAh Internal
E-Liquid Capacity: 2ml Pod
Output Wattage: 11w/16w
Firing – Draw Activated & Manual
Airflow – Adjustable Slider
Charging: Via USB-C Port
Available colours: Silver | Grey | Blue | Sky Blue | Pink | Rainbow
1 x XROS Device
1 x 0.8Ω XROS Mesh Pod (2ml)
1 x 1.2Ω XROS Mesh Pod (2ml)
1 x Type-C USB Cable
1 x User Manual
1 x Warranty Card
1 x Reminder Card
First Impressions & General Info
I was actually expecting this to be quite 'Caliburn-like', and it definitely didn't let me down there, but what did get my attention on opening up this box of goodness, was the finish on this baby!

As you can see, Vaporesso have gone with a really sleek brushed stainless steel look for the XROS, and it just oozes quality. It feels fantastic in the hand, and surprisingly, isn't a fingerprint magnet, considering the lovely finish on it.

Measuring in at 112.0 x 23.0 x 13.0mm, it's the slightest bit longer, and wider than the Caliburn with slightly squarer edges, and a little more heft.

What "IS" similar to Uwell's flagship POD device, is the general design of it, large button on front with a small LED below it, a push in, magnet based POD, and the charging port on the bottom. You might notice that the bottom of the PODs are also quite similar to the Caliburn PODs, in both looks and how they are put together. You'll also find that the fill port is similar too, just pop the black top off of the pod and you're presented with a fill port and an additional pressure relief, just like the Caliburn.

So what is different here then you might ask?
Vaporesso have taken the Caliburn, and spiced things up a little, giving things a makeover, upgrading to USB Type-C charging, offering two different resistance PODs, and last but not least giving this beauty adjustable airflow. Yes, that's right, this is one of the first Stick PODs to get the and adjustable airflow, and Vaporesso have done a really great job with it!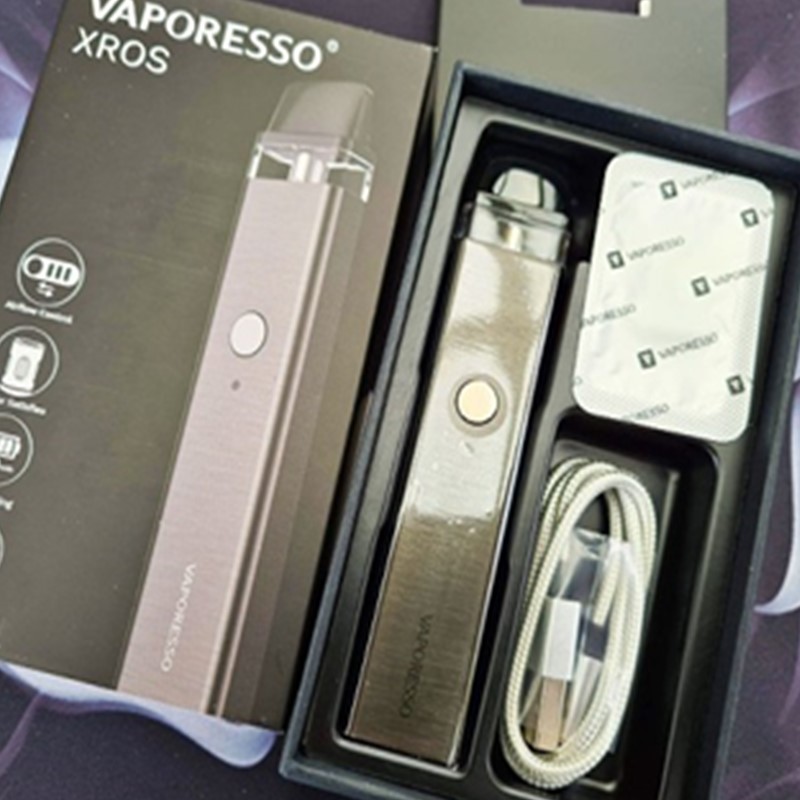 The PODs
There are 2 PODs in the box, both being Mesh coils, where the coils are not removeable. (A POD system in the truer sense of the word) You're going to get some pretty good flavour, and Vaporesso have offered you x2 different resistance ranges.
0.8ohm Mesh Coil (Red)
This coil is pretty great, punching out some impressive flavour and taking advantage of that higher wattage when using the button to fire, rather than the auto-draw. It burns through the juice quicker, and as I'm finding, can leave you with a little juice in your mouth on a completely open airflow. Tighten it down a little and it's ok though.
1.2ohm Mesh Coil (Black)
This coil is a little cooler than the other. The airflow is very much on par, with little difference, but the vape is a little less dense, and wet. I've really enjoyed using this one with the airflow completely closed off to create a fantastic tight Mouth to Lung draw.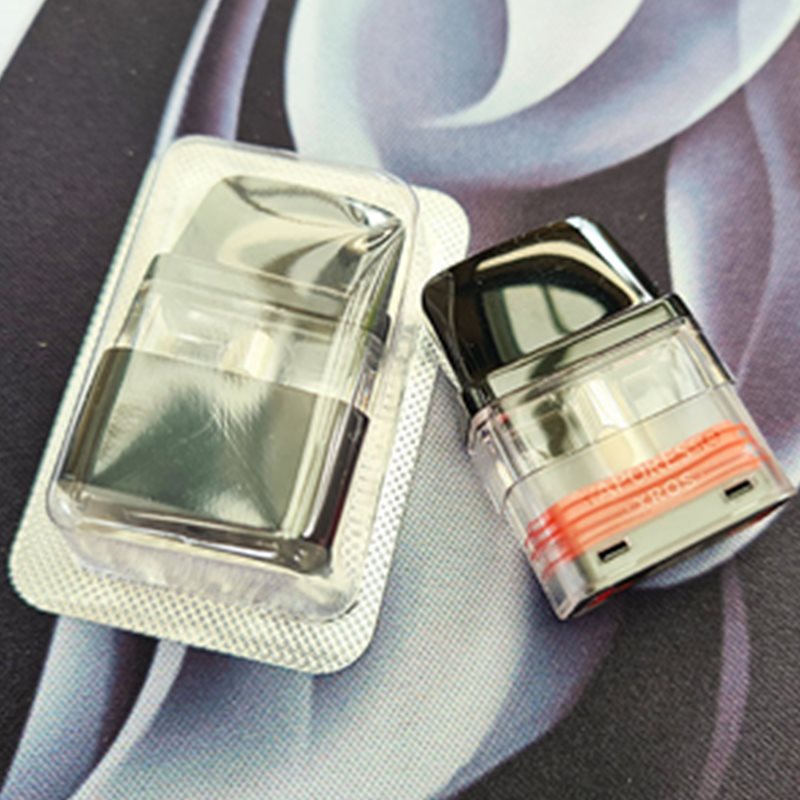 As you can see in the photos, Vaporesso have gone with the old, 2 piece POD system with the bottom clipping into the clear section of the POD, with a silicone seal easily seen through the plastic. Speaking of clear plastic, I'm pleased to see Vaporesso use this, and it's really easy to see your e-liquid levels on the XROS, great job on this.


The resistance is easily read from the bottom of the POD where you'll notice 2 large magnets and 2 terminals that connect to the body of the device, when inserted.

The PODs insert with an audible solid click and hold there pretty well. Even a quick flick didn't dislodge the POD from the rest of the device, which is excellent.
Airflow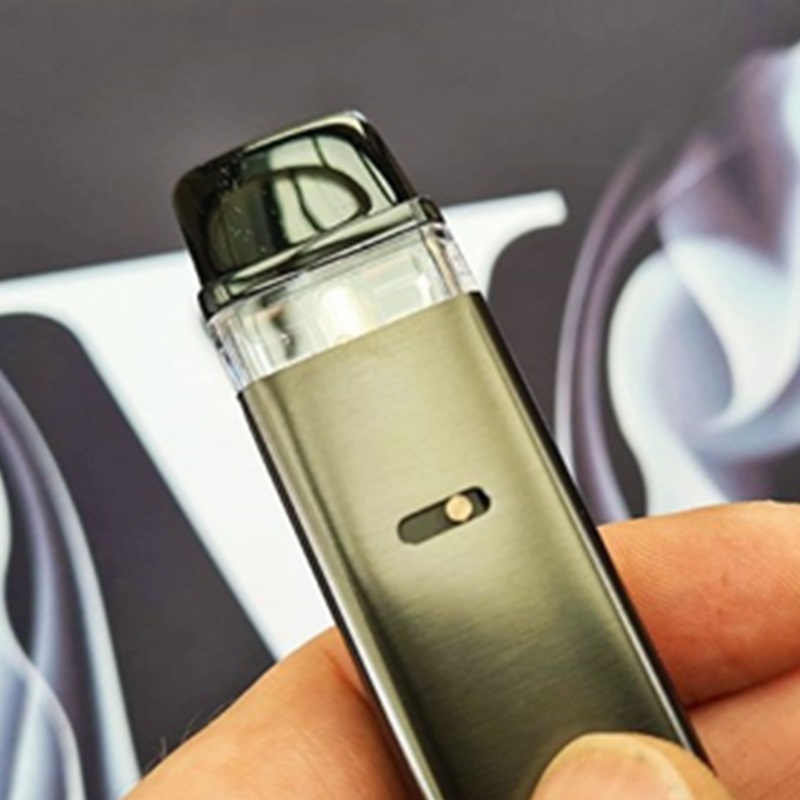 Now here's what you're all here to see. The XROS's airflow. I've never seen a slide across airflow on a POD before, and there may well be others out there, but it's the first as far as I know, and Vaporesso have really outdone themselves here. The airflow ranges from a really tight Mouth to lung draw, to a very restricted Direct to lung draw, with every increment in-between, so you can really dial in that perfect airflow for you.
I've found myself gravitating toward closing the airflow all the way down to nought, (which still lets a little through) where it is quite a tight MTL draw, a tight enough MTL draw to please even the most discerning Mouth to Lung vaper. Open things up a little, and you get more of a Caliburn draw from it.
One thing that I've noticed about this airflow, is that it's placed in a strange position, right where your finger would be while taking a puff, so on the odd occasion I've found myself blocking it. It's not a big issue as I'm getting used to it, but perhaps a side airflow might have worked better.
Battery
The XROS sports an 800mah battery, which is plenty to get you a few days worth of use with either the 0.8ohm or 1.2ohm PODs. And even when you're out of juice, a super quick charge using the 2amp USB Type-C connection will have you up and running again in no time.
I'm usually completely against putting charge ports on the bottom of devices, but for a stick POD like this, laying it down isn't an issue.
Almost forgot, the XROS also has pass-through charging, so you can vape on it while your charging it. Excellent!
Filling
This is a really simple POD to fill. Just like the Caliburn, you pop the black top off of the POD, and use the silicone sealed hole to fill your e-liquid into. The size of the hole is perfect for a needle tip, and there is a smaller hole, that acts as a pressure valve on the other side, allowing you to fill while pushing air out of the POD at the same time.
Clip the black top back on and your done with filling.
Any Leaks?
I haven't experienced any, and I've been using both PODS on and off over the last few weeks.

I do occasionally get a bit of e-liquid in my mouth however, so the wicking is definitely keeping up with the Wattage that the XROS puts out!
Usage
I probably didnt even need to put this section in, as features are pretty limited. You've only got the one button, so x5 clicks on/off, there is an LED underneath it that lets you know how much charge you have left in your battery, and that is about all.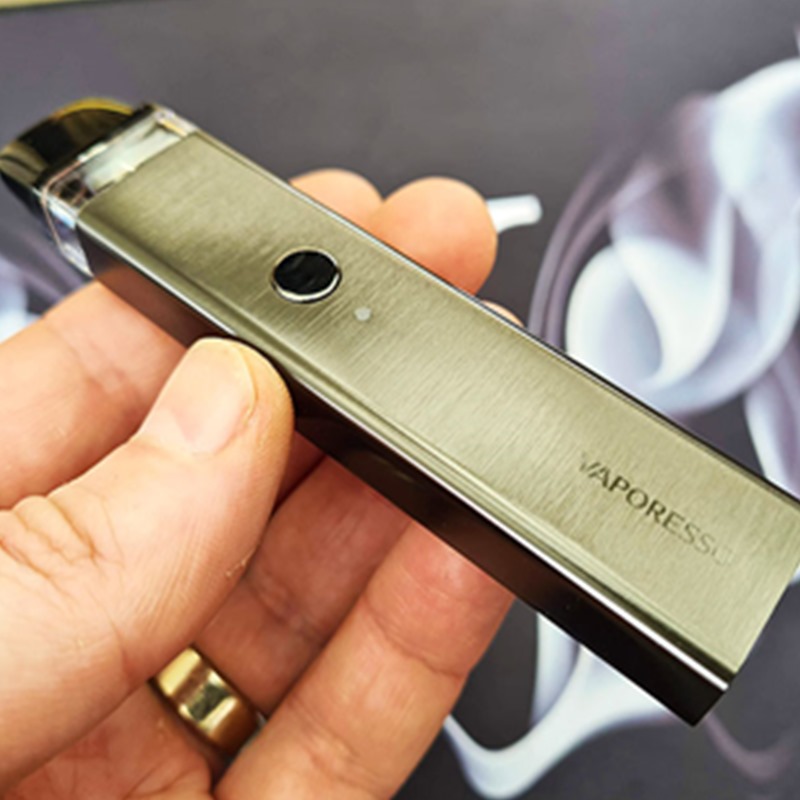 Besides the button to fire (which seems to fire at a higher wattage) the XROS also has auto-draw, so you simply start puffing and it fires automatically for you.


I've found the auto-draw to work quite well, it's very much instant and responsive, but I'm seeing myself using the button more and more for a little higher wattage.
Pros:
Sleek and stylish
Feels great in the hand
Tough and solid quality build
Fast and responsive auto-draw
Button activation works well
Adjustable airflow
Can get an excellent tight MTL draw from this
Cons:
The airflow control is in an awkward place where you might cover it by accident while vaping.
The coils wick too well. I get a little juice in my mouth at times.

Where to Buy:
It wouldn't be fair to not link back to HealthCabin for sending this through to me to review, so if you're shopping there, HealthCabin are a great site to buy the Vaporesso XROS from. The XROS is also available at a heap of vape shops around the country, so you should be able to find it from your local too. At the moment it's priced at around $29 AU which is a pretty good deal. The PODS are available for about $7-$8 for 2 pieces. Not bad, considering that these PODS seem to last for ages (Mine have been going 2 weeks and counting!)
Conclusion
All in all, I've really enjoyed my time with the Vaporesso XROS, it's a good little solid unit, that vapes really well and feels great. It's really simple to use, and has a consistent vape.

There are a few tiny issues that I mentioned, but nothing that cannot be overcome, which I have done by altering my vaping style a little while using it. This has been in my pocket for the last few weeks, been everywhere with me and never let me down. Both PODs still have plenty of life left in them, and battery life is also excellent.

I'm really digging the coils in the PODs, they seem to wick really well, and I think it would be interesting to see exactly how much Wattage they could handle. I could easily see myself using this even more, if I could coax just that little bit more power out of it, and it looks like the wicks might be able to handle it! What do you think Vaporesso? A little more Wattage next time? Lets see what these coils can handle!!

Anyway, the XROS is a fantastic little POD to carry around with you. Is it a Caliburn killer? Perhaps not quite. I get a little better flavour from the Caliburn and the auto-draw is a little more responsive from it. But, Vaporesso have done a brilliant job with this, and given it adjustable airflow, so if you're after something pretty close to the Caliburn but with some airflow adjustment, this is your device!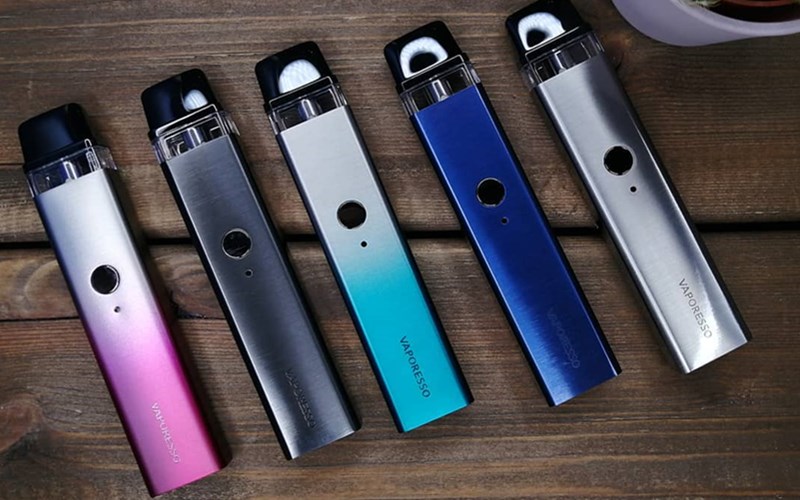 This review was written by Shane from vapersgarage, click to view original review there with more pictures.