Vapura, the story of when East meets West
Health Cabin is happy that our c6ustomers reach every continent and corner of the world. There is one client in particular that has caught our attention over the last few months. Hailing from the island of Ireland, Vapura E-Liquid Membership service, the world's first truly all in one vaping solution.
Not only does Vapura offer a membership system where all your e-liquid needs are delivered to your home once a month, but they also include all the hardware you need to keep fully stocked. That includes an e-cigarette on initial sign up and replacement coils and spare parts every month after that. They offer an array of memberships with Bronze, Silver, and Gold depending on your needs with an array of liquids to choose from, you choose what works best for you.
The idea all came from when founder Tom, after 3 years of vaping, lost patience with how unsatisfactory he found vape shops in Dublin. Finding himself constantly googling vape shop near me several times a week, usually finding them either closed or with a poor selection of stock, he asked himself why doesn't the vape shop come to me? Why is there not a one-stop shop with hardware and liquids arriving at your door so that you never get left short again? Life is too precious to be wasting time, chasing down vape shops.
After refining the concept and building their flagship store and website over the course of a year, Vapura launched in May 2018. Since then, they've built up a reputation to be the most reliable online e-liquid and e-cigarette platform in Ireland. Boasting over 300 satisfied customers, Vapura really does seem to be leading the way.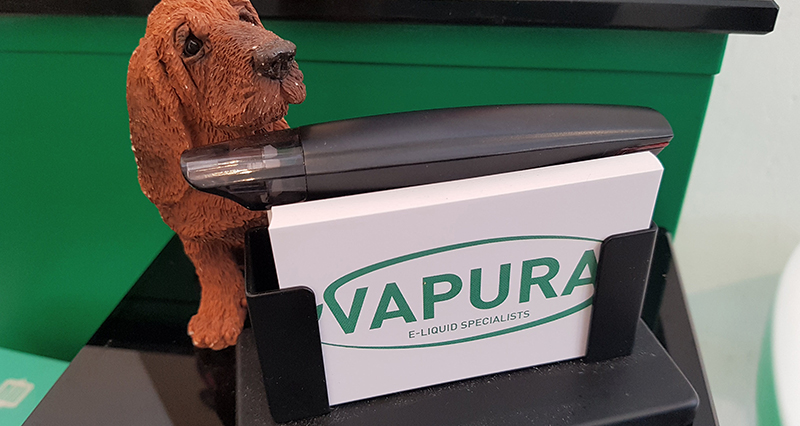 To keep up with the demands of a growing business, Vapura needed an e-cigarette supplier they could rely on. Of course, there could only be one choice and that is Health Cabin. Vapura stock a huge range of our products in both their online shop and Dublin vape shop. This includes Joyetech, Eleaf, and Kangertech. Two products that get a particular mention are the Joyetech Exceed Edge and the Eleaf iStick Melo. These are the two e-cigarettes that caught Vapura's attention and he includes them in his membership packages. They were two products that had great performance for beginner and intermediate vapers alike as well as being reliable.
"I couldn't speak any higher of Health Cabin. They really have been with me since day one. A fantastic range of stock that they really do have in stock compared to some other distributors I've dealt with. The ordering process is seamless, the delivery times exceptionally fast and customer care is A1. Special mention has to go to my rep Stella, nothing is too much hassle and responses are always swift and courteous. I couldn't recommend Health Cabin any higher." (Tom, founder at Vapura)
Vapura has even gone as far as to make custom tutorials demonstrating how to use the hardware we supply them, so be sure to check out their YouTube channel for some handy tips and tricks.
We have loved working with Vapura and for any of our Irish blog followers, we highly recommend checking out their site. All the best with your future growth to all the team at Vapura.