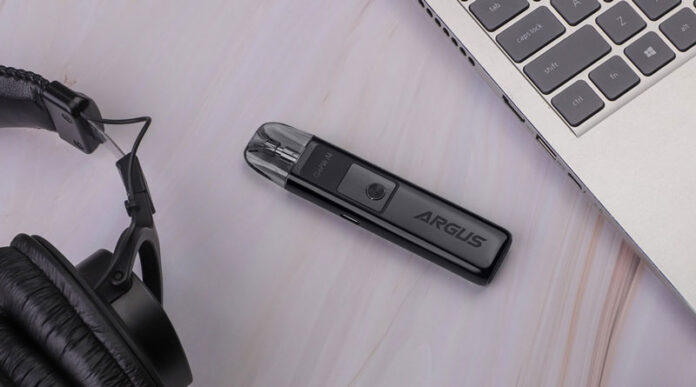 Roll up… Roll up. Hello my fellow vapers today we have a kit from Voopoo the Argus G. This was very kindly sent to me from Healthcabin. Let's get started the VOOPOO Argus G Kit Review together!
As always this review is my own thoughts and not associated with anyone from Healthcabin or POTV. Nor have I been paid for my thoughts.
Abit about the kit
This new kit from voopoo is the latest in the range of argus pod kits, following on from previous P1 Kit. This takes the same pods but in a rectangle stick type kit rather than small square kit. Featuring adjustable airflow and pods either with built in coils or replacement coils surely this will continue with the usual quality from Voopoo.
Available in 7 polished colours I recieved the gold for review.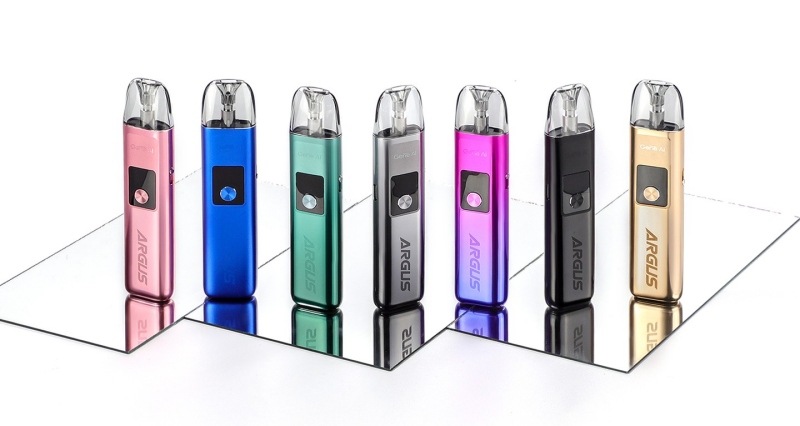 Voopoo Argus G Mod
0.7ohm Argus Pod
1.2ohm Argus Pod
Lanyard
USB Type C cable
User manual
Material: Aluminium Alloy, PC
Output Power: 5-25W
Output Voltage: 3.2-4.2V
Resistance: 0.5-3.0Ω
Battery Capacity: 1000mAh Built-in Battery
Size: 110.9mm x 25.7mm x 13.5mm
OLED Screen
Argus Pod Compatibility
Adjustable Airflow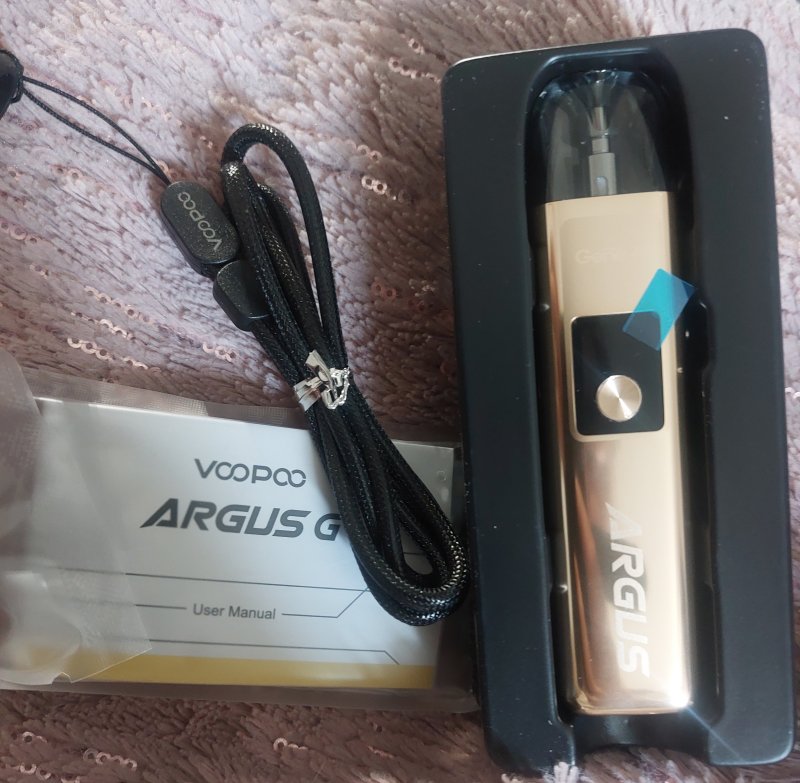 Mod
Rectangle in shape and with a built in 1000MaH battery this simple kit has everything you need to produce a great mtl vape but will it live up to normal quality from voopoo as of
late.
On the front you will find a OLED display screen which shows you the usual things:
Battery bar
Wattage
Ohms
Mode
Puff counter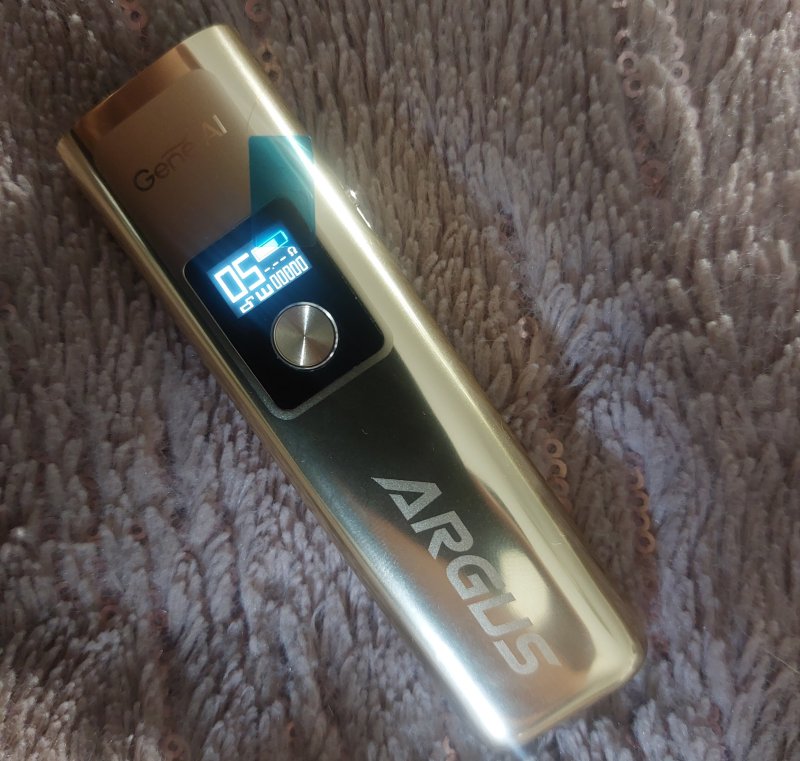 There a single Button on the kit which is used as a power button, fire button and a function button for clearing you puff counter and locking and unlocking the device.
It's 5 presses to turn the device off, and 5 to enter the menu to allow power off.
3 clicks will highlight the wattage where you can click through to your preffered vape. This kit uses the AI chipset and only allows you to go to the max wattage the coil allows this helps prevent burning out the coil which is great for newbie or seasoned vapers.
5 quick presses of the fire button opens up a 3 option menu of puff clear, lock or power off.
The kit has multi protections built into the chip set these are:
Low power
Atomiser short
Time Out
Temp high
Max power
These will allow the user new or old to use the kit without any worries of burning out the pod or over doing the mod.
Your find argus etched into the front of the mod as branding its in the same colour as the mod in a lighter shade so isn't to in your face which I was happy with.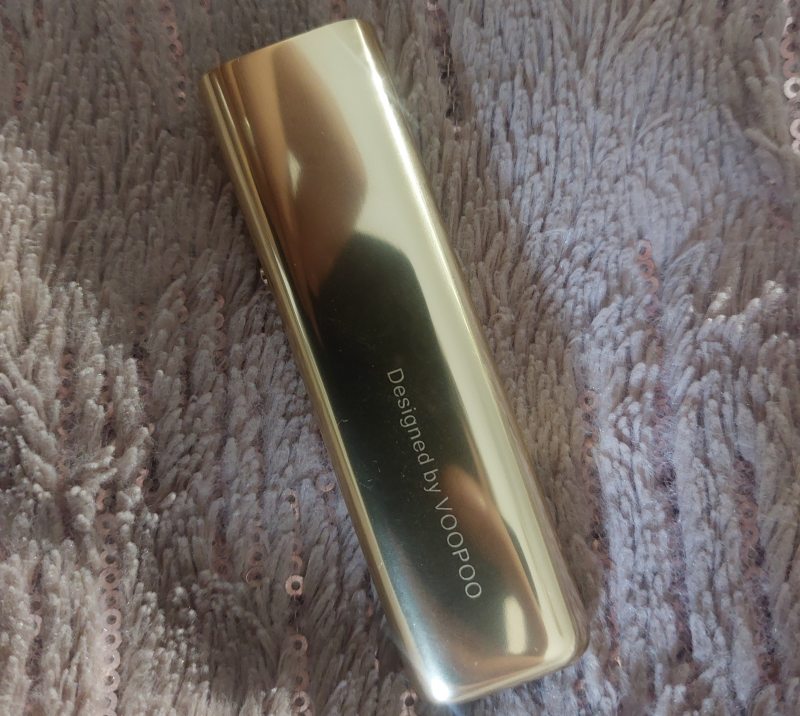 On the side of the kit your find the adjustable airflow control which works fantastically on this kit and allows a loose to tight MTL with a nice resteicted DL vape. It has a good resistance to it and I haven't found it moving at all in and out of pocket.
The base of of the kit has a nice rubber texture meaning it can stand if needed and doesn't scratch anything.
Charging the pod is done via USB type C which is on the side of the mod when connected it gives you a battery percentage and also minutes until completed charging which I like in a kit. It does however take about 1 hour 45 to fully charge which in these days could be seen as quite slow.
Pod & coils
2 inbuilt coiled pods come with the kit a 0.7ohm and a 1.2ohm argus pod. Both can cater for MTL vaping with the 0.7ohm also able to produce a flavourful RDL vape with the airflow fully open.
One thing i like what voopoo have done is also release an empty cartridge with changeable coils which helps with the waste of throwing a whole pod away after they're done. However to keep with the simplicity of this kit they've not provided one of these in the contents.
The pod is a 2ml slightly tinted plastic pod which you can easily see your juice level through with a silicone filling port. These aren't my favourite but I've grown to realise they work and I haven't had any issues on this one.
I Started with the 0.7 pod and the kit automatically sets it to the preffered wattage and doesn't allow you to exceed the max for the included pod on this coil that was 16W.
I found this wattage to be absolutely perfect and the flavourful is fantastic straight away using this as my daily pod kit I got to a decent 1225 puffs before the flavour started to drop which was about 35ml of eliquid which I was impressed with I used 10mg salts and it was a perfect balance of throat hit and smoothness. I preffered the vape with the airlfow just over a half closed and was very impressed.
I changed to the 1.2ohm and it sets this pod at 10W however I found a little more power gave a better vape and upped it to 12W the flavour was great it and it was a much tighter vape however after 3 days it started to drop quite quickly not sure if it was a poor pod, the jucie I was using or just the pod had gone but from previous kits using the same pod I wasn't expecting it to burn out so quickly.
Pros and niggles
Pros
Great flavour
Easy to use
Good pod longevity
Great airflow adjustability
Closed and open pods available
Looks great
Smart chip to stop burning of pods
Niggles
Charging could be quicker
Struggling to find much wrong with this kit in terms of a simple to use mtl starter kit with great flavour.
I suppose the problem with enclosed pods is if you get a dud you can't simply replace with another coil in the pack.
Overall thoughts
The argus pods are quickly becoming my favourite, the option of both closed and open pods meaning you can buy replaceable coils is a great move. The airflow adjustment on this little kit is fantastic and works extremely well from a very tight mtl to a loose mtl with it fully open moving along the coil range you could easily get a good RDL vape from this kit.
I got unlucky with the 1.2 pod with it only lasting 2 days which happens with coils and pods sometimes but from previous experience of voopoo products with this pod they're usually very good and last around 2 week mark.
As always a massive thank you to sue at Healthcabin for sending me this over for review its very much appriciated.
HealthCabin is also one of the biggest vape wholesale distributors in China, if you're a vape business owner, just contact them to get competitive wholesale price.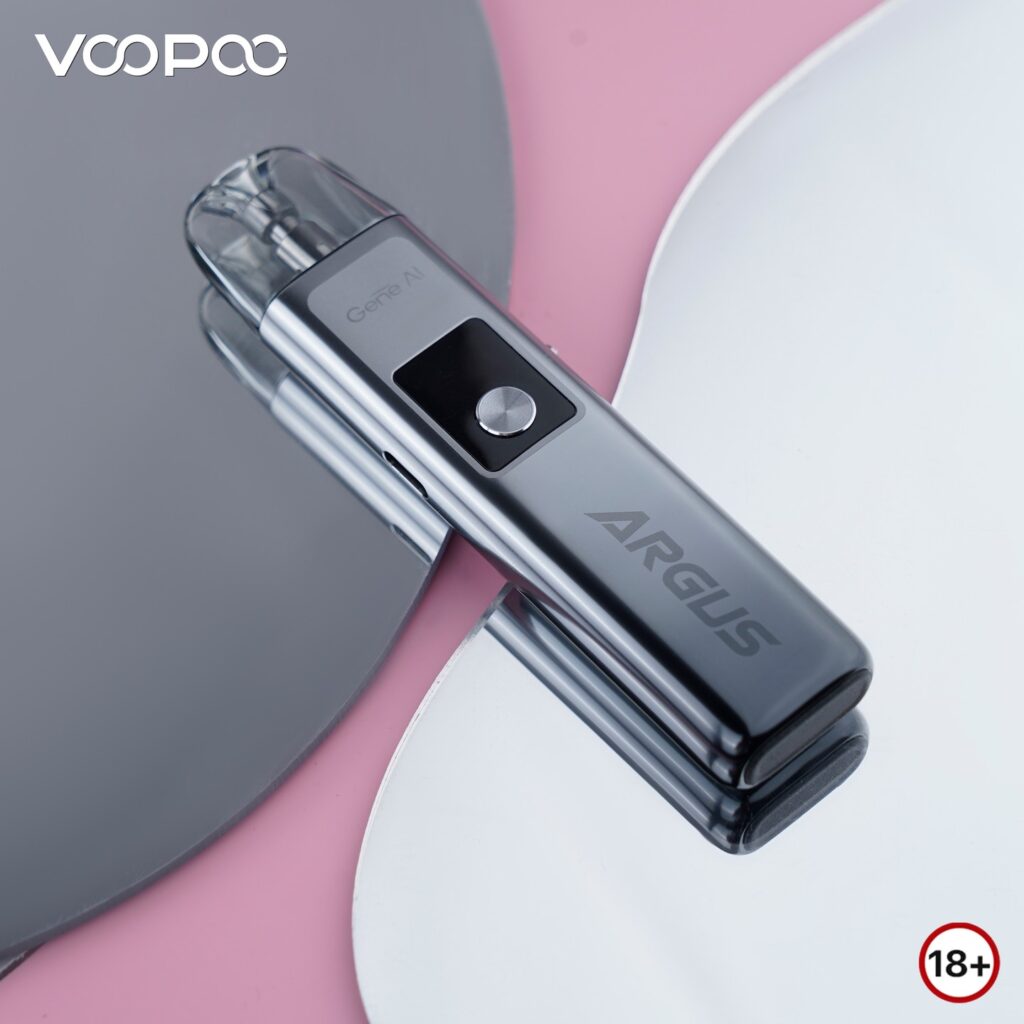 This review was written by Sam – The Vaping Gardner from POTV(Planet Of The Vapes), click to view original review.