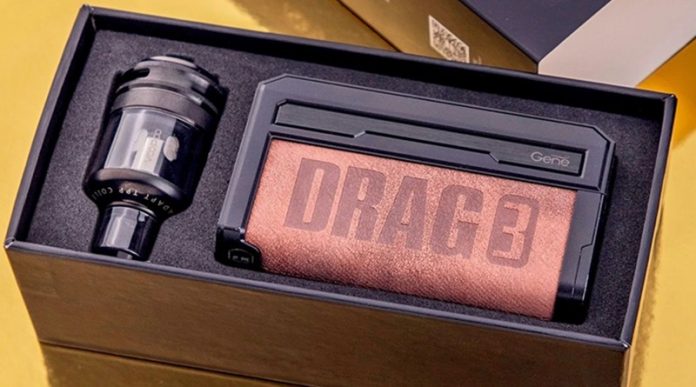 Firstly, I would like to thank Sue from Healthcabin for providing me with the opportunity to review this item. Secondly, for my obligatory disclaimer… As I've just mentioned the hardware was supplied to me free of charge for review purposes. I have no affiliation to Healthcabin or Voopoo. I do not receive payment for my reviews and what follows are my own opinions based on my own experience. So let's get started the Voopoo Drag 3 Kit Review below.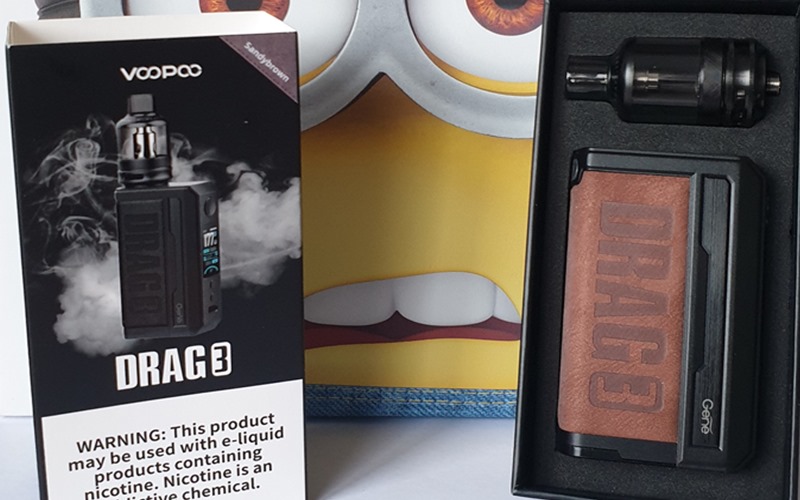 The Voopoo Drag 3 I received for review is a box mod with a pod, a box pod mod, pod box mod, whatever you want to call it. It's available to purchase with or without the pod, unlike a conventional pod mod where, with the use of an adaptor converts it to use a 510 tank. In this case the Pod has the adapter so you can fit the pod to any mod with a 510 fitting.
This is the latest Drag box mod from a long line of Drag generations manufactured by Voopoo. I'm not going to compare this mod to previous versions as this is the first Voopoo product I've had my mitts on.
One thing I have noticed, Voopoo are particularly big on their branding. Leaving the obvious huge "DRAG" brand on the side of the mod for now, the word Voopoo appears 95 times within this little bundle, yet it only appears twice on the Mod itself along with the "DRAG" branding. I know DRAG 3 appears in gargantuous bold lettering down one side of the mod and I know some folk think it spoils the mods looks, but you know what? I quite like it.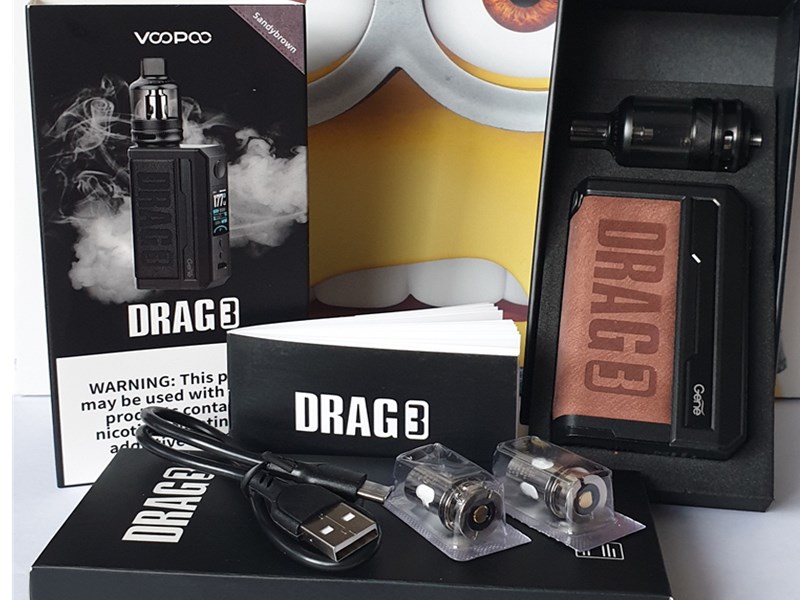 1 x Drag 3 Mod
1 x TPP Pod Tank (5.5ml) TPD = (2ml)
1 x DM1 0.15ohm Mesh Coil
1 x TPP-DM2 0.2ohm Mesh Coil
1 x Type C Charging Lead (Keep this aside from all your other USB Type-C leads)
1 x User Manual in 8 languages
High Burst Super Mode (available in RBA mode 80W and above to provide an initial boost)
Smart Mode (automatically sets a wattage range in-line with your coil)
RBA Mode (providing the freedom to set power outputs without the smart mode protection)
TPP Pod Tank & Coils ("new technology", high performance, increased flavour)
Compatible with PNP Pods/Coils & 510 Tanks
Advanced GENE.FAN 2.0 Chip (Stronger explosive power)
Max 177W Output Power
Requires Dual 18650 Batteries
Type-C 2A Charging
10s Overtime Protection
Short-circuit Protection
Overcharge Protection
Output Over-current Protection
Over Discharge Protection
Over-Temperature Protection
Balance Charge with different brand battery
Battery Reverse Protection
Colors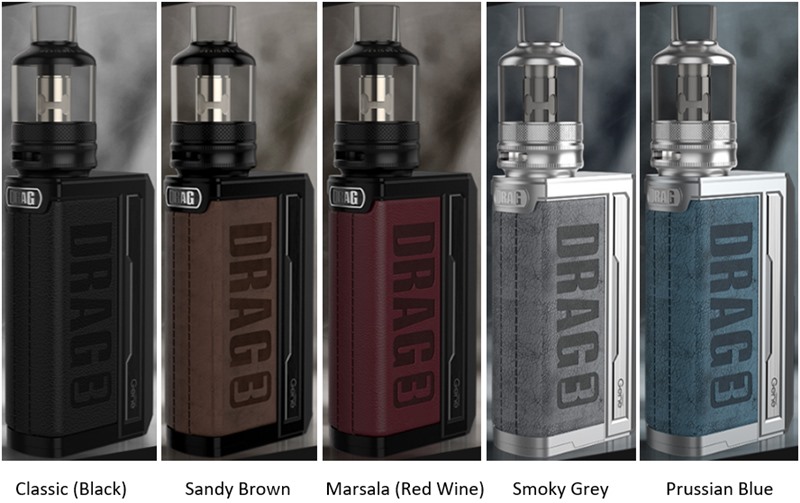 Initial Thoughts
Straight out of the box it felt like a cheap rattling lightweight, but once fitted with a couple of 18650 batteries, that bit of weight and the silencing of the battery door instantly transformed its character into a substantial quality bit of kit. I much prefer the grippy feel of the combined metal/leather than I do other mods featuring rubberised coatings, it feels quite classy.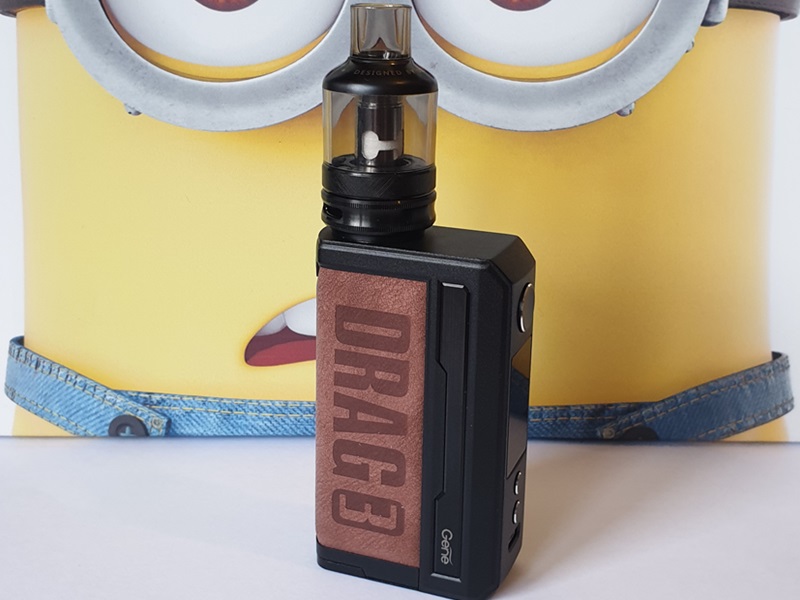 Display & Controls
It has a 0.96 inch TFT colour screen which is clear and easy to read, it matches with the styling of the mod well.
In "Smart" and "RBA" modes there are two display layout options available, "IRON" gives you a more traditional layout in a portrait orientation providing the usual battery level, Power, Mode, Puff counter, Puff duration, Voltage, Ohms etc. Or there is a "CORE" display option which provides the same info in a circular graphic in a landscape orientation. Voopoo have sneaked in another "Drag" branding on the display in both options. Battery level is indicated by two battery silhouettes, the battery levels of each cell are monitored and displayed individually, if your that way inclined you can watch the battery levels leapfrog each other throughout your use.
Each mode of operation is colour co-ordinated for ease of use, although each mode is also identified by a highlighted letter.
Yellow is "Smart" mode, it automatically assigns a range of power based on the resistance of the coil fitted, this mode is primarily used for stock coils. Out of interest I tried this mode with a RTA at a different resistance and it did provide a range for power.
Blue is "RBA" mode, this removes the power restrictions applied in "Smart" mode allowing you access of the full range of power.
Red is "Super" mode, this mode automatically kicks in when you're in "RBA" mode with the power selected at 81 watts and over, it is effectively an initial boost to reduce ramp up time in lower resistant (Chunkier) builds.
Green is "Temp Ctrl" mode, the mod is not pre-installed with this mode. I can understand Voopoo's thinking, not everyone uses it, there are no TPP stock coils compatible with TC, for newbies it could be confusing. For the more advanced user it's available if you want it. It was easy to do, just visit the link provided at the end of this review, download the Configuration Software on a Windows PC, Install it, then download the TCR software (to a location you can remember). Connect your Drag 3 to a USB port on your computer with the lead provided in your kit (the Type-C end has an arrow on it, this must be on the underside when connecting to the mod). The configuration software will recognise the Drag 3 once fitted, then upload the TCR file (once you remembered where you saved it) using the config software. Jobs a good'n and Bob's your uncle, away you go. The down side, if you don't have access to a PC, you're stuffed.
There are 3 buttons on the mod, a large button above the screen to fire and select menu options, below the screen is an up (+) and a down (-) button. The small details of the "matchy, matchy" buttons with chrome trim oozes class, and the button operation feels precise and purposeful.
At the start I found this not to be a huge cloud chucker, but boy, the flavour hit me like a ton of bricks. Compared to my RTA's the flavour profile of the fruit based juices I use are a little sweeter than normal, but apart from that there isn't much difference, comparing similarities of a stock coiler to an RTA, well that can't be bad.
I will add though, in my opinion the supplied drip tip feels a little on the cheap side. I think the aim was to keep the drip tip as thin walled as possible, it's like a wide bore 510 if you get my drift, it keeps the overall profile quite narrow but the bore as wide as possible, to me it doesn't quite feel up to scratch, but that's just personal preference and each to their own as they say.
Voopoo boasts that the gene 2 chip has stronger explosive power with 0.001s Extreme Ignition along with the faster heating mesh coils. They certainly aren't wrong there. I wonder if it will be just as "explosive" with one of my RTA's running a SS316L Coil in it, or is this "Explosive Extreme Ignition mainly down to the mesh coil.
From the stock coils I've gone through in the past, both types of the TPP coils are right up there for flavour, but will they last the test of time? Just have to wait and see.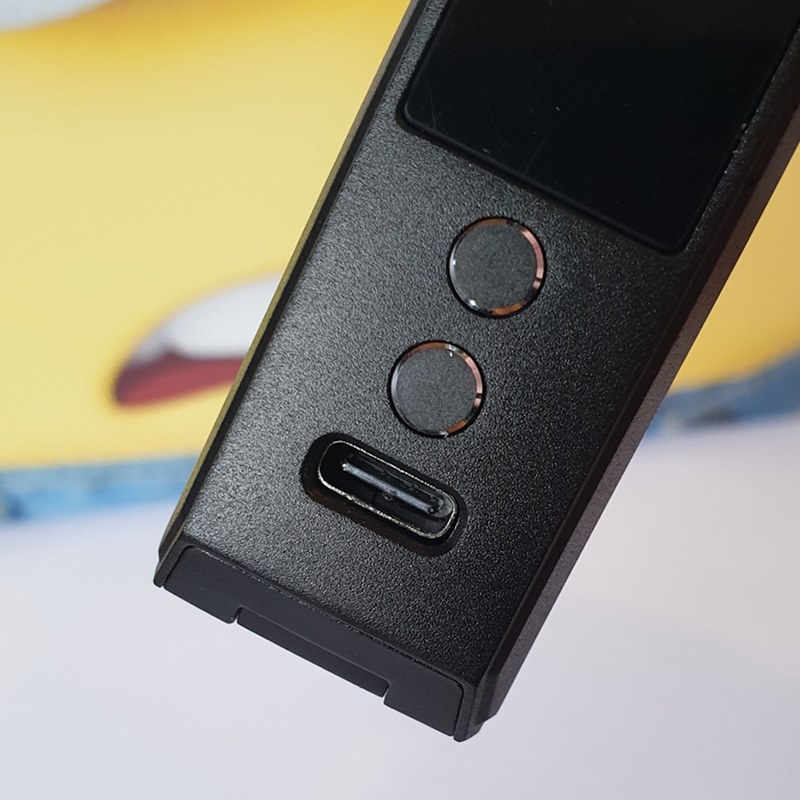 My Experience
The TPP DM-1 coil was my first choice, it came in at 0.13ohms when fitted and juiced. The suggested best for this coil is between 65 to 75 watts. I had left the coil soaking for 30 minutes so jumped straight in at 65 watts. I got a very satisfying DL draw with the airflow wide open and it restricts right down with the airflow almost closed, so offers a full range of RDTL to DTL. The vape was fully saturated to point where I felt like I was almost drinking it and this intensified all the way up to 80 watts. At first I was extremely impressed with it, but chain vaping it soon made my fruit based liquid a little sickly and over sweet and I ended up running this coil at 60ish watts to tone it down a bit. I did find that dropping down below 60 watts caused the coil to weep into the pod base, I suspect this was due to the large wicking ports on the coil and not running the mesh hot enough to vaporize all the available juice.
Remember I said initially I didn't find this to be a huge cloud chucker? Wrong! Once the coil bedded in, this thing bellows cloud out no problem, especially when cranking the power up to the upper limits. I happily chuffed away on this coil for 4 days at 60 watts with no major issues, the flavour remained constantly good throughout and it remained particularly foggy in our neighbourhood. Unfortunately after 4 days though I started getting "Atomiser Short" warnings half way through each draw, which proved to be the coil shorting out when heating up, so it was time to change to the TPP DM-2 coil.
The TPP DM-2 coil is very similar to the DM-1, it came in at 0.2ohms once fitted and juiced. The suggested best for this coil is between 50 to 55 watts. Again after soaking for 30 minutes I started tooting away at 50 watts and then bumped it up to 55 watts. Flavour is still very good and happily for me the vape wasn't as over-saturated as with the other coil, the DM-2 would be my personal coil of choice. I've used the DM-2 coil continually since and it has remained consistent throughout and is still going strong now (7 days after fitting).
As part of this review, I wanted to touch base on the temperature control function for this mod. I personally dabble into the realms of TC from time to time with my RTA's. My personal preference for wire is SS316L, so jumping in and out of TC is fine and for some of my builds TC works better than variable wattage. On chunkier coils you can bump up the initial wattage to reduce the time it takes to heat the coil, knowing that the mod will automatically reduce the wattage once the coil is up to temperature or starving itself of juice. Most mods do this just fine but some better than others. Without boring you in too much detail I set up a tank with a 0.15 ohm coil that runs fine in VW mode at 40-45 watts. With the mod set to TC [SS] mode, when initially selecting TC mode you're presented with three options [NI], [TI] or [SS], you select the type you require with + & – and then press the fire button for 3 seconds to select. Further TC settings are accessed by pressing the + & – buttons together for 3 seconds. In this instance I set the wattage to 60 watts, the maximum is only 80 in TC mode. I left the SS TCR value at its default, for some reason Voopoo use their own scale for setting the coil material TCR rather than using the actual temperature coefficient of resistance. There is a calculation to work out the Gene Chip setting base on true TCR values of the coil material but you're possibly entering into the realms of Voodoo if you're bothered to tinker, so I left this alone for now. Finally you can fix the coils starting (cold) resistance to give you a more consistent output regardless of changes in ambient temperature, I kept this at 0.15ohms.
Onto actual vaping in TC mode. Yes the mod fired up the coil relatively fast and the temperature control kicks in quite smoothly, no sudden drop off and pick back up again unlike some other mods in this mode.
Continuing to vape through a tanks worth of juice to, against my better judgement, bring on the onset of a dirty dry hit. When the tank emptied, it was noticeable that the mod was throttling back sooner and sooner, flavour and cloud reduced and then the slightest singed taste gave all the warnings needed before the dreaded dry hit attack. So in my opinion TC mode worked well and as I would of expected.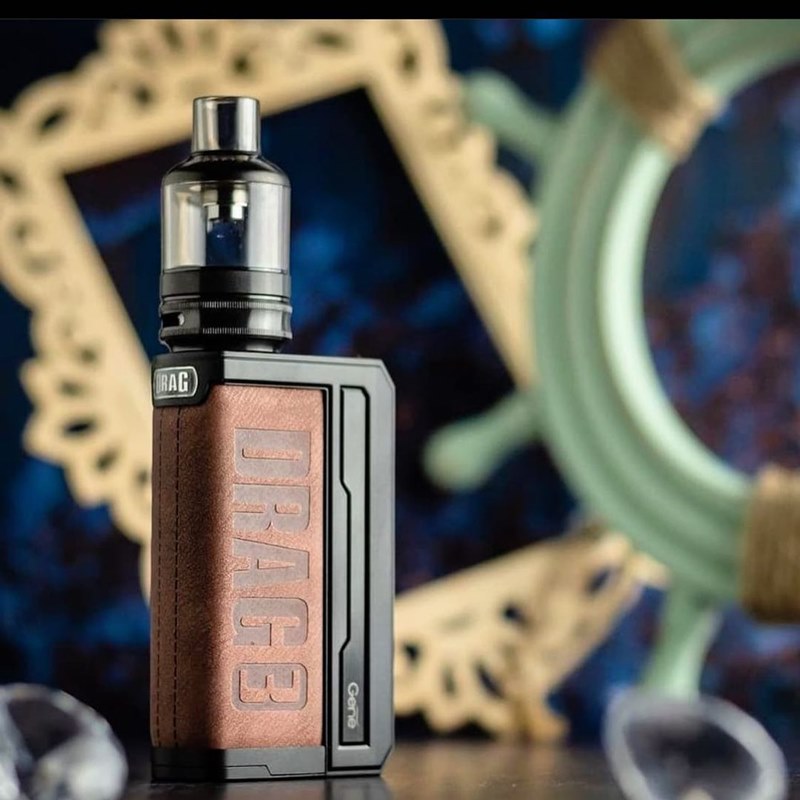 Pros
Stylish, quality feel, nice matchy bits
Variable Wattage (5-177W)
"Smart" Auto mode for coil power limits
Big on Flavour
(Pro for some) – Big on clouds
Good TC mode available as a software update
Cons
Cheap feeling Drip Tip
Slight leakage if under powering the coils
(Con for others (Mrs Squidgy)) – Big on clouds
TC mode not included as default
TC mode only offers a maximum 80watts
Conclusion
Vape Style – RDTL/DTL (MTL with PnP coils and Pod)
Just to clarify something that's not been to clear before. This kit is compatible with the range of PnP coils, but you will need a PnP pod as well, the Pod supplied with this kit will only work with TPP coils DM-1 & DM-2 (for now).
As an avid RTA user, this kit has certainly opened my eyes up to Pod's.
Thanks again to Sue Healthcabin for sending this kit to me for review. In return, it's only right that I remind you that this item is available from Healthcabin at £38.84 ($51.99) but to view their best price of £31.29 ($41.88) you need to sign up and log in.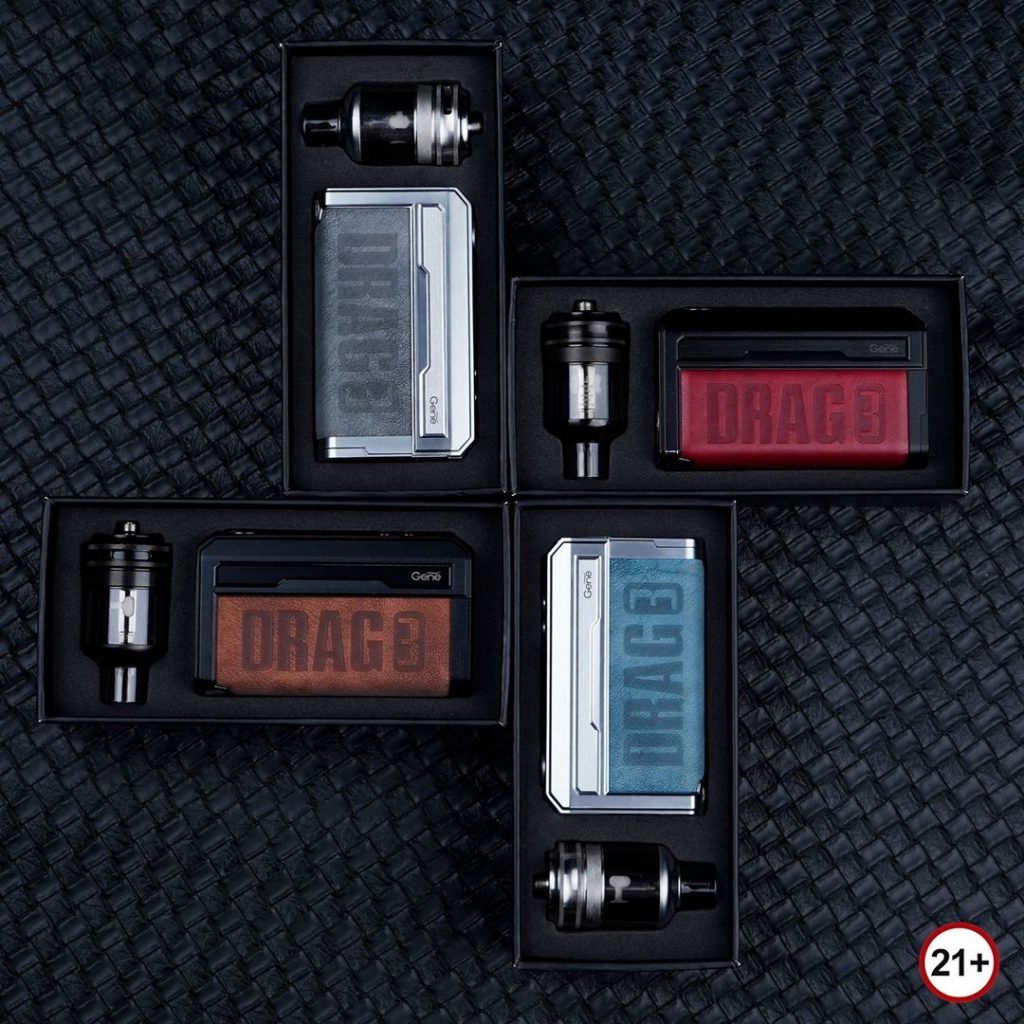 This review was written by Squidgy-Marcus from POTV, click to view original review.