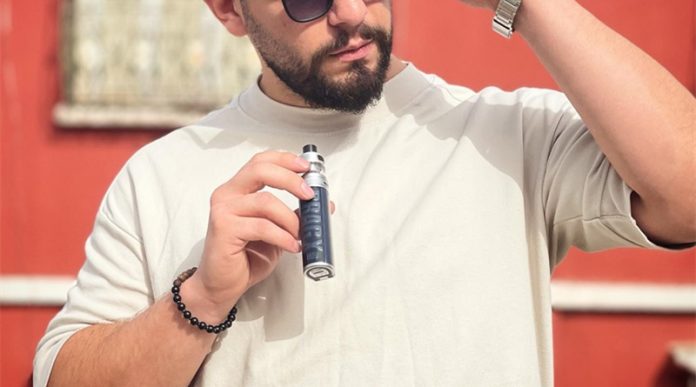 Roll up… Roll up. Hello my fellow vapers today we have a kit from Voopoo The Drag X Pro. This was very kindly sent to me from Healthcabin. Let's get started the Voopoo Drag X Pro Review together!
As always this review is my own thoughts and not associated with anyone from Healthcabin or POTV. Nor have I been paid for my thoughts.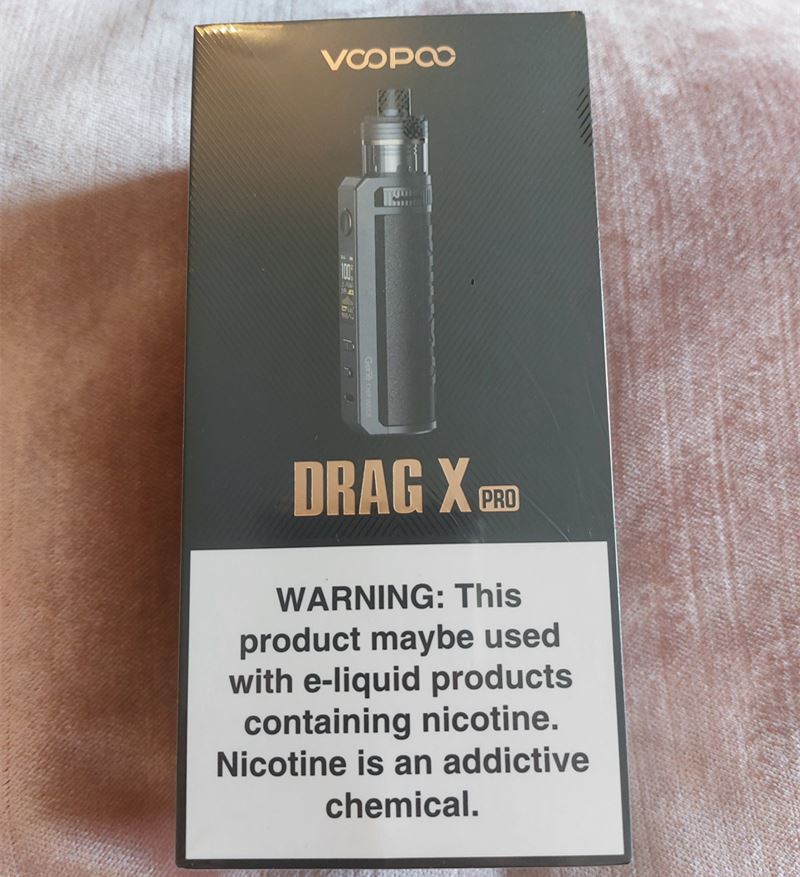 Abit about the kit
Voopoo have made a name for themselves in the vaping market with there Drag and Argus range, paired along with there TPP X pod and coils which are widely available and upgraded from the PNP range. This kit is an upgraded version of the original Drag X, so let's get into the review and see what features voopoo have added.
This kit comes in a variety of colours they are :
Gobi Grey | Mystic Red | Sapphire Blue | Garda Blue | Classic Black | Sahara Brown
I recieved the Garda Blue version for my review.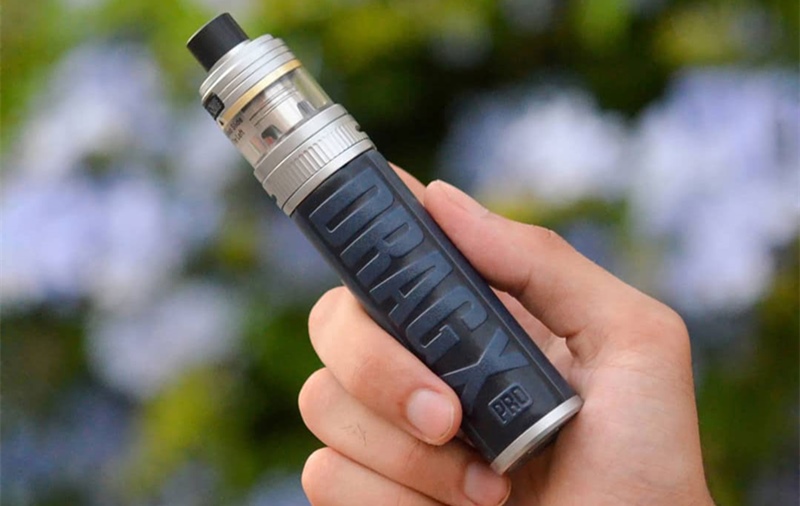 1 x Drag X Pro Device
1 x TPP-X Pod Tank (5.5ml – 2ml TPD)
1 x DM2 Coil – 0.2Ω
1 x DM3 Coil – 0.15Ω
1 x USB-C Cable
1 x 18650 Adaptor
1 x User Manual
Size: 134.5 x 28.8 x 34.5mm
Battery: Single 21700/18650
E-Liquid Capacity: 5.5ml (TPD Version 2.0ml)
Output Wattage: 5-100w
Airflow – Airflow Adjustment Ring
Charging: Via USB-C Port
Auto-Draw System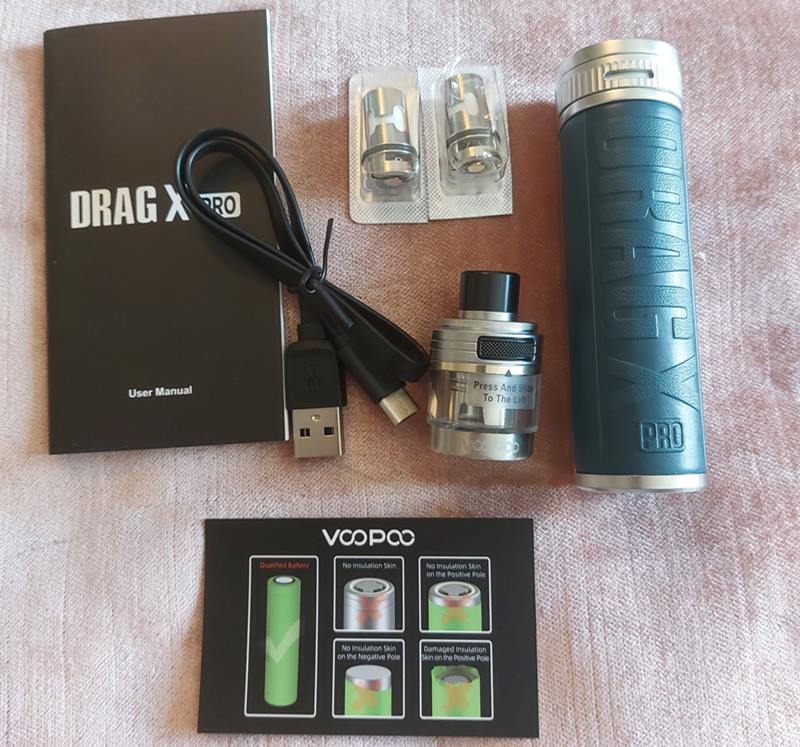 The mod
The mod is an easy to use and comfortable to hold tube type mod, it runs from a single 21700 or 18650 with the adaptor included and can fire up to 100W using RBA mode.
This kit features the newly updated Gene 3 chip which has been improved to increase the voltage and give it a boost to stop the underpower of previous devices, this can be achieved by using boost mode. But the main difference for this device is the fact that like a small pod device. It can be used as either button fire or auto fire. Both ways work perfectly with no issues however I do feel the autofire is a little underpowered compared to the button fire but this may simply be down to ramp up time when using the button you can press it a couple of seconds before vaping.
The device offers 2amp type C Charging and this can be found on the front of the device. As always I reccomended using a external battery charger but incase of emergencies or firmware upgrade you have this available.
At the top of the device where the tank pod will sit you have a airflow ring this is 2 cyclops holes which have no stoppers but is a great addition to the kit as it really means you can dial in what type of vape you like, it goes from a airy DL to a decent RDL vape.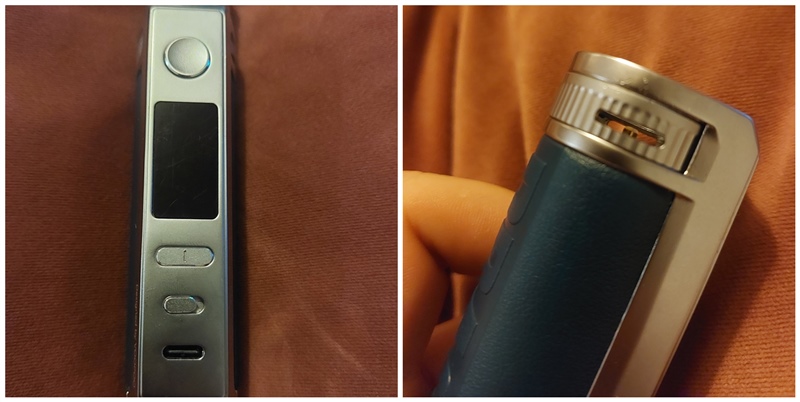 Moving to the back of the device you have the usual massive branding from Voopoo etched into a leather pad, it makes it comfortable to hold but still in my opinion the branding can be abit in your face.
The battery door is held in by an easy clip I've had no problems with this coming open or being hard to close. Voopoo have put little rubber feet to the bottom of the device meaning it is sturdy when stood up which is a nice touch.
This device is fairly simple to use and here's a easy guide:
Device On/Off – 5 Clicks Fire Button
Lock/Unlock Device – Press & Hold Fire and Up Button
Puff Reset – Press & Hold Fire & Down Button
Change between Smart Mode & RBA – 3 Clicks Fire Button
In the menu system you can chose between manually turning the device off or using the switch on the front of the device, this switch can be changed in the simple menu screen to be used as a on off button or a lock button. If used as a on/off you will click the fire button 3 times to lock the wattage in. Press and hold in the up and down button to enter the menu system.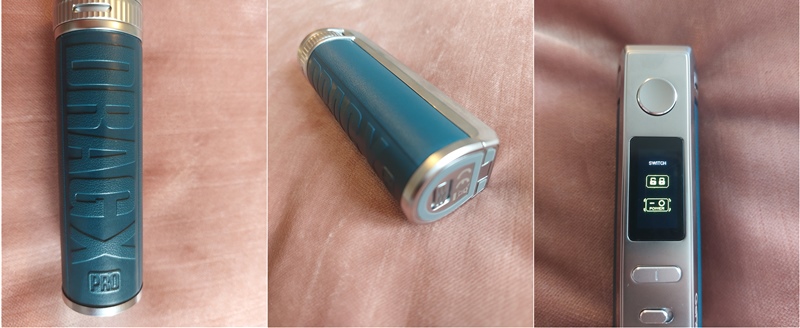 The tank
The tank used with this kit is the updated TTP X tank it still makes use of the original TTP coils which is always nice if people have lots spare but like the new design of the tank.
It's got a removable 810 drip tip but the one provided is comfortable. The tpd version will be 2ml but non tpd holds a nice 5.5ml, although this tank does drink elqiuid very quickly.
Now the filling port on this tank is something I haven't seen before and I quite like it compared to the usual rubber bung on the bottom of a tank. This has a nice push button which when pushed in, allows you to spin the top of the tank which reveals a rubber bung and filling hole. This has stopped any leaking or issues with the filling port being in contact with the connectors. It works well I've found holding the tank at a slight angle makes it easier when filling, this helps not create air bubbles and therefore spilling out.

The coils
There's 2 coils Included in the kit both cater to DL vapers but with the airflow adjustment you can get a great RDL vape.
I Started with 0.2ohm coil:
Recommended between 40-60 watts but best at 50-55 watts.
This has great flavour from around 45W and that continues all the way until 60W I found my sweet spot at 48-52W with the airflow a quarter closed it gives a nice restricted warm vape with plenty of clouds I found this coil to last a very long time I was still getting great flavour 1000 puffs in.
I changed it out for the 0.15ohm coil:
Reccomended between 85 and 95 watts but rated between 80 and 100 watts.
These wattages for me are quite high I normally go to around 60 but my word what a great flavour coil this is even at 60W it's producing great flavour. With the airflow fully open up to 90W it's a airy flavour vape with plenty of clouds.
I've been very impressed with the longevity and flavour of these coils due to the way I vape I slightly favour the 0.2ohm coil.
Pros and Niggles
Pros
• Great flavour
• Long coil life
• Good build quality
• Airflow adjustment
• Good filling method
• Easy to use
• Comfortable In hand
• Decent battery door and rubber feet
Niggles
• Drinks eliquid
• Battery life poor with 18650 due to coil wattages
• Auto fire can feel little underpowered to start
• Branding abit in your face
As always a massive thank you to sue at Healthcabin for sending me this over for review its very much appriciated.
HealthCabin is also one of the biggest vape wholesale distributors in China, if you're a vape business owner, just contact them to get competitive wholesale price.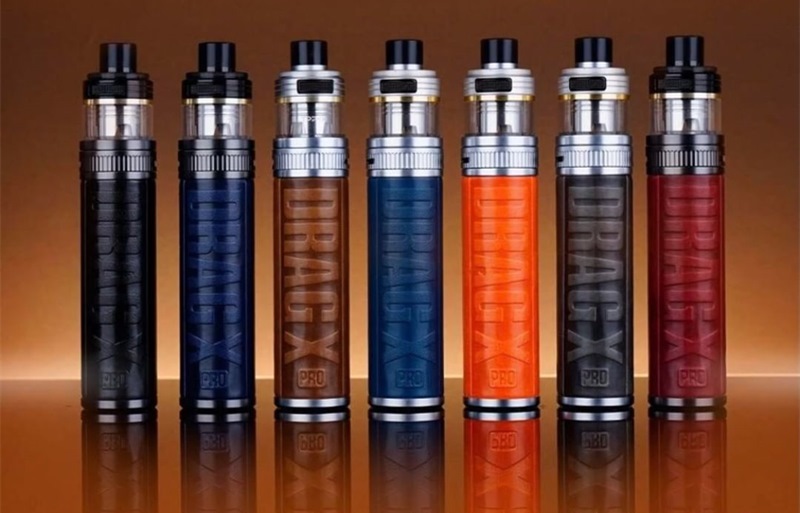 This review was written by Sam – The Vaping Gardner from POTV(Planet Of The Vapes), click to view original review.