Voopoo vinci X review & VS vinci vw VS vinci R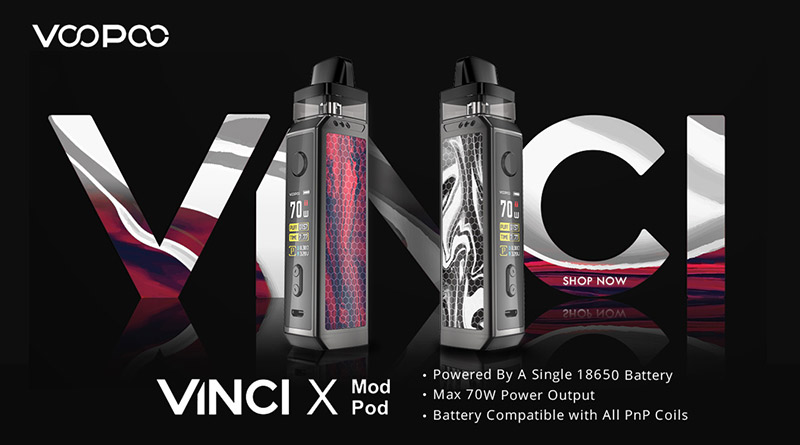 Voopoo Vinci X is produced by one of the top vape manufacturers. The size for Voopoo Vinci X Mod Pod Kit is 117*29.5*253.mm which can easily fit with your hand. Moreover, it made from Zinc Alloy and PCTG, and it's powered by a high-drain 18650 battery and the advanced GENE.AI chipset. It's able to fire immediately and offer maximum wattage output of 70W. Meanwhile, the cap is a twist-off design that makes it easier to replace the battery. Same as original Vinci Mod Pod Kit that Voopoo published before, you can fill prefer e-juice and nic salt juice and it also features a dual airflow system by rotating 180 degrees.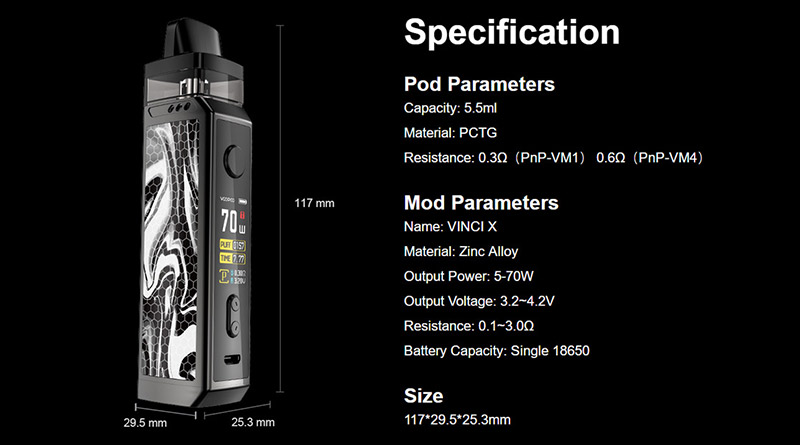 Main Features
-2 coils (PnP 0.6ohm coil & PnP 0.3ohm Coil
-PUFF Curve function (records your vaping habits for 2 weeks)
-0.96-inch TFT color screen
-Safety protection includes over-time protection, short-circuit protection, over-charge protection, over-temperature protection etc.
-Seven colors are available (Dazzling Green, Space Grey, Carbon Fibre, Aurora, Scarlet, Teal Blue and Ink)
-Available in two versions (the standard version and the TPD version)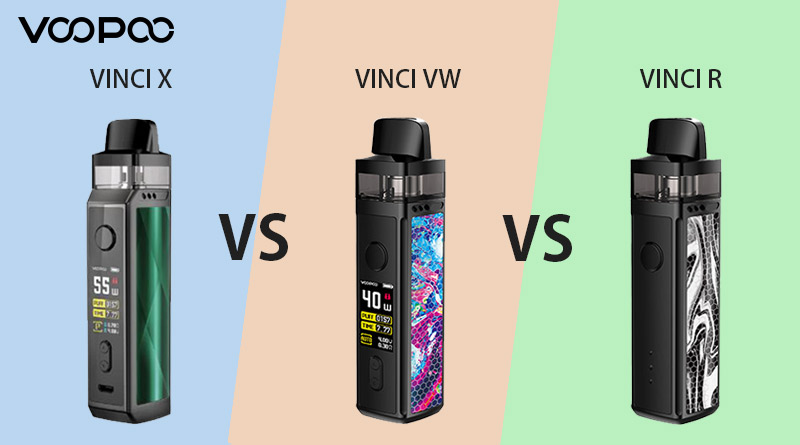 The differences of VOOPOO VINCI X & VW & R
VINCI X
VOOPOO VINCI VW
VINCI R
Chipsets
GENE.AI
GENE.AI
GENE.AI
Airflow abundance adjustment
dual airflow system
2 ways
Innovative dual airflow system
See the level of juice directly
Yes
Yes
Yes
Adjust the work modes
Supported
Supported
Supported
Coil
1 x PnP 0.3ohm Coil
and
1 x PnP 0.6ohm Coil
1 x PnP 0.3ohm Coil  and 1 x PnP 0.8ohm Coil
PnP mesh coil series (0.8Ω and 0.3Ω)
Battery
Single High-Rate 18650 Battery(not include)
1500mAh
1500mAh
Display
0.96-inch TFT color screen
0.96″ TFT color screen
No screen but giving colorful indicators
Special Performance
PUFF curve will records vaping habits for 2 weeks
PUFF curve will records vaping habits for 2 weeks
No
E-liquid capacity
Visible Pod-5.5ml(TPD)
Visible Pod-5.5ml/2ml(TPD)
5.5ml capacity of transparent pod cartridge
Charge
5V/1A
5V/1A; Fully charge 1.5h
Full charge 1.5h
Output Power
5-70W
5-40W
5-40W