VSticking VK530 Mod Review By Tazz
Recently I was offered by HealthCabin to try out and review the VSticking VK530 mod. I knew very little about this other than it had a YiHi chip and Toggle Switch system instead of the usual buttons which most other Mods use to navigate through their settings. I had a look at it online, liked what I saw and thought why not!
Up until recently I had preferred internal battery mods, partly because I haven't been impressed with how easily wraps can be damaged getting batteries in and out of some that seem to allow very little room for error with tight fiddly battery compartments and partly I just prefered to ease of plug a mod in and recharge it. But, there isn't exactly an overabundance of options these days either with what I'd call "acceptable to my liking" of them and I've found myself doing an almost forced about face because of that. After checking the VSticking VK 530 out it did seem to be much more user friendly to me in the battery department. The YiHi chip giving better balanced charging if I did it through the mod and a battery friendly compartment making taking them out and replacing them less possible or likely of wrap damage. I know its not the only mod out there with this type off door and fitment but really, some are terrible, almost as if they have been designed to damage batteries.
But enough of that here's the VSTICKING VK530.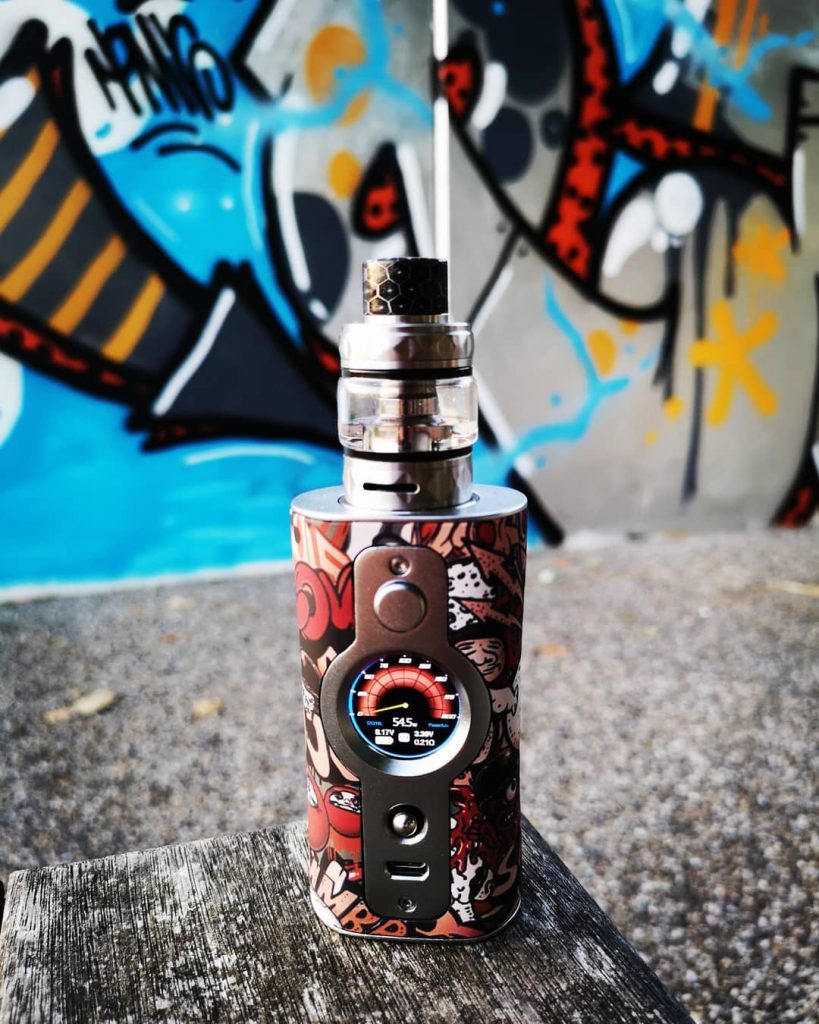 Finally I have it in my hands. Its a very different looking mod, to me it is anyway, with the Screen resembling in many ways a ships porthole. Or for Sci Fi fans the helmet of a Lensor out of the Riddick movie. It's well recessed too which should greatly reduce to possibilty of screen damage through scratches or accidental knock overs. And whilst on the subject of the screen you have an option of wallpapers to choose from, some which I found strangely odd and amusing, but much preferred the one you see on first power up which resembles very much a car's Tacho or Speedo.
Everything was much easier to see and read using this one as with the others I found the info seemed to get lost in the picture making me hunt to see or find it. The Tacho version seemed more purposeful, the others more a distracting novelty really. But I'm sure others would disagree, its all about personal choice and you do have that with this mod, even being able to use your own if you so desire to. You can also adjust the screen brightness as well which is a handy feature and whilst still on the subject of the screen I found it pretty good outdoors too. If there was one negative about it then it would be that much of the info is quite small. You guys and gals out there with great eyes won't care but for those of us that use readers you may find yourself having to put them on when making some setting changes. All up though I do like it and it works well.
Now that Toggle Switch. At first I had some apprehension with it having one. Would it be fiddly, work properly, quite franky I wondered if it would be a pain in the "butt"! To be honest at first I felt like a fish out of water when I tried it. But my problem was I was trying to do too much at once with something I wasn't accustomed too. So I took it step by step, learning one function change at a time till I knew what I was doing. Within a day of doing this I fell in love with the system. It makes changing things so much easier and some options more quickly accessible. After using it, it becomes clear that it was the most logical choice to go with by the manufacturer. So much can be changed whilst your vaping by simple taps to the right or left that it makes the use of this mod at times a breeze.
That 510!
Now the 510 connector. Its big, it's centered and on it alone it can accommodate a 28mm tank, take into account that there is space either side of it as well and you can actually place on top of this thing a 33mm tank with no overhang. That's plenty of room. It's solidly fitted too being held in place by screws, no press fit.
Impressive designs.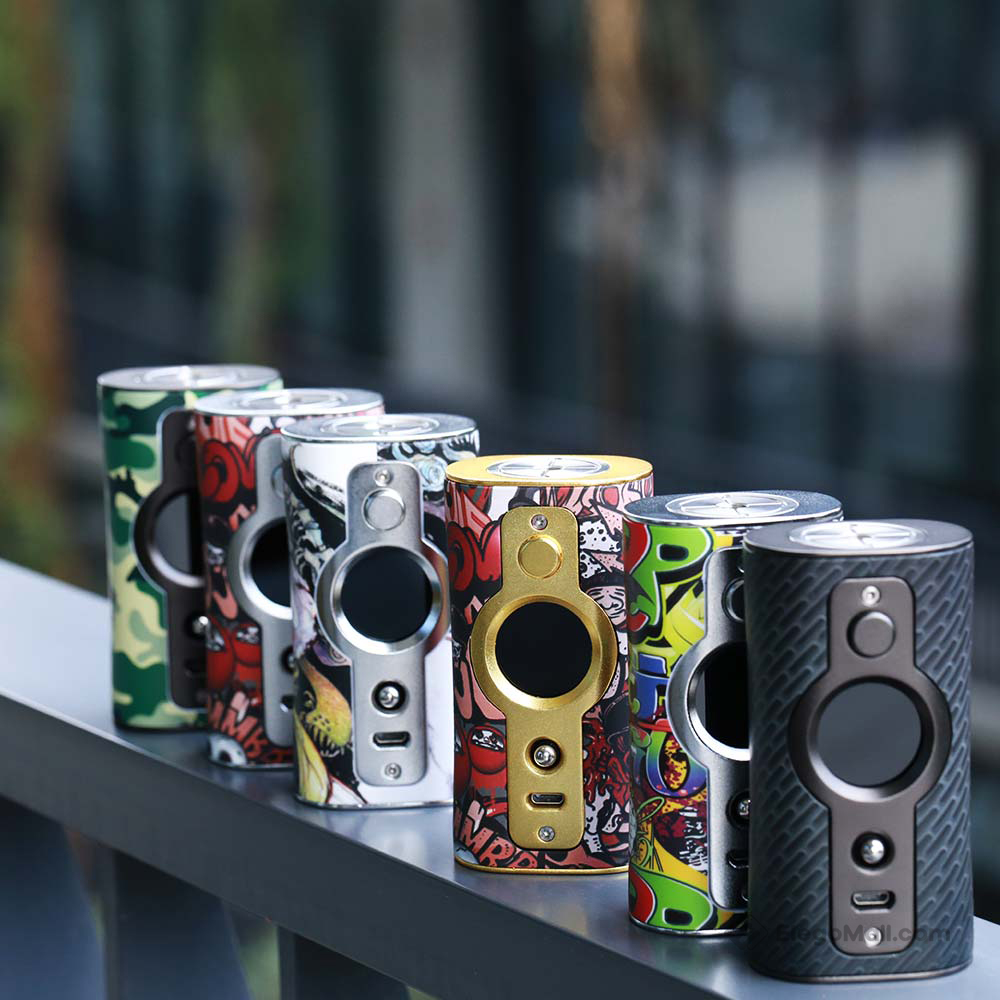 There are a number of designs available with some looking a bit different in a type of Asian graffiti, which look quite good I might add. Mine came in Camo colours, a perfect bush mod for those like me who like the outdoors. It has quite a tactical feel about it in ways with the best I could describe it as being a soft rubber, cross velvety feel thing going on with it. Some may describe it a bit different but that's how it came across to me. It feels really nice to the touch.
The battery housing.
As mentioned the battery door is an easy open one on the base of the mod allowing the batteries, which it takes 2 of 18650's, to be easily fitted and removed with minimal possibility of any damage to the wraps. When the door is closed I cannot feel or hear any perceivable movement of the batteries. I guess it's possible if you shook it like a mad man you may but what real life situation would see it shaken like that? They fit nicely and the door, which uses a latch, closes nice and firm. Its just slightly recessed from the base so it doesn't make contact with flat surface's. Provided also are 2 simple clear plastic base protectors which have adhesive on them. This goes on the base around the battery door, not on it, providing a simple protection for the base and surfaces the mod may be placed on. The thin clear film covering the adhesive side of mine was a bit fiddly to remove but I got there eventually.
So how's it work and what's it got?
Well, when I first powered mine up, 5 clicks and yes the fire button is clicky so fans of clickiness will be happy, I was taken to Novice Mode. This is the easy start where you simply depress the Toggle and see the Power level (wattage value) highlight red. Now you just press up or down on the toggle to change the level then hit the fire button to lock it in and Vape. Whilst talking about the fire button, apart from it being "clicky", it's just the right size, a Goldilocks one, not too big or small. Just right. Now from here you can move into the more advanced section by pushing on the Toggle for a couple or few seconds where you will see the word Novice on the far right change to one of the Flavour Profile choices. These are *Soft, which is a really weak hit where the power seems to take forever to ramp up, *Standard, which is as the name suggests a normal hit, *Powerful, where it hits quick with a bit of perceivable warmth increase, or *Powerful+, which is just that, an instant strong hit with even more warmth to your vape. I do personally like the two Powerful modes and think they work great. I use them all the time. And not to forget, *SXi-Q-S1, which is actually a Power Curve mode. Im not sure where or why, for or what caused the naming of it as that but basically that's what it is.
You also have 5 memory settings as well as a Bypass mode. Naturally there is a Temperature control mode but as I dont really like the taste of temperature coils I have tried in the past it's a mode I never use or could tell anyone about. After some looks though at a number of others opinions about it I have seen though that it apparently works very well. So anyway, to navigate through settings whilst in any of these modes is easy to do once you know and have practiced how to do so a number of times. A simple depress of the Toggle does the same as in Novice by highlighting the power level in Red, just push up or down to change the level. Once happy hit the fire button to set it before moving on to something else. Lets say now you have chosen Powerful. You can now access, in any of those modes actually, Memory Mode. Simply tap the Toggle to he left twice. On the second tap keep tapping to the left and you will scroll through the 5 Memories. Whilst in the desired one depress the Toggle to make changes, when done hit the fire button to set it then repeat the steps through the various Memories. I use mine for when I put in a new coil to run it in. Say I'm running a coil when ready at 75 watts. My Memory 1 will be set at 60w, then M2 at 64w, M3 68w, M4 at 72w and M5 at 75w. A few puffs at M1, some more M2 and so on. Instead of changing wattage levels as I break in a coil its simply a matter of a tap of the Toggle here and there. That's just 1 use of them as an example, I'm sure others can think of many more. Depressing the Toggle more than once is also how to choose Temp settings for Temperature Control but as I'm no expert on that I can't offer any advice other than how to get to them by use of the Toggle.
Ok, now for the Fire, or Power Button. 5 "clicks" for on and your in the main screen. But now another 5 clicks and you are taken to another menu. Here you will see "System Off, Adjust Time & Date, Adjust Temp, Adjust unit (C or F), Select coil, Setting TCR, Compensate Temp, Standby Time, Brightness adjustment, Wallpaper selection and Exit. To enter any just depress the magic Toggle switch then make your adjustments.
You can also when in the main screen, vaping mode, hit the Fire button 3 times which will both lock the mod and take you to the Clock Time & Date. 3 more clicks unlocks and returns you to where you were.
Battery life seems pretty good really so I'd say this VSticking VK 530 is fairly power efficient. I got a good 2 days at 75w using Powerful and Powerful+ going through about 25 ml of juice. That was using Sony VTC5A's. Doing the same on my Wismec Rx2 20700 would have had me lasting maybe 1 1/2 days with my vaping style. That's not exactly scientific I know but I did expect to have to recharge the batteries before I needed to and it kind of struck me.
Now to be honest I'm struggling to find anything with this that I dont like. Well, I'd have to be really picky to say that in my Clock mode it doesn't show PM till after 1pm, both 12's show AM. But worth a mention might be that sometimes with the Toggle you may get a what appears to be " non" reaction. I'm inclined to think though that this is because with the Toggle being so small, naturally you dont want a big clunker of a thing, that it's more user mishit than an actual fault. That the precise point wasn't quite hit on the press. It only happens now and then and is really no biggy, and far far from even remotely being a deal breaker. In fact I'd go so far as to say that regardless of that, that the Toggle switch is the making of this Mod. It makes changing settings for certain things a breeze and is very very useful. With batteries fitted its not at all heavy, has a nice hand feel, is solidly constructed and capable of taking some decent sized tanks. To me it really is a good bit of kit. Perhaps the patterns or screen shape may not appeal to some but we dont all like everything do we, I know there's plenty of gear others drool over which to me I think looks nuts.
I do like this mod though and to me it looks great.
So anyway, there's my take for what it's worth on the VSticking VK530.
Many thanks to Cortana from Health Cabin for the offer to try this great mod.
Cheers everybody.