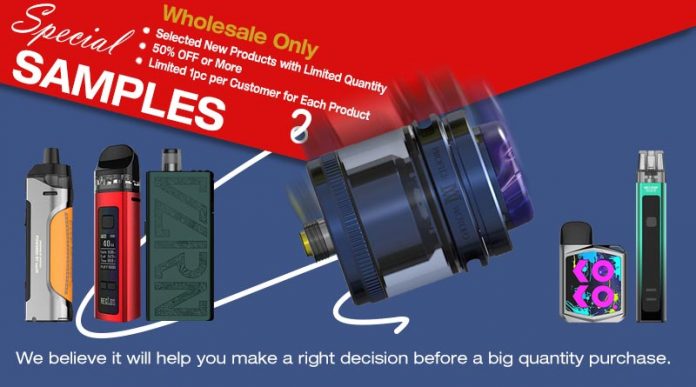 This promotion is only for Wholesale customers!
Dear Wholesale Customers,
Tons of new vaping products are released every month by different brands right now. As a vape business owner or manager, we believe many of you guys have met the same problem – Which product should I follow to make the business bigger? Here at HealthCabin, we are working out a solution – supply samples at ultra low costs for you.
We believe that it will help you make a right decision before a big quantity purchase.
General Info
All available samples will be listed here – we will contact manufacturers for new products and list those available samples on the page. For some newly released products, you can buy them and test them early.
The price will be over 50% off based on the regular price of the same product;
As the total sample quantity is very limited, you can only get 1pc at most for each product;
If you get the sample from your account manager, you will not be able to buy it again online.
How Many Samples Can I Buy?
Based on your total sales amount in last 60 days, there is an uplimit for the products you can buy in total for each order:
Sales Amount <1000USD: Max 1 product per order
1000 ≤ Sales Amount <2000USD: Max 2 products per order
2000 ≤ Sales Amount <6000USD: Max 3 products per order
6000 ≤ Sales Amount <10000USD: Max 5 products per order
Sales Amount ≥ 10000USD: No Limit
Demo
For example, there are 6 sample products are available: Sample A, Sample B, Sample C, Sample D, Sample E, Sample F.
And your sales amount in last 60 days at HealthCabin is 5000USD. That means you can pick 3 samples for each order.
In your last order – you have purchased Sample A, Sample C & Sample D.
In your new order, you can buy another 3 samples, but no Sample A, C & D.
Notes: We may combine your sample orders and ship them together while no refund for the shipping cost.
With any questions, please feel free to contact your account manager.