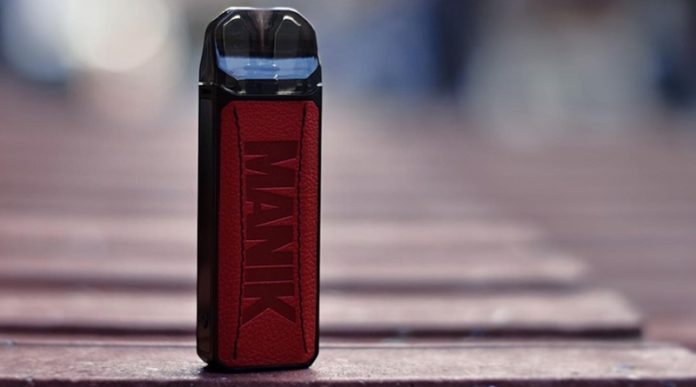 Healthcabin asked me to take a look at the latest starter kit from Wotofo, the Manik Mini Pod System. This comes in typical Wotofo packaging with a clear plastic lid over a cardboard box, although there weren't any finger cutouts in the lid I was relieved to find that the plastic lid was a little looser than on previous Wotofo products which meant it hadn't welded itself to the box! Let's get started the Wotofo Manik Mini Pod Review.
Inside you'll find the Manik Mini battery in your chosen colour, several stylish choices are available and I was sent the "Red" variant to test, along with two Pods, a usb charge cable, and a small instruction leaflet.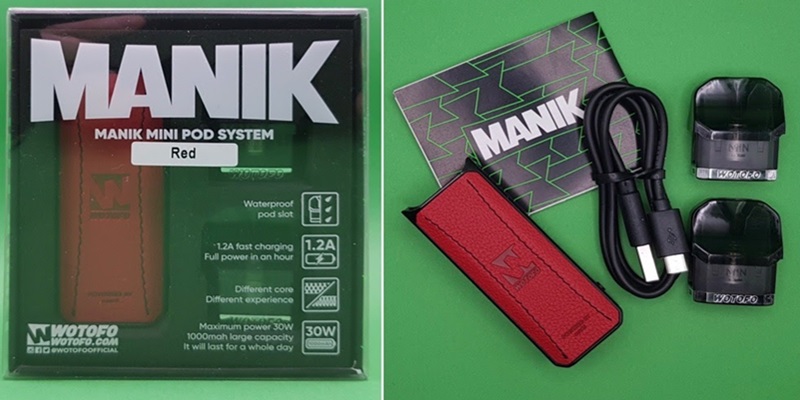 Out of the box my impressions were very positive, this feels like an upmarket Nord with much better materials used throughout and the embossed "leather' pads on either side of the main unit only add to this impression with a nice textured finished and deeply embossed logos which are tastefully done. It's surprisingly weighty as well at 56.8 grams without a pod installed and around 68 grams with a pod and eliquid, it still remains very pocketable though thanks to its small size (91.4 x 27.8 x 15.8mm).
There's a small screen on one side along with a button to allow you to alter the wattage. This is a simple one button operation, press it once if you want to check your settings/battery life, press it twice to enter the adjustment mode. Wattage is variable from 1 watt to 30 watts in 1 watt increments and it round robins once you hit 30w. One tip I would suggest though is that if you're going to put this in a pocket or bag is that you turn it off with 5 clicks as the wattage has been accidentally adjusted in my pockets a couple of times when I forgot to do this.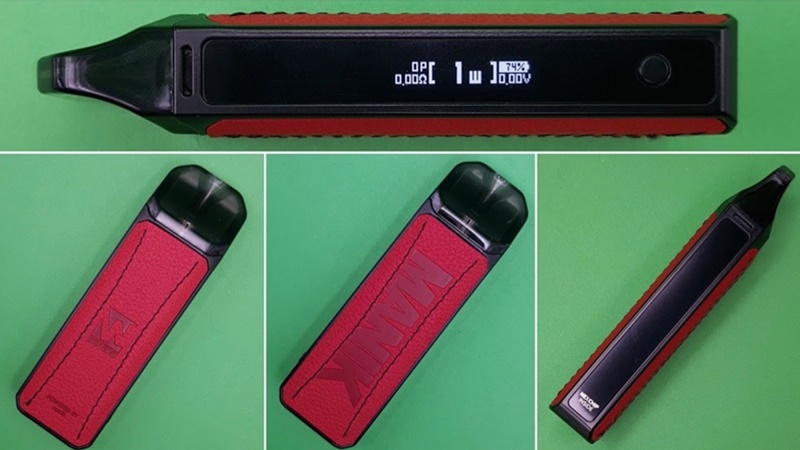 Replacement Pods come in two varieties, a 0.6 ohm round wire and a 0.6 ohm mesh, they are both Kanthal A1 coils as well so should be suitable for everyone. These are press fit into the top of the battery and there are also two magnets to aid in holding the pod in place securely, you shouldn't have any worries about losing pods here. Filling is also very easy thanks to the generous sized fill port on the side of the pod.
The actual vape is draw activated and this has been very reliable and consistent in use, air is brought in through the two slits on the side of the battery and fed under the coil which leads to a lightly restricted mouth to lung vape common to most modern mouth to lung pod kits. I wasn't expecting to enjoy the duck bill style mouthpiece but this has been very comfortable in use. Old school mouth to lung purists who prefer to go cross eyed whilst vaping may find the combination of the mouthpiece and slightly looser draw isn't to their taste but anyone used to modern mouth to lung kits will be instantly at home here and it suited my style perfectly.
Both coils have very similar performance but I found myself slightly preferring the vape from the round wire pod, this is a slightly higher wattage "parallel" wrap which leads to a fuller warmer vape. Coil life also seemed exceptional, I got two weeks of fairly heavy use out of the round wire pod and have only just moved over to the mesh pod in the last couple of days.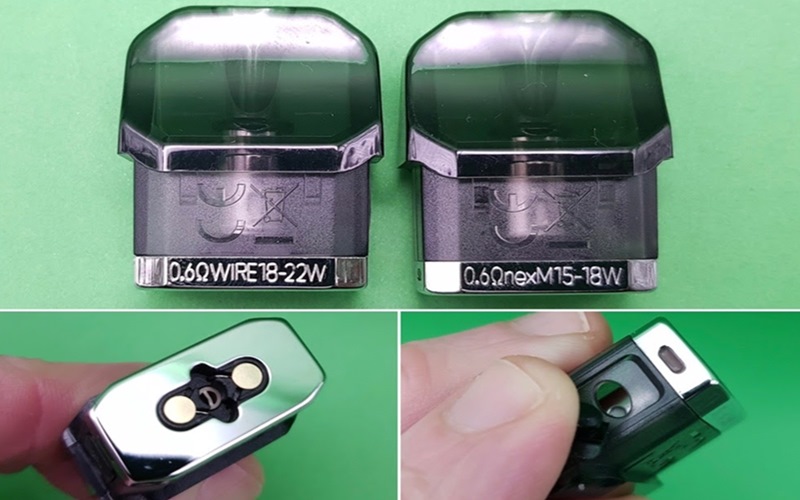 Wotofo claims the top section where the pod sits is waterproof and it's a good job too as I've experienced quite a bit of condensation under the pods, you'll definitely want to be giving everything a good wipe down when you refill the pod.
Charging is done via the USB port on the underside of the battery. In my tests this peaked at 1.17amps with a final recorded 880mah charge in exactly 1 hour and vape whilst charging is also supported. It was a little disappointing that this fell below the claimed 1000mah but I still got around a day and a half's use between charges due to the low power requirements of the pods.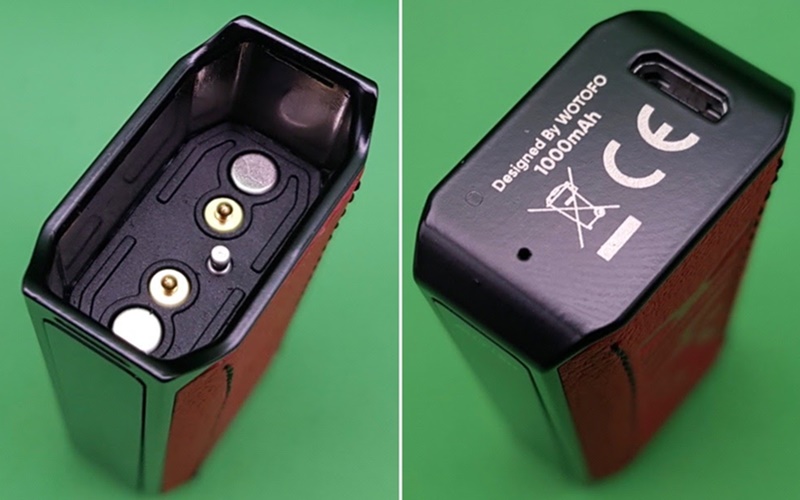 Pros
Good build quality
Adjustable wattage
Long coil life
Kanthal A1 coils
Cons
A lot of condensation under the pod
Conclusion
I'll be honest here I wasn't expecting much from the Wotofo Manik Mini but I've come away pleasantly surprised. I particularly liked the slightly warmer vape from the round wire pod so this would be my choice of the two Pods and as you would expect from an established player like Wotofo the build quality and performance has been excellent.
Many thanks to Healthcabin for sending the Wotofo Manik Mini out for review. They've asked me to remind you that to see the best prices on their site that you need to be logged into your Healthcabin account.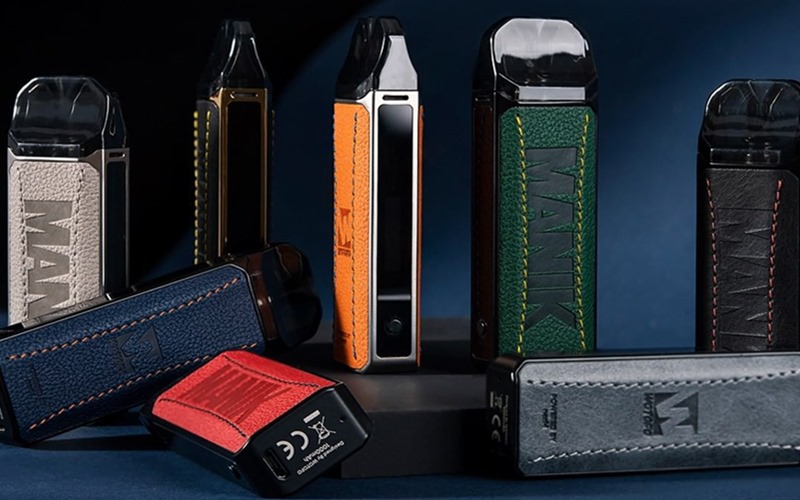 This review was written by Antony from POTV(planetofthevapes), click to view original review.