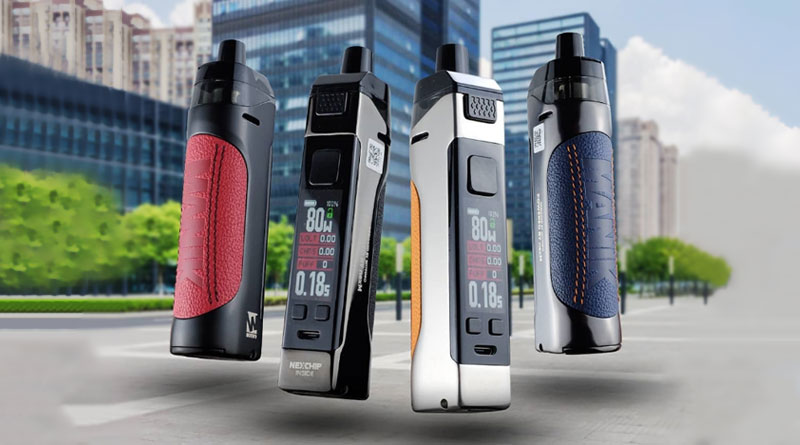 Introduction
The Manik Pod Mod from Wotofo is their first pod mod release. It takes a single 18650 battery and fires up to 80W. Powered by Wotofo's own NexChip and featuring a nice selection of NexMesh coils, let's see if the Manik Pod Mod can offer anything new in the Pod Mod category.
1 x Manik Pod Mod
1 x Empty Pod Cartridge
1 x Micro USB Charging Cable
1 x D15 Clapton Mesh Coil (pre-installed)
1 x D14 A1 Conical Mesh Coil
1 x User Manual
Dimensions: 126 x 33 x 27mm (Including pod)
Weight: 115g
5-80W power output
Battery: single external 18650
Display: 0.96" TFT Colour Screen
Pod Capacity: 4.5ml (2ml TPD edition)
Waterproof Pod Connection
Micro USB Charging Port (1.5A)
Disclaimer: I was sent the Manik Pod Mod by Health Cabin for the purposes of this review.
Design & Build Quality
The Manik Pod Mod is available in four different colours; Nano Gunmetal, Nano Black, Nano Chrome and Prism Gunmetal. I received the Prism Gunmetal, which has a polished finish.
The body of the Manik is constructed from a zinc alloy and there is a grip portion which curves around the back. At first glance I thought the grip was going to be similar to the Aegis line, but on the Manik it is actually more of a tough grip instead of a soft cushion. It's certainly comfortable to hold and provides a nice grip in the hand.
On each side of the mod at the top there are two airflow slots which allow air to pass through into the coils. There are no adjustable airflow options on the Manik.
The fire button is located on the front panel near the top. It is square shaped and slopes out subtly towards the bottom of the button. It's a nice fire button to use whether you are firing with your finger, thumb or side of your thumb. It is also really responsive when using.
The colour display is located below the fire button. It's 0.96" in size and has a crisp resolution and vibrant colours.
The two adjustment buttons are below the screen. They are small squares and again are very responsive in use.
Below the adjustment buttons is the micro USB charging port.
On the bottom of the mod is the battery door. It is hinged and slides out slightly to lock / unlock the door. When a battery is installed it all sits snugly with no rattle from the battery or the door.
The overall design is similar to other pod mods with this form factor and it is similar in size and weight. The build quality is great, nothing to complain about at all.
My only negative is for the Prism Gunmetal version, which has a polished finish on the body. It's a fingerprint and smudge magnet and I much preferred the matt finish on the Nano Black version.
Features & Functions
The Manik is a simple pod mod to use. It is solely a wattage mode device, so the only changeable option you have is selecting your wattage which is done using the up and down adjustment buttons.
The wattage ranges from 5-80W and is adjustable in 1 watt increments. Holding the up or down adjustment button will scroll at a faster pace and it does round robin when at either 5 or 80W.
As I mentioned above, the display is really crisp and vibrant. It shows your battery percentage and a battery indicator in each top corner. You then have your selected wattage, voltage when firing, resistance of the inserted coil and a puff counter. At the bottom is a last puff timer. The puff timer is large, taking up about a quarter of the screen real estate. I don't know why this information was given prominence. I would have preferred it to be smaller and maybe included Amps drawn information too.
Manik Pod Mod Button Combinations
Turn On / Off: 5 x clicks of the fire button
Power Lock / Unlock: 3 x clicks of the fire button (Locks all buttons, including fire button)
Puff Counter Clear: Fire button and down adjustment button simultaneously
Change Colour Scheme: Fire button and up adjustment button simultaneously
Wattage Adjustment Lock: Up and down adjustment buttons simultaneously (Locks adjustment buttons, but can still fire)
Pod
The pod has a built in drip tip, which is comfortable to use. Personally, I have no issue with a built in drip tip on a pod device.
The pod has a 4.5ml capacity (2ml capacity TPD version).
The pod has a smoked lower section all the way around which makes it easy enough to see your liquid level both in use and when filling the pod.
The fill port is located on the top of the pod. The silicone stopper sits flush with the top of the pod, so it's not noticeable when in place. It sits securely in the fill port and opens with a little pop. It's definitely on the more chunky side and doesn't feel flimsy like on some other pod devices.
The fill port itself is a nice size and I haven't had any issues filling the pod even with bigger nozzles. I can't fit my really chunky nozzles into the fill port but haven't had issues just squeezing it in; no airlocks have occurred.
The pod doesn't use magnets to secure it, instead it has a little ridge on the back which is inserted first and then it has a button / latch which clips into place on the front. Taking the pod out is just a matter of pressing the button / latch on the front and the pod releases. I don't mind magnets if they are strong on a pod, but I also like the way this pod attaches; it is secure and easy to remove when needed, but accidental removal of the pod with this system is very unlikely.
Coils are inserted into the base of the pod and are plug and play style. It's easy to pull out the coils and push in a new one. The coils have straight edges on two sides which line up with the straight edges on the pod to ensure the airflow slots on the coil base line up with the airflow intake slots on the mod. It is foolproof to install coils.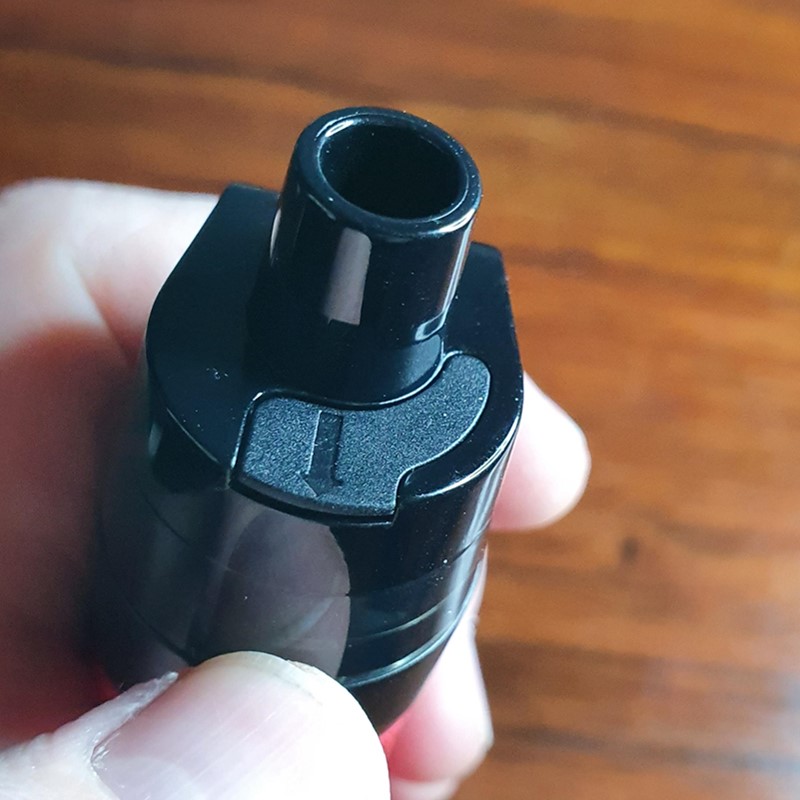 Coils
The two coils included in the Manik box are:
D15 Clapton Mesh Coil (pre-installed) recommended for use between 45-55W
D14 A1 Conical Mesh Coil recommended for use between 35-40W
There are also two other coils included in the range which are:
D11 Net Mesh Coil recommended for use between 45-55W
D13 A1 nexMESH Coil recommended for use between 37-43W
Also, the coils are cross compatible with Voopoo's PnP coils and Vaporesso's GTX coils. This is a nice move by Wotofo giving you plenty of options for coil usage. Furthermore, if you already have a Voopoo or Vaporesso device which uses the PnP or GTX coils you can try out the Vaporesso coils in your existing device.
There is an RBA section which is also available, but unfortunately I didn't get this to try out. It looks like a nice addition, being able to take a single or dual coil setup.
Performance
The flavour is really great, especially at 55W. Usually I tend to be impressed with one of the coils and the others feel like a disappointment, but all of these perform really well.
The mod itself is a pleasure to use. It's nice and comfortable to hold, the screen is nice and vibrant and it fires really fast.
Filling the pod was easy, even with chunky nozzles and I experienced no leaking from the bottom of the pod.
I was enjoying vaping on the Manik so much that I prematurely burnt out the first two coils I tried, forgetting to keep an eye on the level of liquid in the pod. I had literally vaped the coils dry.
Verdict
When it comes down to it, the Manik is another Pod Mod. We've seen the form factor before, it is a similar size to other external 18650 pod mods and it doesn't bring anything new to the table.
No adjustable airflow may be an issue for some, but I didn't find myself wishing it was available.
Being Wotofo's first pod mod, I wish they'd gone for a 21700 battery instead. It would have made it stand out from the overcrowded 18650 pod mod market and given it a bit more of a realistic use with the dual coil RBA section available.
That being said, it is a well made, solid feeling pod mod and what it does, it does really well. The flavour from the coils is really great, especially the Clapton Mesh coil.
Then you have the compatibility with PnP and GTX coils, giving you even more options. An RBA section for rebuildables and you can even use the PnP RBA coil or the GTX RBA coil; lot's of options here.
It's so easy to use and provides great flavour, I've found it a pleasure to use while in work and out and about.
Pros
Great flavour from all four coils, especially the Clapton Mesh
Really easy to use
Nice and comfortable to hold
Lovely display, crisp and vibrant
Very responsive and fast firing
Top fill and large fill port on pod
Cons
No adjustable airflow may be an issue for some
QR sticker on mod leaves a sticky residue
Micro USB port (subjective, who actually charges their batteries in a mod anyway?)
Thank you for reading and thanks Health Cabin for sending me the Manik Pod Mod for review.

You can see the Manik Pod Mod on Health Cabin have it listed for £14.46 ($18.58) on their site at the moment.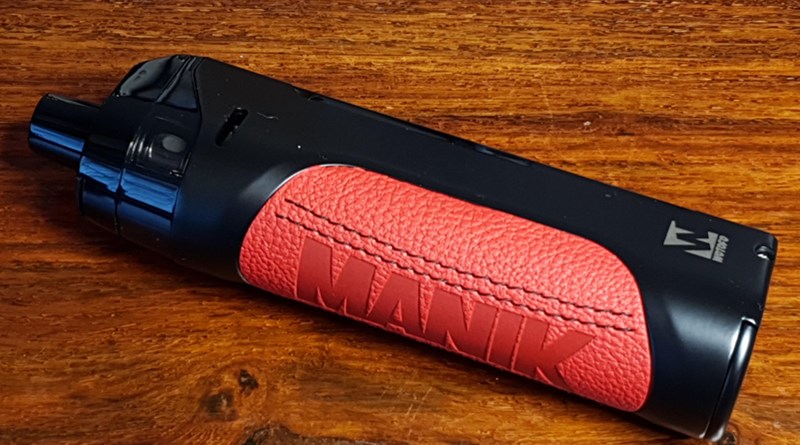 This review was written by Daniel from ECF, click to view original review there with a photo album.