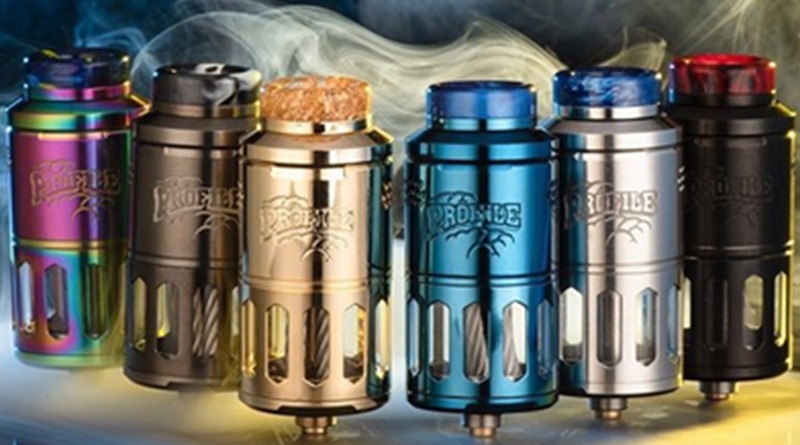 For $25.44 after logging in it's a really good atomizer with a few small flaws and subjective cons. Definitely worth it.
A little background, first. HealthCabin sent me this atomizer for the purposes of a review. Yeah, you know the rest… not gonna change my mind, yada yada.
I've been vaping for around 6 years. I reviewed for about 4 years, but gave it up about a year ago… shut down my YouTube channel, and erased my website… got sucked back in LOL
For the past year, I've been almost solely vaping on top air RTAs (got almost all of 'em at this point… Missing the Juggerknot V2, and maybe one other… passed a couple along, too…), and mesh RTAs.
I have several Kylin M RTAs, one of each colorway of the Profile Unity RTA (6 total), a Kaees Solomon Mesh RTA, a couple Zeus X Mesh RTAs, a Taifun BT (clone) RTA, and a slew of RDTAs from back in 2017/2018. Just so you know I know my way around mesh, RTAs, and RDTAs. Yeah, I also have a couple RDAs, but I don't use 'em as much as I used to…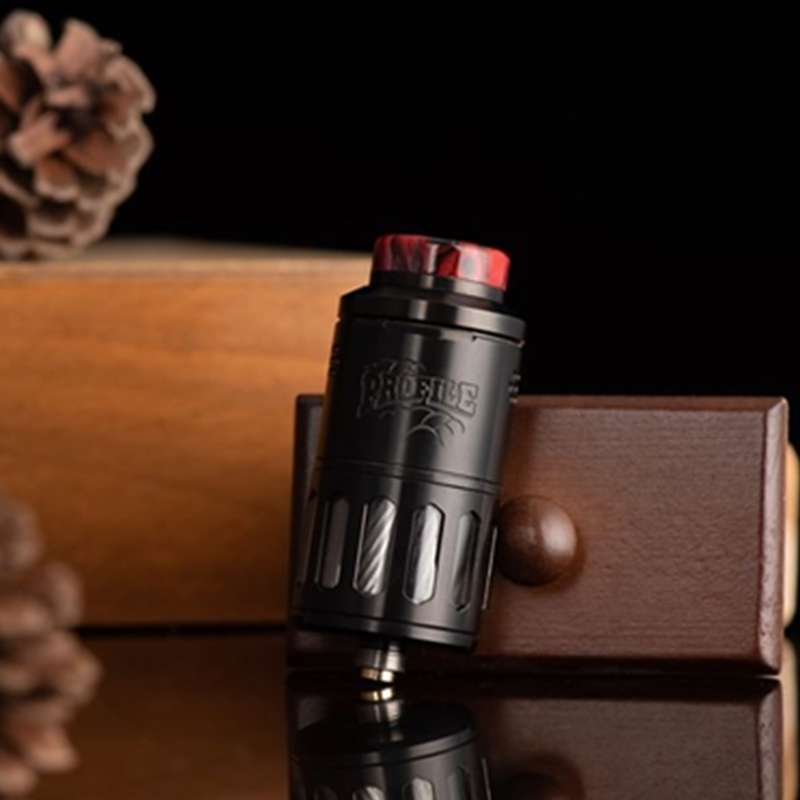 A lot comes in this package. The tank, an adapter that will allow conversion to RDA mode, a solid pin (comes installed with a squonk pin… for RDA mode… no squonking in RDTA mode), spare o-rings, spare screws, spare springs, some nice looking claptonesque (might be framed staple… can't recall) coils, 2 cotton shoelaces, matching 810 drip tip (with a metal ring around the base of a resin tip), 6 stainless steel wick ropes (you'll use 4, and there are a couple spares) mesh strips (including the new clapton strip), a user guide, and tools (hex key, philips screwdriver, and mesh forming rod). A person could get carpal tunnel just typing out the package contents!
This is a tall RDTA, measuring in at 52.7mm in height (excluding the 510 connector) if you're using their 810 drip tip. A shorter drip tip can make it a shorter RDTA, but not by much. It's 25mm in diameter, and that's pretty straight up with no funky bulges or bubbles.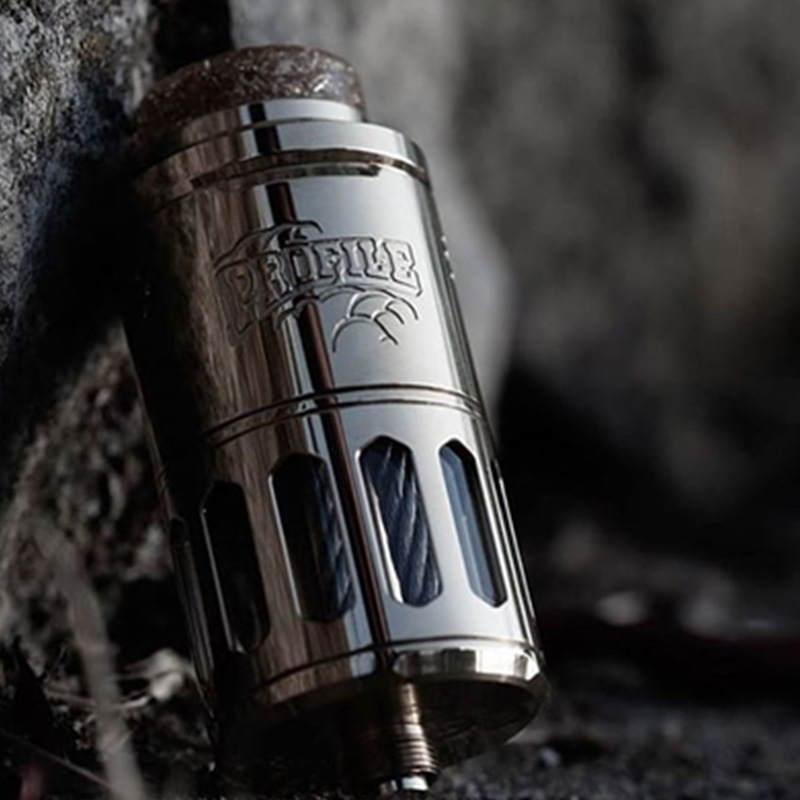 The glass section (I think it's PCTG – and there's no spare, but it is housed in a metal cage, so…) holds 6.2ml, and fills through a hole in the one of the raised wicking slots. There's a smaller pressure relief hole on the opposite side. This is kinda like the Vandy Vape Pyro RDTA filling method, but the top cap has metal plates to cover the holes instead of rubber plugs.
The deck is both broader and wider than previous iterations, but still features a spring-loaded ceramic block that'll help push the cotton to contact the mesh strip (when the mesh strip is used). The difference in the deck is the 4 additional holes added under that now perforated ceramic block, and 4 grub screws – 2 on either side. These mean that a regular coil or set of coils can be installed through the ceramic block making this basically a postless deck RDTA or RDA. In this, it reminds me of the Vandy Vape Pyro V2 RDTA, but the legs have to be a bit longer to fit through the ceramic block.
Wicking is accomplished through the use of wire ropes that feed the cotton wick. Very similar to the Vandy Vape Mato or Vapefly Brunhilde (and a lot of other old school German RDTAs)… except the Mato is a single coil, and the Brunhilde has a Velocity deck.
From the outside, the top cap is just about identical to that of the original Profile RDA… just a mm larger in diameter. 3 rows of smallish holes (6 on top, then 7, then 6 on the bottom), and a spinning cap that will cover the top row, then begin covering the bottom 2 rows from right to left. There's plenty of air here. I'm currently running with the op row, and about 1 column closed off. Another difference is on the inside… there are 2 tabs that serve to cover the fill holes, and index the top cap into position. There appears to be a Trinity Glass cap available for it, but I haven't been able to find out where it came from… Important to note that the glass cap does not have the fill hole cover tabs meaning that the likelihood of a leak will be increased.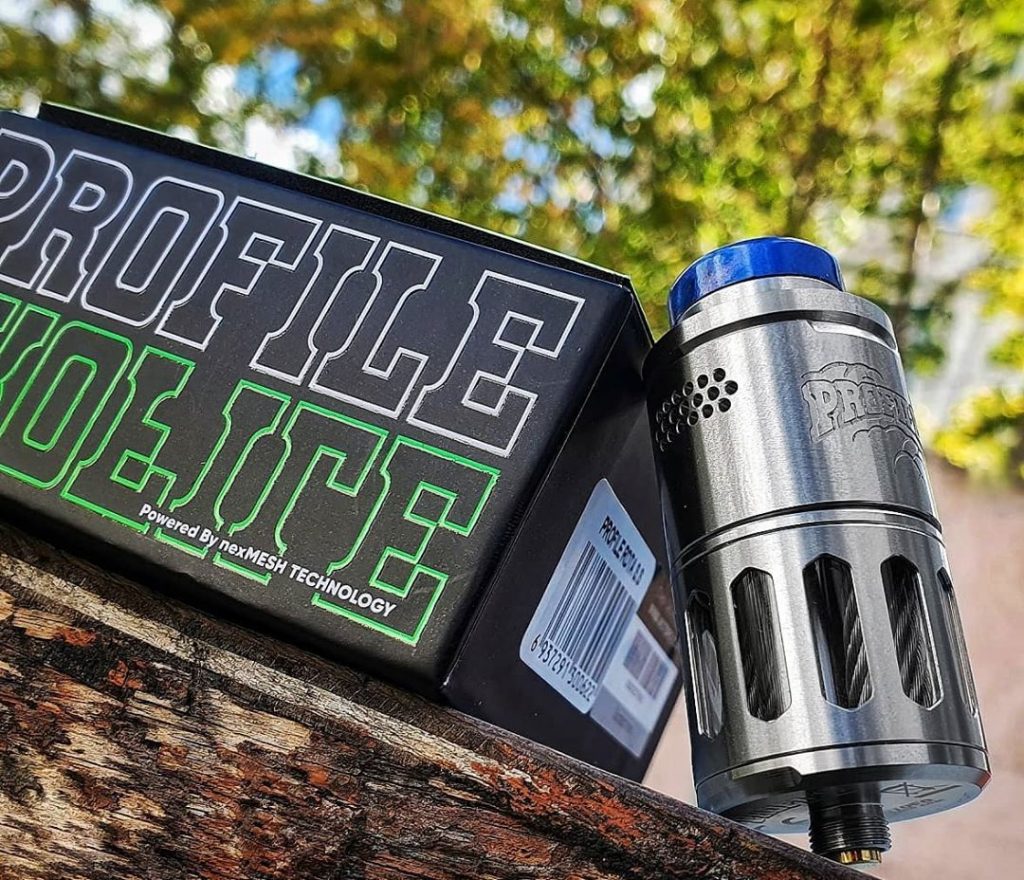 Leak? Maybe. So far, I've held it upside down for a few minutes, and laid it on it's side for up to 15 minutes, and carried it in my shirt pocket, and in a pouch in my backpack, and I've experienced no leaking.
In use, it's easy to build, easy to wick, easy to vape, but can be less than easy to fill… the fill hole is just a little bit smaller than a typical chubby gorilla tip. You've got to kinda match the hole with the tip, and squeeze while watching to see that the liquid is going where it's supposed to go. I missed once, and spewed liquid all over the side of the tank. I overfilled once, and liquid was being pushed out of the vent hole on the opposite side.
I have run 2 mesh strips and 4 wick jobs with about 60ml of liquid (Humble Unicorn Treats, if you really must know) since this tank arrived. I've had no dry hits, but I have tasted cotton a couple times. The stainless steel ropes do seem to keep the cotton wet… not soggy, mind you, and I'm sure that the tilt-to-vape action doesn't hurt. I get the cotton taste when the tank is down to the last ml… it's a nice warning to fill the tank 🙂
So, how's the vape? Honestly, it's very nice. It will likely not replace all of my other atomizers, but I will certainly keep this one around. I like the versatility, and the capacity. If you're looking for high wattage, very warm, very saturated vapes, keep looking. If you want decent clouds, don't mind a slightly cooler vape, don't mind a tall atomizer, then this might be for you. One big pro for me is the wattage… since this is an RDTA, the coil or strip is much closer to the mouth, so wattage can be reduced while maintaining a little warmth. I've been running between 50 and 55 watts, and getting a nice warm vape… more than 24 hours on a set of 2500mAh cells!
Pros:
A LOT comes with this kit
It's VERY versatile
Nicely machined
Good vape
Cons:
Fill port is a little small
Subjectively, it's a tall tank
There is the possibility of leakage, though I haven't experienced any
Does not come with cotton for the regular coils… yeah, that's a bit on the nit-picky side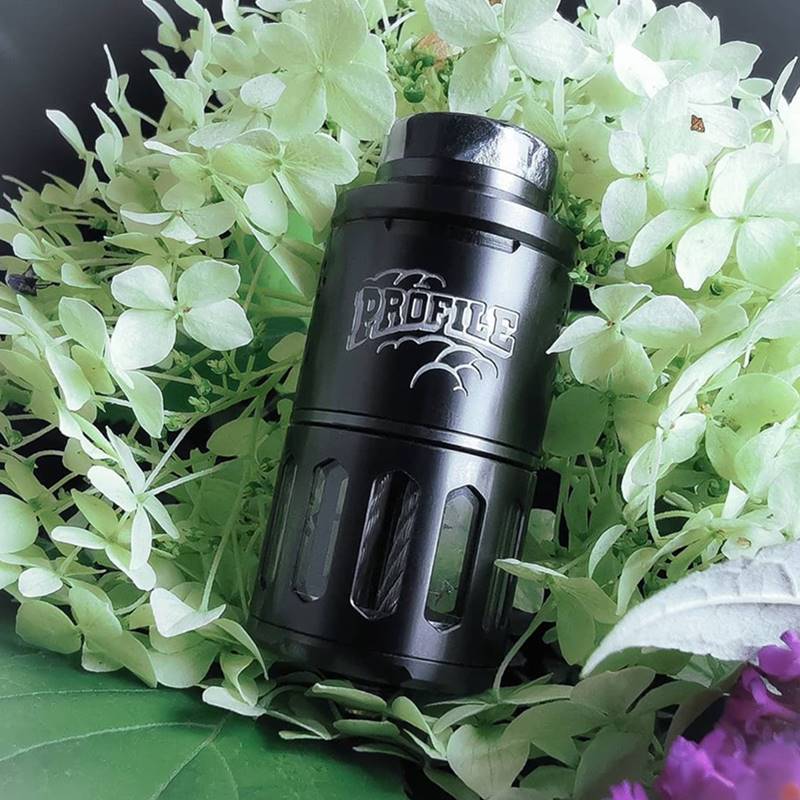 Verdict: For $25.44? Yeah! I mean, it's an RDA, an RTA, and can use mesh or standard coils in single or dual coil configurations. What's not to like? In fact, I already bought another, and it will stay in my rotation alongside the Kylin Ms, Zeus Xs, Themises, Aromamizer Plusses (mesh deck), and Profile Unitys.
This review was written by Shawn from reddit, click to view original review.