Wotofo Warrior RDA Review by Anthony Vapes
Wotofo Warrior RDA Review
Hi All, Anthony Vapes back here with my review of the Wotofo Warrior RDA, please see the bottom for disclaimers and links. Note: I got 2 versions one from wotofo and one from healthcabin.net neither of them marked as a sample but i'll explain that more later.
Introduction:
The Warrior RDA is one of the latest RDAs from longtime popular manufacturer Wotofo who celebrating their 6 year anniversary now and designed in collaboration with a coil building group JMT elite. The Warrior RDA is a dual coil DTL RDA with an included squonk pin. It's available in 6 colors SS, Black, Rainbow, Blue, Gunmetal and Gold. Healthcabin has them for around 34.00 USD

Manufacturer's Specs
Made in Collaboration with JMT Elite
25mm Diameter
Deep Juice Well
Superior Stainless Steel Construction
Domed Top Cap Design – Flavor Enhancement
Spacious Build Deck
Clamp-Style Two-Post Design
Top Secured via Phillips Screws
Single or Dual Coil Configuration
PEEK Insulator – Made in Germany
Dual Multi-Hole Beehive Style Airflow – Fully Adjustable
810 Resin Wide Bore Drip Tip
810 Delrin Wide Bore Drip Tip
510 Drip Tip Adapter
Gold-Plated Squonk BF 510 Pin
Gold-Plated 510 Connection
Available in Blue, Rainbow, Gold, Gunmetal, Stainless Steel, Black
Included in box:
1 Warrior RDA
1 Spare 810 Drip Tip
1 510 Drip Tip Adapter
1 Single Coil Block
1 Bag of Prebuilt Coils
1 Set of Agletted Japanese Cotton
1 Spare Parts Bag
1 Instructional Manual
Picture Album
album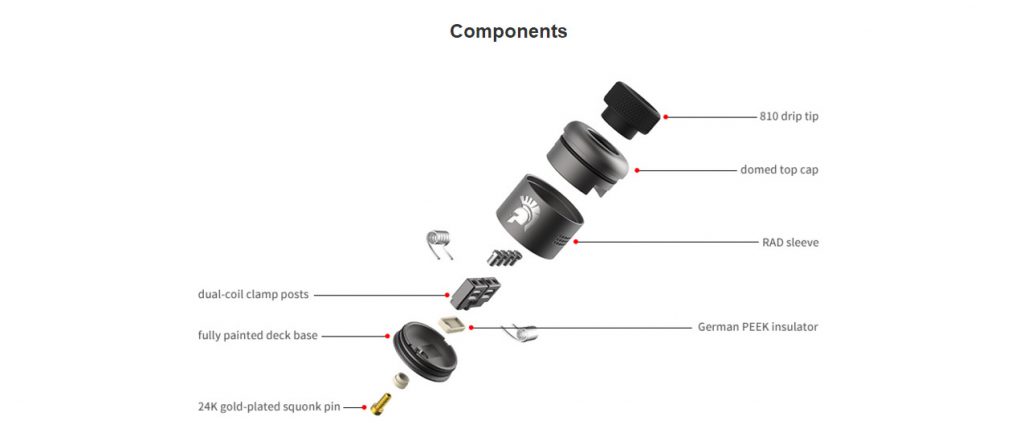 Initial Impressions and features
When I first got this RDA, it gave me a good story so here it is. The first one i received was from healthcabin. Not long after I was contacted by wotofo and asked if i wanted to review their products. For some reason they sent me the warrior RDA in the package so i figured eh i'll do a giveaway and i let them know.
Anyway i went to use the RDA and used the one I originally got from healthcabin and it was a wild ride. After building on it I noticed right away that the resistance wasn't reading right and upon further inspection it wasn't stabile either, which led me right to the pained deck figuring it's an issue as anyone know you can't paint connection points. Seriously coming from a manufacturer that's celebrating it's 6th year making atomizers and designed with a group of coil builders, this is just flat out embarrassing. It's a rookie mistake you'd expect from a new company.
Not a company that's been around that long and on top of that got help from a group of coil builders. How everyone involved didn't know that and missed that is beyond me. Either way I took it apart and literally the paint had everything stuck together and needed to be pried off. Even the bars in the clamp system were stuck to the posts and i had to pry them off with a screwdriver just to get the coils in. I also fiddled with positive pin as well and it was able to go in way too deep. So deep it would go past the negative threads. Funny enough they promote the colored decks as a feature. On top of that i got 2 gunmetal one's and i know what gunmetal should look like.
They don't look gunmetal at all, they look black like the colors are wrong. I have pics of all this stuff in the album. So i went on a hunting mission and found a few reviews to see if anyone said anything and yeah it was a big thing apparently i missed. So i figured let me open up the one i got from wotofo and low and behold no paint on the deck and the positive pin fits correctly! Hazzah! But the gunmetal was still black. But at least i had one i could use to do the review now. Either way it was a wild ride and I was off to a bad start.

Build Deck and Wicking (pics above)
Let's talk about the build deck now. It's a pretty basic deck. It's a dual clamp deck made for dual coils but they do include a block for running single coil as well. It's not staggered and has 2 post screws per clamp system and coils need to be installed together. It looks to me like a cross between the goon and the subzero x decks. Or a subzero X deck with 2 screws instead of one. IMO not a very good deck. I understand coils builders like a lot of room for really crazy coils but 99.9999% of vapers max coil is going to be an alien or fused clapton so the space is overkill for most. It's also not staggered either.
I'm not sure why an RDA would come out in 2018 with a non staggered deck where you have to install both coils at the same time then screw down 4 screws. There are better ways and the clamps aren't even spring loaded or reverse threaded to make life easier. On the plus side though the post screws are a phillips/flat combo and pretty good overall so that's one positive. The negative post is also not milled into the deck and is held in by a screw of ok quality. I'd prefer milled but it's not the first RDA to do it and won't be the last so as long as the screw is ok not a big deal but not my preference. Overall I just found there are better decks out there then this one.
Wicking on it is quite easy. It's an RDA so nothing fancy just drop your leads to the bottom.

Performance
Performance wise, I used it as a Dual Coil RDA only even though it does have a blocker to do single coil i was never a fan of using those. I ran 4 builds (technically 5 but one was one the defective one so couldn't vape it) in this a fancy 3mm ID build, a fancy 3.5 mm ID build, a fancy 4mm ID build and 1 simple round 4mm ID build. For size I found it best with a 4mm ID and plenty of wraps. Overall I will say it gives good flavor if you use a huge fancy coil build in it. It's pretty muted with regular round wire though or smaller builds. Kind of like the bonza in that way. It's best used with high watts and large coils only.
Overall Impressions, Details, and Extras
Let's talk about the airflow now. It has side airflow 24 small holes on each side 3 rows of 8 that gets closed off 3 at a time. It's a basic side airflow RDA. The AFC is damn near impossible to adjust. The top part of the top cap you spin to adjust is super smooth with no knurling for grip at all and the o-rings are too tight. It's easier to take it off and reset it in the position to change air. Not well done at all and pretty poor.
It comes with 2 standard 810 friction fit drip tips one is a resin top and the other a black delrin tip with knurling. It also comes with a metal 510 adapter as well. The Drip tips don't fit very well and come out too easy. It's not the fault of the RDA itself it's the tips that are too small. My other 810 drip tips fit in it just fine. It feels like their 810 tips are too small. The quality on the Wotofo Warrior RDA decent at best. The o-rings for the top cap onto the base feel right and the top cap is snug but not tight. Very easy to take apart with no issues. But the paint issue and the drip tip issue and the AFC issue means overall not great quality. The top cap also lock into place which makes it easy to get on and off mods. The post screws are good quality as well (big improvement for wotofo who typically has poor post screws) and 4 spare screws are included. It comes with a standard 510 pin and a BF 510 pin like most RDAs these days.
The juice well is advertised as large but really just a standard sized juice well for an RDA these days. Not bad but nothing to write home about. The over squonk protection and Over drip protection is pretty good. Not great but not bad. Average. It also works well as a dripper. You can drip right down the drip tip without taking off the top cap.
It's a 24mm diameter so should not overhang on most mods on the market today. There is plenty of spare o-rings and 4 spare post screws for it, an allen wrench, a screwdriver, 3 coils, and 2 pieces of cotton. In Typical Wotofo fashion there is a ton of accessories. They also label the coils which is great. Companies should always label the included coils. They are ni80 juggernaut coils. (26+36) x 2 3mm ID .28 ohms each. Branding is average. Just the warrior logo on the outside on 1 side which looks like a roman armor helmet. Not a big fan of branding that sticks out so much so not my cup of tea but not terrible. I prefer logos to me etched in with matching color personally or none at all.
Pros:
2 Standard 810 Drip Tips and 510 adapter
standard 510 pin and squonk pin included
plenty of spare o-rings
Color Options
good quality flathead/phillips combo post screws included (8 total)
Good over squonk protection
Top cap locks in place
works well as a dripper or squonker
good flavor if you use a large build
Cons:
My first one was defective due to a painted deck which seems to be changed now possibly
I prefer a milled negative post when possible
Build Deck is outdated and not easy to use for new builders
branding is a bit too much for me
AFC is way too hard to adjust
juice well is just ok and doesn't live up to the "large" statement they make
Build quality is just ok overall
does not work well unless you use a really large build, high watts only.
Conclusion
So with all that said, do I recommend this RDA?I don't like to do a hard yes or no, but this one will lean a bit towards the no. The huge design mistake on my first one was annoying but even the fixed one is a mediocre RDA at best when you factor everything in. With so many good RDAs on the market these days not sure why anyone would want one of these. It didn't get much hype and wotofo seemed to kind of move past it already quite quickly and I can see why. I won't be adding this to my list of recs linked below.
This is Anthony Vapes just keeping it honest, hopefully you all can say the same and i'll catch you on my next review.
Product Disclaimer
This product was sent to me from healthcabin.net and wotofo
Review Disclaimer
Due to possible QC difference your experience may vary.
Reviewer Disclaimer
I've been doing vape reviews since late 2016 and have done around 200 reviews to date. I enjoy helping vapers on forums as well and helping contribute to the great vape community. I'm not an "out of the box" reviewer. I do my best to be thorough at all times and have enough experience with many products to tell what's good and what's not. All mods get tested with an oscilloscope and stress tested and results are posted in my reviews.
Wotofo Warrior RDA Atomizer   Price: $34.90
Know More https://www.healthcabin.net/wotofo-warrior-rda-p/18442.html
Thank for reading the Wotofo Warrior RDA Review, vape on!
About the writer 
I started vaping in late 2011 to quit chewing tobacco. over the past few years i got a lot more into the hobby side and buying and collecting a lot of gear. Fed up with the lack of good fair reviews i decided to start doing reviews late 2016 and haven't looked back. I enjoy providing people with technical reviews that are fair and unbiased and from a place of knowledge to help them spend their money wisely.