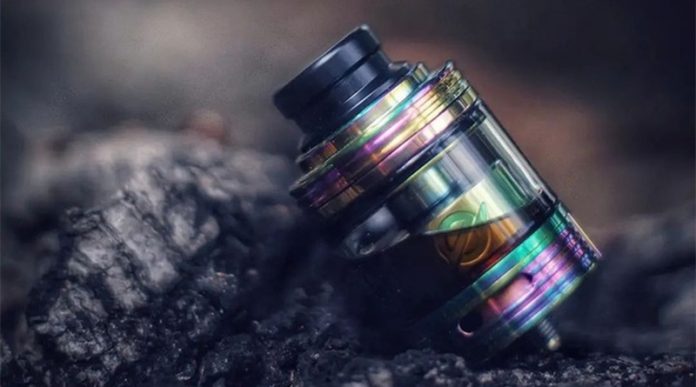 One item I've been looking forward to getting my hands on recently is the latest RTA designed by Mike Vapes as he has a proven track record with earlier collaborations. This time around he's teamed up with Yachtvape to bring us the ultra compact single coil Eclipse RTA, this seemed to be constantly out of stock everywhere for what seemed like an age but our good friends over at Healthcabin finally came up trumps and have been kind enough to send it over for review. So let's get started the Yachtvape Eclipse RTA review then.

24mm diameter
30.1mm tall (excluding 510 & drip tip)
Recurve style postless build deck
Honeycomb side airflow
2ml and 3.5ml glass included
810 drip tip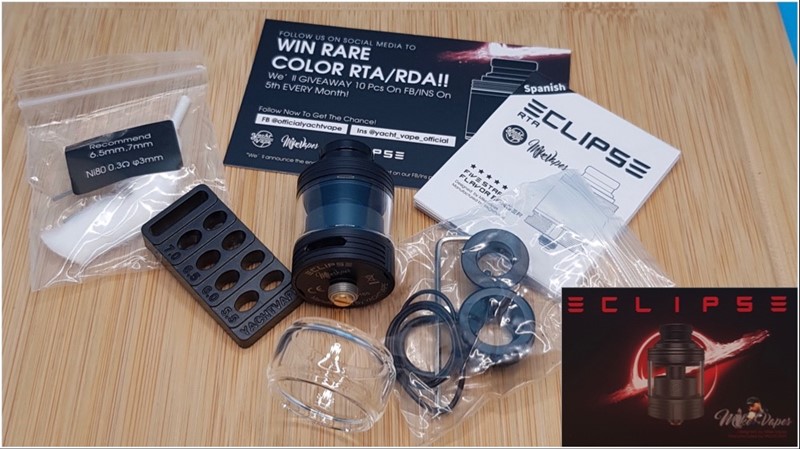 The Eclipse RTA is available in six colours (stainless steel, matte stainless steel, matte black, gunmetal, rainbow and finally gold), Healthcabin sent out the matte black version for me to take a look at. I'm pretty impressed by the pack-ins found in the tiny Eclipse RTA box with two glass sections, two 810 drip tips plus a 510 drip tip adapter, a bunch of spare O-rings, a coil cutting guide, and a pre-made coil with cotton. Well done to Yachtvape on this front, especially considering that this is a relatively inexpensive tank to start with.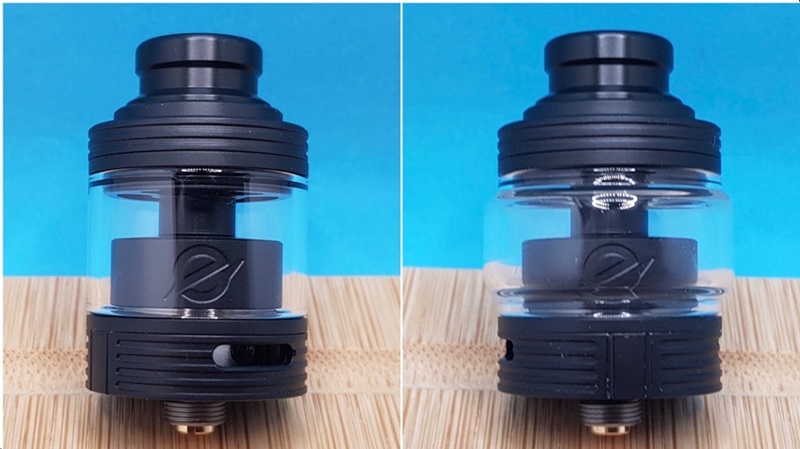 First impressions out of the box are that this is a super stubby affair at just 30mm tall (excluding the 510 and drip tip) so I'm hoping that this is indeed going to be a "five star flavour banger" as Yachtvape proudly proclaim on their website. It comes with the "2ml" straight glass fitted, which Mike Vapes says is actually closer to 2.5ml in his presentation video but let's just keep that to ourselves shall we? There's also a 3.5ml bubble glass in the box which doesn't look too offensive either.

Up top we have a standard 810 drip tip, I quite like the preinstalled one but there is a second one based on the original recurve drip tip included in the spares, personally I found that a bit too short for my liking but your mileage may vary. It should be noted that the drip tip sits in a raised section with an 18.4mm diameter so if you're a fan of super wide drip tips, they may not sit well here, most of mine were fine with just a couple of small exceptions. A 510 drip tip adapter is also included so you have plenty of options on that front.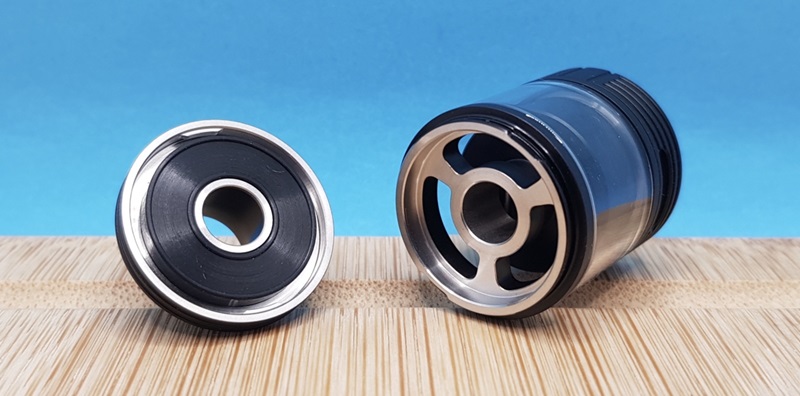 The top cap is a quarter turn bayonet fitting which has a nice amount of tension, this reveals three gigantic filing ports and everything is nicely sealed with a large silicone gasket. I would have liked to see a spare gasket in the box but these sort of things tend to be fairly durable so it shouldn't really be an issue.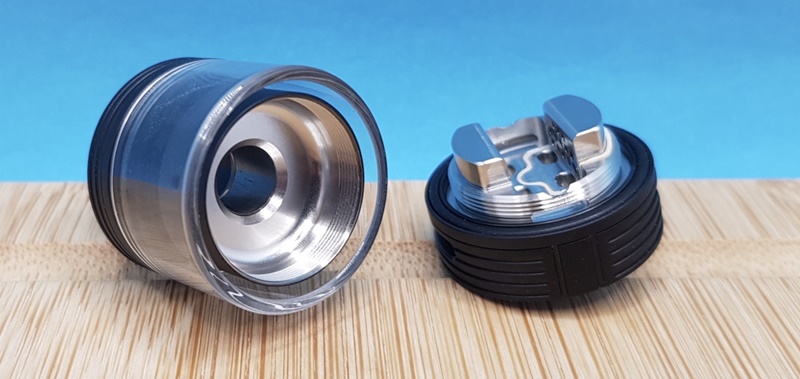 The tank section unscrews to reveal the build deck, the threads do feel a little rough here and I frequently find myself having to back wind this before I can catch the first thread. This is honestly one of the few complaints I have with the Eclipse RTA. Changing the glass is easy at this stage with the perfect amount of grip being provided by the O-ring holding it in place, no fighting to get the glass off or worrying about it coming off accidentally either. The chimney is super slammed with a very slight step in the top of the chamber, this literally comes to about a millimetre above the top of the build deck once everything is screwed into place!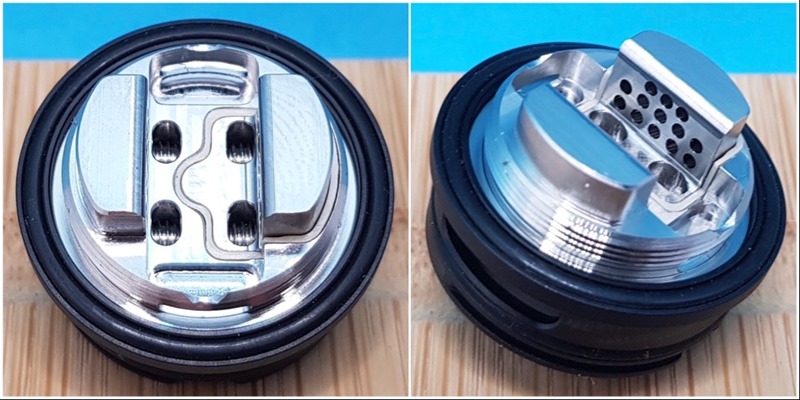 The build deck itself is also pretty compact with a postless deck design and honeycomb side airflow. There are wick ports at either end with small slots near the base feeding the liquid to the wicks, and the whole deck appears very dripper like in concept.
The post holes are arranged so that you can install coils wrapped in either direction which is always welcome, but you may be wondering how you actually access the screws as these aren't immediately visible. Well they're hiding in the airflow, this has been done to keep the height of the Eclipse RTA as short as possible, but this does throw up a couple of issues.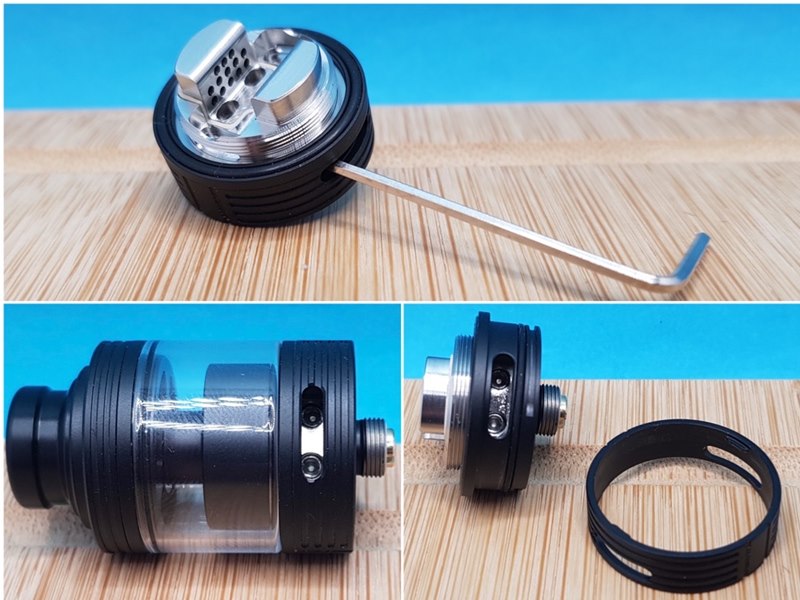 Whilst you can use the included Allen key to loosen the screws this is poor quality and it tends to slip a lot, particularly when tightening the grub screws down. This is a sure fire way to strip the heads on your grub screws in short order so do yourself a favour and simply throw it in the bin!
Using a proper Wera tool isn't possible with the airflow ring fitted as it won't fit, luckily the airflow is removable and this will give you much better access to the screws. For reference a Wera 1.5mm hex screw is the perfect fit for the included grub screws.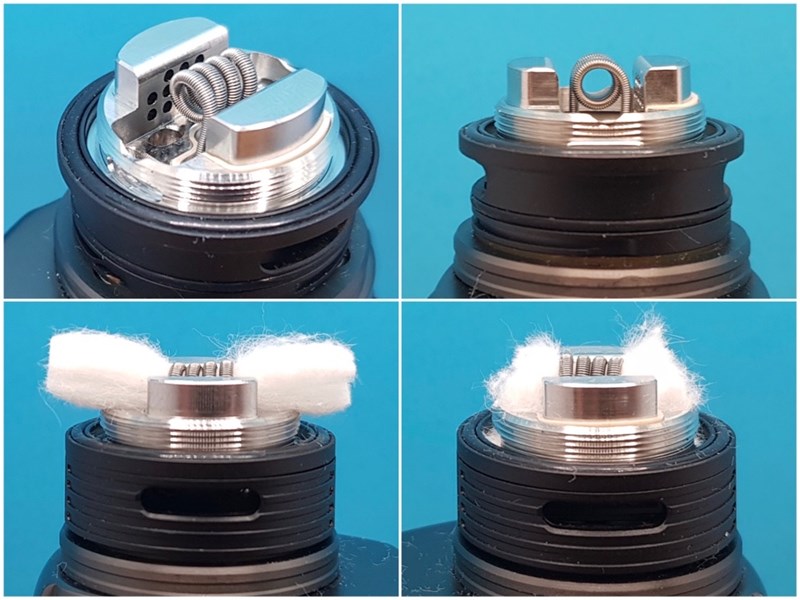 Whilst the supplied coil looks decent enough it's nichrome so I had to resort to one of my homemade 2.5mm kanthal fused claptons again. The suggested leg length is 7mm and this seemed quite long but once I test fit the coil it proved to be perfect with the coil sitting level with the top of the deck and above the airflow, I know this is the optimal way to position the coil with side airflow tanks from previous experience. Whilst there is room here for a 3mm coil the deck is deceptively small and I found that I had to take a wrap out to get this to fit between the post holes with a spaced coil.
Mike Vapes suggested cutting the cotton at the outer edge of the base as shown, fluffing the cotton and tucking everything away as shown above. This worked well, in fact I was surprised how well the wicking kept up given how small the juice channels are at the bottom, but it soon became apparent that this was going to be a leaky monster!
After a couple more rewicks I now know that you need to cut the cotton about 2 mm further out from the edge of the base then give everything a really thorough comb out before tucking the wick away. This still wicks like a champ with the cotton remaining fully saturated even when chain vaping and more importantly it doesn't leak.
With the above build coming out to 0.25 ohms I found I only needed 45 watts with the airflow closed down just a hair to get a stellar vape, the flavour really is outstanding. Side airflow tanks have a deservedly earned reputation for being noisy and turbulent but the honeycomb airflow design does away with that, it's reasonably quiet and smooth here. This does add a fair amount of restriction to the airflow, it's by no means a mouth to lung vape but if you prefer cloud chucking with fully open airflow and high wattages then this isn't for you.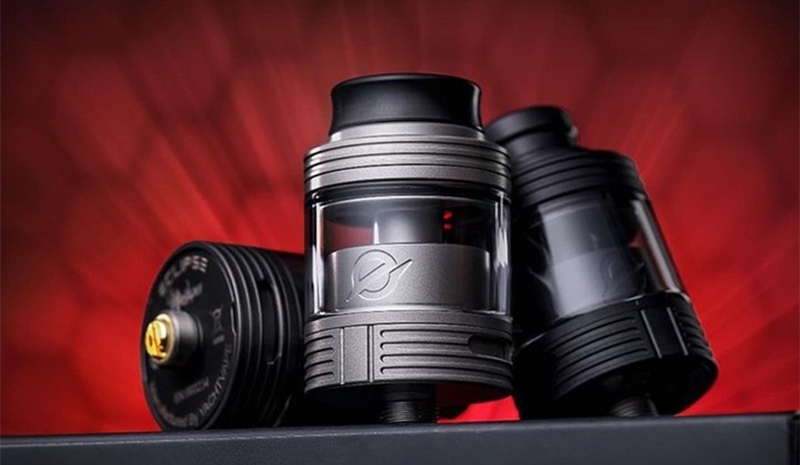 Pros
Nice compact RTA
Flavourful restricted direct lung tank
Lots of extras
Cons
Build deck is fairly small
Difficult to access grub screws
Conclusion
Yachtvape and Mike Vapes have done an outstanding job here, I'd go as far as to say this is one of my favourite RTAs from 2021 tieing closely with the Aspire Kumo RTDA. If the low 2ml/3.5ml capacity puts you off Yachtvape have also released an Extension tube kit which bumps this up to 3.5ml/5ml whilst only adding 3mm to the total height, sadly this wasn't available when Healthcabin sent this out for review but it's definitely something I will be purchasing.
Many thanks to Healthcabin for sending the Eclipse RTA out for review.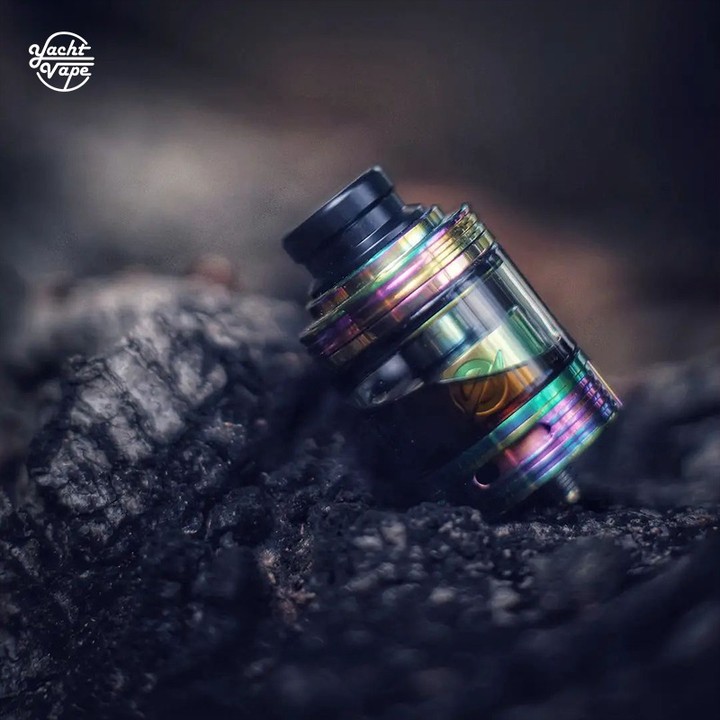 This review was written by Antony from POTV(Planet Of The Vapes), click to view original review.