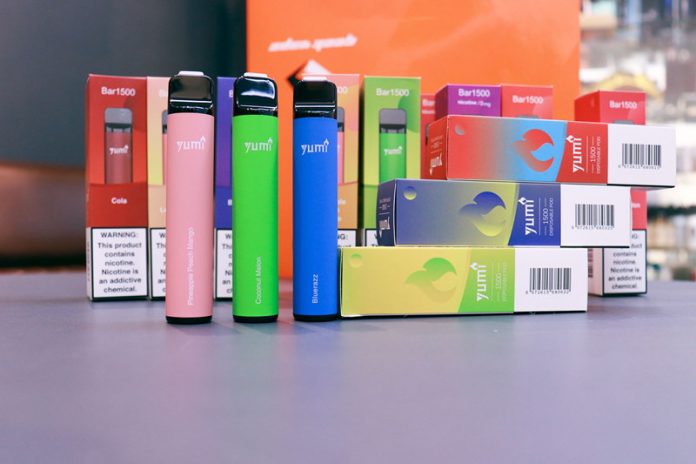 Thanks to disposable vapes, switching to vaping has never been easier. Disposable vapes require no maintenance and they come prefilled with eliquid which means that you don't have to worry about filling them up. Once they run out of eliquid you can just toss them out. Disposable vapes are usually draw-activated too so they're super simple to use. Just inhale on the mouthpiece and you're vaping.
The YUMI is one such disposable vape. Each YUMI bar comes prefilled with 4.8ml of 5% (50mg) strength nicotine salt eliquid and 850mAh battery capacity. YUMI bars are colorful and compact and come in 16 different flavors, each one should be good for over 1500 puffs.
Specifications
Size:100 x 19mm
Prefilled with 4.8ml of eliquid
5% (50mg) Nicotine Salt & 0mg available
LED Puff Indicator
850mAh Battery
1500 puffs
16 Different Flavors
Design & Build Quality
YUMI disposables are made of full plastic. It got a neat look – pure color on body with YUMI logo and flavor info in white color. The flat duck mouth drip tip is the one I love to use.
In addition to the neat looking, each YUMI bar has an extremely bright LED that lights up when you take a puff. As for size, each YUMI bar is pretty small at 100mm tall and 19mm in diameter.
Each YUMI bar comes in its own individual vacuum package. They're prefilled with 4.8ml of nicotine salt eliquid in 5% strength (50mg) or 0mg. The battery capacity is 850mAh, which is not rechargeable but will support 1500 puffs.
The description states that each one should last for over 1500 puffs and while I haven't been keeping exact count, each one definitely lasts a long time.
Flavors
YUMI bars come in 16 different flavors, including 11 50mg flavors and 5 0mg flavors. They are:
50mg flavors: Coconut Melon, Pineapple Peach Mango, Strawberry Banana, Apple Peach, Blue Razz Lemonade, Kiwi Passion Fruit Guava, Pink Lemonade, Cola, Blueberry, Watermelon and Grape.
0mg flavors: Mango, Strawberry Ice, Bluerazz, Grape and Watermelon
Coconut Melon – Delicious, ripe melon with an exotic twist of coconut.
Pineapple Peach Mango – A tropical fruit fusion!
Strawberry Banana – Ripe strawberries blended with tropical bananas.
Apple Peach – Juicy apples and fresh ripe peaches
Blue Razz Lemonade – Classic fruity flavours working together in perfect harmony for a delicious all-day vape.
Kiwi Passionfruit Guava – A tropically inspired sensation!
Pink Lemonade – This party favourite mixes classic lemonade with a fruity twist.
Cola – The classic sweet taste of cola
Blueberry – Fresh and juicy blueberries
Watermelon – A vibrant and exotic flavour of freshly sliced watermelons bursting with flavour
Grape – Freshly-squeezed red grapes with just the perfect amount of sweetness.
Mango – Deliciously sweet mango which is a cross between natural and a mango gummy candy
Strawberry Ice – Juicy strawberries with a refreshing touch of ice.
Performance
This pocket-friendly YUMI disposable vape is a great choice for any smoker who is wanting to take the first steps to become smoke-free but doesn't want to shed out on buying a full vape kit, vape coils and e liquid, not to mention getting liquid everywhere!
Like with other disposable vape pens, YUMI bar is best used when using the Mouth to Lung vaping style (also known as MTL). Due to its simple auto draw feature, vaping is much easier and more of a natural 'pull', which would suit an ex-smoker. The auto draw means there are no buttons and no settings to play about with, simply inhale and away you go.
Each YUMI bar is able to supply you 1500 puffs! There isn't a display screen so the only way of knowing how many puffs you've had would be to keep a tally, though I think it's safe to say, ain't nobody got time for that!
Though the stated amount of puffs seem to be around 1500 puffs, I suppose this would depend on each inhale, I personally take a slightly longer pull than what others might so I would expect to get a little less puffs from it.
Best YUMI Flavours
We would love to tell you which ones are the best but this will always come down to personal preference. I personally love fruit flavors and The YUMI Grape tastes amazing, it is the best Grape I have ever tried.
The best way to determine the best YUMI flavours is to have a look at each one and make sure that the flavour notes for each one are something that you would enjoy.
Final Thoughts
The device looks great and is super lightweight, it's a nice handy vape that can easily fit in your pocket and the perfect choice for those that enjoy a night out without having to take a bulky vape kit. As we have also said, these are popular among new vapers as they are very simple to use and need no technical experience to use.
The large range of flavours is very impressive. The variety of flavours is important as it just means that you won't suffer from vapers tongue from vaping the same flavour over and over. With YUMI you can find out which ones are your favourite flavour and then you can stock up on a few ready for your needs.
The YUMI bar price is very competitive compared to other disposable vapes. You can pick some different flavors for the first purchase to see which flavor you love best.
Don't forget, there are 5 0mg flavors available, which is cool for those who wanna quit nicotine or some countries where nicotine is not allowed to import.