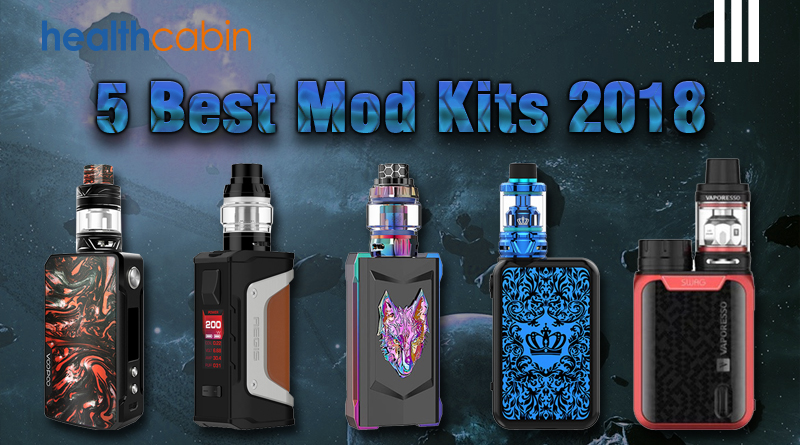 If you're looking for something bigger and more powerful than your typical pod vape or starter kit, then you need to know more about 5 best Mod Kits in 2018.
But first, you need to know what is mod kit?
Box mods are the ultimate in vaping. They have powerful batteries, intelligent chipsets, and sturdy outer casings. Box mods are also renowned for the control they give to the user.
Vapers can use easy-to-navigate menus to discover everything about their device. User interfaces allow for simple control. Users can adjust things like wattage, temperature and coil resistance. High-capacity sub-ohm tanks are the natural companion to box mods. 510-threaded tanks are interchangeable among many similarly threaded devices.
The best box mods and vape mods contain advanced chipsets that can precisely read and monitor the atomizer resistance as well as control power and or temperature.
Now, it comes to the 5 Best Mod Kits 2018.
Top 1. VOOPOO Drag 2 177W Mod Kit

The VOOPOO Drag 2 Kit is Powered by dual 18650 batteries, it can fire up to a powerful output of 177W. As a new generation of drag, the Drag 2 is more lighter and functional. The Drag 2 MOD adopts GENE.FIT chip, which is secured by a V0 class fireproofing bridge to block dust, liquid or burnout. FIT is a mode that can protect tanks to the most with its intelligent matches of FIT 1/2/3. The UFORCE T2 Tank is an innovative subohm tank empowered with strong clouds and an optimal flavor. The UFORCE T2 can also prevent the e-juice leakage by pushing the top cap. Just get the VOOPOO Drag 2 Kit and enjoy an out-of-this-world vape.
Pros:
The whole kit is good quality and has been designed well
Good flavour and vapour production from the UForce T2
Easy top filling
Good battery life
User friendly menu system
Cons:
No concerns with this kit
Top 2. Geekvape Aegis Legend 200W Mod kit

Geekvape Aegis Legend TC Kit comes with an Aegis Legend MOD and an Aero Tank.Powered by dual 18650 batteries. the Aegis Legend fires a maximum output of 200W. The Aegis Legend works with an upgraded AS Chipset, bringing stable performance and powerful output. Constructed with six high-quality materials, the Aegis Legend features extreme durability. The GeekVape Aero Tank has an easy top refilling design so you can screw off the top cap easily. Plus an adjustable bottom airflow slot to bring a smooth airflow to the coil without compromising its flavor. The 0.2ohm Mesh coil and 0.15ohm IM4 coils brings good flavor and clouds too.
Pros:
good build quality
fast firing
fast power ramp-up
waterproof
centered 510 connection
durable
Cons:
bulky and heavy
frustrating battery door
disappointing display
Top 3. Sigelei Snowwolf Mfeng 200W Mod Kit

Sigelei Snow Wolf Mfeng kit with 200W Snowwolf Mfeng MOD and Mfeng Sub ohm tank Powered by dual 18650 batteries. It supports the output range of 10-200W and will prove its high-performance. Equipped with an intuitive 0.96 inch TFT Full-Color screen and human-friendly interface, Mfeng Mod also supports VW/Bypass/TC(Ni/Ti/SS/TCR) modes to meet your vaping needs.
Pros:
The rocker-style fire bar is responsive and feels good
The front-facing adjustment buttons are equally solid and rattle-free
Power performance is good for most users
Preheat options
Easy-to-use menu system
Good build quality
Cons:
Not only is the thing gaudy and ugly, but it makes it difficult to use the MFENG for extended periods of time.
Temperature control performance is bad
Can't handle 30 mm atomizers without overhang
Top 4. Uwell Crown IV Box Mod Kit

Uwell Crown IV Box Mod Kit 6ml, combines a Crown 4 tank with a Crown 4 mod. Whether it is appearance or preformance, they are matched with each other perfectly. The Crown IV tank adopts advanced patented self-cleaning technology, which can absorb the e-juice in the condensation holder through regular usage and vaporize it. It utilizes Dual SS904L coil and Double helix mesh coil to achieve heating evenly and produce excellent flavor. 6ml large capacity available.
The Crown IV Box Mod is powered by dual 18650 batteries and is capable of 200W max output. With unique baroque pattern design, the Crown 4 mod gives you great visual experience. The new Circuit Board provides you stable and safe vaping. In a word, the Crown IV kit is a wonderful vape kit that can satisfy great vaping experience
Pros:
Top-filling design and adjustable bottom airflow system make it easy to fill.
support regular power mode and temperature control mode that can extend span life and protection.
The fire button on the mod gives a sleek look and provides improved gripping.
Cons:
Only cons are where 510 located & the bottom of mod
Top 5. Vaporesso SWAG 80W Mod Kit

The Vaporesso SWAG 80W Starter Kit with NRG SE Tank adopt innovative IML technology, which is powered by single high-rate 18650 battery and the maximum output can be reached to 80W to bring you great vaping experience. With upgradable OMNI 2.0 chip, Vaporesso SWAG features 2A fast charging. SWAG Kit is paired with the NRG SE Tank, supporting 2ml and 3.5ml e-juice capacity for option, with twist Open design and CCELL coils to provide awesome flavors. NRG SE Tank features adjustable bottom air flow.
Pros:
Convenient spin open filling system
Compact palm size
Top battery installing system
Revolutionary IML case
Cons:
Odd drip tip implementation
If you're a beginner looking to get your first device or an intermediate who's in the market for a stylish, compact, and powerful mod kit, this guideline is good for you.