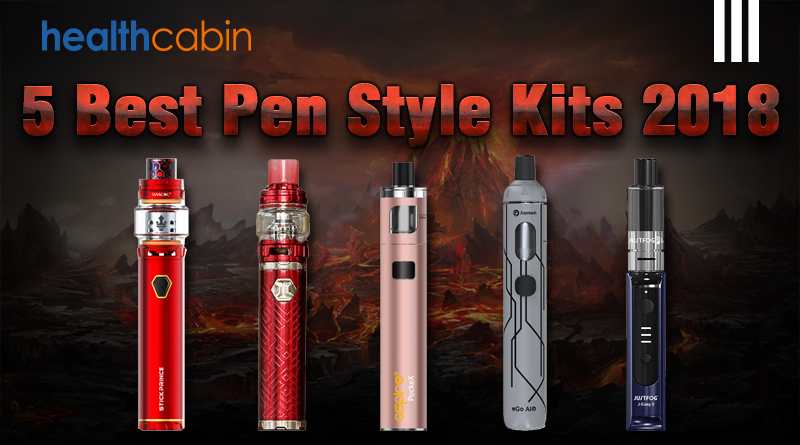 Are you looking for a pen-style vaporizer that is ideal for seeking to switch from tobacco cigarettes or weed joints. Ideally, you'll be able to find a pen that's capable of lasting for a whole day on a single charge. Here is a list of 5 Best Pen Style Kits 2018.
But you should know what is Pen Style Kits first:
Vape Pens, Pen-style vapes are long, thin, stylized tubes that basically look like fancy pens—no surprise there! They come in a wide variety of colors, styles, and features. You can get tiny and discreet ones, brightly colored ones, larger but more powerful options… the sky is the limit!
A vape pen ecig is basically made up of two main parts – the battery and the tank or clearomizer. They can also be refilled with any e-liquid you choose opening up a world of fantastic e-juice flavours!
Vape pens tend to be small and versatile. You can carry it in your pocket easily. Most vape pens have safety features making it safe to carry in your pocket or backpack.
Vape pens are a superb starting point for new vapers and offer a great ongoing vaping experience for those of us that have a touch more vaping experience.
You may have seen this type of kit referred to as EGO starter kits, Tank Refill Systems, vapor cigarettes and in certain circumstances vaporizers, although the latter are generally capable of using more than just e-liquid.
Here comes to the list:
Top 1. SMOK Stick Prince Starter Kit

Stick Prince, a powerful combination of 3000mAh battery and TFV12 Prince tank, is born to be a legend. It is newly designed, with a special hexagon power button and a carefully carved battery base you can feel how exquisite it is. Stick Prince's large battery capacity is the best guarantee for long time vaping and LED indicator on its body can tell you the specific conditions of itself. The TFV12 Prince tank has 8ml capacity and hyper engines, which can bring you massive vapor. Besides, the tank's patented locking mechanism can effectively solve the leakage problem. Innovation keeps changing the vaping experience!
Pros:
TFV12 Prince tank
3,000 mAh battery
Easy to use
Llarge e-liquid capacity
Great value for money
Cons:
No extra glass for the tank
Large for a stick system
Performance drops with battery life
Top 2. Eleaf iJust 3 Starter Kit

The Eleaf iJust 3 kit, a new upgraded version of iJust series, has the most gorgeous looking than ever and boasts all-new reimagined Net and Multihole coil systems, presenting an unprecedented vaping experience with ultra flavorful taste and huge clouds. Powered by an internal 3000mAh battery, the iJust 3 is capable of firing up to 80 watts. Its intuitive four color LEDs are for ease of checking battery level. Paired with a new ELLO Duro atomizer which features retractable top fill,this iJust 3 kit is one of the must-have setups for all sorts of vapers.
Pros:
Good Flavour
Considerable Vapour production
Design and Quality of the whole kit is excellent
Good enough battery life
A good size in the hand
Cons:
Coil material is not apparent but both are Kanthal mesh's
Battery OLED's not very visible in daylight
The driptip is too long for the tank (my opinion)
Spares are minimal
Top 3. Joyetech eGo AIO Starter Kit 

Say hello to the new Joyetech eGo AIO Kit which is specially designed for Joyetech 10th Anniversary with pocket-friendly size and elegant design. Consisting of 1500mAh built-in battery and 2ml tank, the Joyetech eGo AIO kit is a compact yet powerful pen style AIO starter kit with anti-leakage TFTA structure, child-lock design and changeable LED lights.
Moreover, the eGo AIO Kit comes with an innovative BF SS316 0.6ohm head for best MTL inhale with stable direct output to provide a great vaping experience of nice taste and vapor clouds. In short, the Joyetech eGo AIO Kit is definitely a simple yet excellent device for starters and experienced vapers. Just get it, the Joyetech eGo AIO will never let you down.
Pros:
Simple, and easy-to-use
Compatible with both mouth-to-lung and sub-ohm coils
LED lights in the tank
Great battery life
Cons:
No removable parts
May leak if overfilled
Top 4. Aspire PockeX AIO Starter Kit

The PockeX introduces top-filling in an innovative new way. The atomizer screws into the top cap instead of tank bottom. This allows you to replace the atomizer without draining E-Liquid from tank. PockeXs top fill design allows you to drip, drop or pour E-liquid into the 2ml tank.
Pros:
Great taste
Superb safety features
Pass through vaping
Simple to use
Top fill
Clean coil swap
Battery lasts an age
Cons:
Fire button loose and rattles – should be a random problem
Top 5. Justfog P16A Starter Kit 

P16A Kit is an excellent kit by Justfog. It features double protection system for coil short and the coil head is stuffed with 100% organic cotton, making the flavor pure and smooth. The built-in bottom charging battery keeps your vaping consistent and long-lasting. Its TPD complaint.
Justfog P16A Kit uses Japanese organic cotton coils. The product offers great compatiblity with most batteries offered in the market regardless of the connection types or voltage values. Japanese organic cotton combines with 5-pin bottom charging point battery, offering a pure flavor with no dry hits and makes your vaping experience more enjoyable.
Pros:
Super easy to use
Durable design
Numerous safety features
Decent performance
Super affordable
Nice airflow
Adjustable voltage
Cons:
Average vapor production, not for cloud chasing
Not a hard hitter, might be not enough for some users (which is not a huge issue but a totally individual preference)
Mediocre battery life
The best beginner vape kits this year feature more intuitive controls, built-in batteries, simpler user interfaces, and plenty of safety features. What's the best vape pen in your mind? Tell us in the comments below.