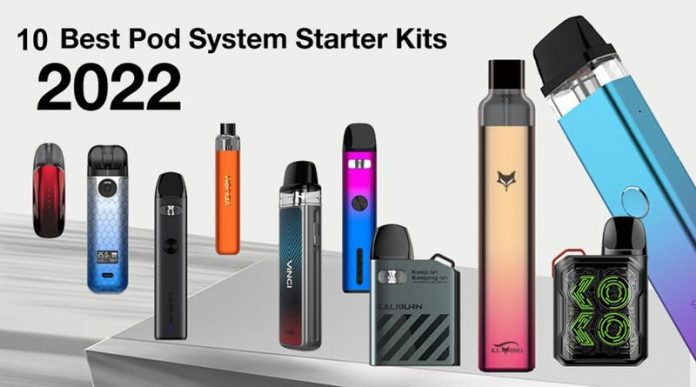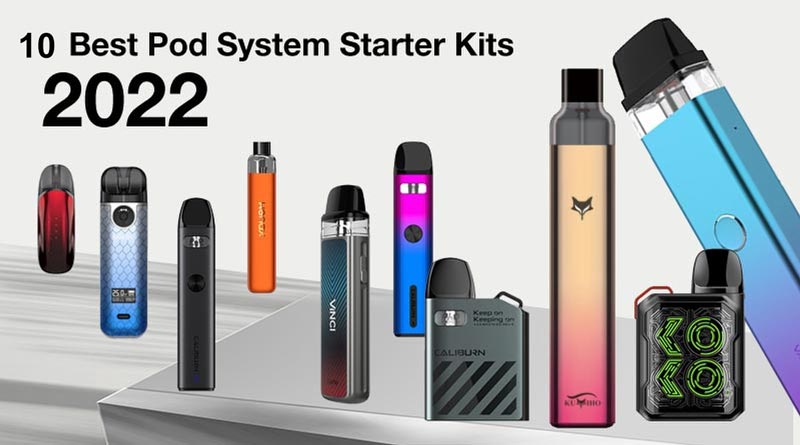 Updated on 1st Jun, 2022 based on our actual sales data in 2022(1st Jan to 31st May)
There's virtually an endless amount of pod vapes on the market since 2019. Pod system has changed the vape market and vaper's life. It's great for you to have options, but how are you to know which are the best pod vapes when there are so many to choose from? The simplest way is to check with HealthCabin, we can help you significantly narrow your search. Also, you may see many different rankings in different vaping blogs who even donot sell vape products. While at HealthCabin, we are telling you the truth based on our sales data. Based on our actual sales quantity in 2022, here we list the top 10 pod system starter kits for your reference. This data will be changed every month based on our actual sales quantity.
Brand overview, the top 10 best pod system starter kits come from below 6 brands: UWELL, VAPORESSO, VOOPOO, GEEKVAPE, SMOK & KUMIHO, not surprise!
Check our top 10 best pod system starter kits 2022, discou nt coupon code is available at the end of the post.
Top 10. Vaporesso Zero 2
Vaporesso Zero 2 was ranked in top 8 in our last update, now it dropped to the 10th place.
Vaporess Zero 2 Pod System Kit fits for Zero & Zeros 2 Pod and becomes a practical investment for you since you have this large 800mAh internal battery, changing just for 45mins with a type-c cable, vaping all time when you travel and on the go. Especially, speaking for 1.0ohm Mesh Pod and a 1.3ohm CCELL Pod available for 3ml vape juice in standard form, it affects your vaping session once you fill your e-juice, which displays a larger capacity that compares to the old version. Operated by a battery display that offers an elegant dynamic tidal light, fairly control is in your hand. According to this petite body, it can even be concealed in your pocket, comfortable in your palm. Paying attention to its unique fluid and silk-like body, which seems to be wrapped in streamers and shines with a dynamic luster under the sun. It enhances leak-proof technology with its SSS-Leak-Resistant Technology, and effectively prevents the wear and tear of your e-liquid. Based on the parent AXON chip, you will get superb flavor retention.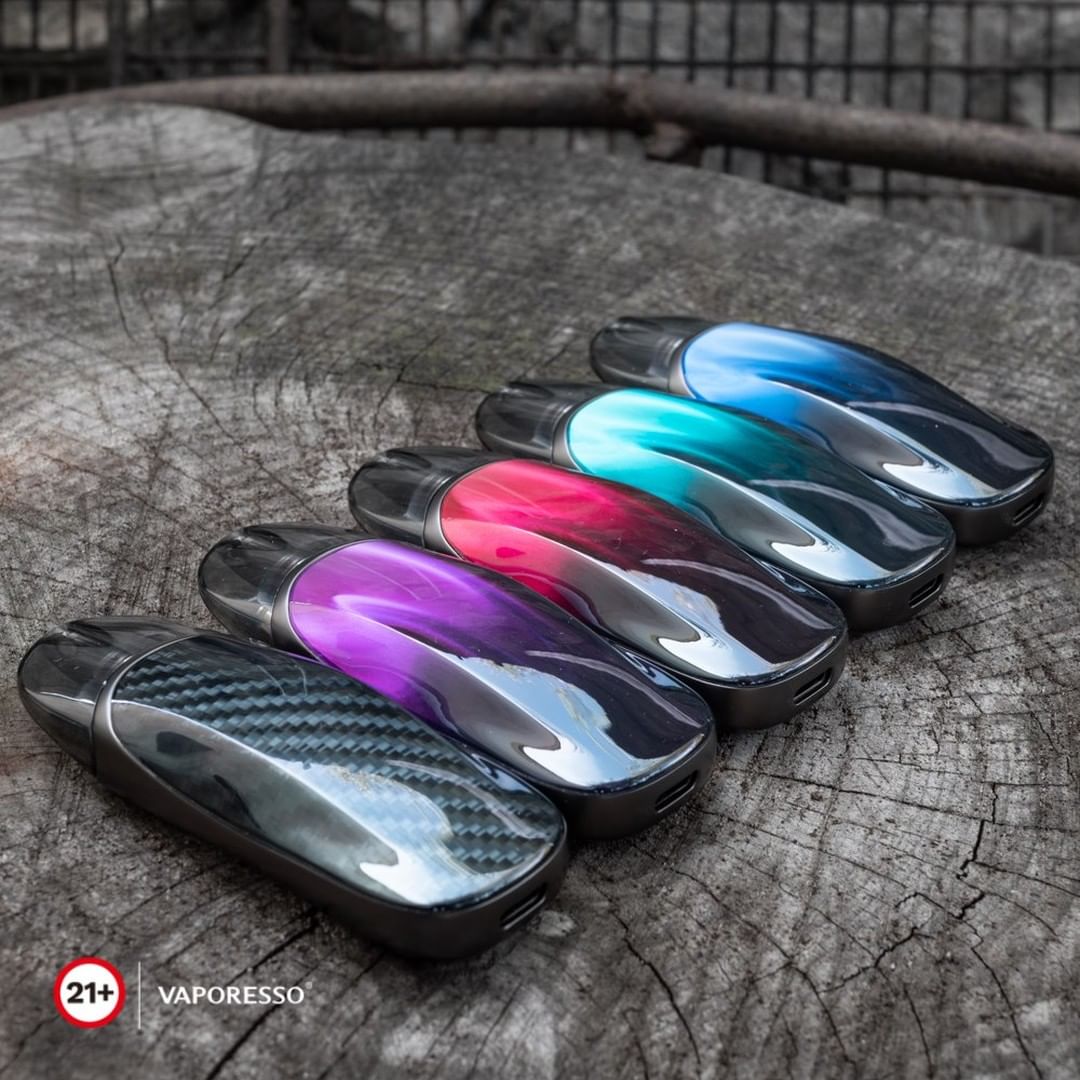 Vaporess Zero 2 features & specifications:
Dimensions: 89*31.8*19mm
Pod Capacity: 3ml (standard), 2ml (TPD)
Output Power: 1.3ohm CCELL Pod (9W), 1.0ohm Mesh Pod (11W)
Filling System: PTF (press-to-fill)
Battery Capacity: 800mAh
Charging Current: Type-C, 1A
Charging Time: 45mins
Battery Capacity: 800mAh
---
Top 9. Uwell Caliburn A2
Uwell Caliburn A2 was ranked in top 4 in our last update, now it dropped to the 9th place.
Discover the Uwell Caliburn A2 15W Pod System, featuring an integrated 520mAh battery, 15W maximum output, and uses the new 0.9ohm Caliburn A2 Pods. Constructed from durable aluminum alloy, the chassis of the Caliburn A2 Pod System encases an integrated 520mAh rechargeable battery. Delivering up to 15W output, the constant voltage output is stable and produces delicious flavor from your favorite eJuice or nicotine salts. Outfitted with a LED battery life indicator light, the Caliburn A2 Pod System can be fired via button or draw-activated mechanisms, producing exquisite vapor.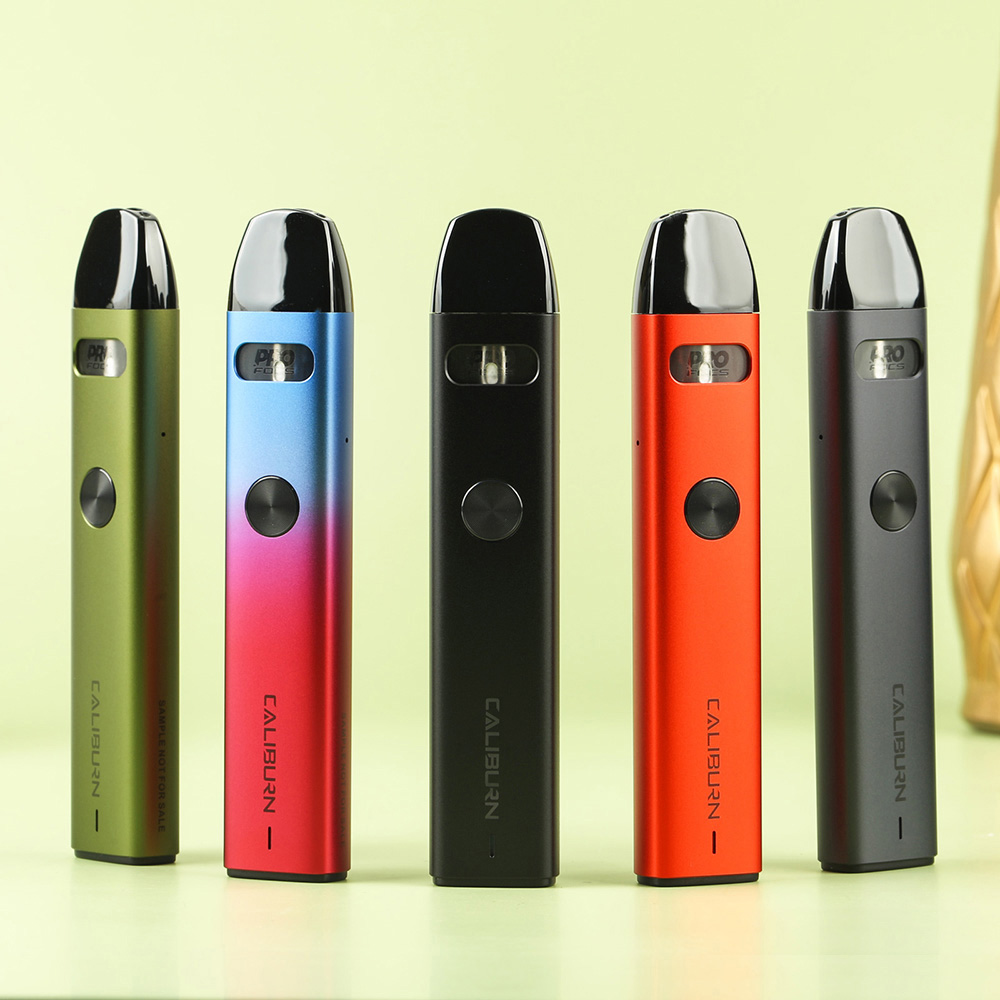 Uwell Caliburn A2 features & specifications:
Dimensions – 110mm by 21.3mm by 11.7mm
Integrated 520mAh Rechargeable Battery
Maximum Wattage Output: 15W
Aluminum-Alloy Chassis Construction
Intuitive Firing Button – Draw or Button Activated
LED Battery Life Indicator Light
2mL Pod Capacity
Top Fill System
0.9ohm UN2 Meshed Coil Pod
Pro-FOCS Technology
E-Liquid Viewing Window
Magnetic Pod Connection
Short-Circuit Protection
Low Voltage Protection
8S Timeout Protection
Open Circuit Prompt
Type-C USB Port
---
Top 8. Geekvape Wenax K1
It's the first time that Geekvape Wenax K1 appears in this top list.
Introducing the mind-blowing Geekvape Wenax K1-A beautifully anodized aluminum body. Nine dashing colors. Wenax K1 Kit is a pod system kit designed with steady and enduring power output. Powered by 600mAh built-in battery capacity, it will bring you a whole-day vaping and the USB type-c charging port will provide fast charging. It features tight draw for filled-in-the-mouth cloud experience. In addition, it also features 3-level adjustable power output, which help you adjust flavor easily. There are two ways to enjoy Wenax K1: auto-draw or button-triggered. Wenax K1 comes with anti-inadvertently mode and it will sleep automatically if there is no operation more than 10 seconds. The pod is a 2ml refillable pod with 300-400 puffs. Get it to enjoy great vaping!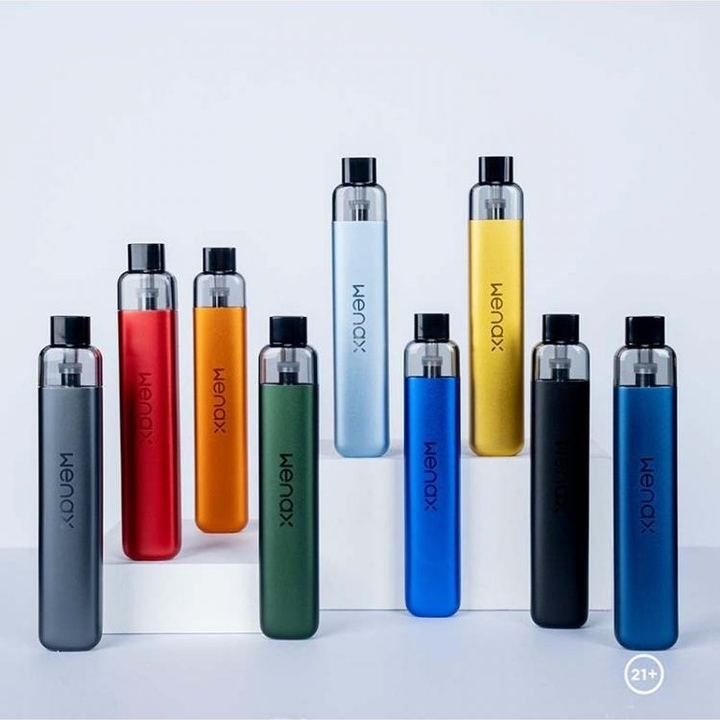 Geekvape Wenax K1 features & specifications:
Power Output: 9-16W
Coil Resistance: 0.4-3ohm
Battery Capacity: 600mAh
Charging Specification: USB-C Charging Port 5V
Low Voltage Warning: 3.2 +- 0.1V
PCBA Temperature Alarm: 80C
Longest Vaping Time: 10S
Working Temperature: -10 – 45C
Stand-by Current: <=15uA
---
Top 7. VOOPOO Vinci
It's the first time that Voopoo Vinci appears in this top list.
VOOPOO VINCI Pod Kit features its visible cartridge which adopts leak-resistant structure & side filling system. The cartridge has a built-in 0.8ohm coil which can provide you pure flavor & soft vapor. And there is an infinite airflow toggle on the mod to adjust airflow at ease. With 800mAh built-in battery, it outputs steadily at 15W power. The indicator light will shine when vaping by auto-draw. Last but not least,the device's body is made of zinc alloy body with spray paint process, which is elegant & portable.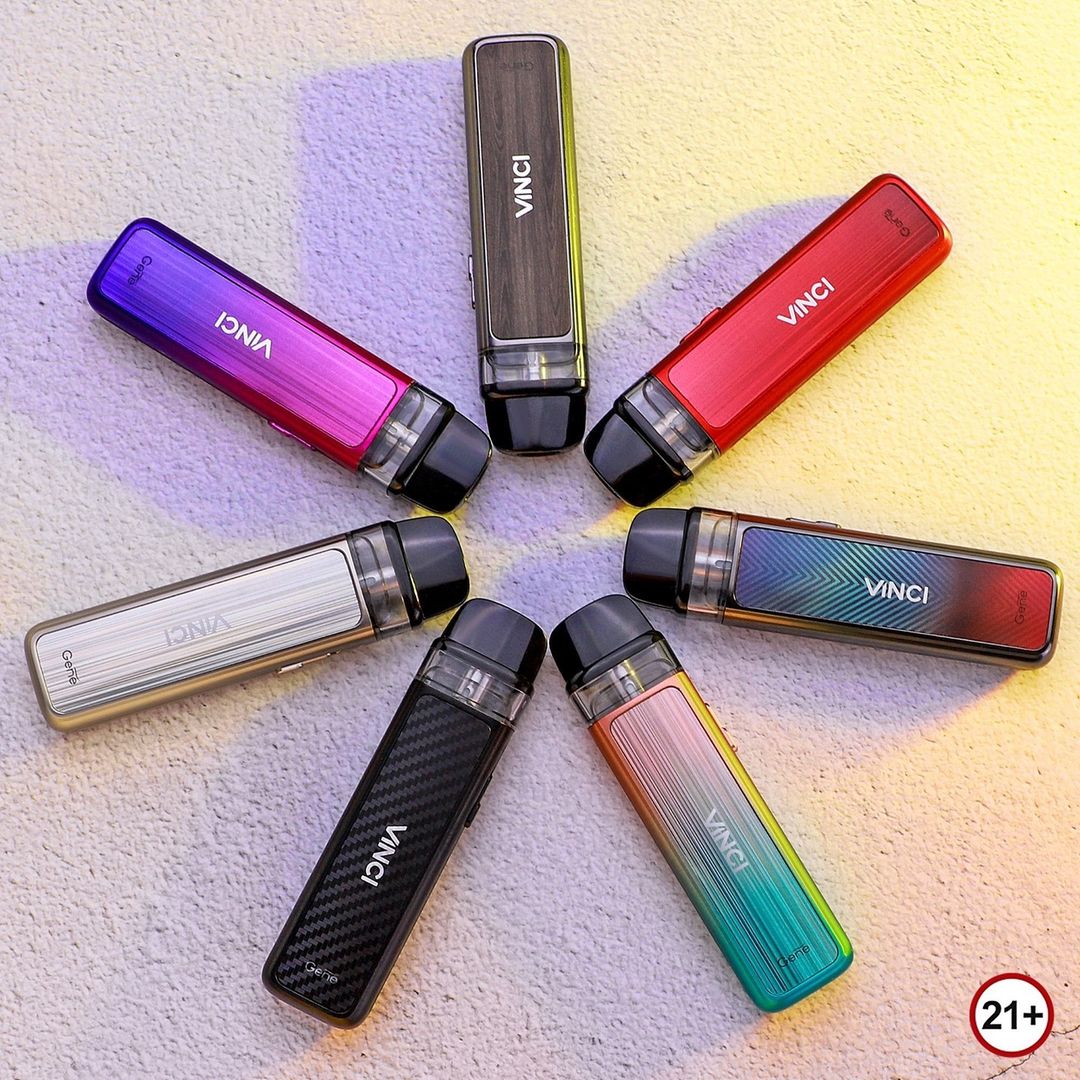 VOOPOO Vinci Pod features & specifications:
Size: 24*14*93mm
Max power: 15W
Battery: 800mAh (Built-in)
Output Voltage: 3.2V-4.2V
Charging Voltage: 5V-1A
Resistance range: 0.6-3.0ohm
Capacity: 2ml
---
Top 6. Uwell Caliburn G2
Uwell Caliburn G2 was ranked in top 9 in our last update, now it climbed to the 6th place.
Uwell Caliburn G2 Kit is a continuation and upgrade of the generation, and gains a well-knowN reputation from Caliburn G Kit. Here is it and must satisfy all you pod system kit enthusiasts better than ever. First and foremost, it adopts Pro-FOCS technology to focus on its ultimate taste for the rich vapor, sustaining the last drop of the e-liquid. It is available for 2ml vape juice and is convenient to fill your e-juice via a top filling system, which decreases the leakproofness and saves your time. Caliburn G2 is also equipped with a liquid check window to remind you of filling your e-liquid when it is running out. Meticulously engineered by its precise airflow adjustable control, everyone can have their preference by their habit and manually control their airflow ring. Relating to its pre-installed meshed-H 1.2ohm coil, it has a high-quality constructive performance to warm your e-liquid and increase the heating speed. This kit houses 750mAh built-in battery and can withstand almost 18W output for both MTL vaping and restricted DTL vape experience and is suitable for 1.2ohm and 0.8ohm separately. It applies its guidelines to be flexible and premium, so it is available for both draw-activated mode and button-activated mode. With its innovative vibration interaction, you must you would know how is the device is doing without looking at it the first time.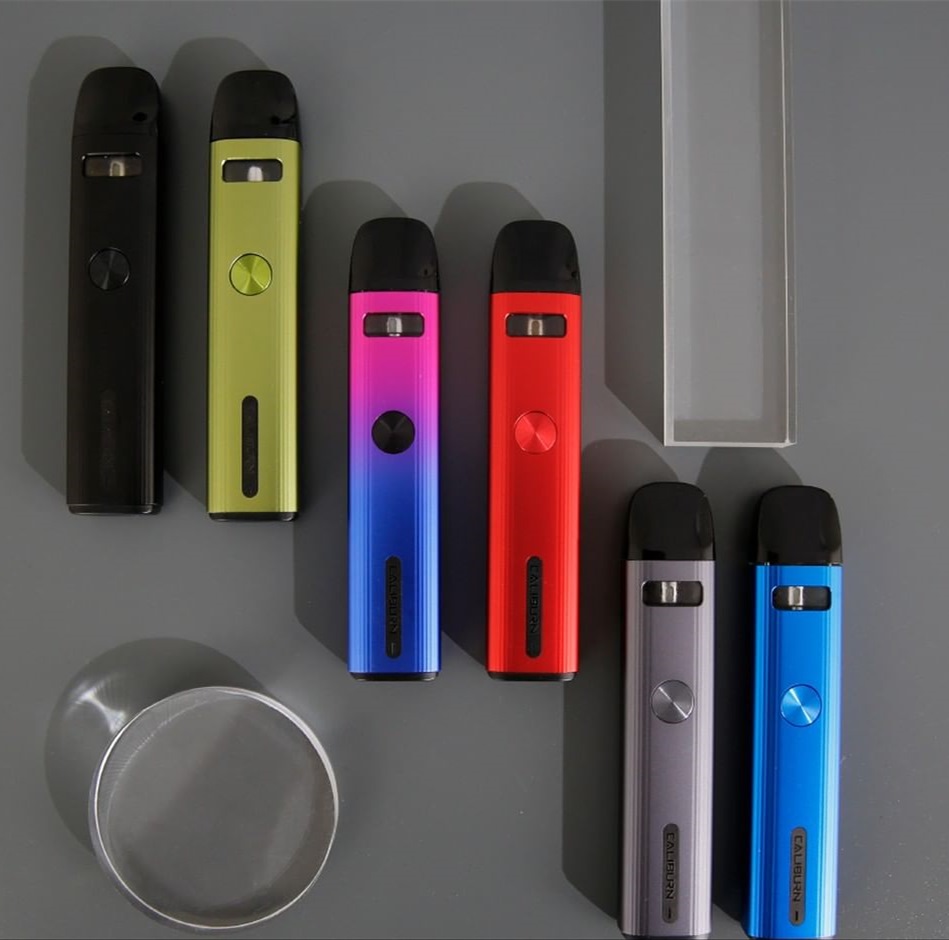 Uwell Caliburn G2 features & specifications:
Size: 110.5mm*22.5mm*13mm
liquid capacity: 2ml
Color: 6colors
Output wattage: 18W
Battery capacity: 750mAh
Coil Specifications: FeCrAI UN2 Meshed-H 1.2ohm, FeCrAI UN2 Meshed-H 0.8ohm
---
Top 5. Vaporesso XROS 2
Vaporesso XROS 2 was ranked in top 10 in our last update, now it climbed to the 5th place.
Vaporesso XROS 2 Kit is the new number of XROS series products, it is a pod system kit that will cross the limits. It features adjustable airflow with the upgraded water drop air inlet and you can enjoy different vaping experience from MTL to loose MTL more precisely. XROS 2 is also compatible with XROS series pods (1.2ohm 2ml pod, 0.8ohm 2ml pod), and the new 0.8ohm mesh pod can heat faster and support great flavor consistently. What's more, the SSS Leak-resistant Technology will lock the e-juice inside firmly and prevent from messy leakage. The halo button design will help you avoid unintended activation. There are button-activated and draw-activated modes for you to choose. XROS 2 has 1000mAh battery capacity to provide you long lasting vaping, you can see the real-time battery level with the tiding battery indicator.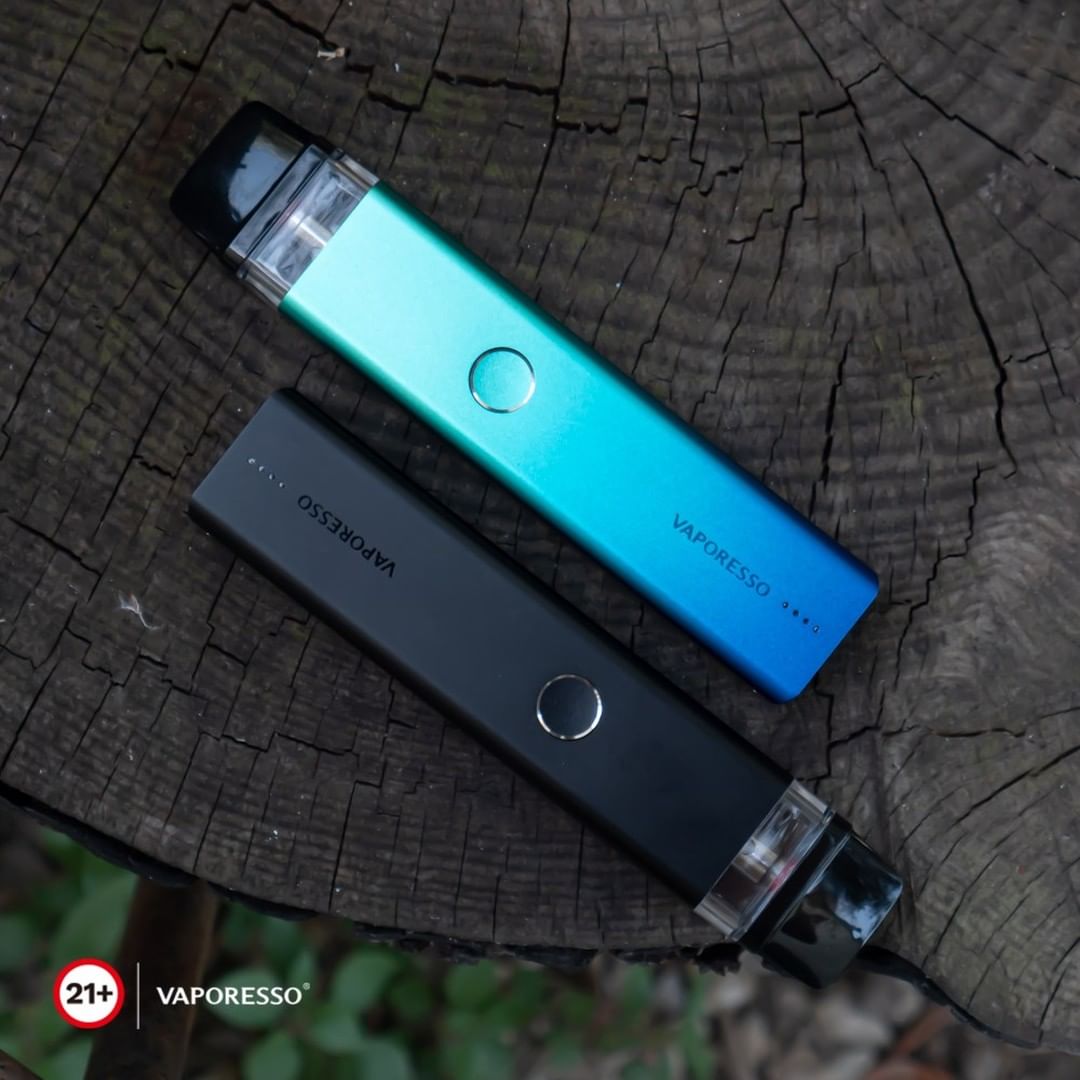 Vaporesso XROS 2 features & specifications:
Dimension: 112.2*23.4*13.4mm
Pod Capacity: 2ml
Pod Resistance: 1.2ohm pod, 0.8ohm mesh pod
Battery Capacity: 1000mAh
Battery Output Power: 11W/16W
Charging Current: Type-C, 5V/1A
---
Top 4. SMOK Novo 4
SMOK Novo was ranked in top 6 in our last update, now it climbed to the 4th place.
That anything does a device a world of good is beloved by vapers. Smok novo 4 reserves the delicacy and accessibility of the novo series and promotes itself to a functional pod system with something fresh, including the air-inlet ring facilitating customizing the flavor and vapor, the leak-proof coil design making the messy cleanup and liquid wasting a thing of the past, and the type-c port contributing to optimizing the charging efficiency. You will experience a gratifying vaping with novo 4 than any previous version. Innovation keeps changing the vaping experience!
SMOK Novo 4 features & specifications:
Size: 93.5*26.5*17.7mm
Resistance Range: 0.4ohm-3.0ohm
Charging Current: 5V+-0.2V
Battery Capacity: 800mAh
Charging Voltage: Max 0.74A
Power Range: 5W-25W
Overcharge Voltage: 4.3V+-0.05V
Input Voltage: 3.3V-4.2V
Overcharge Current: 2A+-0.6A
Output Voltage: 0.5V-4.0V
Overdischarge Voltage: 2.4V+-0.05V
Standby Current: <50UA
---
Top 3. Caliburn GK2
It's the first time that Caliburn GK2 appears in this top list, and it is a new item released last few months.
Uwell Caliburn GK2 Kit is the upgraded version of the KOKO PRIME series, which is futuristically and cyberpunk decorated with a visually outstanding exterior, the max output can up to 18W, it is powered by a 690mAh integrated battery, accommodating 2ml vape juice for nic salt and freebase e-liquid, which also offers an e-liquid window at the side to check your e-juice level. The top filling system allows you to refill without pulling out the pod cartridge. You will appreciate its dynamic vibration interaction that it will awaken at different power levels and vibrate between different working states. Compatible with CALIBURN G2 1.2ohm mesh coil, CALIBURN G 0.8ohm mesh coil, and CALIBURN G 1.0ohm coil, it utilizes plug-n-play installation, working hand in hand with the adjustment wheel to fine-tune airflow, then flavor arises spontaneously. Constructed from zinc alloy, it inherits delicacy and compactness.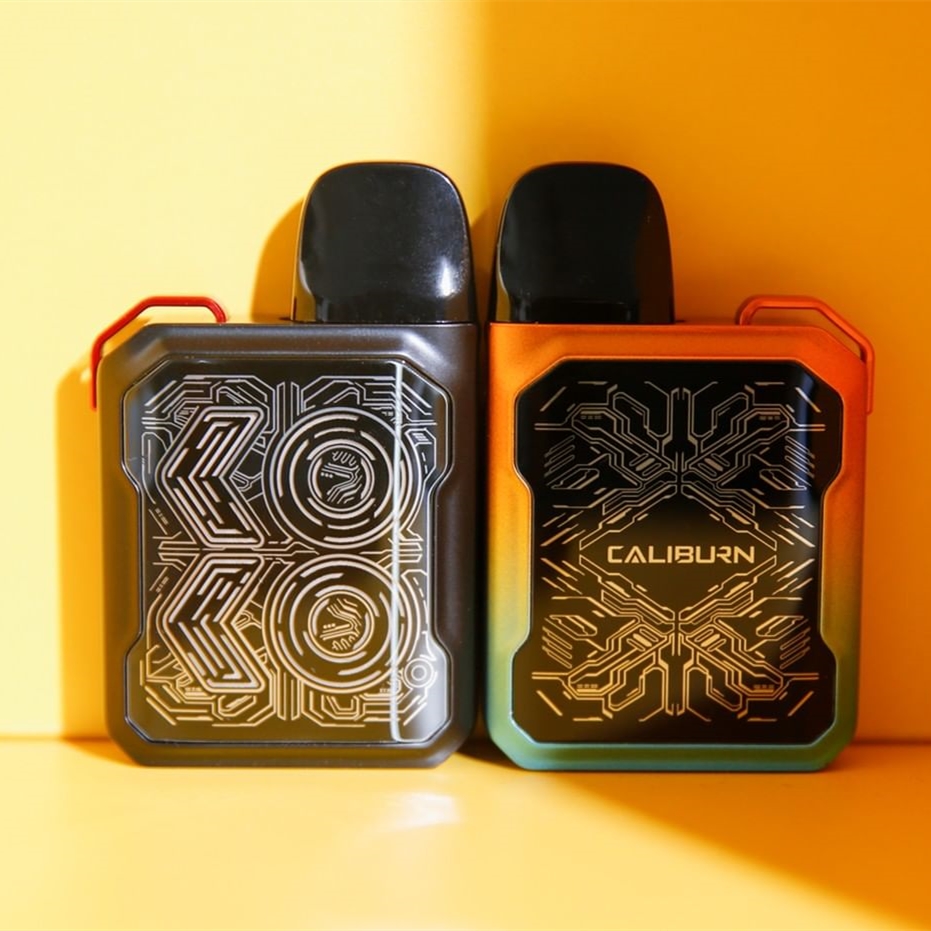 Uwell Caliburn GK2 features & specifications:
Dimensions: 72.2mm * 46.6mm * 16.3mm
E-liquid Capacity: 2ml
Output: 18W
Battery: 690mAh
Materials: PA, PC+ABS, Silicate Glass
Coils:
FeCrAI UN2 Meshed-H 1.2ohm CALIBURN G2 Coil (Pre-installed)
FeCrAI UN2 Meshed-H 0.8ohm CALIBURN G Coil (Spare)
---
Top 2. Uwell Caliburn AK2
Uwell Caliburn AK2 was ranked in top 7 in our last update, now it climbed to the 2nd place.
Uwell Caliburn AK2 Kit has a compact and ergonomic design. It houses a 520mAh battery and has a 2ml vape juice capacity, ensuring about 600 puffs per device that make you have a premium experience. This pod which allows being refilled is compatible with a 0.9ohm UN2 Meshed-H coil that is easy to replace and offers an excellent vape experience. When it comes to its distinguishably zesty flavors, it has a lot to choose, which extends the selection of units.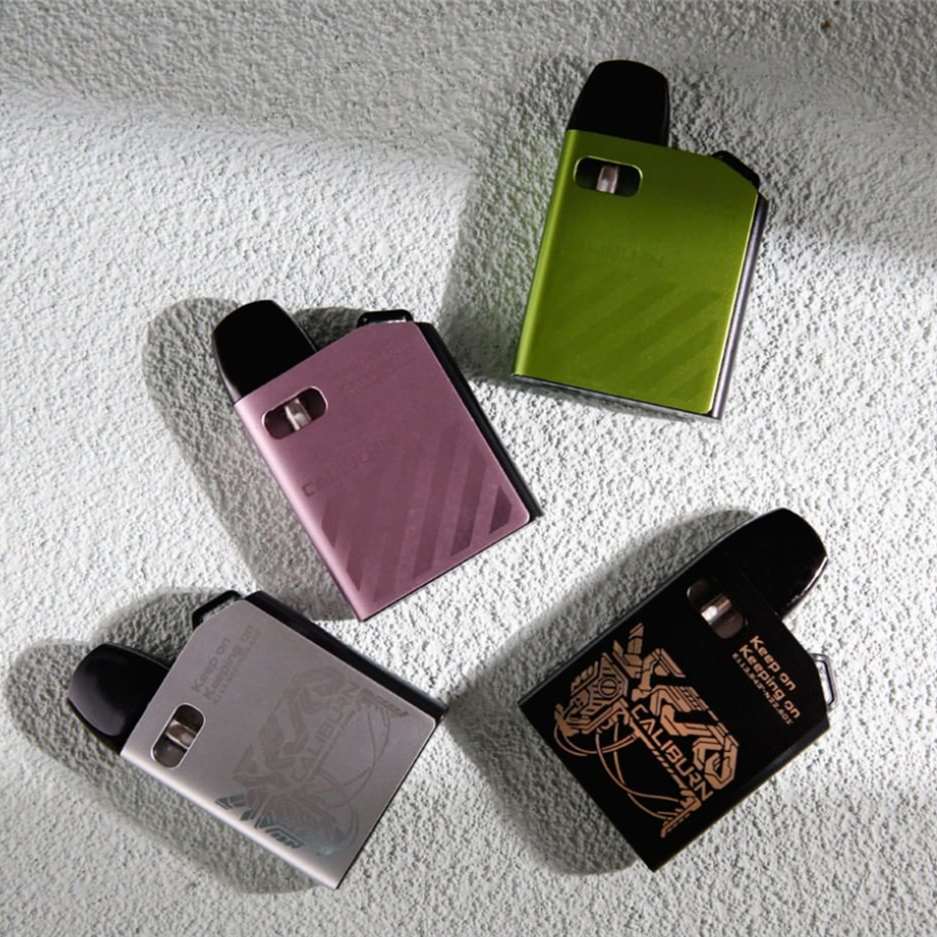 Uwell Caliburn AK2 features & specifications:
Size: 43.5mm*11.8mm*67.9mm
Battery Capacity: 520mah
Material: PA,Aluminum Alloy,PC+ABS
E-liquid Capacity: 2ml
Max Output Power:15w
Puff: About 600 puffs
Coil: UN2 Meshed-H 0.9ohm
---
Top 1. Kumiho Model V
It's the first time that Kumiho Model V appears in this top list.
Kumiho Model V, a polish finished metallic pod system, brings a diverse vaping experience with multiple stunning colors, provides a strong flavor with adjustable airflow. With its innovative vibration interaction, you will know it is ready to vape when the pod connected.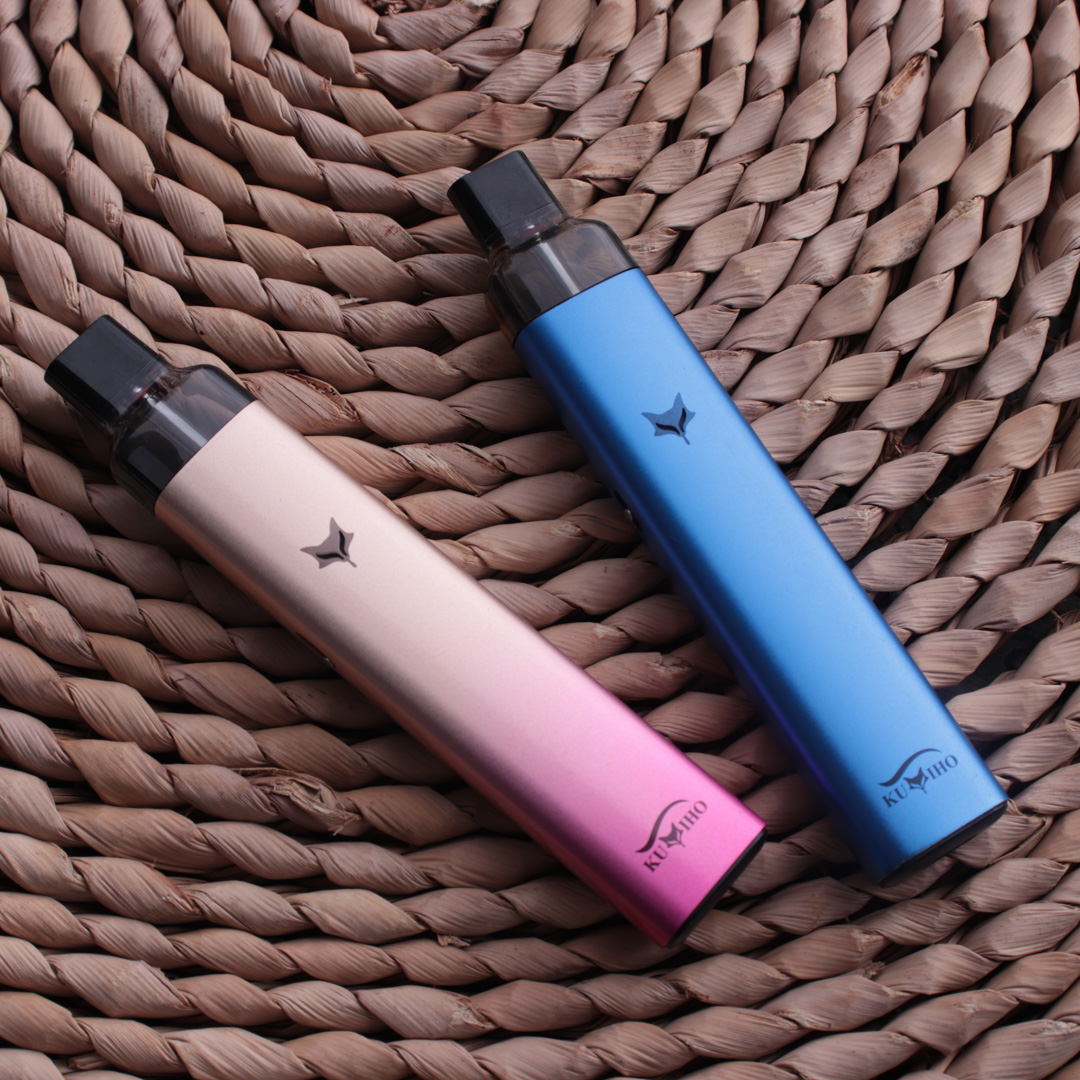 Kumiho Model V features & specifications:
Materials: Aluminium Alloy, PCTG
Size: 119mm*22mm*11.5mm
Color: Black, Blue, Red, Gunmetal, Pink Gold
Battery capacity: 600mAh
Output wattage: 18W max
Pod capacity: 2ml
Pod resistance: Meshed 0.6ohm(14-18W), Dual Coil 1.0ohm(11-13W)
---
Coupon Code
That's all of the top 10 best pod system starter kits 2022. The list will be updated every month based on our actual sales quantity. Get 10% OFF for all of our best pod system starter kits with coupon code: bestvapes.
Other Best Vapes 2022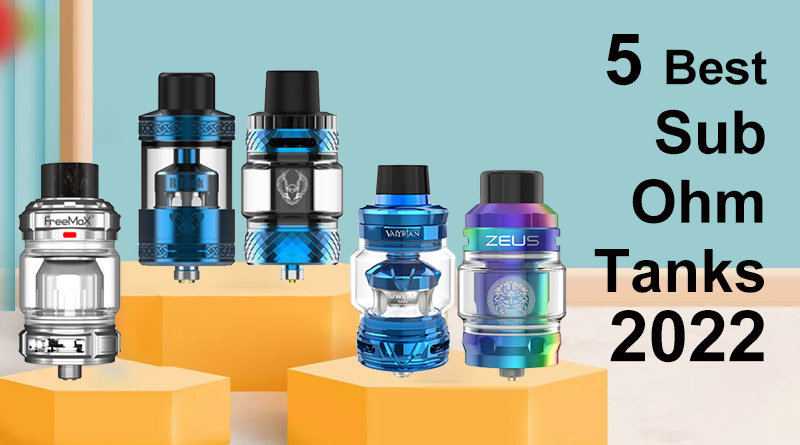 Are there any other best pod systems we missed in the top 10 list? Share your idea in comments below.