Uwell, one of the 5 Best Vape Brands 2020, released some very good pod systems in 2020, most of them are worth to buy. Based on our actual sales quantity in 2020, now Healthcabin is here to share our 5 Best UWELL Vapes 2020 for your reference. This data will be changed every month.
Please feel free to check our top 5 best UWELL Vapes 2020, discount coupon code is available at the end of the post to help you save more.
Top 5. Crown IV 200W Kit
It is also listed in our 10 Best High Wattage Box Mod Kits!
Uwell Crown IV Kit, combines a Crown 4 tank with a Crown 4 mod. Whether it is appearance or preformance, they are matched with each other perfectly. The Crown IV tank adopts advanced patented self-cleaning technology, which can absorb the e-juice in the condensation holder through regular usage and vaporize it. It utilizes Dual SS904L coil and Double helix mesh coil to achieve heating evenly and produce excellent flavor. 6ml large capacity available. The Crown IV Box Mod is powered by dual 18650 batteries and is capable of 200W max output. With unique baroque pattern design, the Crown 4 mod gives you great visual experience. The new Circuit Board provides you stable and safe vaping. In a word, the Crown IV kit is a wonderful vape kit that can satisfy great vaping experience.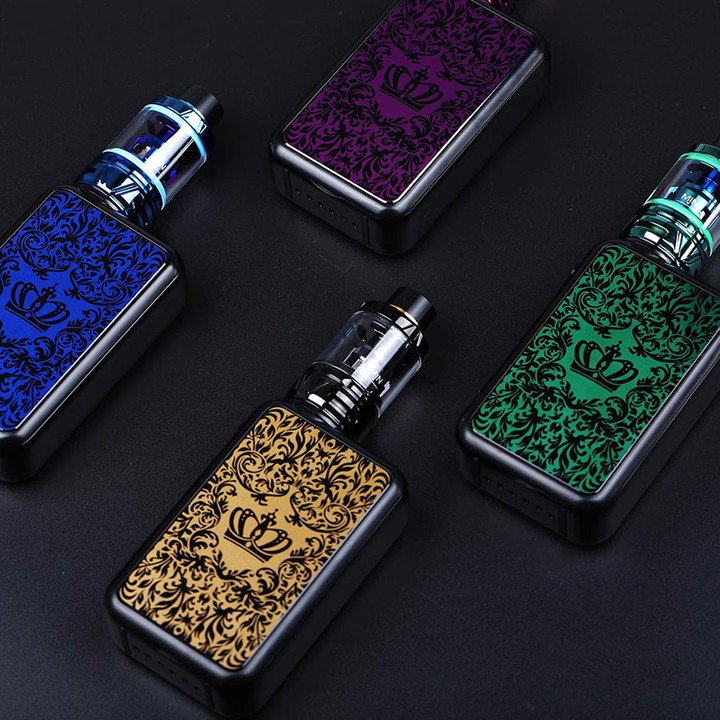 Uwell Crown IV Features & Specifications:
Dimensions – 138.8mm by 52.5mm by 25mm (w/ Tank)
Proprietary Chipset
Dual High-Amp 18650 Batteries – Not Included
Wattage Output Range: 5-200W
---
Top 4. Caliburn G
It is also listed in our 10 Best Pod Systems!
Caliburn G by Uwell is a new upgraded from the classic Caliburn Kit with replaceable coils. It is a perfect device for beginners. It has a top filling cartridge with a silicone check valve to avoid e-liquid leakage and reduces the mess. And the new replaceable Caliburn G Coil can provide you long lasting & even heating and full & original flavor. With a 690mAh built-in battery, its max output power can reach up to 18W(Max). It supports direct vaping through air pressure sensor or vaping by pressing the button. Moreover, it has a slender frame for a more comfortable grip. And the fire button is decorated with a golden ring to give it a bit of an elegant touch.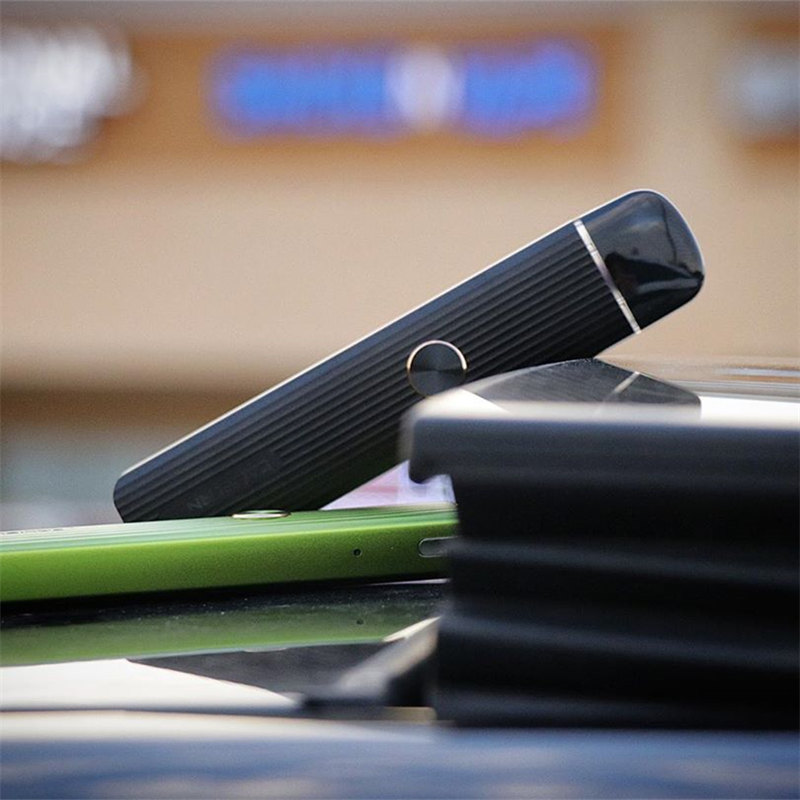 Uwell Caliburn G Features & Specifications:
E-liquid Capacity: 2 ml
Maximum Wattage: 18W
Battery Capacity: 690 mah
Auto draw or fire button activated
Refillable pod and replaceable coil cost-effective to use
Top filling method , quick and convenient
---
Top 3. Crown Pod System
It is also listed in our 10 Best Pod Systems!
Uwell Crown pod kit is a stylish and powerful pod device. The sleek body with the Gothic pattern and the Crown fire button provides an elegant look and comfortable grip. The pattern is clear and detailed, the hand feels delicate. Uwell Crown Pod System kit supports two working modes. In the unlocked state, you can choose to use direct suction or button ignition, which is convenient and simple. The Uwell Crown is powered by a built-in 1250 mAh battery, providing stable output for longer battery life, and supports three different LED battery level indicator display status. You can easily know the working condition and battery levels with indicator light. Uwell Crown has a maximum transmit power of 25W, a built-in BEIN chip in the fuselage, and multiple circuit protection functions. The performance is stable and the use is more assured.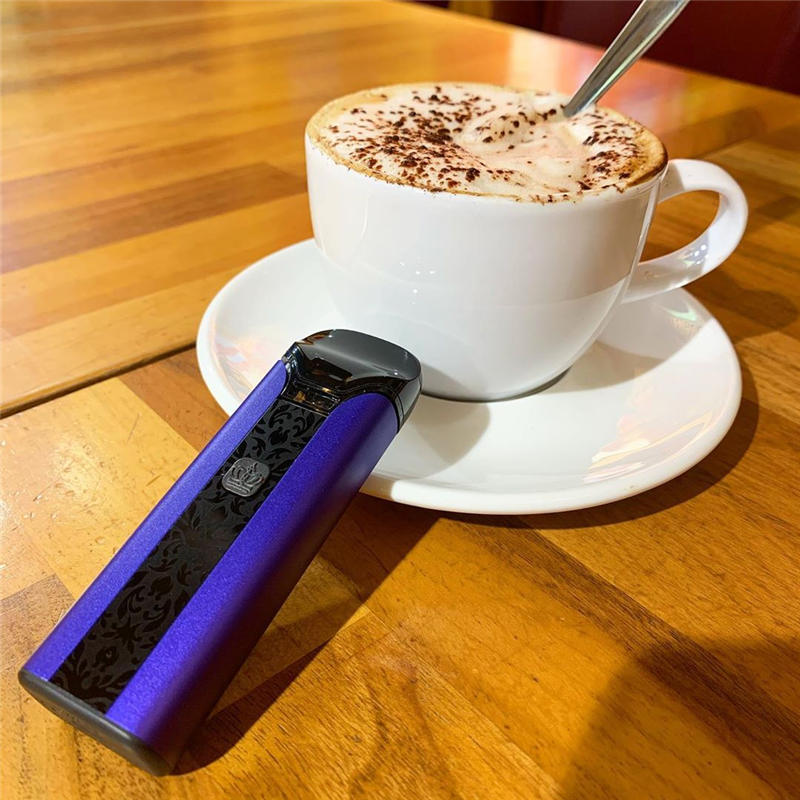 Uwell Crown Pod Features & Specifications:
Draw-activated Vape or Button Vape
Long Battery Life with 1250mAh Battery
Built-in BEIN chip with multiple circuit protection functions
Lock/Unlock Function, safe and reliable
Refillable Pods, compatible with regular e-liquids and nicotine salts
Top-fill design reduces leakage, easy to use
Adjustable side airflow
---
Top 2. Caliburn Koko
It is also listed in our 10 Best Pod Systems!
Presenting the Uwell Caliburn KOKO Pod System, a finely crafted vaping pod system manufactured with a integrated 520mAh rechargeable battery, Caliburn pod compatibility, and can be concealed within the palm of the hand with ease. Constructed from high quality aluminium alloy, the chassis of the UWELL Caliburn KOKO is moderately impact resistant, safely housing the 520mAh rechargeable battery and sporting an exterior matte metallic finish. In addition, the Caliburn KOKO pod system is compatible with its namesake, the 2mL refillable Caliburn Pods, featuring a dual parellel 1.4ohm coil design that vaporizes eJuice or nicotine salts with ease, delivery delicious flavors and nicotine when needed. Furthermore, the shape and style of the Caliburn KOKO pod kit is much different, offering a more concealable shape and design for better portability.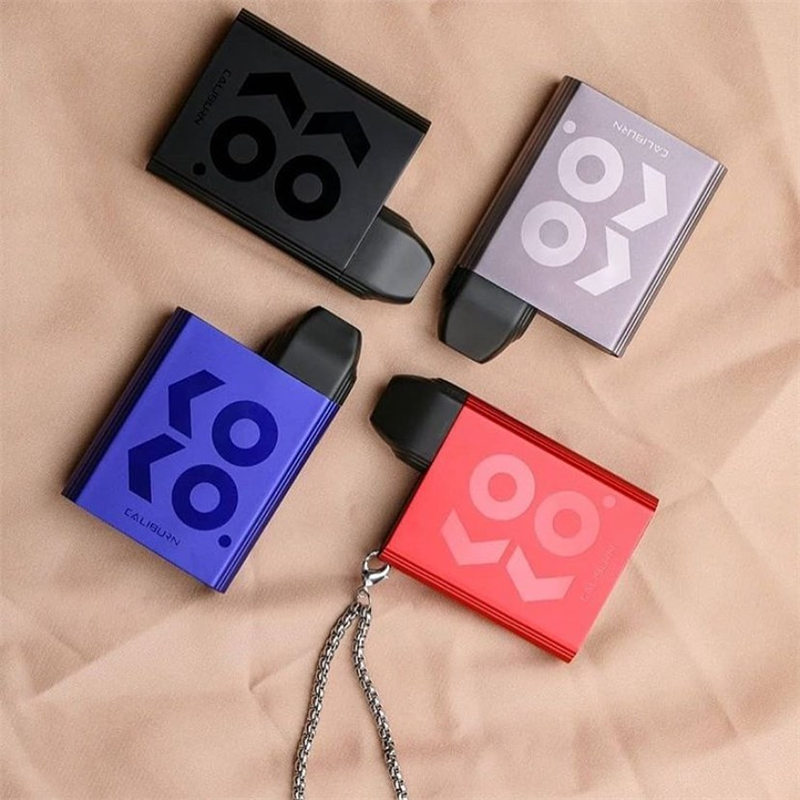 Uwell Caliburn Koko features & specifications:
Integrated 520mAh Rechargeable Battery
Wattage Output Range: 11W
Aluminium-Alloy Chassis Construction
LED Battery Life Indicator Light
2ml Capacity Juice Pods
1.4ohm Pod Coil Resistance
Caliburn pods are compatible
---
Top 1. Caliburn
It is also listed in our 10 Best Pod Systems!
No surprise the Caliburn took the first place, it swaps the whole vaping market from late 2019 to early 2020 out of its good performance and affordable price. I believe most vapers have used this pod system, or at least they hae heard about it.
It gives me a simple and comfortable visual feeling with streamlined shape and slim body. Trapezoid shape pod is designed to fit your lips and made for salt nic juice. Uwell Caliburn is a pod gear with dual-firing method. A independent fire button and air-driven system can serve in the same time. 520mAh built-in battery supports max 11w output. It satisfies all function a market vape pod kit have. But the convenient top filling design will surely simplify your vaping.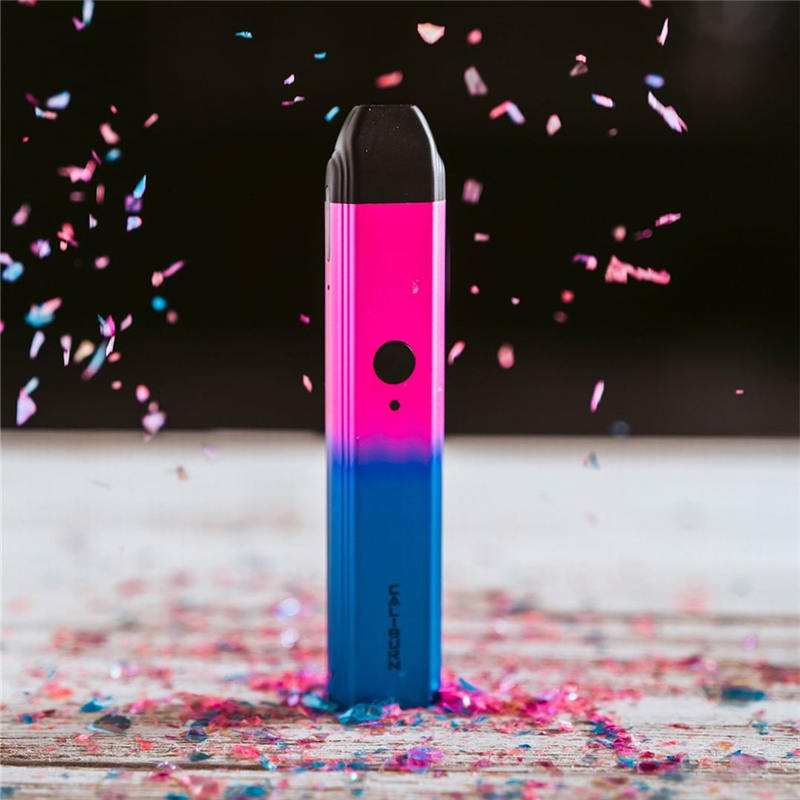 Uwell Caliburn features & specifications:
Size – 110x 21.2x 11.6mm
Integrated 520mAh rechargeable battery
Wattage output: 11W
Dual Firing Mechanism – Draw Activated or Button Activated
Aluminium-Alloy Chassis Construction
LED Battery Life Indicator Light
Side Mounted Airflow Holes on Each Side
2mL Capacity Juice Pods
1.4ohm Pod Coil Resistance
---
Coupon Code
That's all our 5 Best Uwell Vapes 2020. The list will be updated every month based on our actual sales quantity. Get 10% OFF for all of our best Uwell vapes with coupon code: bestvapes.
Other Best Vapes 2020
Do you have any of those best UWELL vapes? Share us your voice in comments below.