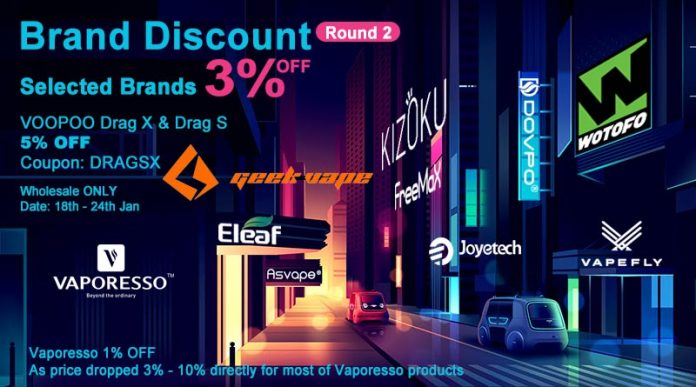 This Brand Discount is only for Wholesale customers, please click here for retail offers!
Dear customers,
Hope you guys are staying and well! Did you save money during our Brand Discount Round 1? Not yet? It doesn't matter, Healthcabin Brand Discount Round 2 is ready. With 3 vape deals in total, valids from 18th to 24th Jan, 2021! Take the chance and save more on your favorite vape-brand products!
A. 3% OFF Selected Hot Brands
3% OFF discount is available for our 9 selected hot brands.
Here is promotion details:
Discount:

3% OFF

No coupon code

required, total discount amount can be found at your shopping cart.
9 selected hot brands listed below.
B. 1% OFF Vaporesso
1% OFF discount is available for all vaporesso products, as price dropped 3% – 10% directly for most of Vaporesso products.
C. 5% OFF VOOPOO Drag X & Drag S
Extra 5% OFF coupon code is available for both Drag X & Drag S.
Details below:
Discount:

5% OFF

Coupon Code: DRAGSX
With any questions, please feel free to contact your account manager.