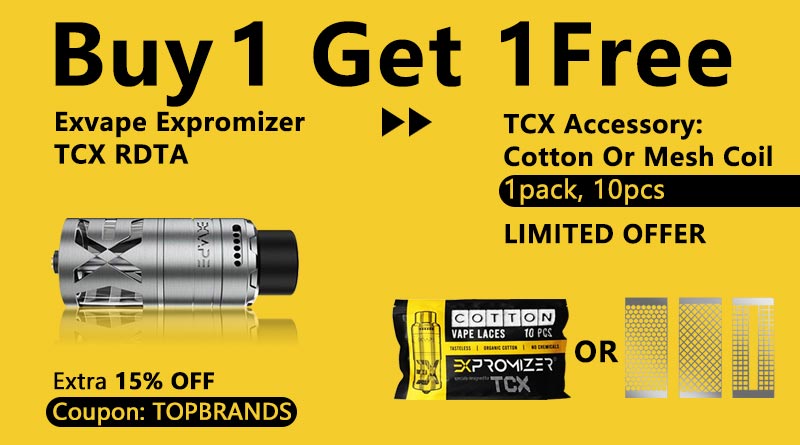 Dear Customers,
Exvape Expromizer TCX RDTA, previously we have run a round of giveaway and got some good feedbacks from our winners and reviewers for this item. You can check the TCX RDTA Review and a brief comparison between the RDTAs with stainless steel wicks. So here we would like you to try this item with our best offer – 15% off & free accessory!
Buy 1 RDTA Get 1 Accessory Free
Buy 1 Exvape Expromizer TCX RDTA, you can get 1 pack (10pcs/pack) of TCX RDTA Accessory: cotton or mesh coil.
Limited offer
Free cotton or mesh coil? We ship them randomly.
All customers can enjoy this offer, including wholesale customers.

Extra 15% OFF for Retail Orders
We also created a 15% OFF discount coupon code: TOPBRANDS for 6 selected top brands(Exvape is included), valids from 14th – 25th OCT, 2020. For more details, please feel free to click here.
How to Get the Free Gift?
Add the Exvape Expromizer TCX RDTA to your shipping cart, the free gift will be added at the same time.

*Don't forget to apply the 15% OFF coupon code: TOPBRANDS to save more!!
With any questions, please feel free to contact us or comment below.