GeekVape GBOX Squonk Kit Review by Beaufort_Batches
Geek Vape GBOX Squonk Kit Review has been tested for two weeks and it proved to be a stunning Kit catering to Squonk enthusiasts and new vapor wants to squonk.
This is a review of Geek Vapes GBOX Squonk Kit and was sent to me by Health Cabin solely for the purpose of this review. I have no contract or affiliation with Health Cabin and was asked to do the review on this forum. I was also given the squonk of my choice to review.
opening time
this is what I received inside the box.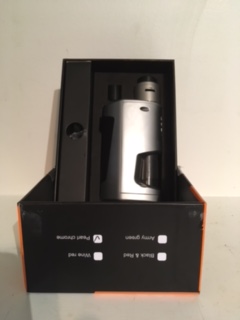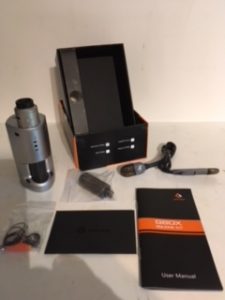 Items inside the box are, Radar RDA, GBOX Mod 200W, 510 Adapter, Spare Bottle, Spare Parts Bag W/Tool, USB Adapter for Updates/Charging, Instruction Book and a Warranty Card.
The Radar RDA has an 810 drip trip and a very easy to build a deck. This deck has angled holes so that the wires can easily be cut off after placement of build. The RDA has a classic style air flow hole and a newer selection that I have not yet seen on an RDA. This selection makes for a more restrictive air flow but seems much different from other designs I have seen as you can see in the picture below.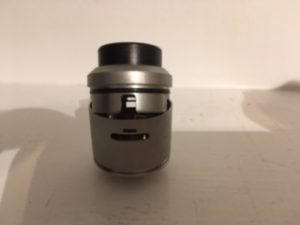 This is the new design air flow. The smaller hole is only open with this selection of the drip tip exposed.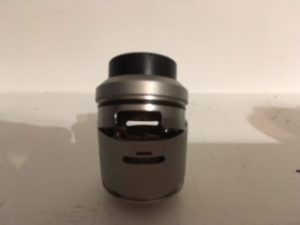 This is what I would call as a classic airflow design. The smaller hole is closed off with this selection of the drip tip.
The deck is easy to build and suitable for beginners.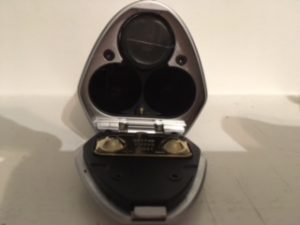 The GBOX Mod is very stylish and comfortable in the hand as well as any triple box mod I have used. The squonk bottle delivers e-liquid very efficiently and works as well as any squeeze style squonk mod I have used. I find it to be of very good quality and is a great design.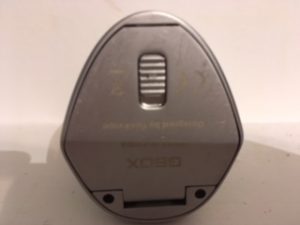 The display has a dim and brightens control feature. I will say that this display is not easy to see when it is in direct sunlight. The display shows the mode, wattage selected, coil ohms, amps, volts and has a puff counter.
I won't go over the user instructions but I will say the menu interface is simple and easy to navigate. This has temperature control that accommodates, Nickle, Stainless Steel, and Titanium. I used TI and SS with excellent performance on both. I do not use Nickle so I did not test that type.
The watts option will push even the beefiest builds and is very satisfying to vape with.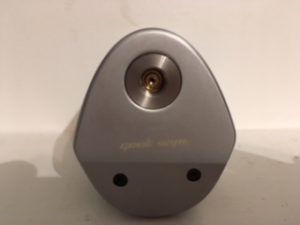 Geek Vape GBOX Squonk Kit Review
This GBOX has been reviewed many times since its release but I wanted the opportunity to review this product here because of what it offers. Being a dual 18650 mod with 200 watts of power and the temperature control option, this makes this Squonk Mod a great selection. Also, the price point is hard to beat. Personally, I find this product to be a great deal for what is put inside the mod with those two features. There are some other features as well such as TCR mode, VPC mode where you can save up to 5 profiles, and a bypass feature.
Pros for Radar RDA
Comes with squonk and dripper 510 pin
Nice, smooth air flow
Excellent, easy to use build deck
510 adapter included
Excellent machining/quality
Excellent flavor/vapor production
Cons for Radar RTA (All I could think of although no real cons with the RDA)
No pre-made coil or wires
No wicking material
Pros for GBOX Mod
200 watts with temperature control
Ergonomic hand design
Lots of extra features
Easy to navigate
Very good quality
Battery Life
8ml squonk bottle
USB adapter included
Price point
Cons for GBOX Mod
Proprietary Bottle/Can't use other bottles
Must open the battery compartment to change a bottle
I find myself accidentally pushing the +/- buttons when I need to squeeze the bottle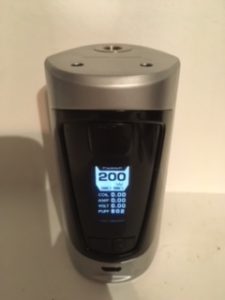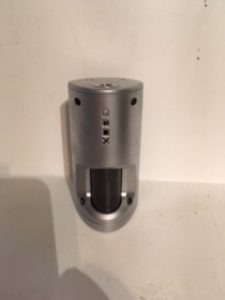 In conclusion, I found that the Geek Vape GBOX 200w kit is one of the best bangs for your buck in a device that you will find in this type of squonking kit. Everything is there, easy to build high-performance RDA with everything except coils and cotton. And as well, a dual 18650 200 watt squonker and temperature control device with an easy to navigate interface function control. It has a few quirks but is very easily overlooked with the price and performance of this device. Even the most experienced users will be happy with this device and be very satisfied with its low price point. Also, if you don't want the RDA you do have the option to buy just the Mod without the RDA. All in all, this device does do what it is designed to do and buyers remorse is nowhere to be seen in my opinion. I most of all chose this product because it will do what high-end mods will do at a much lower price point without sacrificing quality. For those vapers on a budget that want a high performance, very good quality dual 18650 squonk mod kit, this is one.