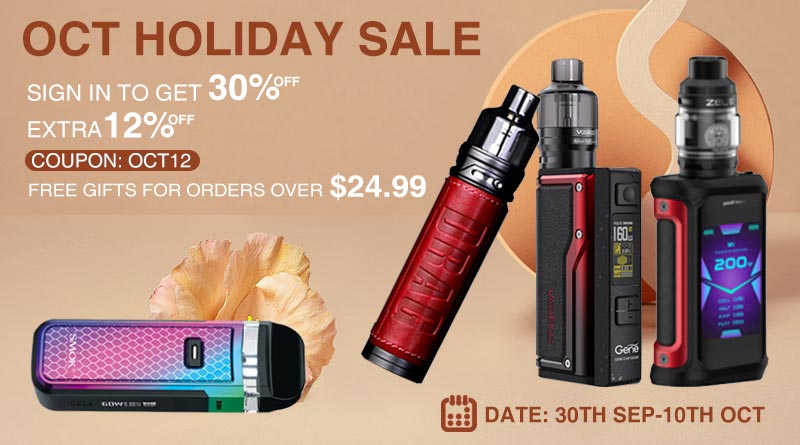 Dear Customers,
Here comes our grand sale to celebrate the National Holiday & Mid-Autumn Festival. Get ready to save more!
Sign in to Get Member VIP Price
Old customers – Please sign in to get your member VIP price, which is about 30% cheaper than regular price. Regular price is the price before login.
New customers – Please create a new account to get the same member VIP price.
Tips: for all e-liquid products & DOVPO products, the member VIP price is the same with regular price.
Extra 12% OFF
Member VIP price is not the end, we also created a 12% OFF discount coupon code for you to save more during the holiday. Here is the coupon info:
Coupon code: OCT12

Date: 30th Sep – 10th Oct

(-0600 GMT)
Retail ONLY and the products in $1 Flash Sale are excluded.
Free Gifts for Orders over $24.99
Further more, we will offer free gifts for orders over $24.99USD. Exciting, right? You're required to pick free gifts in the shopping cart page, please check our step by step free gift guide to learn our gift rules and how to add free gifts.
Vape Deal Links
Here are some useful links where you can find our best deals:
Weekly Sale – Best price for new hot vapes with

17% OFF Coupon: WSHC

$1 Flash Sale – Ultimate cheap vapes, but the products in this page cannot use this 12% OFF coupon.
Clearance – Extremely cheap vapes!
Best Sellers – Best vapes that every vaper is shopping.
Coupon codes – Find other coupon codes.
Giveaway – Win free vapes everyday at HealthCabin
Holiday Shipping Arrangement
Offering the best service is one of the key factors that lead HealthCabin to a high level. Though we are on holiday, shipping is still available, details list below:
For packages shipped from our SHENZHEN & HONGKONG warehouses, we will arrange shipping on 5th & 7th OCT;
For packages shipped from our USA, AUS & EU warehouses, we will arrange shipping on 2nd, 5th & 7th OCT.
Other details about our holiday, please check here.
With any questions, please feel free to contact us.