Tesla WYE II Box Mod Review
The Teslacigs Wye II 215W INTRO: This mod is super lightweight, made from ABS and PC materials.
There are the 3 modes – VW/TC & TCR. There is also 3 memory spaces for storing your own personal settings and 4 taste modes although I have personally never used that function on any mod ever. On the side of the mod is the 0.96in screen with the fire button above (at an angle) and the adjustment buttons and the USB port under.
Included in the box:
Teslacigs Wye II 215W mod
USB Cable
User manual
The mod is available in 5 colours: Red/Black, Blue/Gold, Purple/Blue, White and Black.
The mod is also available in kit form with either the Standard Tesla Resin Tank or the Tesla Resin 2ml tank.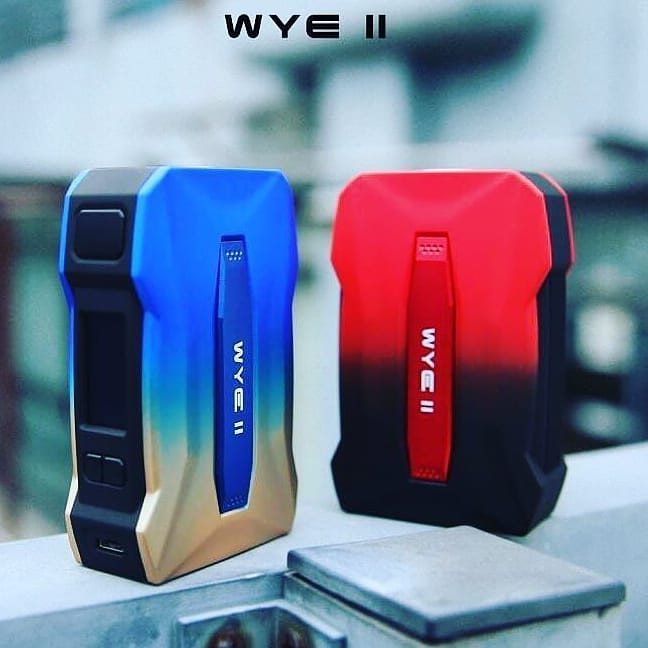 Specs:
Dimension: 56 x 30 x 86mm
Material: ABS + PC
Cell Type: 2x 18650 cell (not included)
Output Wattage: 7-215W (in 0.5W increments)
Output Mode: KA (VW) / TC-SS316 / TC-NI200 / TC-TI / TCR mode
Max Output Voltage: 7.5V
Max Output Current: 50A
USB Charging: 5V/1.5A
Taste Mode: Norm/Soft/Hard/User
Memory Mode: M1/M2/M3
Resistance Range: TC mode/0.05-3.0ohm; KA (VW) mode/0.1-3.0ohm
Temperature Range: 100-300℃/200-600℉
USAGE:
I love the look of this mod but it does look a bit square and chunky for holding in the hand. But it is very lightweight and a center 510 balances out anything you put on top. The batteries are fitted by removing the side panel which has the "WYE II" name on it. It doesn't use magnets to sit in place but instead has to be pressed down, where notches around the surrounding lock in place. No battery rattle at all here.
The Display is very bright and sharp with all the usual detailed information we expect!
Thoughts:
The WYE II is a nice bit of kit. It fires instantly, fits comfortably in my hand and is incredibly lightweight only time will tell how well the mod will hold up. It's user friendly. I wish the display showed the battery levels individually instead of a percentage. It can take up to 26mm attys without overhang. I used the WYE II with the @asvape.official Asvape aim 9 evo rda. Which is flawless and looked great on top. Oh and the mod is firmware upgradeable. A huge plus!
I got the TeslaCigs WYE2 from @healthcabin, www.healthcabin.net