The Panda. A cute gimmick or a serious player in the pod market?
Voopoo have given us the Drag, the Too, Alpha, Mojo and now the Panda. With the previous devices being widely used and with lots of great reviews they have become some of the most popular in the world! The Panda has a lot to live up to!
The Panda is a AIO pod system. These devices are very popular with nic salt vapers, CBD users and those needing a crafty vape! I have reviewed a couple already and I have a couple more to come too. The market is awash with thin and small devices but the Panda is larger than most pod systems and feels a lot more robust. Small enough to fit in your pocket still but is big enough to feel like you have something in your hands.
I take the Panda from the box and it feels divine to touch. Smooth rubberized finish and ergonomic shape. I of course chose the black & white version as I definitely wanted it to look like a Panda! It is well made and perfect for being discreet in its size. It fits your palm and can be very stealthily used. Box came with all the usual spares, manual and lead.

Voopoo Panda
Let's look at some of the Panda's specifications
Vertical ventilation system
Dimensions – 75mm x 47.5mm x 27.4mm
Capacity – 5ml or 2ml TPD
2 style of pod – 0.8Ω for normal eLiquid or 1.2Ω for nic salt eLiquid
1.2Ω runs at 12W & .80Ω at 8W
Safety protections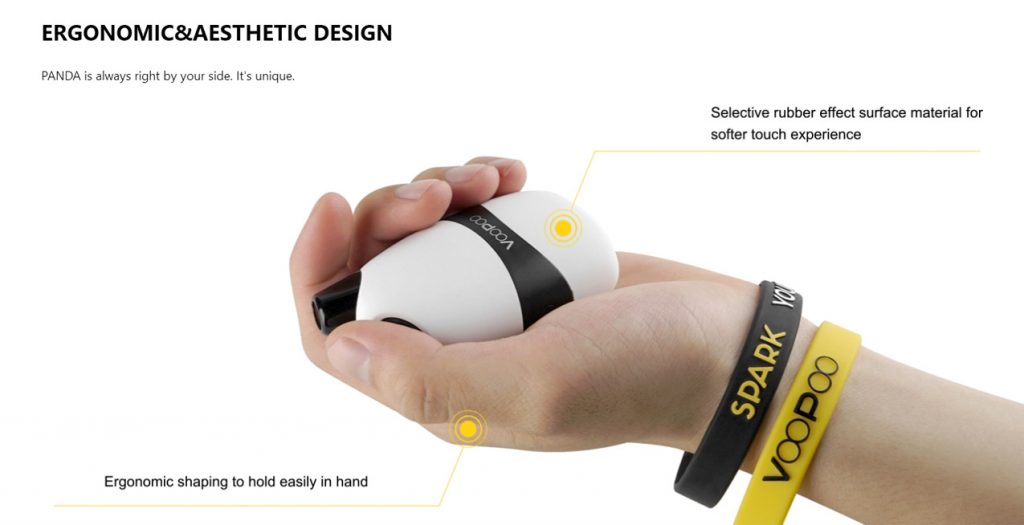 10S timeout protection – When vaping over 10S it will cut out and the LED will flash 8 times.
Short circuit protection – If the device short circuits it will cut out and flash for 2 seconds before powering down
Overcharge protection – When batter reaches 4.2V it will no longer charge
Over discharge protection – When battery is lower that 3.2V it will need to be put on charge
Battery Capacity – 1100 mAh
USB Port for charging
Ergonomic design
Several colour choices
Voopoo PandaIs it any good?
Installing and filling the pod is so simple. The filling hole is a good size, I have found with a few pod systems that the fill hole is a little on the small side and this fits the tip of my unicorn bottle perfectly. The plug is also good quality and I had no leaks. You push the pod inside, push the top back into place, hit the button 5 times and away you go!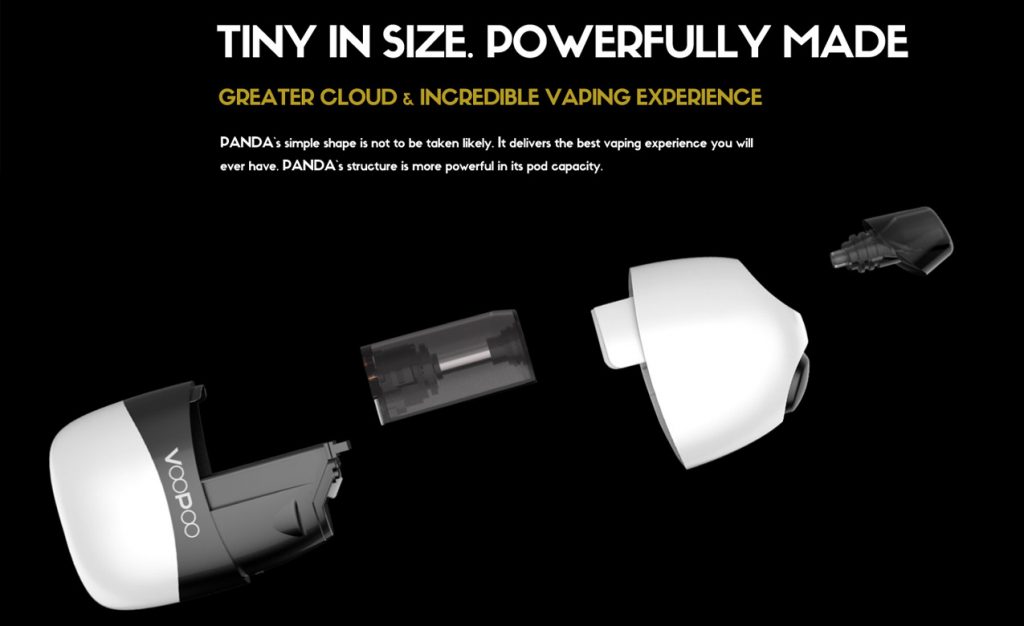 It is surprisingly powerful. There is an instant hit and a good amount of cloud. Flavour is brilliant on this pod and didn't fade after a week of use. I did stick to 1 flavour again so unsure how well the pod will perform if multiple flavours go through it but I imagine it would cope. I only ever put 1 flavour through 1 coil, otherwise you get a murky flavour and I would rather use a different coil for each flavour. The juice I used was 60/40, this seems the perfect ratio for pod systems. This would be my preference in coil ratings out of the two. The .8Ω pod is fired at 12W, it seems very low compared to the amount of cloud you get from it. Performs well, taste is great and I am getting a good amount of cloud from it.
This seemed slightly warmer, less cloud but flavour was spot on. You get a slightly richer flavour on this coil and I imagine nic salt eLiquid would be perfect through this coil. I used CBD in this pod and it worked perfectly for this purpose. As many know CBD is best vaped at low wattage for it to be at its most effective. THC needs to be high heat to get best results but CBD is the opposite. The 1.2Ω pod is set to 8W so a nice low-wattage, perfect for discreet vaping and the best MTL experience. A great pod for MTL, CBD or Nic salts.
The Panda unit

It is so simple to use. 5 clicks to turn on, a LED will flash to let you know it's on and off. You then just press the button to fire. That's it! The unit is well made, soft to touch, a great size for a pocket or handbag and seems pretty durable. Each charge would last me 8-10 hours and a charge took just a couple of hours. there is very little negative to say, it's at Voopoo's usual standard of excellence!
Conclusion
A perfect device. It's cute in black and white but in the other colours you can see it is generally a good-looking piece of kit. It is small enough to fit in your pocket with ease. Feels good in the hand too. The pods are brilliant too, perform well and flavour is fantastic. Battery life is good and the device lends itself to the beginner vaper with it being so simple to use.
I love it! Simple, effective & reliable. Well done Voopoo!
Voopoo Panda Price: $34.00
https://www.healthcabin.net/voopoo-panda-aio-kit-p/18143.html
Related products: Joyetech Dolphin Starter Kit, Joyetech Penguin SE Starter Kit
About the writer
Hi my name is Franny and i own
frannyvapes.com
. I am also owner of the largest vaping group in the uk, UK Vape Deals. I strive to bring informative, professional and honest reviews on products from various companies. From cotton to mechs, everything will get covered! I am a ex-smoker of 23 years and vaping really did save my life. I owe the vape community a massive thanks for being supportive over the last 2 years of vaping &
frannyvapes.com
continues to grow and be recognised as a great source of info on vaping products.
Please do come and visit my site and check out my reviews 🙂