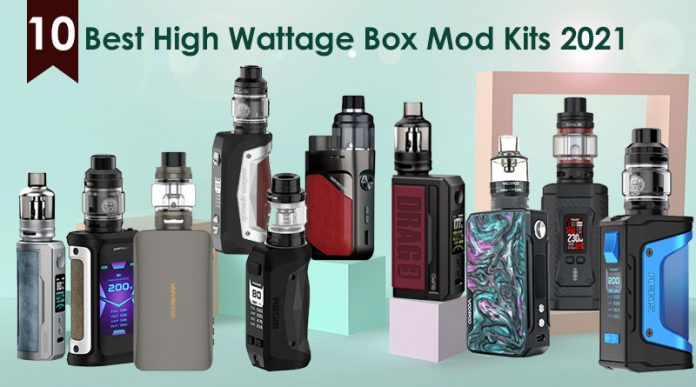 Updated on 10th May, 2021 based on our actual sales data in 2021 (1st Jan to 9th May)
Previously we have listed the best box mods 2021 and best sub ohm tanks 2021, now here comes the best box mod kits 2021, a combination of box mod and sub ohm tank. Though the new small pod systems have swept the whole vaping market, it did not kill the box mod kits, there are significant amount of vapers still love the box mod kits. Again here comes the question, which is the best? The simplest way is to check with HealthCabin, we can help you significantly narrow your search. Also, you may see many different rankings in different vaping blogs who even donot sell vape products. While at HealthCabin, we are telling you the truth based on our sales data. Based on our actual sales quantity in 2021, here we list the top 10 high wattage box mod kits 2021 for your reference. This data will be changed every month based on our actual sales quantity.
Brand overview, the top 10 best high wattage box mod kits come from below 4 brands: Vaporesso, VOOPOO, Geekvape & Smok, while Geekvape is the biggest winner in this section out of their outstanding Aegis Line.
Check our top 10 best high wattage box mod kits 2021, discount coupon code is available at the end of the post.
Top 10. SMOK Morph 2
It's the first time that SMOK Morph 2 appears in this top list.
Inspired by its predecessor, Smok Morph 2 is optimized with handier operations and a 230W max power to open up new possibilities to further intrigue your vision of the best taste. Once taking nutrients from two external 18650 batteries, it is well-performed in igniting the device in 0.001s and smoothening your vaping with multiple protections. MORPH 2 upgrades the tank with a mightier TFV18, featuring the larger 7.5ml e-liquid capacity and creative base structure with five supports. Innovation keeps changing the vaping experience!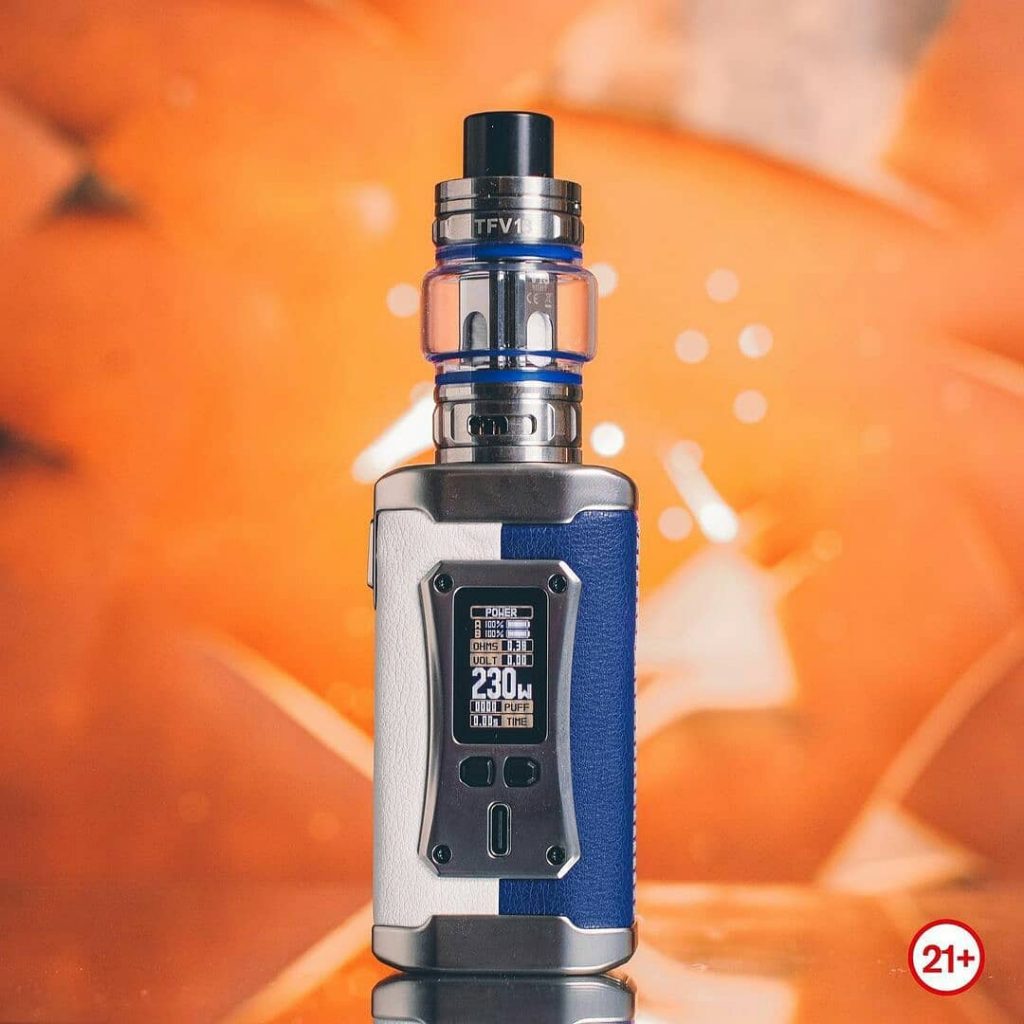 Smok Morph 2 features & specifications:
Size: 47.5*31.7*88mm
Output Mode: VW/TC
Power Range: 1W-230W(VW)/10W-80W(TC)
Standby Current: <300uA
Input Voltage: 6.4V-8.4V
Output Voltage: 1.2V-8.2V
Firing Time: 0.001S
Charging Voltage: 5V+-0.2V
Charging Current: Max 2A
Resistance Range: 0.1ohm-2.5ohm (VW)/0.05ohm-2ohm (TC)
Temperature Range: 200F-600F /100C-315C
As a classic high wattage kit, it is good to see it appears in our top list.
---
Top 9. Geekvape Aegis Mini
Aegis Mini was ranked in top 5 in our last update, now it dropped to the 9th place.
The Geekvape Aegis Mini is designed to be the most durable mod with extreme water, shock and dust protections. This mini beast is equipped with the advanced AS chipset, it powers from 5W to 80W and produces an outstanding power output accuracy in both power mode and temperature control mode. The mixture of alloy, leather and SLI silicon provides intense durability and great ergonomics. It is very compact and built in with a decent 2200mAh battery.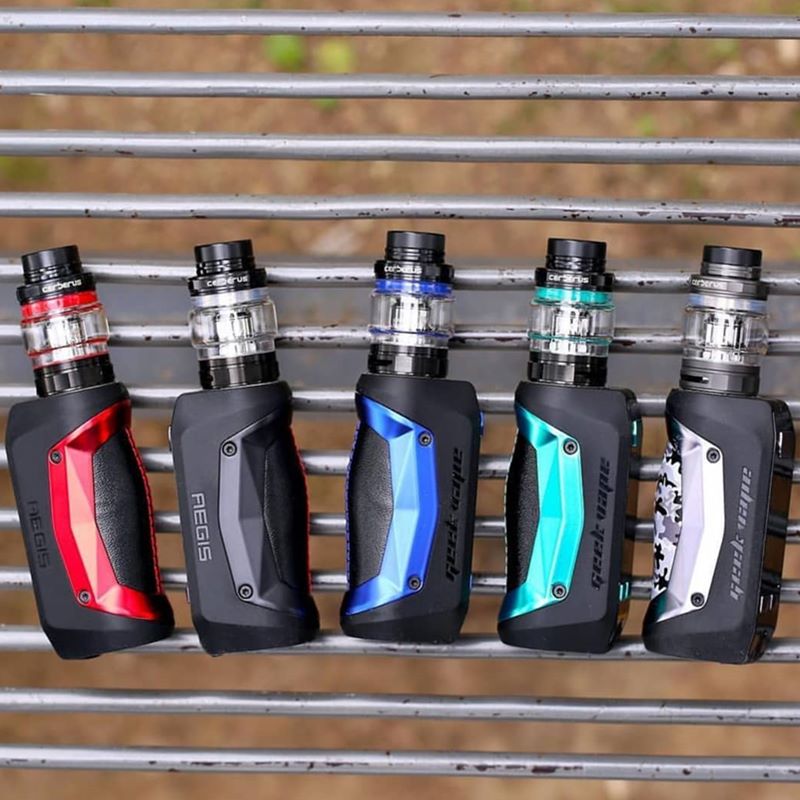 Geekvape Aegis Mini features & specifications:
Size: 120.5mm * 27mm
Capacity: 5.5ml
Maximum Power Output: 80w
Battery: 2200mah Built-In Battery
Display: With Display Screen
Filling: Top Filling
Coil Type: Super Mesh X2 Coil 0.3ohm
Thread: 510 Thread
Actually, the Aegis Mini has been released for over 1 year, while it ranks in our top 9 list, it is not easy for a vape kit.
---
Top 8. Geekvape Aegis Max
Aegis Max Kit was ranked in top 7 in our last update, now it dropped to the 8th place.
Geekvape Aegis Max 100W Kit consists of Geekvape Aegis Max Mod and Zeus Sub Ohm Tank 5ml. Equipped with AS 100 chipset and constructed from durable zinc-aluminum alloy, Aegis Max kit features IP67 waterproof/ shockproof/ dustproof, is compatible with 21700/ 18650 battery, and has Power(VW)/ VPC/ TC/ TCR/ Bypass five working modes in option. Together with Zeus Sub Ohm Tank, which utilizes the technology of GV Mesh coil system to optimize flavor and vapor production, the Aegis Max starter kit will be a perfect device for vapers on the go.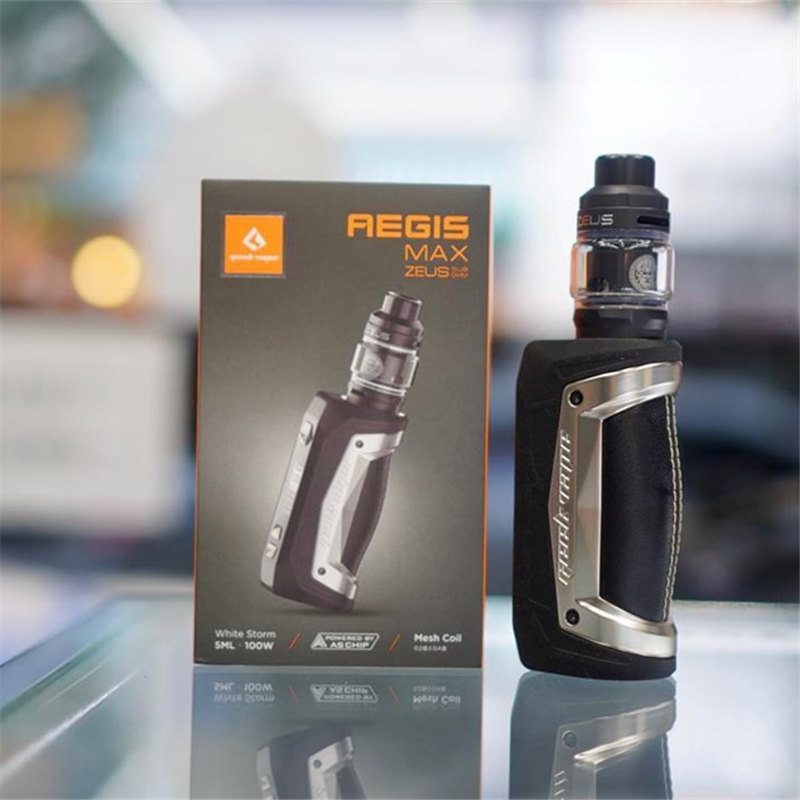 Geekvape Aegis Max Kit features & specifications:
Five working modes in option
AS 100 chipset with 100W output
Compatible with 21700/ 18650 battery
IP67 waterproof, shockproof and dustproof
Direct top airflow and top-to-bottom airflow
Quick slide coil and upgraded fill port design
---
Top 7. Vaporesso Gen S 220W Kit
GEN S was ranked in top 4 in our last update, now it dropped to the 7th place.
Equipped the intelligent Axon chip, GEN S makes advanced devices more accessible to users. The Vaporesso GEN S matches an upgraded NRG-S tank with the GT Meshed and GT4 Meshed coils included, keeping giving extra power for every flavor punch. GEN S truly realizes the power isn't just for the pros.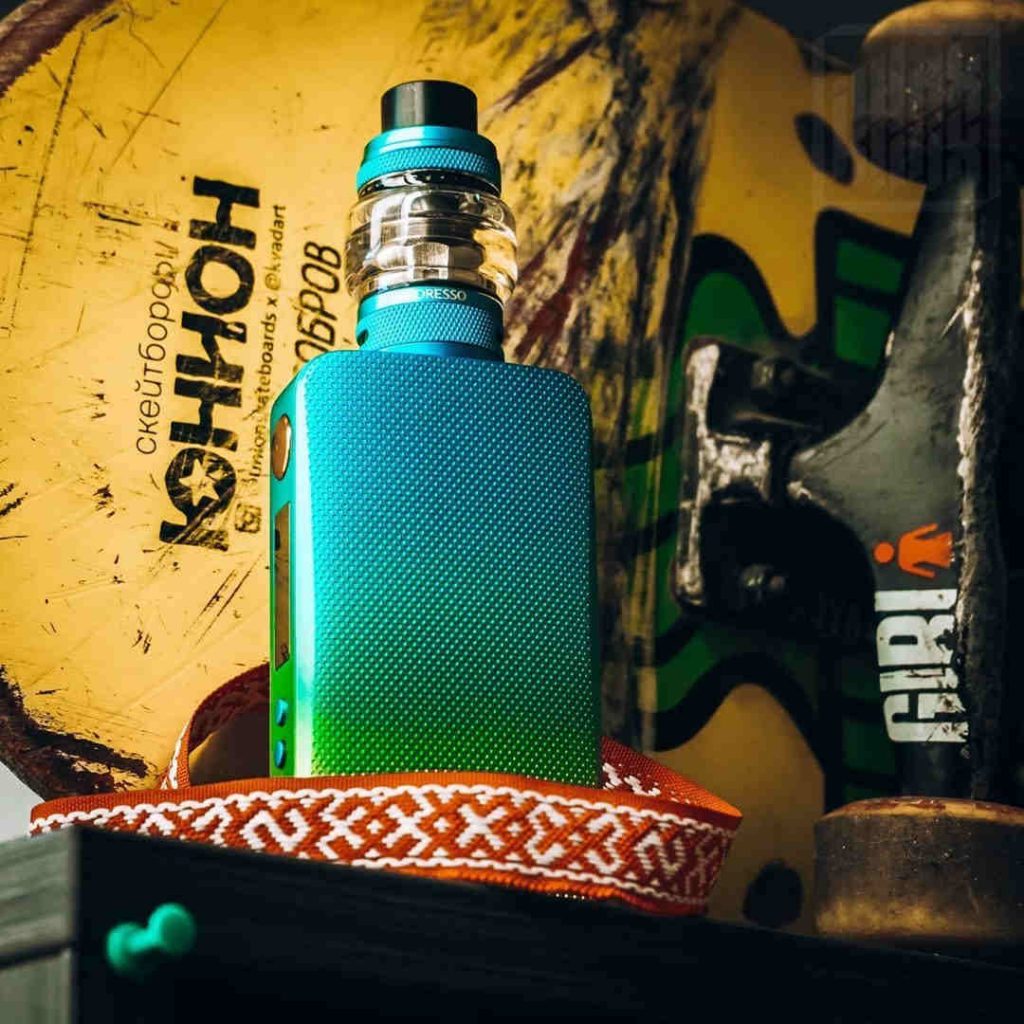 Vaporesso GEN S Kit features & specifications:
Dimensions: 145.5 x 53 x 30mm
Tank Capacity: 8ml/ 2ml
Coil: GT4 Meshed coil (0.15ohm, 50-75W)
GT Meshed coil (0.18ohm, 50-85W)
Display: 0.91inch OLED screen
Battery: 2*18650 (Not Included)
Power Range: 5-220W
Charge Current : 2.5A
Resistance Range: 0.03-5ohm
Mode: Pulse Mode/Power ECO/Smart TC/DIY
Capacity: 8ml
---
Top 6. Voopoo Drag 2 Refresh Edition
VOOPOO Drag 2 was ranked in top 6 in our last update, and it keeps the same position in this update.
Voopoo Drag 2 Refresh Edition Kit is the new version of Drag 2 that comes with 4.5ml PnP Pod Tank and inherits the classic design of Drag 2. It is powered by dual 18650 batteries with 177W max power. Featuring innovative GENE.FIT Chip, it will provide fast ignition and high burst and support intelligent identification of coil to preventing the coil from burning out. In addition, the FIT mode will bring you better vaping experience with its safety design and long battery life. The PnP Pod Tank can flexibly switch between Pod and Tank and is designed with powerful magnetic absorption that makes coil replacement and oil filling never so simple. The adjustable air 510 base matches almost all of your devices. Drag 2 Refresh Edition is equipped with PnP-VM5 0.2ohm Coil and PnP-VM6 0.15ohm Coil. What's more, it is compatible with all PnP Coils.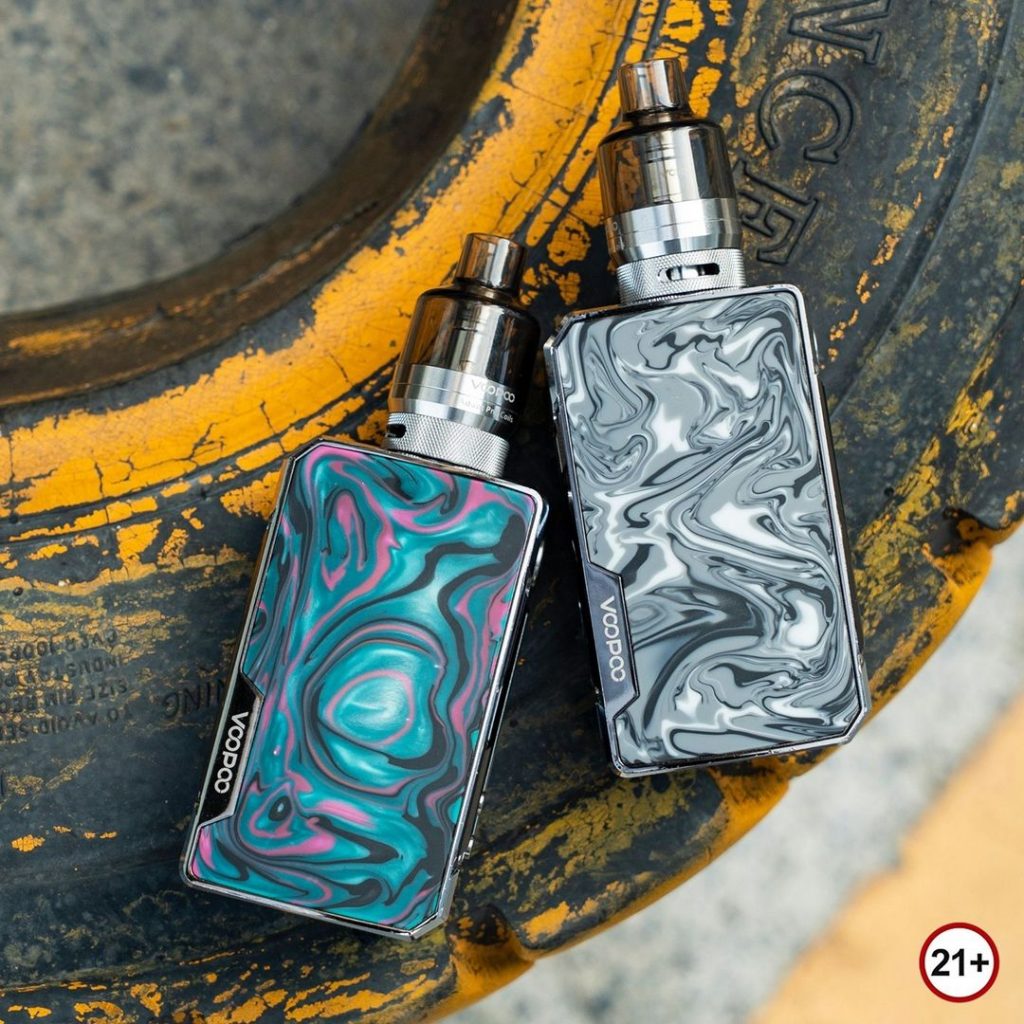 Voopoo Drag 2 Refresh Edition features & specifications:
Innovative GENE.FIT Chip
Transformable PnP Pod Tank
Powered by dual 18650 batteries
Max 177W output
Balance charge with different brand battery
Compatible with all PnP Coils
The new PnP pod tank changed the game of Voopoo kits out of its excellent performance with lots of coil options and cheap price. Drag box mod users will be happy to buy the new PnP edition.
---
Top 5. Geekvape Aegis Legend with Z Sub Ohm Tank
It's the first time that Geekvape Aegis Legend appears in this top list.
Constructed with the new magnesium alloy material, the Geekvape Aegis Legend Kit is super portable and powerful TC Box Mod kit powered by dual 18650 batteries with upgraded AS Chipset and 200W max powered. Inherited of classic waterproof, shockproof and dustproof design, the Aegis Legend is one of the strongest and lightest Kit in the world. Moreover, it comes with the brand-new Zeus Subohm Tank which features unique leak-proof design and 5ml large capacity. Plus the innovative Z1 & Z2 mesh coils, the Aegis Legend Kit will bring an extremely excellent vaping for you. Good choice for Aegis lovers.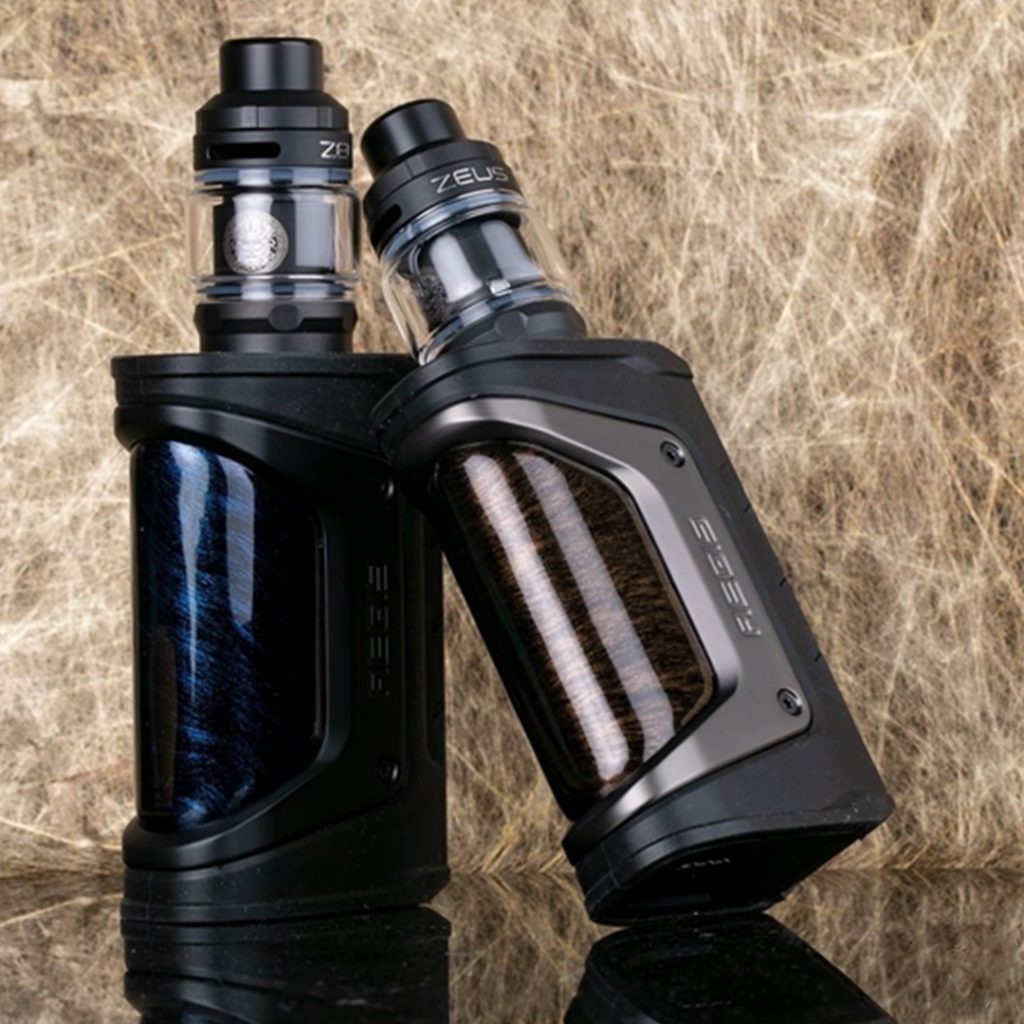 Geekvape Aegis Legend features & specifications:
Aegis Legend Mod
Size: 58 * 30.6 * 90.5mm
MAX power output: 200W
Output mode: VW/VPC/TC/TCR/BYPASS/VPC
Resistance range: 0.05-3.0ohm
Battery: 2*18650 cells (not included)
Temperature Range: 100-315C/200-600F
Operating temperature: -40C – 80C
Level: IP67 waterproof and dustproof; MIL STD 810G-516.6 military grade shockproof
Zeus Sub-ohm Tank
Size: 26 * 42.5mm
Capacity: 5ml (Spare glass tube 3.5ml included)
Resistance: Mesh Z1 KA1 0.4ohm coil (60-70W); Mesh Z2 KA1 0.2ohm coil (70-80W,Pre-installed)
Drip tip type: 810 Drip tip
Thread: 510 thread
Filling method: Top fill
---
Top 4. Vaporesso SWAG PX80
It's the first time that Vaporesso SWAG PX80 appears in this top list.
Vaporesso Swag PX80 Starter Kit, with the compact structure and ergonomic design, portable and comfortable to hold in your palm. integrates the AXON chipset with 0.001S instant-fire speed, the max output power up to 80W, the output power adjustable between 5W to 80W, supports VW, Smart VW and VV working modes to fulfill your vaping needs. powered by a single 18650 battery for long-lasting. with the USB Type-C charging port and 2A charging current for fast charging. the Swag PX80 with the IML 0.96inch TFT colorful screen with a user-friendly interface, 3 color theme available, will show you the vaping data clearly. the Swag Pod with 4ml e-juice capacity, with adjustable rotating airflow design, by rotating the pod to adjust the air inlets which overlap the area between the body and the pod to provide accurate airflow to your desire. the Vaporesso Pod with quad leakage protection to avoid any leakage. there are two types of Vaporesso GTX Mesh Coils included, both of them without thread design, easy to replace the coil without emptying the pod, the Mesh Coils with the large heating area and contact area with e-juice, will deliver the ultra-smooth flavor in an instant while vaping, will bring you the better experience.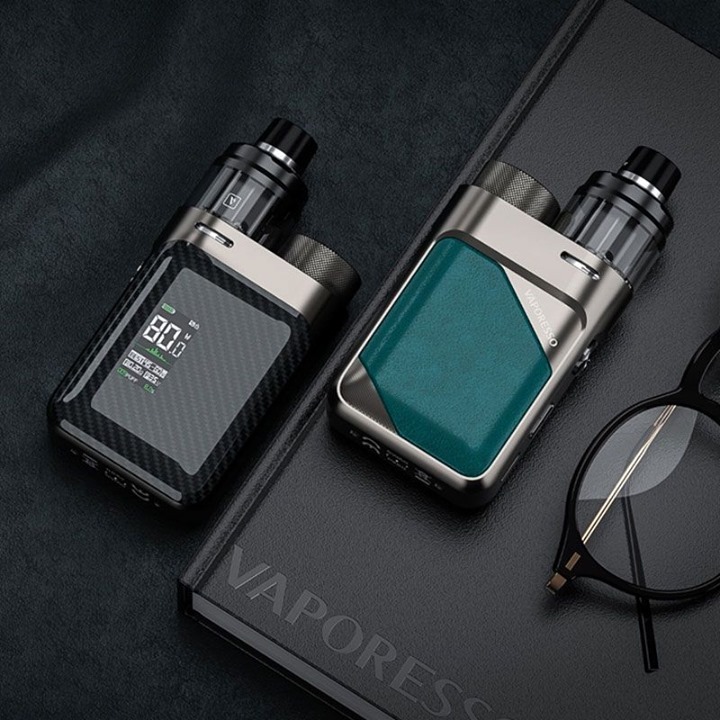 Vaporesso SWAG PX80 features & specifications:
Dimensions: 99.7 * 27.2 * 50.9mm
POD Capacity: 4ml (Standard) / 2ml (TPD)
Coil: GTX 0.2ohm MESH Coil (45-60W), GTX 0.3ohm MESH Coil (32-45W)
Output Wattage: 5-80W
Battery: External 18650
Display: 0.96 inch TFT Screen
Charging: Type-C, 5V/2A
---
Top 3. Geekvape Aegis X
Aegis X was ranked in top 2 in our last update, now it dropped to the 3rd place.
Another Geekvape kit! Aegis X Kit comes with a 2.4-inch OLED screen, it also has IP67 waterproof/shockproof/dustproof function, and an innovative battery balancing charging with battery protection, and user experience. Aegis X is the most advanced dual battery device to date. Powered with the new AS 2.0 chipset that is twice more powerful and accurate.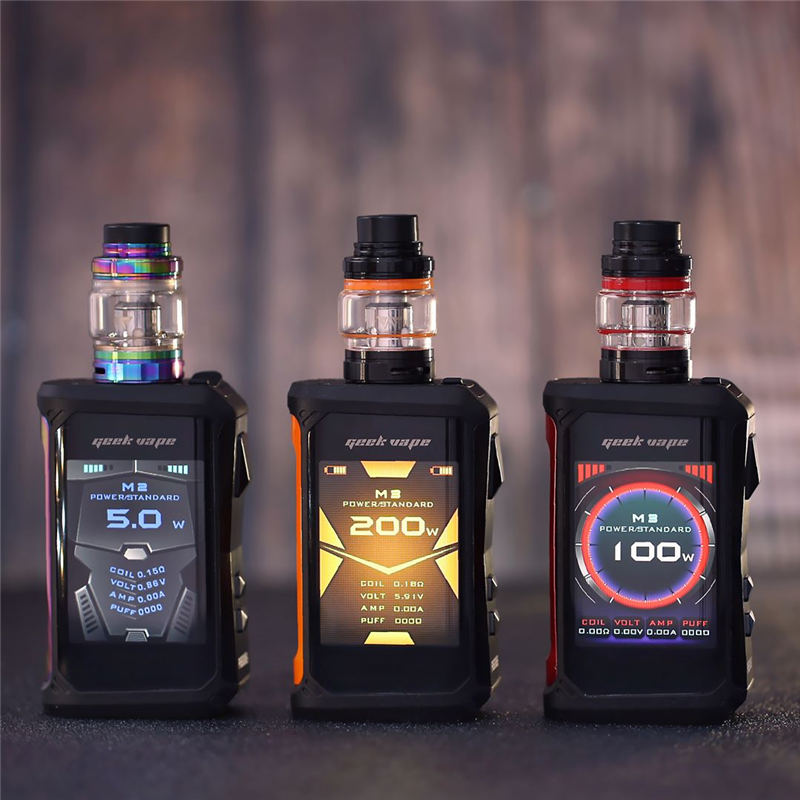 There are 2 versions of Aegis X kit: one came with a Cerberus tank, another one came with a Zeus tank. Both versions are our best sellers!
Geekvape Aegis X features & specifications:
IP67 waterproof /shockproof/dustproof
AS 2.0 Chipset
2.4 inch OLED screen for vivid display
Dual 18650 battery for 5-200W
Zeus sub ohm tank or Cerberus tank
Out of its excellent performance, the Aegis X kit will keep its plae in our top 5 list.
---
Top 2. Voopoo Drag X Plus
It's the first time that Voopoo Drag X Plus appears in this top list.
The Voopoo DRAG X Plus Pod Kit is probably the most lightweight Mod device available, overturning your imagination of Mod. And the DRAG X Plus continues the classic design of leather and metal for a better appearance. Powered by single 18650/21700 battery, the VOOPOO DRAG X Plus Pod Kit can provide max to 100W output. Plus newly upgraded GENE.FAN 2.0 chip, the VOOPOO DRAG X Plus will has stronger explosive power, more stable output and richer intelligent functions than the previous generation. SMART mode is suitable for newbies, it will intelligently identify your coils. RBA mode allows you to break the power limit and feel the powerful. With the the 0.96-inch TFT screen and 5V/2A fast charging, your vaping experience will be interesting and beautiful.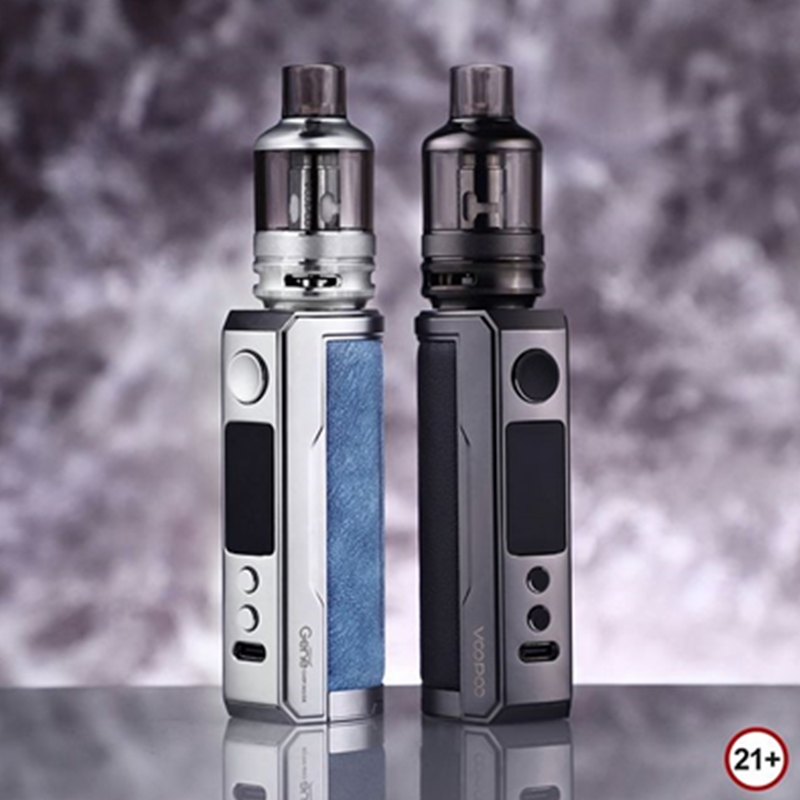 Voopoo Drag X Plus features & specifications:
Size: 141 * 35 * 29 mm
Power Range: 5-100W
Capacity: 5.5ml/2ml(TPD)
Resistance Range: 0.1-3.0ohm
Input Voltage: 3.2-4.2V
Battery: Single External 21700/18650 Battery(Not included)
Material: Zinc Alloy & Leather +PCTG
Standard Coils: TPP-DM1 0.15ohm/ TPP-DM2 0.2ohm
Compatible Tanks: TPP Pod Tank: All TPP Coils, PnP Pod Tank: All PnP coils
---
Top 1. Voopoo Drag 3
It's the first time that Voopoo Drag 3 appears in this top list.
VOOPOO Drag 3 Kit is the latest member of the Drag family, the return of the king. New upgraded Gene. Fan 2.0 chip, brand new TPP atomization system, innovative Super mode together form this dual battery mod kit. Drag 3 will be the ultimate solution for performance and ease-to-use. The elegant appearance is achieved thanks to the combination of soft leather and polished steel. Provide new color options. Not just obsessed with looks, VOOPOO has included the upgraded GENE.FAN 2.0 chipset, which means you'll experience a fast ramp-up for a responsive vape as well as access to innovative Super output modes. The upgraded GENE.FAN 2.0 chip uses two 18650 batteries to generate an astonishing 177 watts of power, which can make full use of any coil of the PnP coil series to provide delicious flavors from your favorite eJuice. VOOPOO Drag 3 Kit also breakthrough uses innovative coils and a new atomization system. With the help of Voopoo's self-proclaimed TPP atomization system, Drag 3 is born for big clouds! Innovative atomization tech will bring you bigger, smoother, and better flavor. In addition, the newly designed coil has a richer flavor than the PnP VM6 coil. Superpower, smooth & optimal flavor, ultimate fire speed, and more, all in Drag 3.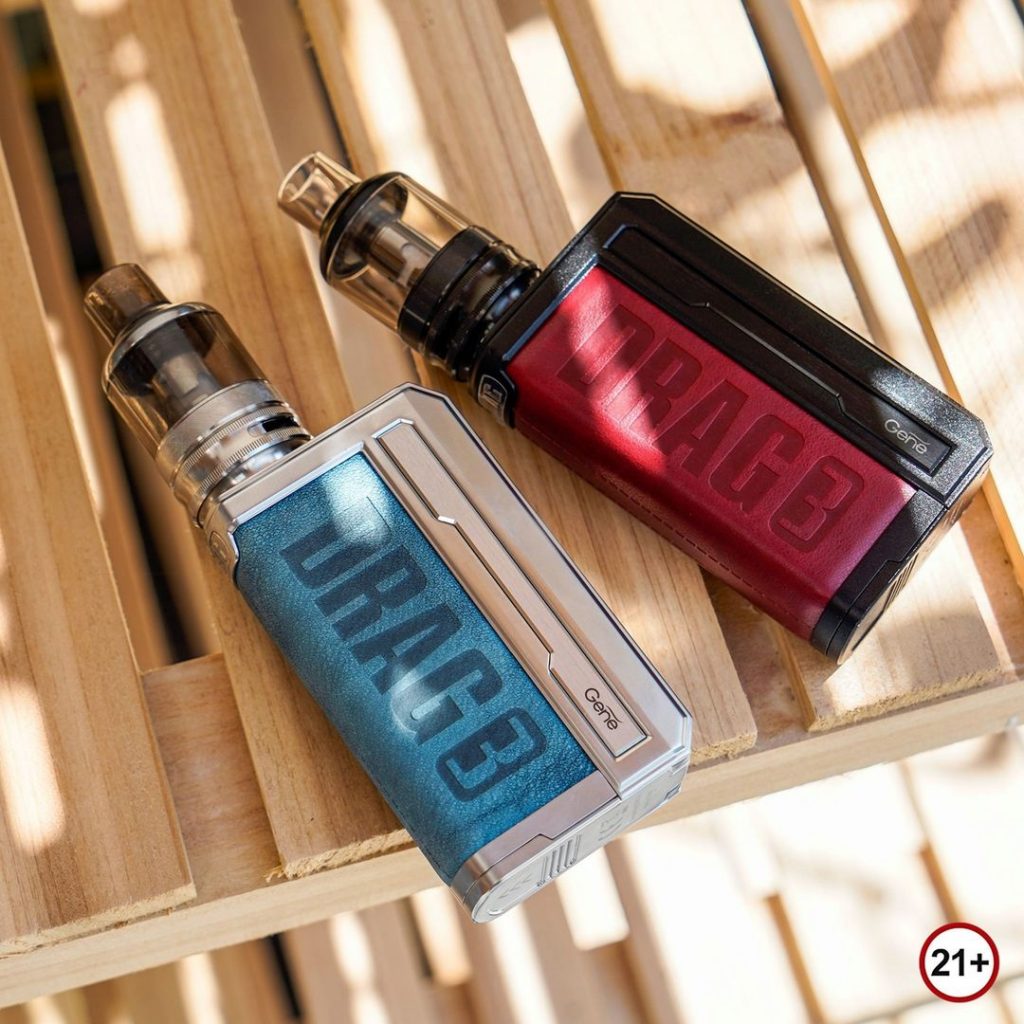 Voopoo Drag 3 features & specifications:
Size:122mm * 50.25mm * 25mm
Capacity: 5.5ml
Battery: Dual 18650 Battery (Not Included)
Wattage Output Range: 5-177W
Voltage Output Range: 6.4-8.4V
Chipset: Upgraded GENE.FAN 2.0 Chipset
Modes: Super/Smart/TC/RBA mode
Resistance Range: 0.1-3.0ohm
Display: 1.08 inch TFT Color Screen
Charging Port: Type-C
Filling: Bottom Filling
---
Coupon Code
That's all of the top 10 best high wattage box mod kits 2021. The list will be updated every month based on our actual sales quantity. Get 10% OFF for all of our best high wattage box mod kits with coupon code: bestvapes.
Other Best Vapes 2021
Are there any other best high wattage box mod kits we missed in the top 10 list? Share your idea in comments below.