5 Best Geekvape Vapes 2020
Geekvape, together with Voopoo, Vaporesso, SMOK & UWELL, was rated as the 5 Best Vape Brands 2020. The Aegis series has earned excellent reputation around the world out of its outstanding performance with waterproof, shockproof & dustproof. Until now, all Aegis products are the best selling Geekvape products, you cannot go wrong to pick anyone of them, but which one is the best? Based on our actual sales quantity in 2020, we are going to share the top 5 Geekvape vapes! Previously we have listed 5 Best VOOPOO Vapes 2020, 5 Best SMOK Vapes 2020 & 5 Best Uwell Vapes 2020.
Please feel free to check our top 5 Best Geekvape Vapes 2020, discount coupon code is available at the end of the post.
Top 5. Aegis Hero
Geekvape Aegis Hero is a top airflow and top performance pod mod kit, which inherits the high-quality hardstyle design of the Geekvape Aegis series, with IP67 shockproof and waterproof functions. The aegis hero vape kit is powered by a built-in 1200mAh battery that can provide up to 45 watts of power, supports Power/Bypass mode, and uses classic three-button controls and a 0.42-inch OLED display for operation. In addition, the Aegis Hero pod mod kit features an unprecedented Buck-Boost system that can effectively prolong battery life and reduce heat, and release it to the load with higher voltage, giving you the ultimate performance.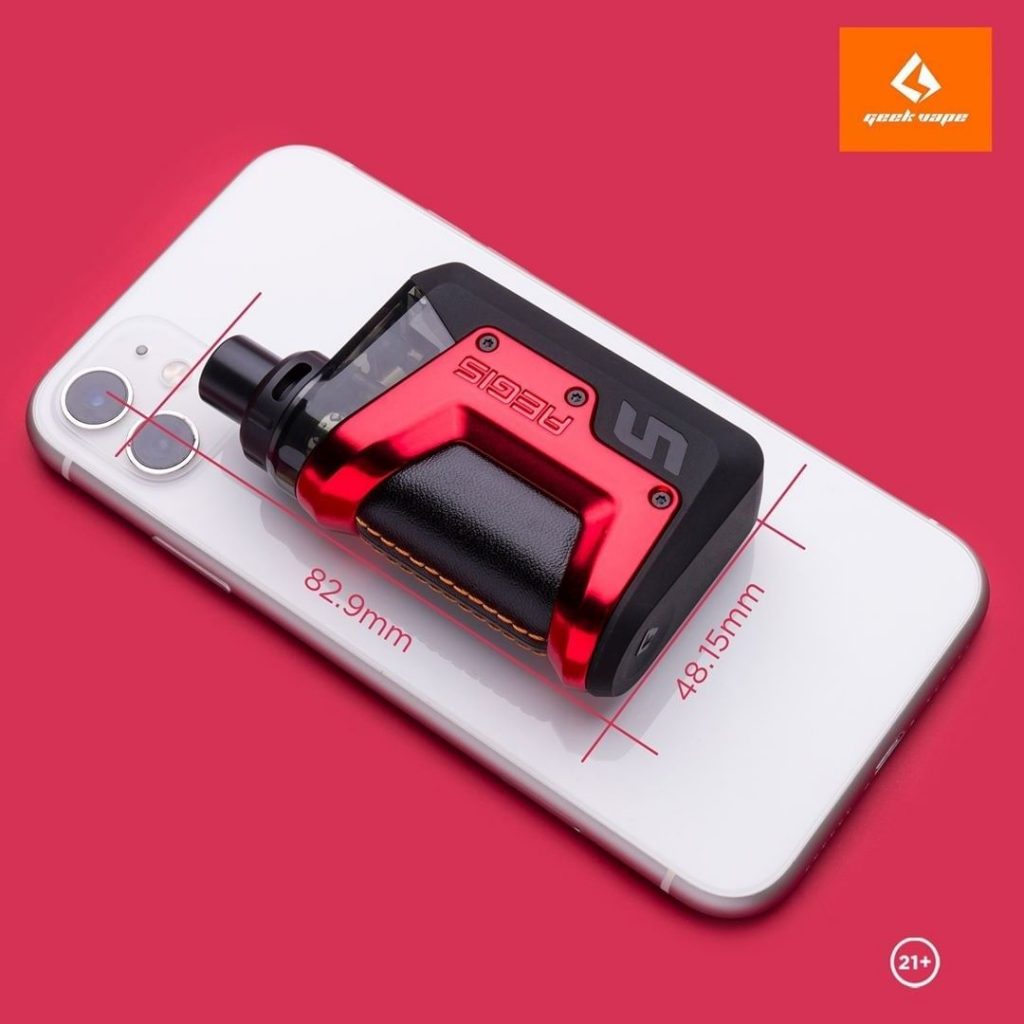 Geekvape Aegis Hero features & specifications:
Size: 48.15*25.4*82.9mm
Battery capacity: 1200mAh
Charging voltage: 5V 1.5A
Mode: Power/Bypass
Output Power: 5-45W
Screen dimension: 0.42 inch OLED
Resistance range: 0.1ohm-3ohm
Working Temperature: -10-45C
Standby current: <10uA
E-juice capacity: 4ml
Filling mode: Top filling
Drip tip type: 510 drip tip
---
Top 4. Aegis Mini
It is also listed in our 10 Best High Wattage Kits!
The Geekvape Aegis Mini is designed to be the most durable mod with extreme water, shock and dust protections. This mini beast is equipped with the advanced AS chipset, it powers from 5W to 80W and produces an outstanding power output accuracy in both power mode and temperature control mode. The mixture of alloy, leather and SLI silicon provides intense durability and great ergonomics. It is very compact and built in with a decent 2200mAh battery.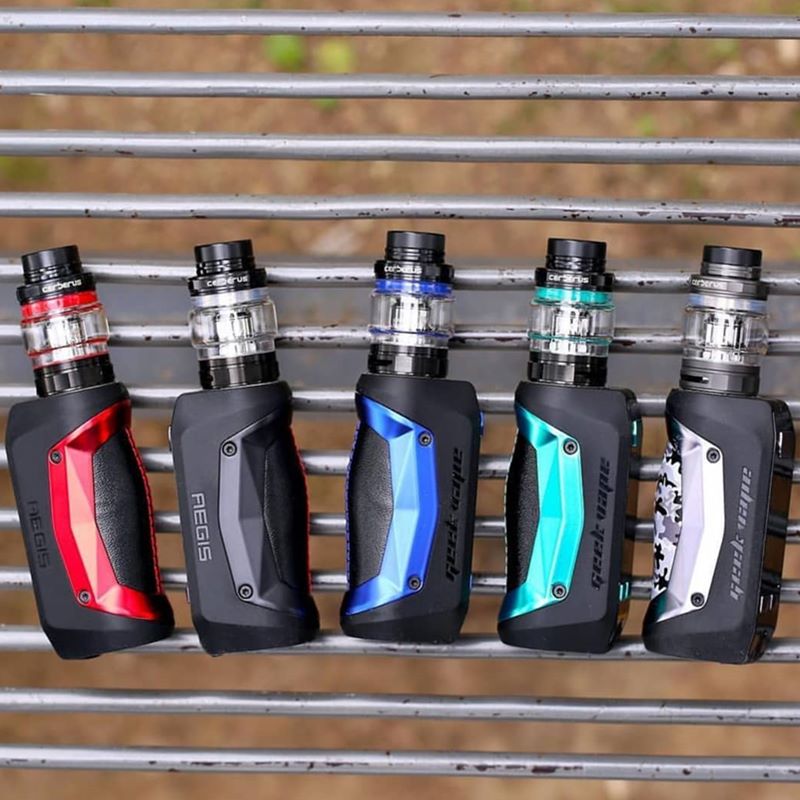 Geekvape Aegis Mini features & specifications:
Size: 120.5mm * 27mm
Capacity: 5.5ml
Maximum Power Output: 80w
Battery: 2200mah Built-In Battery
Display: With Display Screen
Filling: Top Filling
Coil Type: Super Mesh X2 Coil 0.3ohm
Thread: 510 Thread
---
Top 3. Aegis Solo
It is also listed in our 10 Best High Wattage Kits!
Geekvape Aegis Solo Kit consists of a Aegis Solo Mod and a Cerberus Tank. Powered by a high-amp 18650 battery and the latest AS Chipset, the mod is capable of 100W maximum power output with 10ms quick firing speed and various working modes. Inheriting the waterproof, shockproof and dustproof features from the original Aegis, it adopts a smaller and lighter chassis with remarkable durability and comfortable hand feeling. In addition, there is a 0.96 inch LED display screen to show the vaping data clearly and the mod also supports quick USB charging along with multiple safety protections. As for the Cerberus Tank, it features a large 5.5ml capacity, convenient top filling system, and dual adjustable bottom airflow control. And it comes with a 0.3ohm Super Mesh X2 Coil rated at 30W to 45W, bringing you an incredible vaping experience with dense flavor and massive vapor.
Geekvape Aegis Solo features & specifications:
Size: 128 x 31 x 41mm
Material: Three Proofing
Battery: External Single 18650 Cell (not included)
Output Wattage: 5-100W
Display: 0.96 inch
E-Juice Capacity: 5.5ml
Output Voltage: 0.1-8V
Resistance Range: 0.05ohm-3ohm
Operating Temp: -20C~+60C
Charger: USB 5V 1.5A
Switch Timeout Protection: 10s
Output mode: Power/VPC/TC/TCR/Bypass
Temperature range: 100C-315C / 200F-600F
Coil Type: Super Mesh X2 Coil 0.3ohm KA1(best 30-40W)
Refll: Top filling
Thread: 510 thread
---
Top 2. Aegis X
It is also listed in our 10 Best High Wattage Kits!
Geekvape Aegis X Kit comes with a 2.4-inch OLED screen, it also has IP67 waterproof/shockproof/dustproof function, and an innovative battery balancing charging with battery protection. and user experience, Aegis X is the most advanced dual battery device to date. Powered with the new AS 2.0 chipset that is twice more powerful and accurate. the Geekvape Zeus Sub-Ohm Tank retains the structural design concept of the original Zeus series with an upgraded quick change prebuilt coil system. Utilizing the latest technology of GV Mesh coil system to optimize flavor and vapor production.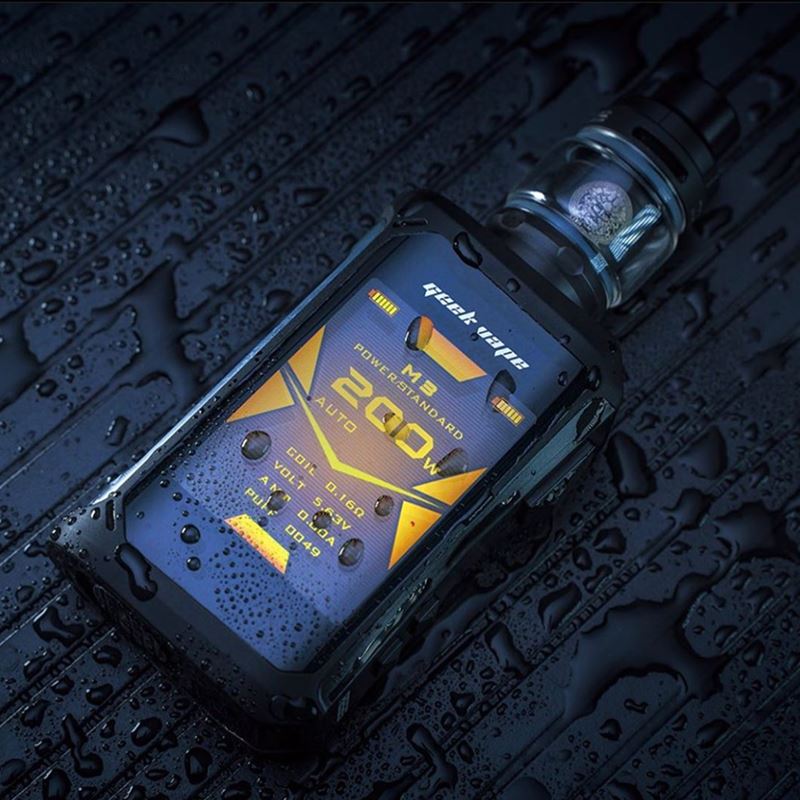 Geekvape Aegis X With Zeus Sub Ohm Tank features & specifications:
Aegis X Mod
Input voltage: 6.2V-8.4V
Output voltage: 0.1V-12V
Charger specification: 5V/2A
Output power: 5W-200W
Temperature control: 100C-315C/200F-600F
Battery: Dual 18650 Battery
Screen: 2.4 inch OLED screen
Zeus Sub Ohm Tank
Filling method: Top fill
Drip tip type: 810 Drip tip
Capacity: 5ml (Spare glass tube 3.5ml)
Dimension: 26*42.5mm (Not including Drip tip)
---
Top 1. Aegis Boost
It is also listed in our 10 Best Pod Systems!
The new Geekvape Aegis Boost 25W Pod Mod is Specially designed for Pod and RDTA, it comes with two separate coils (kit set only) designed for MTL and DTL vaping experience. Powered by a built-in 1500mAh battery, it can support the usage of both Pod and RDTA up to 40W. IP67 rated made, the pod mod is stain-resistant, corrosion-resistant and tear-resistant. It's definitely the lightest yet toughest pod mod. Featuring easy-to-fill design and easy airflow design, the Aegis Boost Pod Mod is highlighted by its easy access top filling and its easy access airflow valve. It can bring you a great visual enjoyment with elegant appearance and concise design and with extraordinary vaping experience.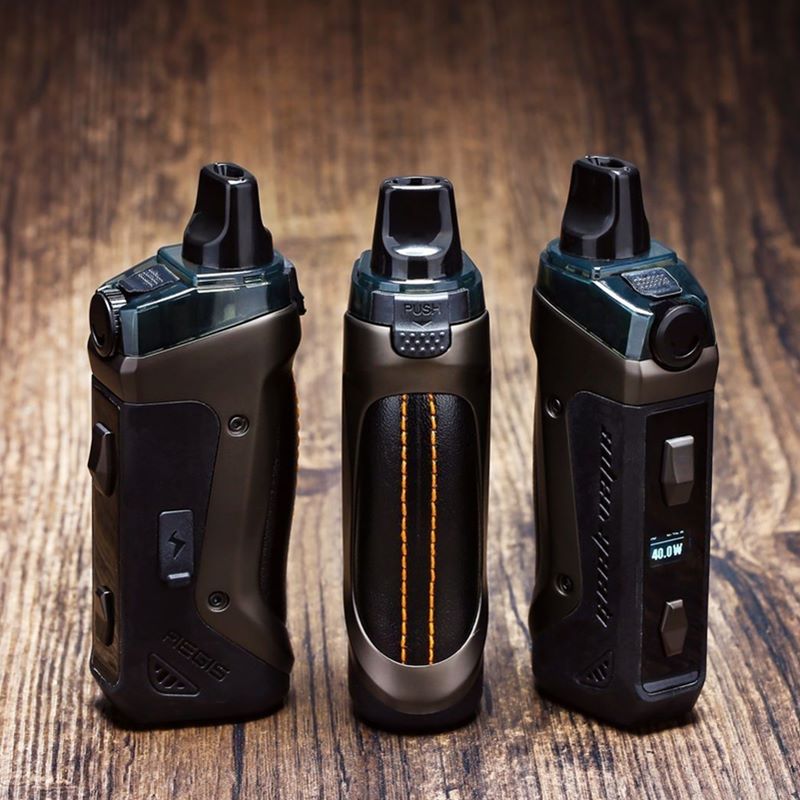 Geekvape Aegis Boost features & specifications:
Battery Capacity: 1500mAh
Max Power: 25W
Coil: MESH
Resistance: 0.6ohm
Dimensions: 106.8 x 27.7 x 39.2mm
Wattage Output: 5 – 40W
Input voltage: 3 – 4.25V
Output voltage: 1 – 6V
1500mAh Built-in Battery
IP67 Waterproof, Shockproof and Dustproof
0.08s Instant Firing Speed
0.42 Inch OLED Display
Superior Zinc Alloy Construction
3.7ml Refillable Po
d 0.6ohm KA1 Mesh Coil (20 – 25W)
3.7ml Refillable Pod
Refill Method: easy access top filling
Airflow: easy access airflow valve
---
Coupon Code
That's all our 5 best Geekvape Vapes 2020. The list will be updated every month based on our actual sales quantity. Get 10% OFF for all of our best Geekvape vapes with coupon code: bestvapes.
Other Best Vapes 2020
Are there any other best Geekvape vapes we missed in the top 5 list? Share your idea and experience in comments below.