Eleaf iStick Amnis Starter Kit Preview
Not long from the launch of Eleaf iWu, Eleaf unveils another kit for starters, this time it pleases the fans with the continuation of the iStick series – so beloved and won worldwide fame.
The Eleaf iStick Amnis with GS Drive, a sleekly designed and ultra portable kit, presents an astounding vaping experience with the purest flavor by utilizing a new GS Air M (mesh) coil. The iStick Amnis features a rubber paint finish giving you a softer and smoother feel. Although small in size, the new GS Drive atomizer is skillfully engineered with retractable top fill solution for fast and easy refilling as well as a childproof system. The LED light on the iStick Amnis cycles through four colors to let you know at a glance how much battery life is remaining. Start vaping without compromise, and start with Eleaf iStick Amnis kit!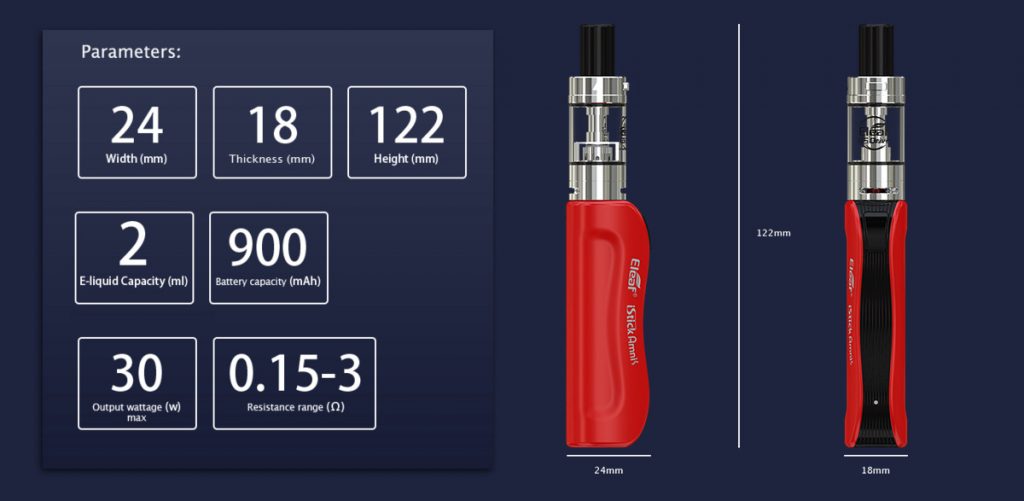 Dimensions: 71 x 24 x 18mm (122 x 24 x 18mm whale fully)
Weight: 63g Case
material: metal + plastic
Power: built-in 900mAh
Output power: up to 30W
Voltage range: 3.0 – 5.5V Operation
mode: POWER
Supported resistance: 0.15 – 3.0Ω
Protection: against low / high resistance, overheating, short circuit, overcharge / overdischarge
Connector type: steel 510, pin spring-loaded
Screen / diagonal: no
Micro-USB port / charging: yes
Color: see photo below


GS Drive Atomizer
Case material: stainless steelAtomiser
type: maintenance-free
Evaporators 0.35 / 0.75Ω
Capacity: 2ml
Diameter: 16.5mm
Height: 56mm with drip type
Connector: 510, pin gold-plated
Weight: 28g
Color: steel


Complete Set
– iStick Amnis mod
– GS Drive Atomizer
– replaceable evaporators 2pcs GS Air 0.75Ω / GS Air M 0.35Ω (last preinstalled)
– USB cable
– spare parts
– user's manual
– warranty card The


The kit was very elegant and compact. Smooth lines, rounded outlines, anatomical bulges and "entanglements" – lovers of small ergonomic devices should be delighted. Unless the angular features and decent dimensions of the complete tank descend on the sinful land.The color gamut from the start is decent – there is something to profit. A new atomizer is charged from above – just press the button and slide the lid. Capacity is small, but you need to consider the dimensions.It feeds on a new kind of replaceable vaporizers on the grid. Probably, released earlier, too, will suit him. At the base of the atomizer, the ring for adjusting the blowing, the air intake holes of medium size. The main body housed a built-in battery of decent capacity, but only the charging current was not reported to us. But where the connector is located for these purposes is known.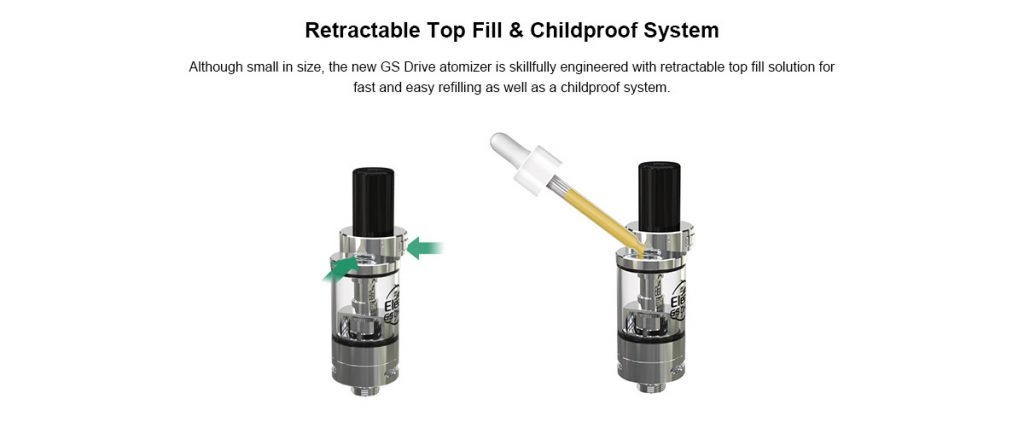 The landing pad is metal, you should not expect that it will be able to accept more or less large atoms.
The control panel is indicated by only two elements. One of them is a large fire button, it looks quite comfortable.
The second element is the LED indicator of the battery charge level.
Price $ 27