The VOOPOO Drag 2 Kit was sent from HealthCabin, one of my trusted vendors, for the purpose of review.
About HealthCabin
HealthCabin is one of the legend vape vendors based in China, they have been in this industry for 10 years, wow what a long time. I have purchased some vape devices from them, all authentic, service is top notch, free shipping is pretty nice. BTW, they just celebrated their 10th anniversary, check the promotion here.
VOOPOO Drag 2, I believe there are too many good reviews in the market. Today I will share my opinion on it.

Manufacturer Specifications
What you will get
1 * Drag 2 177W Mod
1 * Uforce T2 5ml Tank (U2 coil pre-installed)
1 * N3 coil
1 * 3.5ml glass tube
1 * Micro USB cable
7 * O-ring
1 * GENE chip card
2 * User manual
1 * Warranty card
Firmware Upgrade
Click here to download software from VOOPOO official website.
1. Enter VOOPOO service center
2. Choose DRAG 2
3. Click Upgarde Firmware to download
Design
Upon opening the box, I was impressed by the very nice design of the Drag 2. The resin on the front panel of the Drag 2 is very soft and smooth, and I love the color mixed, shining!
The finish of the whole kit is top level, feels very comfortable at my hands, no chipping or flaking. Buttons are at the right position, battery doors are clean and the magnetics are pretty strong. No more edges at corners, and they also removed the 510 pin to the center of the box mod at the top side, it makes the whole kit looks more elegent.
The Uforce 2 subohm tank also came with a nice finish. Airflow holes are big and easy to adjust, easy top filling system and a very nice 810 drip tip, the color of the drip tip should be the same as the resin panel on the box mod.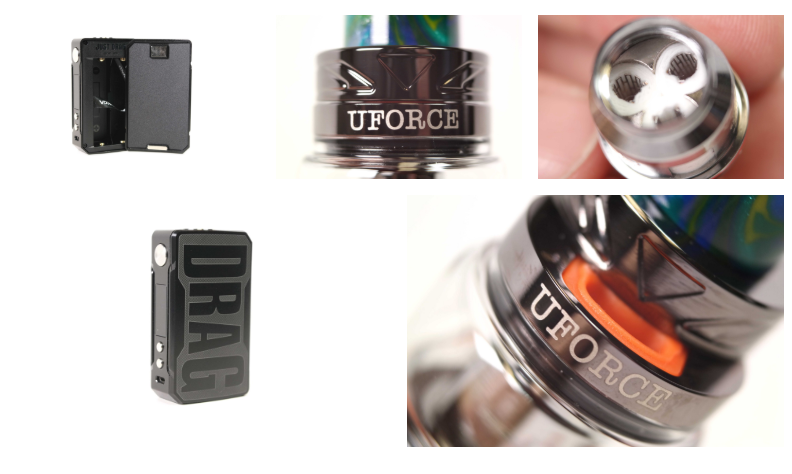 Features
The Drag 2 is powered by the new GENE FIT chip, which is an update to the Gene chip found on the original Drag. The Drag 2 was powered by two high-drain 18650 batteries. 5 clicks to turn on or off as usual.
Drag 2 modes: Power Mode, TC Mode, and five Memory Modes. The Drag 2 will fire at up to 177W in Power Mode, and will support SS, NI, and TI from 200-600F in TC.
The most interesting feature should be the "FIT" menu. There are three settings listed on their website:
FIT 1: Battery Saving Mode
FIT 2: Maximum Flavor Mode
FIT 3: Maximum Clouds Mode
Performance
I tested the Drag 2 using both the included coils on the UFORCE T2: U2 & N3.
With the UFORCE T2 tank and the 0.4ohm U2 coil, fired it at 45W, I found the vape to be very pleasant. It was not a huge vapor, nor small, but the flavor was pretty good. Overall it was very smooth, I love the flavor and the instant firing speed just like the original Drag.
The 0.2ohm N3 coil worked much better than U2, better vapor & flavor. The N3 coil is a triple mesh coil, which increased surface area leads to more vapor, and better flavor. The best wattage for this coil for me is 70W.
There are also many other coils for the Uforce T2 tank, will try them out some days later and keep you guys updated here.
Overall, the whole kit performance is impressive, top level vape kit, it did not let me down. Huge vapor production and keeps the good flavor.
Pros & Cons
Pros:
Elegant, Comfortable Design
More power, up to 177W now
Top notch finish
Fast firing speed
Colorful
Battery efficiency is very good
Amazing Uforce T2 tank, never leak
Cons:
More official info about FIT
Too many coil selection, VOOPOO should recommend the best 3.
Pricing
If you like and intent to have this great Drag 2 Kit, you can pick it at HealthCabin at $71, free shipping. This price is fair enough for a nice kit like Drag 2. Friendly reminder – do remember to login an account at HealthCabin, otherwise you can not see the final price, which is much cheaper than the listed price you see before log in.
Conclusion
I love the DRAG 2 Kit very much, it delivers huge vapor & excellent flavor, came with elegant color and nice finish. What any else can you ask more? I will recommend this kit to any one who vapes.