Great Vape Sale Up To 50%OFF
Wotofo Flux Kit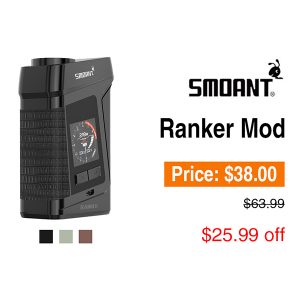 Smoant Ranker TC Box Mod
Smoant Ranker is the next revitalization of the beloved Smoant Cylon series, which has sumptuous appearance – gun grip handle style, kindly looks like the Smok mag. Integrating a pocket friendly, touch screen mod with a really easy to use interface as well as the intelligent Ant218 V2 Chipset. Impressive us its the fastest fire speed 0.015s and the beautiful 2 UI options. Powered by dual 18650 batteries (sold separately), accessed via a hinged battery door located at the bottom base of the device, the fires up to a maximum output 218W. The updated huge HD user interface provides an easy operstion and shows the vaping data clearly. Along with full temperature control suite, power curve outputs, and a suite of safety protections. Smoant Rnaker Mod will never let you down.
$25.99 off Code: RANKER
shop it here
 Smok V-Fin kit
Prefer durable battery, huge vapor and modern design? Then it can be a good choice for you! Its built-in battery has 8000mAh super large capacity, with which you can enjoy long time vaping; and its 6W-160W output can meet your various demands. Besides, ergonomically designed fire key, high-definition OLED screen, combining with revolutionary TFV12 Big Baby Prince tank, this kit ensures you are the leader of vaping fashion. Innovation keeps changing the vaping experience!
25% off Code: VFIN25
shop it here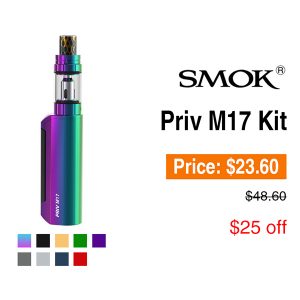 SMOK Priv M17 Kit
It comes with Priv M17 mod and Stick 17MM tank. This mod is ergonomically designed, slim but has unique design, giving you comfortable hand-feel. With built-in 1200mAh battery, the mod can be very durable. Besides, it has big lateral fire key, which can offer you more convenient operations. The Stick 17MM tank has 2ml capacity , and the included Stick M17 coil is the perfect match of Stick 17MM tank, both of which can help to produce incredible vaping power. Innovation keeps changing the vaping experience!
$25 off Code: PRIVM17
shop it here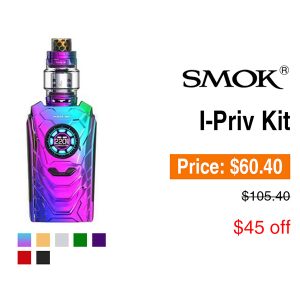 SMOK I-PRIV KIT
It is the first AI vapor kit from Smok company. It features the latest voice control system that allow you to control by voice. It can recognize speech and understand spoken commands. Works with dual 21700 batteries, it also compatible with 20700 and 18650 (needs adaptor), the SMOK I-PRIV kit will deliver 230W maximum output. Besides, it is equipped with beast tank, with large juice capacity and adopts new coils for nice flavor. It is available in VW, TC and by pass modes for nice vaping experience.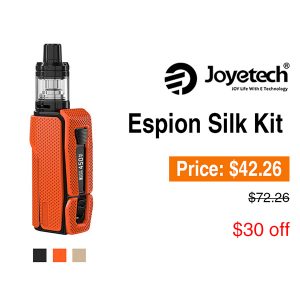 With the application of hypoallergic properties, it is smooth to touch and comfortable even for people with sensitive skin. It is light weighted and fits your hand comfortably. Having a 2800mAh built-in battery, the ESPION Silk can be powered up to 80W coupled with multi-mode options. With a 0.69-inch OLED screen and intuitive system, you can easily manage it. Our vision has always been to create an atomizer with high quality, convenience but inexpensive. And that's the NotchCore. It's easy to install and change the NotchCoilTM atomizer head in an economic way. ESPION Silk, combined with the Joyetech NotchCore tank, you're supposed to enjoy delicate and smooth flavor.
$30 off Code: ESPION30
shop it here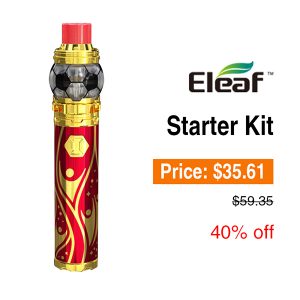 Eleaf iJust 3 kit WR version
It is a new upgraded version of iJust series, has the most gorgeous looking than ever and boasts all-new reimagined Net and Multihole coil systems, presenting an unprecedented vaping experience with ultra flavorful taste and huge clouds. Powered by an internal 3000mAh battery, the iJust 3 is capable of firing up to 80 watts. Its intuitive four color LEDs are for ease of checking battery level. Paired with a new ELLO Duro atomizer which features retractable top fill,this iJust 3 kit is one of the must-have setups for all sorts of vapers.
40% off Code: ijust3wr
shop it here