Great Vape Sale Up To 50%OFF
We created the vape coupon for all the fam here, Wismec Sinuous Ravage230 mod is up to 50% off, others kits all 40% off. check them out!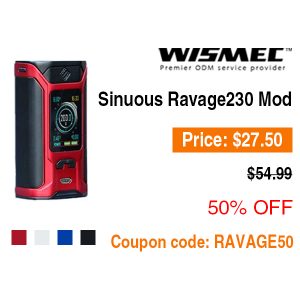 Wismec Sinuous Ravage230 200W Mod
It is designed by Sinuous with high performance, is powered by dual high-rate 18650 batteries and maximum output can be reached to 200W to offer you great vaping experience and huge flavors. SINUOUS RAVAGE230 200W Mod comes with a compact size and supports variety output modes for different vaping experience.
50%off Code: RAVAGE50
shop it here Wismec Sinuous Ravage230 200W Box Mod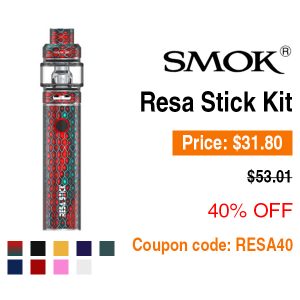 SMOK Resa Stick KitIt is a newly designed pen style kit with built-in battery capacity of 2000mAh,whether from its usage or appearance or tactility, can provide you superior user experiences.The whole body of cobra resin design fully displays the beauty of the wild, filled with vitality and strength.

40% off coupon: RESA40
shop it here: SMOK Resa Stick Starter Kit with Resa Baby Tank 7.5ml 2000mAh Standard Edition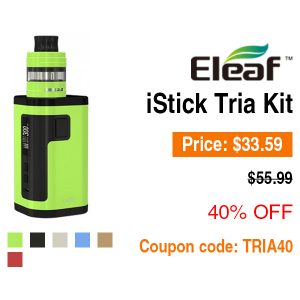 Eleaf iStick Tria Kit
It a new powerful mod accepts triple 18650 batteries and is capable of firing up to 300W, allowing a much more massive vapor production than ever. The overall compact profile and stylish visual appeal of the iStick Tria make this powerful vape mod stand out from others.
40%off coupon: TRIA40
shop it here Eleaf iStick Tria 300W Mod Kit with Ello S Tank Atomizer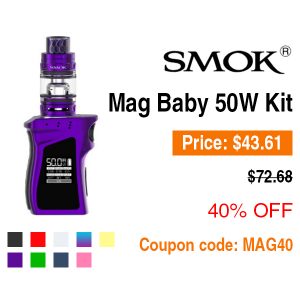 Smok Mag Baby Kit
It is equipped with the newest TFV12 Baby Prince tank, which has 4.5ml e-liquid capacity and smooth airflow system. Bullets loaded, come and make every shot tell! Every mouthful of cloud just hits your picky taste bud and not a single shot misses its target. Comfortable hand feel, excellent texture and perfect flavor make Mag baby more remarkable, delivering unmatched cloud and taste.
40% off coupon: MAG40
shop it here SMOK Mag Baby 50W Mod Kit with TFV12 Baby Prince Tank 2ml 1600mAh EU Edition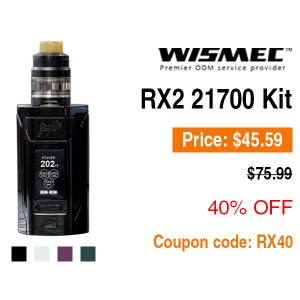 Wismec Reuleaux RX2 21700 Kit
It is compatible with 21700 battery as well as 18650 battery. Equipped with dual optional high performance 21700 batteries, RX2 21700 is capable of firing up to 230W with 2A quick charge system. Featuring the retractable top filling solution and convenient bottom airflow control, the GNOME atomizer that packs the powerful WM coils for intense flavor can perfectly pair with RX2 21700 in terms of appearance and performance.
40% off coupon: RX40
shop it here Wismec RX2 21700 230W Mod Kit with GNOME Atomizer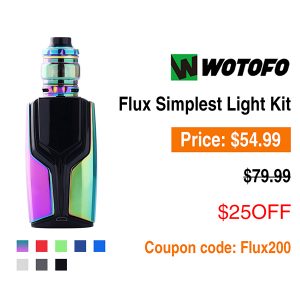 Presenting the most ideal starter kit, the Wotofo & Rig Mod Flux Kit! This kit contains a Flux Mod and a Flow Pro SubTank. The Flux Mod is co-designed with the renowned American brand Rig Mod and features the simplest operation interface but provides powerful firing options according to your needs. Powered by dual 18650 batteries to give a max output of 200W, it is equipped with Flow Pro SubTank which can provide way better flavor experience than the original Flow SubTank. The tank features a super convenient top fill system with a push-open top cap and utilizes the revolutionary mesh-like multihole coil that is interchangeable with SMOK Baby Beast coil.
Code: Flux200
Shop it here https://www.healthcabin.net/wotofo-flux-light-kit-p/18259.html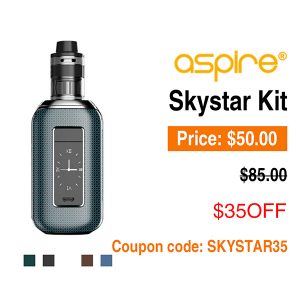 Aspire brings you yet another great new mod and tank kit. Introducing the even more powerful, more up to date, Skystar Revvo kit. It is a dual 18650, 210 watt mod with a 1.3 inch touch screen and the revolutionary Revvo tank. Aspire has broken the mold for a tank of this type and brings you an all new concept in coils, the flat Radial coil. A coil for great vapor production and excellent flavor. The tank itself comes in a TPD compliant 2ml version and a standard 3.6ml version. It has adjustable top airflow and is top fill, it is simplicity itself to fill, change coils and even replace the glass.Code: SKYSTAR35
Shop it here https://www.healthcabin.net/aspire-skystar-revvo-210w-touch-screen-mod-kit-standard-version-p/17035.html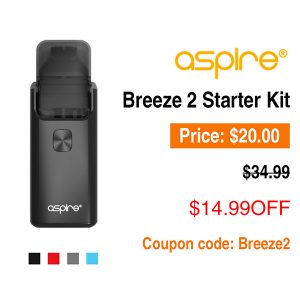 The ever popular AIO (All In One) device from Aspire, the Breeze, has been redesigned with an improved filling method. Introducing the Breeze 2 now with new features and a new pod style system. The same compact and ergonomic design but a more convenient pod system that holds 2ml of e-juice, or a slightly larger 3ml version. It still has an ergonomic design and still comfortable to hold. We also retained the great U-tech coil technology ensuring you a flavorful vape.
Code: Breeze2
Shop it here https://www.healthcabin.net/aspire-breeze-2-kit-p/18156.html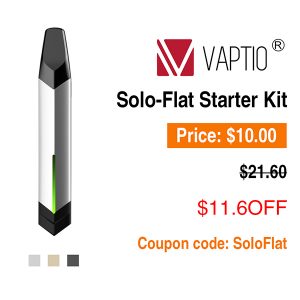 The Vaptio Solo-Flat is an ultra slim and powerful closed system pod device with a built-in 650mAh battery and 1.5ml refillable tank. It has a lip friendly duckbill mouth drip tip and a smart airflow control chip for instant vaping. The Solo-flat has an easy top filling design that you can fill by removing the top cap. A fountain type indicator light makes the Vaptio solo-flat more attractive.
Code: SoloFlat
Shop it here https://www.healthcabin.net/vaptio-soloflat-starter-kit-650mah-p/17557.html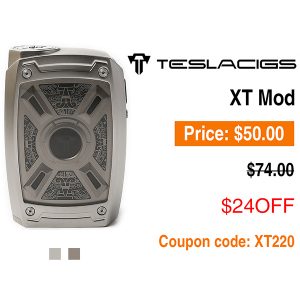 Teslacigs XT 220W TC Mod, which is powered by dual batteries with a maximum output of 220W meet your need of massive clouds. Teslacigs XT 220W Kit can compatible with 18650/20700/21700 batteries and support multiple output available to choose. The unique 7 kinds of RGB LED modes provide a fantastic flash effect to you. Teslacigs XT 220W Mod utilizes PC transparent panel with exquisite carved Mayan patterns make this kit more hand-feel and fashionable in look. 5 colors for you option.
Code: XT220
Shop it here https://www.healthcabin.net/tesla-xt-mod-p/18280.html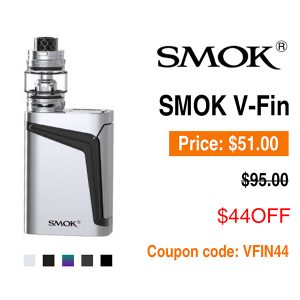 Prefer durable battery, huge vapor and modern design? Then Smok V-Fin kit can be a good choice for you! Its built-in battery has 8000mAh super large capacity, with which you can enjoy long time vaping; and its 6W-160W output can meet your various demands. Besides, ergonomically designed fire key, high-definition OLED screen, combining with revolutionary TFV12 Big Baby Prince tank, this kit ensures you are the leader of vaping fashion. Innovation keeps changing the vaping experience!
Code: VFIN44
Shop it here https://www.healthcabin.net/smok-vfin-160w-kit-p/17541.html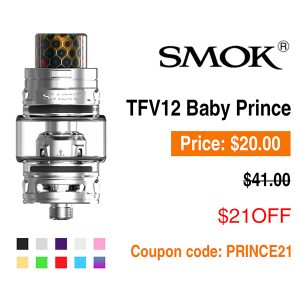 Smok TFV12 Baby Prince is the upgraded version of TFV8 baby beast tank! Its included V8 baby -Q4 ,V8 baby-T12 red light coil and V8 Baby Mesh coil are compatible with baby beast coils, the new coils can produce denser clouds and purer flavor at the same wattage, which is an awesome improvement!These coils are newly designed, the light coil will emit beautiful light when you are vaping and the mesh coil has larger heating area to speed heating process.Besides, this tank employs bulb glass tube, which can enlarge the e-juice capacity to 4.5ml. Every detail of TFV12 Baby Prince is the best guarantee for high-quality vaping.Innovation keeps changing the vaping experience!
Code: PRINCE21
Shop it here https://www.healthcabin.net/smok-tfv12-baby-prince-tank-p/17257.html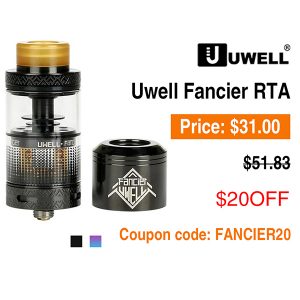 Uwell Fancier RTA & RDA Tank allows you to observe the performence of your coils and cotton, you are free to enjoy the amazing experience of both RDA and RTA. With an innovative downward wicking, larger e-liquid slot and bottom airflow system to bring your unprecedented vaping experience.
Code: FANCIER20
Shop it here https://www.healthcabin.net/uwell-fancier-rta-atomizer-4ml-blackiridescent-p/17496.html